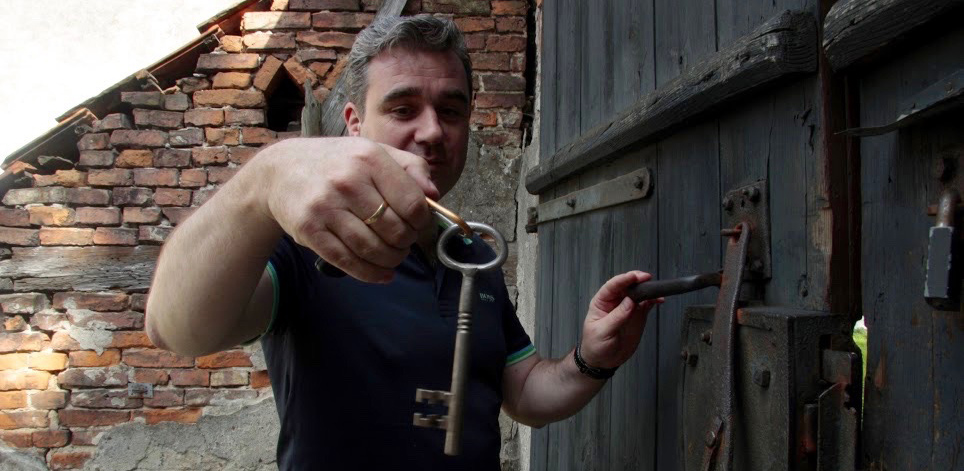 The story of winemaking in Poland is extremely rich and goes all the way back to the 9th century. At the outset, Benedictine and Cistercian monks controlled the whole production process and consumed most of what they had produced. By the 14th century though, the taste for wine had reached the upper-class layers, dethroning Polish classics: beer and mead. To quench their ever-growing thirst, the nobility and the aristocracy began planting vineyards and producing wine all across the country. Most wines they produced were white, made from Riesling, Pinot Gris and the Veltliner grape family. Reds were produced in minute quantities from Austrian Blauer Portugieser and Saint Laurent.
The golden era of Polish winemaking ended with the advent of the Little Ice Age that began around the mid-16th century. Harsher climatic conditions and fewer sunshine hours lastingly impeded the ardors of Polish wine amateurs who turned to warmer, rounder and more reliable wines from Hungary, Italy and France. Subsequent wars, the three Partitions of Poland and, ultimately, the Second World War and then communism, severely undermined the potential of Polish winemaking for long decades.
Today, thanks to globalization and Poland's accession to the European Union in 2004, wine is experiencing a revival. Newly opened borders have allowed Poles to travel more freely and to work in wineries and vineyards throughout the continent. According to Roman Myśliwiec, the father of modern Polish winemaking and owner of the first post-war winery, the opening up to the West meant that well-travelled and foreign-educated Poles came home determined to set up their own vineyards and spread the seeds of wine culture. But while drinking wine in the numerous wine bars that have mushroomed over the last decade has quickly become fashionable, the actual process of wine production remained a difficult task. "Unlike Hungary, Slovakia or Romania which generously subsidize their wine industry, vintners in Poland have never received a mere penny from the government or the European Union", says M. Myśliwiec. "Viticulture in Poland has long been overshadowed by other, more "vital" branches of agriculture, which meant that by 1945 it was virtually nonexistent. Today, making wine in Poland is expensive, and capital-intensity coupled with a lack of subsidies continue to dwarf the industry".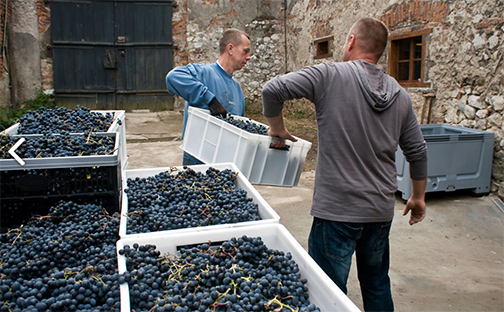 Most vineyards in Poland are located in the southern and western parts of the country. The Provinces of Małopolska, Podkarpacie, Śląsk and Lubuskie benefit from warmer temperatures, an optimal amount of sunlight and longer growing seasons than the rest of the country. They offer ideal growing conditions for the popular cold-hardy and disease-resistant hybrid grape varieties such as Regent and Rondo, used for red wine production, as well as Solaris, Hibernal, Seyval Blanc and Johanniter, used to producing whites. Vitis Vinifera species, such as the very popular Pinot Noir and Chardonnay are also commonly grown.
As of 2016, there are around 500 vineyards in Poland. Most of them are small (less than 8 acres) and designed for small-scale production, although there is a growing number of winemakers who aspire to making it big.
Srebrna Góra is one of them. Established in 2009 on the steep hills of the eponymous Silver Mountain, in the outskirts of Cracow, the vineyard boasts 69 acres and is considered the country's biggest. In this interview, Mikołaj Tyc, the co-founder of the winery, will tell us more about its story and go through the challenges he and his business partner Mirosław Jaxa-Kwiatkowski faced while working on the project. M. Tyc will also explain how the idea was eventually made flesh by the Camaldolese Hermits from Cracow.
Tell me the story of Srebrna Góra. How did you come up with the idea of setting up a winery?
We have always been interested in wine. We used to visit wineries, read articles and taste different wines. One day, in the early 2000s, we came up with the idea of recreating a historical Polish vineyard. In fact, few people know about this, but Poland was once a winemaking country.
The first vineyards were planted not far away from here, on the hills of Wawel Royal Castle in Cracow, in the tenth century. So we started looking for a suitable spot in the town's neighborhood. Originally, three places interested us: one was in the outskirts of the small town Staniątki, the other near Winiary and the last one was in Krzeszowice, a town located near the ruins of the Tenczyn Castle. This was our favorite place – situated on a volcanic cone, it had already once hosted a vineyard. Actually, all of these places were perfect for planting vines, but at the same time, each of them carried different sets of problems we would eventually have to deal with. Luckily, we had a friend, who was at the time vice-mayor of Krzeszowice, and she helped us pushing the project ahead. She provided us with free maps, toured the countryside with us, she really believed in this idea. Once we found the right place, we decided to buy twenty hectares of land. We've always dreamed of making it big, winemaking didn't interest us as a hobby.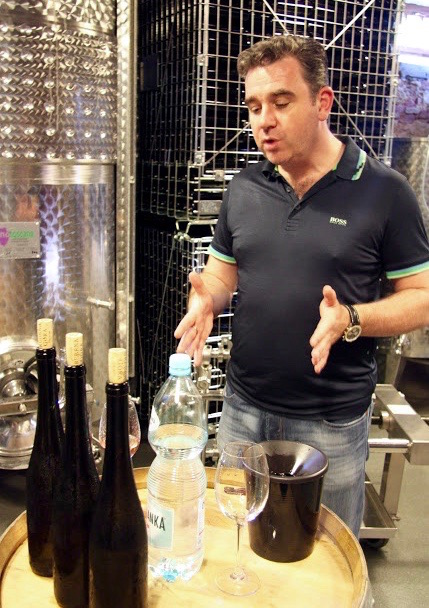 We set up a meeting with all the fifty or sixty landowners in December 2007. We were really excited about all this and we started the meeting by explaining why we wanted to buy their land. And while I was still talking, a man stood up and said: "I watch National Geographic and I therefore know that if you set up a vineyard on our land, our wells will go dry." And then another man stood up and said: "you are lying. You are not interested in planting a vineyard, you just want to open a mine here", because there is some dolomite out there and because the man knew I already had been in the mining industry before. And so the men started arguing and shouting and our enthusiasm plummeted. We could not contain all these people. One guy wanted to sell his land, the other did not, and when somebody invokes National Geographic, you can be certain that there is no room for any further discussion. We dropped the case.
Is this how you landed in Srebrna Góra?
I have been friends with the Camaldolese Monks for a long time. I went into spiritual retreats in their monastery, I knew a lot about their style of life plus I was their neighbor for quite some time. So I knew that Silver Mountain [the winery's eponymous name] was an ideal location for a vineyard. But as you can imagine, this scenario seemed unrealistic and I could've not even dreamt of setting it there, not even in my wildest dreams.
One day though, I decided to give it a try. So I came up to the wicket gate and told the doorkeeper about our project. I asked him to talk to the Prior and see if he'd be willing to lease us some of their land. I went back to see him one week later and much to my surprise, the doorkeeper handed me these big cork-like objects, barrels' bungs, and told me the Prior was willing to do it and was open to negotiation.
The congregation of the Camaldolese Hermits is headquartered in Frascati, Italy, where the monks own 100 hectares of land that they lease to winemakers. So the Polish monks who have been there, seen the vines and tasted the wine knew it was the right thing to do. Here, in Poland, the fields laid fallow and were covered with dense thicket.
The negotiation lasted around six to seven months and we signed a long-term lease agreement in 2009. We started laboring the land and preparing it for vineyard planting in 2008, as soon we had reached an oral agreement. We ploughed, harrowed, and cleared all the land; then we spread manure over it and analyzed the soil in order to determine which grape varieties we could plant. Specialists from the Geisenheim's Grape Breeding Institute, in cooperation with Krzysiek Górka, their Polish vine-sales representative, helped us with all the analysis and data.
As it quickly turned out, Srebrna Góra is not only about Hermits and all the surrounding mysticism - this is also a perfect place for a vineyard. The mount had already been covered in vines back in the XVIth century; the vineyard benefits from an ideal south-west exposition to the sun, cold air moves downhill, warm air goes up the hill, the land is located in the Vistula river valley and is protected from the worst, potentially damaging, northerly winds by a thick forest to its north. This is truly a perfect spot and our terroir is great too. It's composed of loamy soils underlain by limestone bedrock.
So you chose this piece of land without really even knowing whether it would be suitable for a vineyard?
We tested and analyzed the soil as soon as we got hold of the place and the results were highly satisfactory. We started this adventure without really knowing what to expect and how to proceed. We're still learning from our mistakes. We have probably planted too many grape varieties but no one knew which one would adapt to this soil and climate. We have made quite a few mistakes, threw out dozens of liters of wine because we didn't handle the fermentation well, but at the same time we are determined and passionate. We will keep on experimenting and working. The overall results go in our favor and have so far exceeded our expectations. From what was supposed to be a small-scale production of wine sold on-site and in a few restaurants, our project has blossomed into a fully-fledged business with our employees working full-time.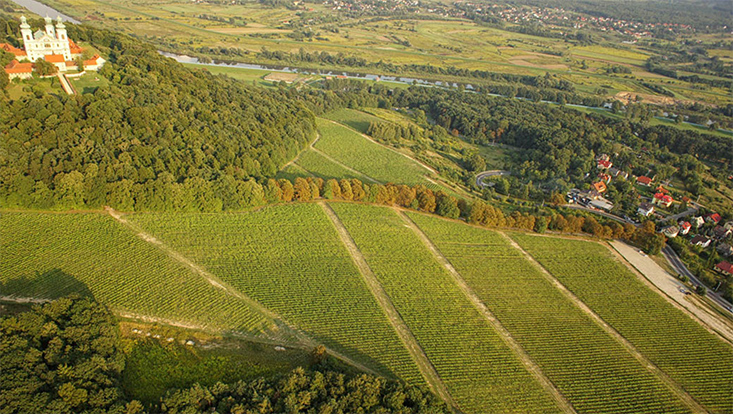 How much wine are you making?
At the beginning we planted 34 acres of vines. That's a lot. We do everything by hand and when you hire people, you have to pay them, which means we had to produce even more wine. Our wine production grows each year and so does our company. Soon, Srebrna Góra winery will be Poland's biggest. So far, we've been making wine out of these 34 acres of vines. We recently added another 35 acres and so today, the total surface area of our vineyard amounts to 69 acres.
Where did you learn about winemaking?
We work with several wine professionals. Agnieszka Rousseau is our oenologist, and Damian Małek our agronomist. We have been in the wine business for seven years now. I am an entrepreneur, I work in real estate and own a rock quarry. My partner has been working in the restaurant business for many years, but then he quit and devoted himself entirely to making wine.
What were the challenges you encountered while setting up your vineyard?
We started planting vines in the spring of 2010, after two years of soil preparations. Unfortunately for us, 2010 turned out to be a difficult year - it was a time of heavy rains and flooding here in Poland. At some point, the soil started eroding. We had been previously tilling the soil, which made it loose and agitated, and as a result all the earth slid down the hill. The cracks were so deep that you could easily park a big car inside it and nobody would've noticed it. We had to take a truck and go back and forth 450 times to put all the earth back on the hill. No one had foreseen it, not even the guys from Geisenheim. Of course, there was a way to prevent this erosion from happening – you just had to cover the soil with straw. But we did not know it then, we didn't have enough experience. This was the toughest thing we had gone through. It made us seriously reevaluate our project and our ambitions. But we had no other choice! We had already bought 54 000 vine seedlings, out of which 25 000 have already been planted, so we had to carry on. In 2011, we produced our first 1 600 bottles. A year after, we already had 16 000 bottles. Two weeks ago, we bottled 65 000 bottles of the 2015 vintage.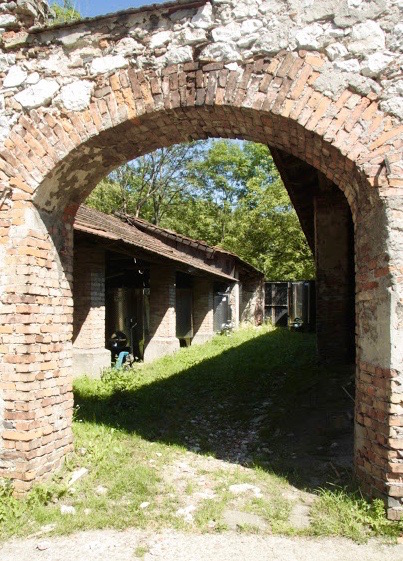 You probably produce more white than red wine?
Half and half. Our goal is to produce 150 000 bottles each year. We don't want to overcrop and over produce, we just want to produce good, pleasant and well-balanced wines. The harsh climatic conditions don't help, so we diversify our production. We planted vitis vinifers vines in the first section of the vineyard, so we now have Chardonnay, Riesling, Gewürztraminer, Acolon Zweigelt, Siegerrebe, Pinot Gris and Pinot Noir. The second part contains hybrids: Regent, Rondo, Cabernet Cortis, Johaniter, Hibernal, Solaris and Seyval Blanc.
Do hybrids really yield lesser-quality wines?
We once hosted a group of French winemakers. They laughed when we toured the vineyard, but then we entered the winery. They didn't really like our white wines, because they were too light for them, but our red wines really blew their minds. We won two medals at the Concours International des Vins de Gastronomie in Paris. Our Cabernet Cortis won a bronze medal and our regent won a diamond medal.
Do such prizes influence Polish consumers' choices?
I think so. You have to bear in mind that there is no wine-drinking culture in Poland. According to statistics, Poles drink seven liters of wine per year, although this number also includes fruit wines. So we only drink around three to four liters of wine per year. This is changing though and people start swapping vodka and beer for wine. The latter is the healthiest option and this is what we should be saying.
Education is key to understanding and drinking more wine.
Yes, definitely. We should be talking more about wine, educating people. The best way to doing so is by organizing wine tastings. But we are temporarily unable to organize them because our winery lies within the monastery compounds. The Camaldolites live a cloistered life inside a building that is open to public only 12 days per year. Our winery lies outside of the monastery and anyone can come visit us – women included - but we can't organize big events. This was one of the conditions set by the Prior and we respect that. We have nonetheless organized a small festival of St. Martin's wine in a neighboring town in 2013. This is a young wine, the equivalent of Beaujolais. In this first year, 300 people attended the event. The year after, 800 people came, and in 2015, 1,200 came to party with us! It was a great thing to do and it really boosted our sales.
What do Poles like to drink?
They like wines that are on the sweeter side and preferably white. Red wines call for food and Poles tend to dissociate wine from it. You often see it at family gatherings – people eat first and then drink wine, often after dessert. I personally like wines that are not that popular around here – crisp, mineral whites and characterful, tannic reds. Our 2013 cabernet cortis is like that. The French liked it. Poles didn't – they prefer red wines that taste of vanilla, chocolate and fruits. So we had to switch to gentler wines to cater to the Polish taste. At the same time, we also want to target tourists. 9 millions of them come to Cracow each year, and around 60% of them make for our target market.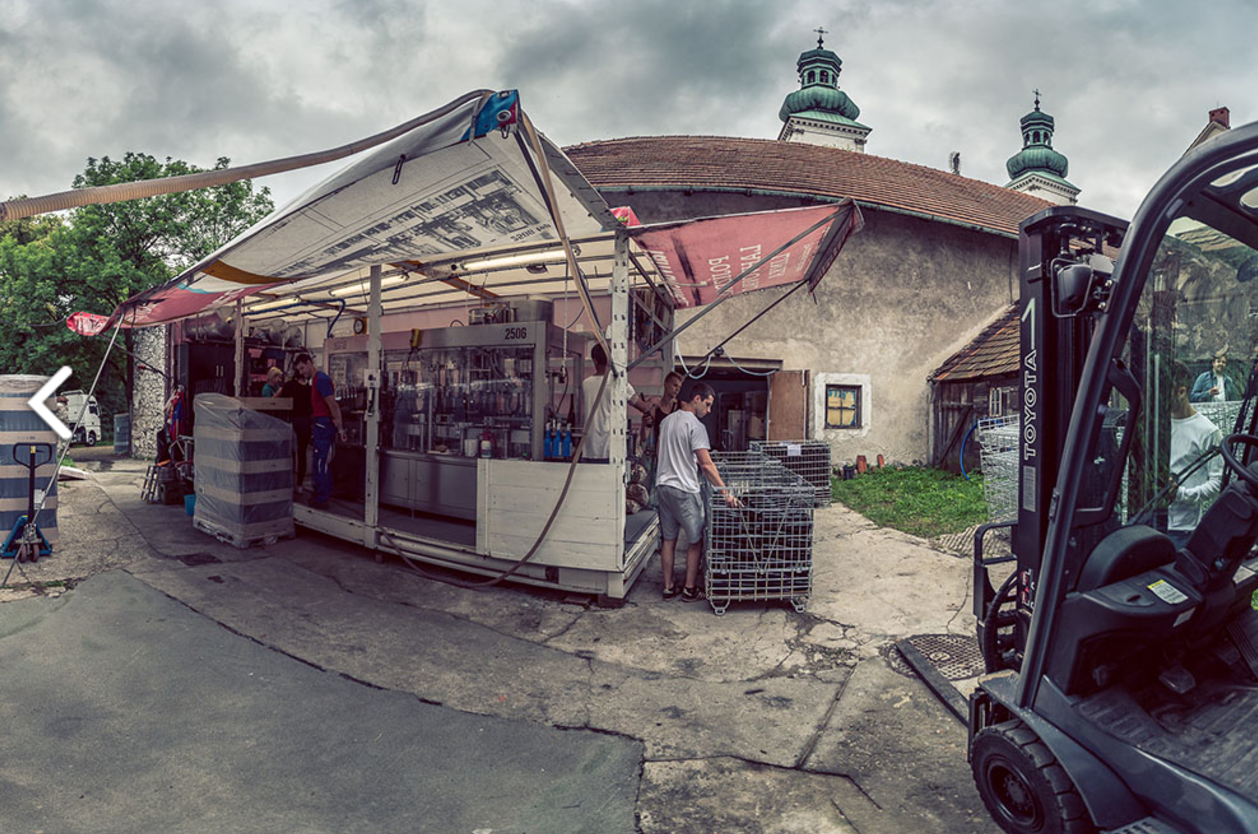 Polish wines are rather expensive. Why is that?
We are all new to the business; we didn't inherit our vineyards from our grandparents. Each winemaker had to invest couple millions of zlotys in building them from scratch. Besides, vineyard management in Poland is more labor intensive than in southern Europe. We do everything by hand, we use the best chemical tools to manage weeds, insects, and diseases and we need to safeguard our fencing, which helps us keeping hungry and curious tourists away from our grapes.
Do Camaldolites drink your wine at mass?
I guess not, I am not sure though. We already gave them some of our bottles, but they always find a way to pass them on. I don't really know what kind of wine they drink. But they should definitely try ours!
Alexandra Kuderski is a freelance journalist, photographer and translator. Her work on wine, spirits and food has appeared in Munchies VICE, VinePair and Wine Folly. She currently lives in the gastronomic capital of France, Lyon. Follow her on twitter @AlexKuderski