Stu Devine is the proprietor of Devine Wine, a New Zealand marketing company. With a surname that means "of the vine" it's fitting that his specialty is in the wine sector, working in collaboration with two highly regarded New Zealand wineries. Devine's career began in a vegetable and fruit nursery, tending to plants and eventually selling horticultural products.

"I really enjoyed the grape growers I worked with when I sold products for grapevines," says Devine. "They were the salt of the earth and some of the most decent, easy-going people I had ever met, so I decided to follow in their footsteps and bought a vineyard of my own in Hawkes Bay."
His experience as a grape grower then led to a job in viticulture at a large winery. But, as much as Devine loved tending the vines, his outgoing personality and, as he puts it, "big mouth" took him in another direction, namely wine sales. In 2006, Devine formed his company, a partnership with Rod McDonald of Te Awanga Estate in Hawke's Bay and Paddy Borthwick of Borthwick Vineyard in Wairarapa where Devine oversees all U.S. sales activity.
"I just tasted their wine," says Devine when asked his reason for choosing to work with McDonald and Borthwick, "and that's how simple it really was. The wine showed their honesty, their good looks, and their charm. Just one glass and you will understand why I was captivated. I have created a company where I represent the wine that I have an absolute passion for."
Devine stopped by Grape Collective to chat about what's happening in New Zealand's wine world today.
Lisa Denning: Can you tell us a little bit about your background and how you got into wine?
Stu Devine: My background goes quite a ways back. I've always been into horticulture. I was a nurseryman, I grew plants and then got a job selling products to apple growers and vineyards. I come from a small region in New Zealand called Hawke's Bay, and I bought a vineyard in '93 with both my mum and dad. And then really sunk my teeth into viticulture in '93 onwards and became a viticulturist for a large New Zealand wine company until I opened my big mouth and started selling wine. That's kind of a roundabout way.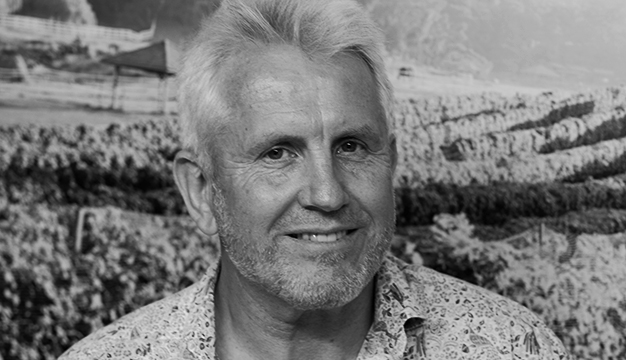 And you have two brands to talk about with us today. Can you tell us a little bit about the history of each?
The first one is called Te Awanga, Rod McDonald is the winemaker owner, and it's predominantly from Hawke's Bay, but this one wine is from Marlborough as well. And the other wine is Borthwick Vineyard, Paddy Borthwick, which is from Wairarapa. Both the wineries are in the North Island. New Zealand is three islands, the two big ones, we're really good at naming islands. The one to the north, we call North Island, and the ones to the south, we call South Island, and then there's a little one right at the bottom, it's called Stewart Island. Rod and I worked together for this winery back in the '90s, and he was the winemaker for a company called Vital.
I was the viticulturist, so we had a lot to do with each other. Paddy Borthwick, I just got to meet him. He's a super nice guy. He's lean and fast walking and a little crazy. He's a super nice guy and he's a big farmer. He owns a big farm and plus he owns a vineyard which is a small parcel. I set up a partnership with both of them and we call it DeVine Wine, it's my surname. It was a bit hard to do that, but my friends over at my NY distributor M.S Walker said, "If you're going to call yourself something, call yourself Stu Devine or DeVine Wine or something." He sort of pressured me into naming the company after myself. Rod has a share and Paddy has a share, so the three of us work together. But these two wineries have nothing to do with each other apart from that.
Can you talk a little bit about the terroir in Marlborough?
Marlborough is kind of New Zealand's premium wine region. It's where Sauvignon Blanc became famous. I think the whole crux of it is a very unique area, a great growing region with a lot of mountains. There are 3 to 7,000-foot mountains right at their back doorstep, and a large river cuts through the mountains. The mountains go up 12,000 feet as you leave Marlborough. There are a lot of Highlands, and back in the glacier times, a lot of greywacke, which is a stone from the mountain range that was pushed by the glaciers, and the rivers brought the stones down from the hills and spread them all over the flatland.
I believe that back in the '80s, the New Zealand government took away subsidies from farmers. At that time you could grow sheep and cows and if you didn't do well, the government subsidized you. The government took all subsidies away, and so all these farmers decided, how can we make money out of our bit of land that is crappy? What grows well in crappy soils? Grapes. Every farm has high land or very fertile soils, but then because of all the rivers, there's a lot of gravel and infertile soils around the base of some of that fertility, where they've been getting fat and chubby and getting the wall strong. In the winter, they'd move a lot of the sheep down to those dry areas where the gravels were or where the rivers run through, and now they've turned those areas into vineyards or kiwi fruit or apples. But vineyards can handle a lot more soils that have very low nutrition.
Roots are pushed to go down deep. We tend not to have a water issue in New Zealand. In most vineyards, water is required, and they can feed the grapes. But as Marlborough grew, which it did internationally, then water became a problem. This vineyard here, where we grow the Wildsong Sauvignon Blanc, is about 40 minutes to an hour south of the center of Marlborough. You go up to about 1,000 feet above sea level, and on the vineyard, they have a large dam. They drag water from the main river, the Wairau, and they put it into the dam, and then during the winter, during the season, it's very strictly monitored. Once they get the river flowing at a certain rate, they have to stop moving water from the river to the dam. At that stage, they then feed the vines only out of the dam.
This vintage here, 2020, the vineyard that this grows on, they really practice a lot of organic ways of growing and really looking at how to bring nature back into the vineyard. Their neighbor doesn't have a dam and in 2020 that whole vineyard defoliated, basically. Whereas Duncan's vineyard kept the foliage on even though it was one of our driest vintages. If you didn't have water, then you were in trouble.
As you come off that valley and get closer to the coast, the need for water is not as prevalent. Some of the vineyards there can go through the great greywacke stones and get into the water down deep, and so it's not a problem. But up in the hills, you do need water. 2020 was a very dry vintage, therefore water was required.
If we move north, you've got Marlborough in the top of the South Island, and then you've got Wairarapa in the bottom of the North Island. Wairarapa makes up about 1% of New Zealand grape growing, so it's a tiny little region. Paddy has his vineyard in Gladstone. There he has the same glacier rock, the greywacke stone that has moved from the hills from Marlborough, pushing their way up north and depositing them in Wairarapa or Hawke's Bay, where Wildsong's brother is. The same stones in the vineyards, the big boulders. As you get closer to the beach, the Wildsong cellar door is right on the coastline. The stones are only stone-throwing size whereas up in the hills, there are boulders.
Can you talk a little bit about the terroir of Hawke's Bay?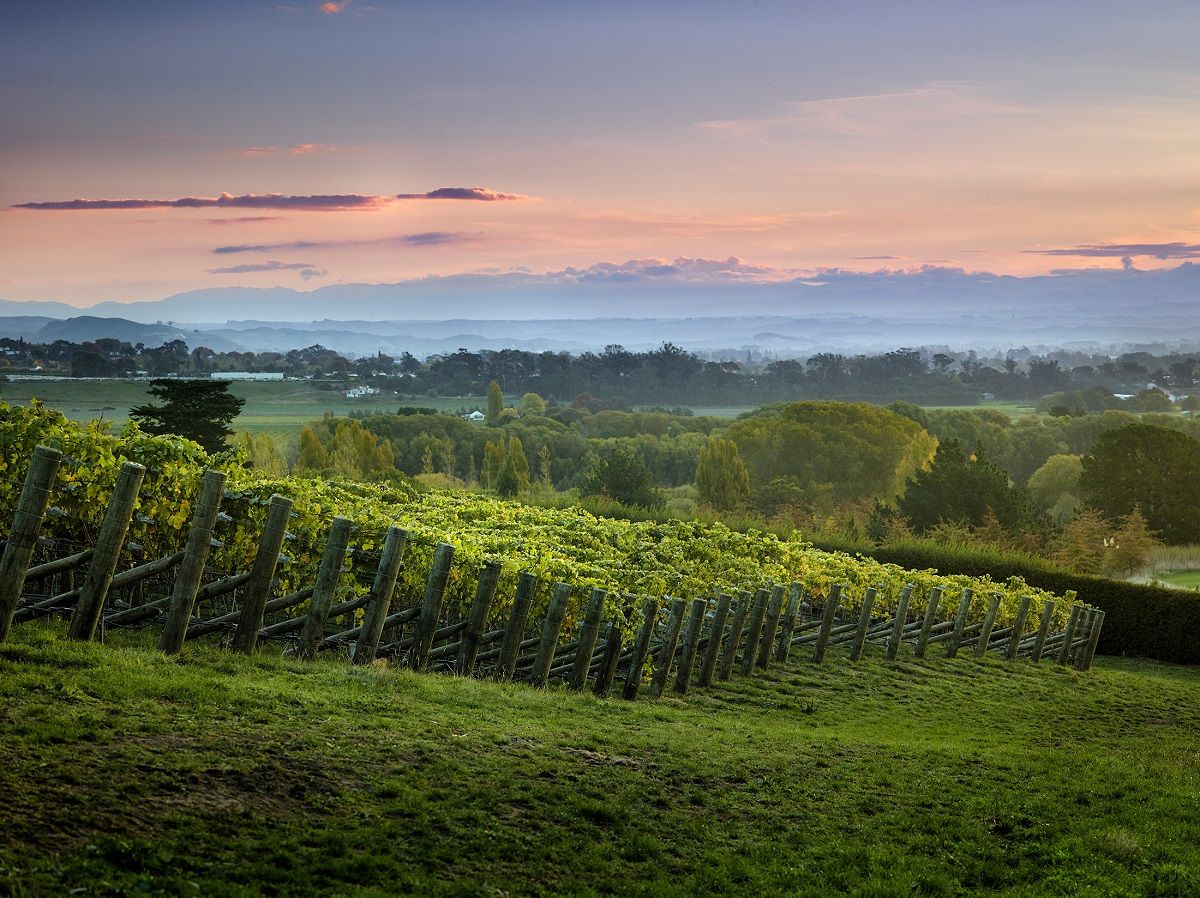 If you look at the center of New Zealand, you've got the Cook Strait. South of the Cook Strait is Marlborough, and north of the Cook Strait is Wairarapa. Cook Strait is the roughest strait in the world. Very windy, extreme weather comes through. When you get on the North Island, you travel four hours north and you get to Hawke's Bay. If you can imagine a bit of land with a mountain range like a backbone running through it and that's what happens in the South Island and the North Island. To the east is where all the horticultural land is. Wairarapa at the bottom of the North Island, Hawke's Bay four hours north on the east coast. It's most probably our largest grape growing and horticultural region. In Hawke's Bay, you have apples, kiwi fruit, kombucha, which is pumpkin squash, onions, and of course, grapes.
Marlborough is predominantly grapes. There are more grapes grown in Marlborough than anywhere else in New Zealand, whereas Hawke's Bay has a range of different crops and it's very much a farming community. Again, like the Wildsong vineyard, there are more big boulders in the vineyards up in the hills, but when you come down to the beach to the coast, the stones are smaller and it's very windy. Wairarapa is probably the windiest region out of the three. Hawke's Bay tends to get wind from the west, but the sea breeze dominates because it's so close to the Pacific. Sea breeze for us, you got to remember in New Zealand we're truly a maritime climate. You talk about California having maritime influence, but you're a continent your maritime influence is nothing like our maritime. Our maritime is all about sea breezes.
We don't get fog because we don't have a massive amount of land to create the difference in temperature. We can get fog in the winter or late autumn, but generally, our sea breezes kick in at 10 o'clock in the morning and they leave at three or four, or five in the afternoon. Our vineyards, which are all organically grown on the coast, have a sea breeze pushing into it all day long. The vines on the coast take two to three weeks longer to ripen than our vines in the hills because the sea breeze doesn't get to the hills as strongly as it gets to the coast. Smaller greywacke stones, more of a sea breeze coming in, and a recently dry climate, not much humidity.
Can you tell us the difference in taste profiles between Sauvignon Blanc made in Marlborough and those from Hawke's Bay?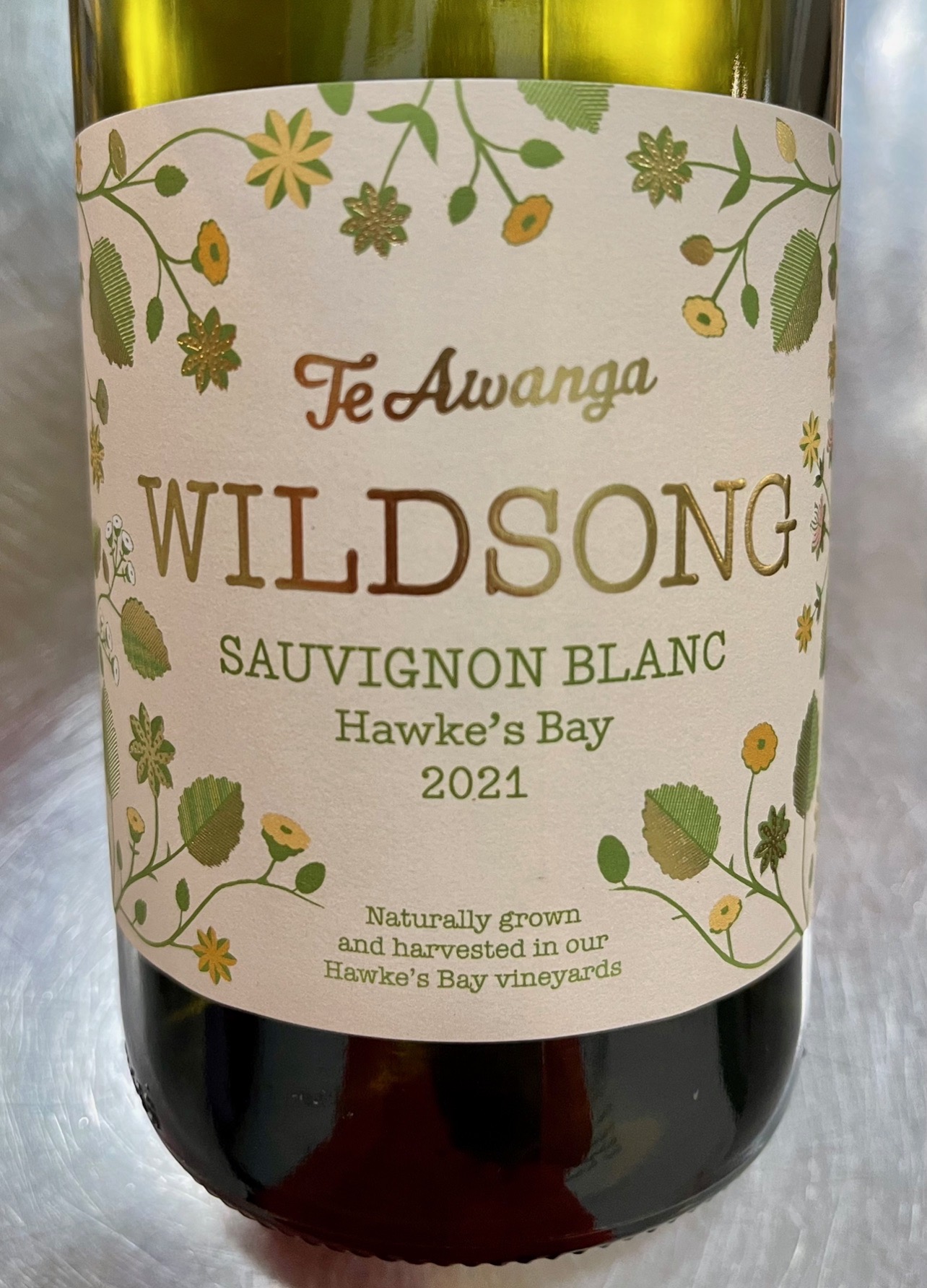 Right. The big thing to remember is you've traveled by car five hours north from Marlborough heading to Hawke's Bay. If you look at where you live at the moment and then you look at your climate compared to five hours north or south, straight away you can see some difference in the climate. The climate has a big influence on the grapes. New Zealand's a very long slender country. Each island is 12 hours drive time. They're very long, with the Pacific on one side and the Tasman on the other. They're very exposed to the temperature and the rain and the wind and the sun. With Marlborough, it's very protected from the south and the west because of the mountains, and with those cold nights, the whole land drops down to what the sea level temperature is.
Because the ocean's right there, but with the high hills, you get some snow etcetera there. You tend to get higher acidity with grapefruit, grassy, and really pungent wines. If you don't get your fruit ripe, it can be a little tomato, a little jalapeno, whereas when very ripe, you tend to get a hint of tropical fruit, just a little small amount, maybe a little bit of grapefruit notes. When you move north to Hawke's Bay, you tend to have a lot more subtropical. The Hawke's Bay grape growing horticultural region is larger because of all the fruit, the apples, and all the rest. You don't tend to have the influence from the mountains as much as you do in Marlborough. Marlborough's a lot higher, whereas in Hawke's Bay, the influence is the ocean, so you tend to have more guava and mango notes. You'll get portions of citrus notes, but when we grow our grapes right by the ocean you get a bit of salinity in the finish, and when we grow them in the hills you tend to get a bit of chalkiness. Very different and really neat. Marlborough is the Sauvignon Blanc region and 90% of everything you'll see in a shop is Marlborough, whereas Hawke's Bay is very unique. It's our second largest grape growing region, but there are only three or four great labels that come to America. They don't tend to come here because of the influence that Marlborough has. Wairarapa on the other hand is in between them. Wairarapa's taste profile is a bit like Marlborough, but then it has parcels in Hawke's Bay. But Wairarapa only makes up 1% of the New Zealand market.
Do you see Hawke's Bay as a developing area for Sauvignon Blanc?
Yes. I think during the last three years, it's been really interesting to see the growth of our Hawke's Bay brand. People have really taken it on board. They are really excited because it's different. It's not the norm. When it's from New Zealand, that's fine, but they see how different it is. I think the Hawke's Bay brand is starting to grow in strength, but it's miles away from Marlborough that's for sure.
As far as Pinot Noir goes, can you tell us the difference between those that come from Wairarapa versus the Central Otago, where the grape is known to grow particularly well?
You've got to look at, again, the climate. When you go to Central Otago from Marlborough, you're 10 hours south, which is quite a way. When you get down to Central Otago, you're just encapsulated with mountains. You're already at 1,000 feet and you've got a little hill beside you at 3,000 feet. A few mountains, 6, 7,000, or 12,000. It's all there. The vineyards are very close as the crow flies or the tui, the New Zealand bird flies, but to get there you have to drive for half an hour around the mountains. Pinot noir from Central Otago tends to be a little bit more elegant, and a bit more feminine in style, so it has a lighter look as the red, as the Burgundian style grape looks. It's a very easy, nicely structured style wine. Some of our best Pinot noirs come from Central Otago. It's one of the most beautiful regions of New Zealand to visit. Every time you go there you go, oh my God, this is gorgeous. I mean, it is just beautiful. There's no doubt about it, no matter how many times you go there.
Then as you move up to Wairarapa, you're coming north for 10 hours and you land in Wairarapa. Wairarapa is more based around the greywacke stones, flatland, terraces, a bit of deep limestone, so the wine tends to have a little bit more of a masculine style, smokier, grittier. Normally the alcohol is under 14%, but it tends to be a darker color and just a bit beefier and gamy.
Can you tell us about the winemaking philosophy of the two different brands?
Rod and Paddy are very different kinds of humans, but they both have the same passion. They've both been in the wine business for about the same amount of time. Paddy from Borthwick vineyards has done over 40 vintages. He's now based in Wairarapa. He was doing two a year. He's now got his little vineyard, 50-acre vineyard in Wairarapa. He makes everything estate, all from the little region of Gladstone. He's really a focused winemaker, on the grapes and what comes out of his little region. I mean, it's tiny. He has a winemaker that helps him, and she and he debate a lot. They have their strengths. She maybe looks at the numbers a bit deeper. Paddy tends to look at the weight on the palate and the flavors and what's coming out of that vintage. He's a very knowledgeable kind of guy, so he takes the bull by the horns and runs with it when he needs to. And he's very passionate about Pinot. Pinot's been grown in Wairarapa longer than anywhere else in New Zealand, but it's just such a small market.
Where Rod comes from is a slightly larger wine growing background. His philosophy is very much about how the vineyard has to do its work and there's not a lot he feels he can do to change it. His whole direction is in organics and growing grapes in the best way possible. He's very much a people person. He has a good little team around him and really the wines that he makes from Syrah, Chardonnay, Sauvignon Blanc, et cetera, are always, you can tell when you taste them, which vineyard they come from. It's very much vineyard-driven, from like five different vineyards, whereas Paddy is very much in one vineyard and everything has to happen in that vineyard.
Have you noticed, since you've been working in wine in New Zealand, changes in the climate that have affected wine growing and production?
New Zealand's an island, so we've always had pretty dramatic weather anyways, and the overall picture is not a lot different. We're not a continent, so maritime climates always have those dramatic weather things happening. But, yeah, we're getting rainfall that happens over six hours that we've never had before. I don't think I've ever seen this amount of rain that happens so quickly in years back.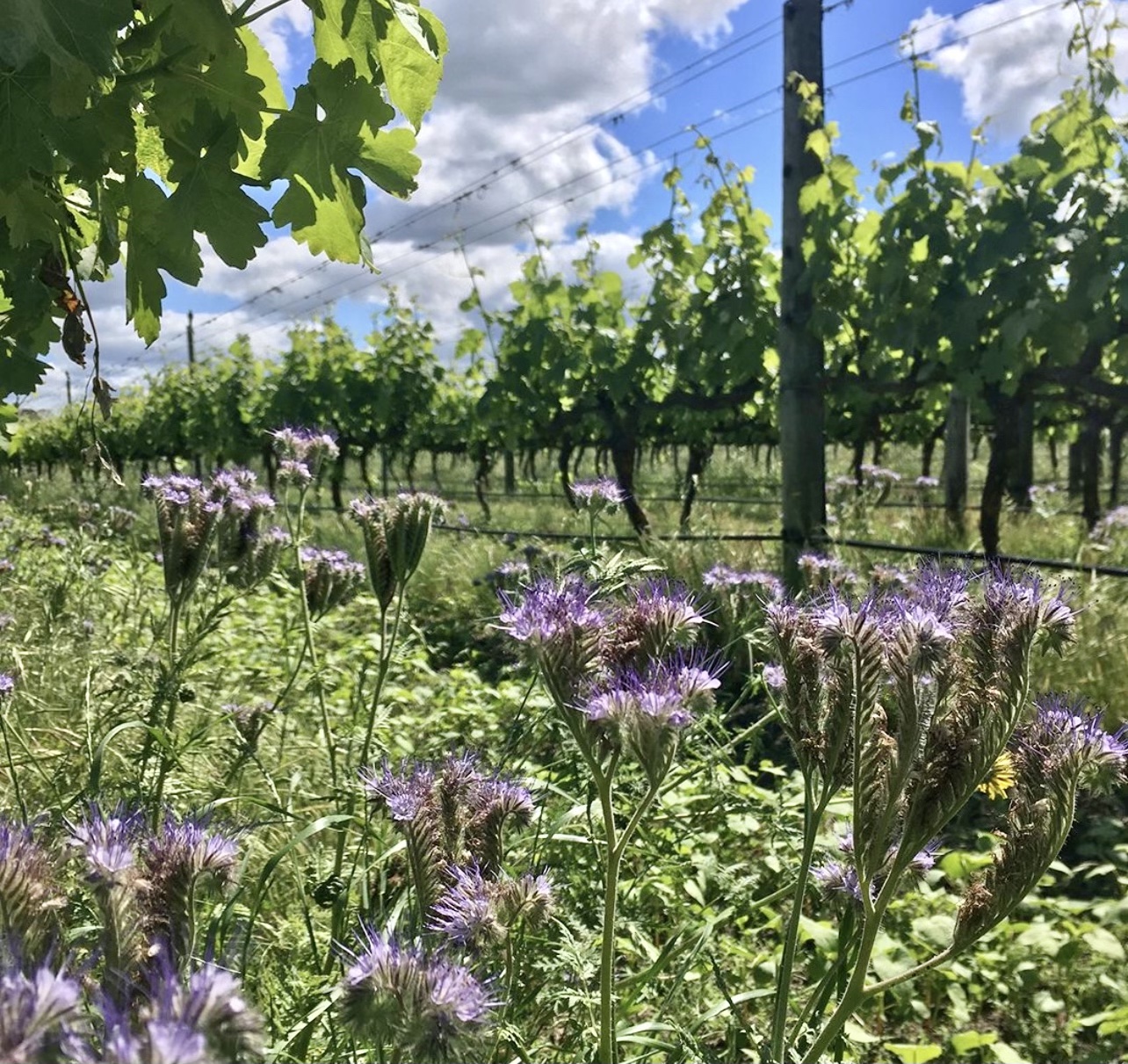 Let's talk about organics and sustainability.
Yeah. It's all best practices in New Zealand, every New Zealand winery has its philosophies. Some are sustainable, some are organic, and some are both. Paddy and Rod definitely grow as much as they can in an organic way. As the world changes, the wineries are becoming more organic now as well. That takes a lot more, a little bit more balancing because of the different laws in each country. But yeah, the whole philosophy is to grow very freely. Rod is the second-largest organic grower in Hawke's Bay. That philosophy's been in New Zealand for a while. Hawke's Bay and Wairarapa are very much horticultural and farming regions, so they're not corporate-run. What each grower does is really up to them.
Sustainability is definitely a system that is governed very strictly by the growers in New Zealand. Organics, of course, is governed by the organic board.
What are some of the other grapes that we haven't touched upon that you're excited about that are grown in New Zealand?
Paddy has another wine called CPR, so that's Chardonnay, Pinot Gris, and Riesling. He makes blends of the three grapes in one bottle of wine. Rod has done very, very well with Syrah in the London wine show. He has some reputation behind that. Also, he has a little parcel of land where we do a Merlot rosé. So, yeah. I think throughout New Zealand, we make reasonable quality styles, but Sauvignon Blanc definitely jumps off the shelf.
Is there anything else you'd like to tell us about?
I think for me, it's a great partnership. I've got two different styles of wine, and since Sauvignon Blanc is the main seller in America, to have a Marlborough, a Hawke's Bay and a Wairarapa Sauvignon Blanc is very healthy, and very good to show American customers. It opens up their eyes to other Sauvignon Blancs from New Zealand. It's very easy to be one-dimensional because of Marlborough, but Marlborough has done a great job of bringing New Zealand to the world and there are some outstanding wines coming out of Marlborough.
As for Pinot Noir, I think Central Otago and Wairarapa are our two main areas. Those two regions are very different as well. It's kind of neat to show that there are other wines like Syrah, Chardonnay, and Pinot Gris, which are grown in different regions in New Zealand.