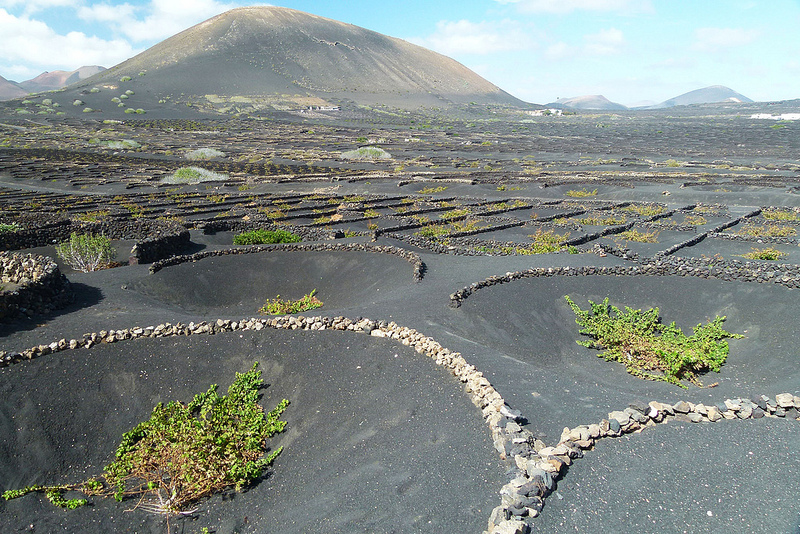 Off the coast of Africa and an autonomous community of Spain, the Canary Islands have a most fascinating and unique wine culture. If you haven't had a chance to taste the wines, let alone read anything about them, here are five facts to work up a thirst:
1) Looking for the European vineyards at the highest of altitudes? Look no further than an active volcano, El Teide, on Tenerife, one of the Canary Islands. Jancis Robinson has more details in the Financial Times.
2) Besides being notable for their elevation, the vineyards, as described by Eric Asimov of The New York Times, can have an "...eerie, almost extraterrestrial" quality, especially those on the island of Lanzarote.
3) On Serious Eats, Talia Baiocchi paints a more vivid picture of Lanzarote's landscape, and reveals the difficulties of grape-growing there: "To combat the apocalyptic winds, each vine is planted in a tiny hoyo (hole) and surrounded by a foot-high stone wall; hundreds of these mini bunkers dot the obsidian soil like craters on a filthy moon."
4) Upon tasting wines from the islands for the first time, Importer Jose Pastor reflected, "I was right away taken by their pure, almost naked, soil-driven character." Get a Bay Area perspective on these wines in Derrick Schneider's piece for the San Francisco Chronicle.
5) The wines were being drunk by the cool kids...in 16th and 17th Century Britain. Robinson alerts us to what surely all Shakespeare buffs already know: in Twelfth Night a character calls for "a cup of canary".
Have you tried any wines from the Canary Islands? Thoughts?