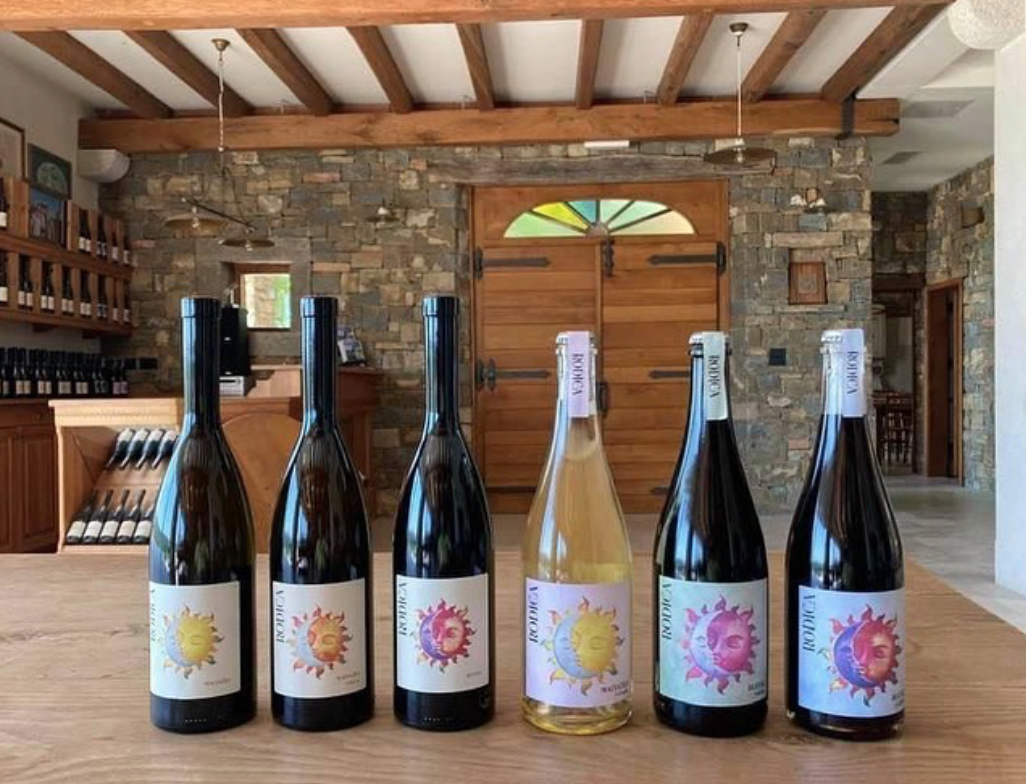 The Rodica Winery is a family winery which was started in 1998 and is located in the heart of Slovenian Istria. The family is commited to organic viticulture having achieved their certification in 2009.
Slovenia is a small country located in central Europe, bordered by Italy to the west, Austria to the north, Hungary to the northeast, and Croatia to the south and southeast. The country's winemaking regions are located primarily in the eastern part of the country, along the border with Austria and Hungary. Slovenia has a long and rich history of winemaking, dating back to the Celts and Illyrians in the pre-Roman era. Over the centuries, wine production in Istria continued to grow, and by the 19th century, it was one of the most important wine regions in the Austro-Hungarian Empire.
However, in the 20th century, Istria's wine production was severely impacted by the two world wars and the subsequent communist regime. Many vineyards were destroyed, and winemakers were forced to abandon their craft. It wasn't until the 1990s, after Croatia and Slovenia gained independence, that Istria's wine industry began to recover. Today, Istrian wines are gaining international recognition for their unique characteristics and high quality.
Istria is home to several indigenous grape varieties, the most important is Malvasia Istriana, a white grape that produces wines with a floral and fruity aroma, a medium body, and a refreshing acidity. This grape has been grown in Istria for more than 2,000 years and is considered the region's signature variety. In addition to white grapes, Istria is also known for its red varieties, including Teran and Refosco. Teran is a grape that produces wines with a deep ruby color, high acidity, and firm tannins. It is often described as a "wild" grape, and its wines have a distinctive taste that is difficult to replicate. Refosco, on the other hand, is a more approachable grape, producing wines with a softer tannin structure and a fruity aroma.
Grape Collective talks to Matic Rodica about his family winery and the importance of organic viticulture.
Christopher Barnes: Tell us a little bit about the history of your family winery.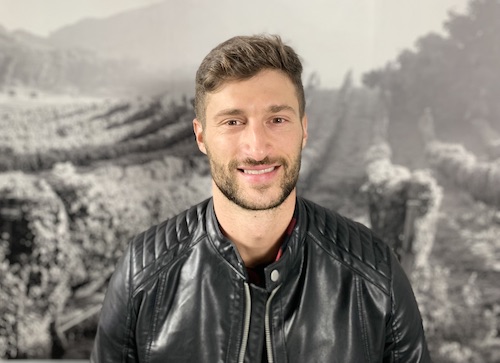 Matic Rodica: Winemaking has been in our family for many decades. My grandparents, great grandparents, they actually had vineyards around their houses. But professionally, our story started with my mom and dad in 1998. The whole story started for the reason of passion for wines. My dad and mom planted their first hectare in 1998 and they planted Refošk. And Refošk is a local grape that was very, very popular by that time. It's still popular, one of the most sold red wines in Slovenia. And they planted it to basically get some extra money.
(Matic Rodica)
Professionally my dad is a mechanic. He was repairing cars. Basically he emptied his garage and he bought a hand press. And this is basically how everything started. Since 1998, every year we as a family planted new vineyards and up until today we have a little over 15 hectares of vineyards. Approximately 80,000 vines planted on these 15 hectares. We mostly grow local indigenous varieties, like Malvesia, Refošk and Yellow Muscat. As well, we have some international grapes like Cabernet Sauvignon, Shiraz, Pinot Grigio. So, we quickly started thinking how our grandparents, previous generations, could produce wines without anything. So it means without any sulfur, without any analogical ingredients. And with all this technology that we have today, we figured out that if they could do it, we can do it too.
So our location where our vineyards are planted, it's great. We come from Slovenia, the Istria region. It's in the southwest part of Slovenia, very close to the sea. And there we have a lot of hills. So all our vineyards are planted on top of the hills or basically on southern slopes where our vineyards have sun throughout the whole day. Also, there it is very dry and we have the right amount of rain through the year so that we can produce organically very, very good and healthy grapes. And this is basically the most important thing and condition to produce good, healthy, natural and organic wines. We are certified organic since 2009. In 2006 we had to move into a control so that after that, after three years we got the certificate.
Talk a little bit about the terroir, where you are in Slovenia and maybe just geographically where Slovenia is.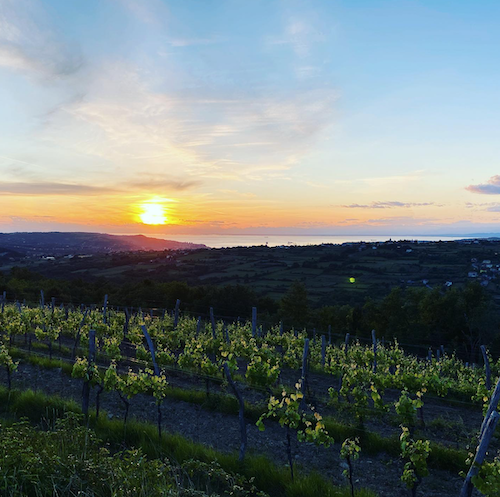 Slovenia is in Central Europe. We are surrounded by four countries on the west. Italy, North Austria, East Hungary, and South Croatia. Our winery, our estate is actually located southwest next to the city of Koper. Our village is called Truške. And basically we are 50 minutes away from Italy and 50 minutes away from Croatia. It's a very nice, interesting location. Everything is actually pretty close.
And as I mentioned before, the altitude level of our vineyards is between 250 meters and 350 meters above the sea level. Air distance to the sea is approximately five kilometers, approximately three miles, which means that we have Mediterranean climate. The summers are very dry and hot and this is the reason why we can produce organic natural grapes without any problems. Yearly we spray three to four times, sometimes two times, which is very little. And the last spraying is usually in July. It means up until harvest, which starts around September 1st, the grapes come into the wine cellar totally pure, clean without any sprays.
And talk a little bit about the native grapes that you have there.
We have three local indigenous grapes in our region, which are very, very popular. One of them is white Malvasia. Malvasia is a white grape that can give young, fresh wine. And it's a good grape; we can also produce an orange wine from this grape. It's a semi-aromatic grape. It's very floral, herbal. And if we mature longer...so if we keep harvest late for the grape of Malvasia, we can really have a good base for an orange natural aged wine.
Then the next one is a Refošk. Refosco in Italian. It's great that it's very specific, unique. It has a lot of color in the skin. So the color of the wine, it's very, very dark. We call it black wine in our region. And it has some specific acidity, which if it is well balanced in the wine, it's pleasant and it's a great pairing with some prosciutto meat, red meat, barbecue. And you can also find some spiciness in this one.
And the third one, it's yellow Muscat, which is actually also a local indigenous grape. We produce it. It's the only sweet wine that we produce. It's also very floral and drinking this wine is like eating a berry.
Talk a little bit about your philosophy of winemaking and your philosophy of viticulture.

Our philosophy of winemaking goes back to the days when my grandparents were making wine. So when my parents started the winemaking, as I mentioned, we very quickly started thinking about how to produce natural organic wines. So basically we figured out that if we produce healthy grapes, good grapes, there is no reason why the wine wouldn't be good if we were making it in a natural way.
So basically what we do, what is our philosophy, is to give wine a place. This is the wine cellar, this is the barrel. And give the wine enough time to get matured. That's why we bottle wines after a year and a half and later. So in this time, wine clarifies on its own. Everything sits down in a sediment. And what we do, we just bottle the wine.
How do you make your sparkling wines?
How we do sparkling wine, it's a little different method. So firstly, we produce a regular wine. We wait one year to the next harvest, we pick the same grape of the wine that's being waiting, and we put instead of the sugar in the wine, must. So to get sweetness in the wine to start secondary fermentation in the bottle. So we do wines with secondary fermentation, a bottle after a year, and then the wine, it's secondary fermented in the bottle. And we do not touch it. We do not disgorge it.