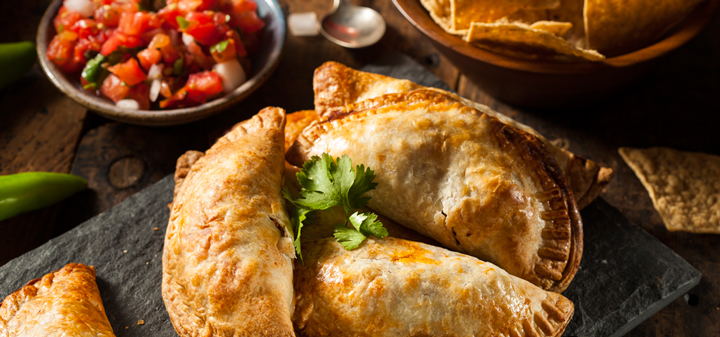 Editor's Note: Be sure to read the main feature on "5 South American Countries You Need to Visit, and Why" by Amanda Barnes on GrapeCollective.com.
If there's one dish that you'll find in every country in South America, it's the mighty empanada. It may be fluffy and moist, or crisp and crunchy, bite sized or head sized, baked or fried… whatever texture and filling variation comes your way, these pockets of pastry are a perfect, unpretentious appetizer that pair wonderfully with the region's wines.
One of my favorite dinner parties to throw is an empanada party – you only need to make one batch of empanada dough (a basic pie pastry) and you can let your imagination run wild with playful pairings, and you almost always find they work with South American wines. Here are some typical, and not-so-typical, South American empanadas to try pairing with the region's wines.
Chile & Peru: Seafood Empanadas, Pisco and Sauvignon Blanc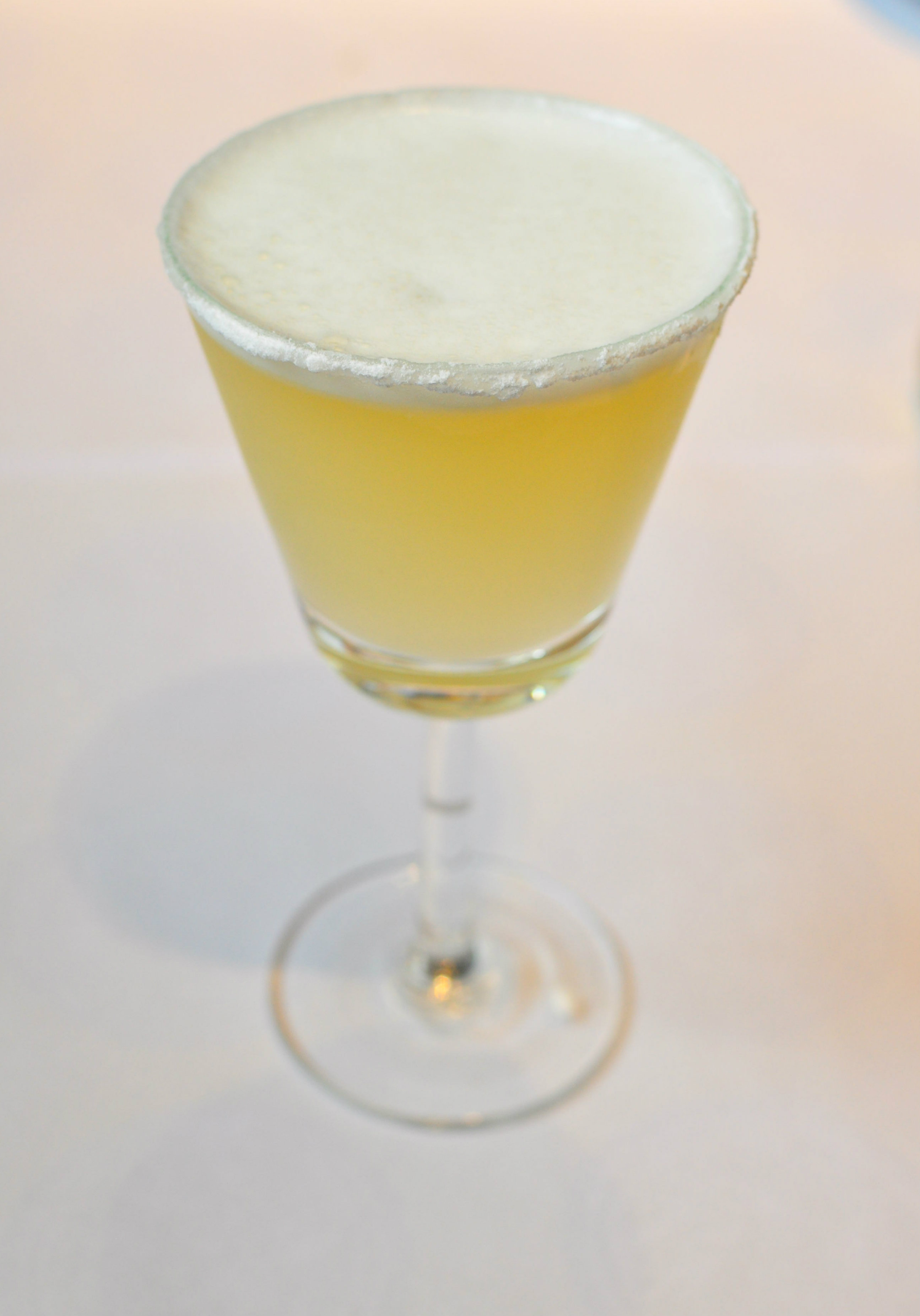 These neighboring countries have a lot in common: stunning Pacific coastlines, high altitude winemaking and both claim to be the creator of Pisco! It's not strictly a wine, but Pisco is grape-derived and, besides, a punchy Pisco Sour cocktail is a perfect way to kick off a South America tasting. Pisco (you can side with Peru or Chile) combined with lime juice, egg whites, powdered sugar (or syrup) and a dash of bitters makes a light and frothy, sweet and sour cocktail predestined to get everyone in the mood.
The best pair for Pisco Sour is traditional ceviche for a tongue twisting lime-citrus punch, fresh seafood flavors and aromatic cilantro. While I am the first to say that nothing beats a traditional ceviche, my unorthodox suggestion is an empanada twist on the national dish (let's hope no Chilean or Peruvian great-grandmothers are turning in their graves at the thought!)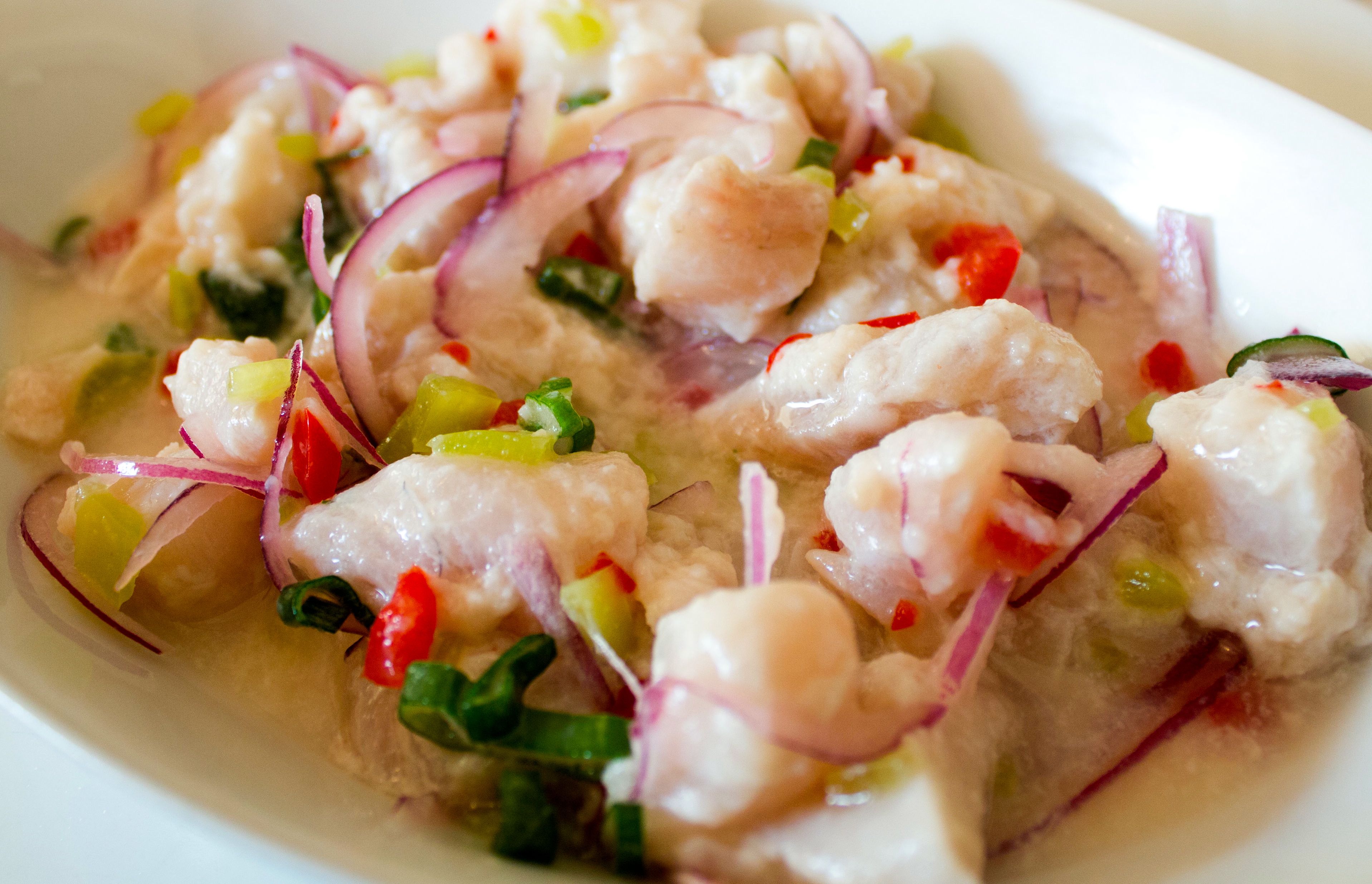 Leave the mixed seafood (cooked) and fish (raw, in cubes — try sea bass, grouper, sole, snapper or salmon) marinating with lime juice, finely chopped onion (salad onions or regular), red chilies, yellow pepper and cilantro for between 10 and 20 minutes, then stuff a couple spoonfuls of ceviche into your empanada skins, seal them well and deep fry until golden. The result is an empanada with warm, crispy pastry that contrasts wonderfully with the cool Pisco Sour but both harmonize in citrus, spice, sweetness and freshness. That should get everyone's tongue tingling for the next course.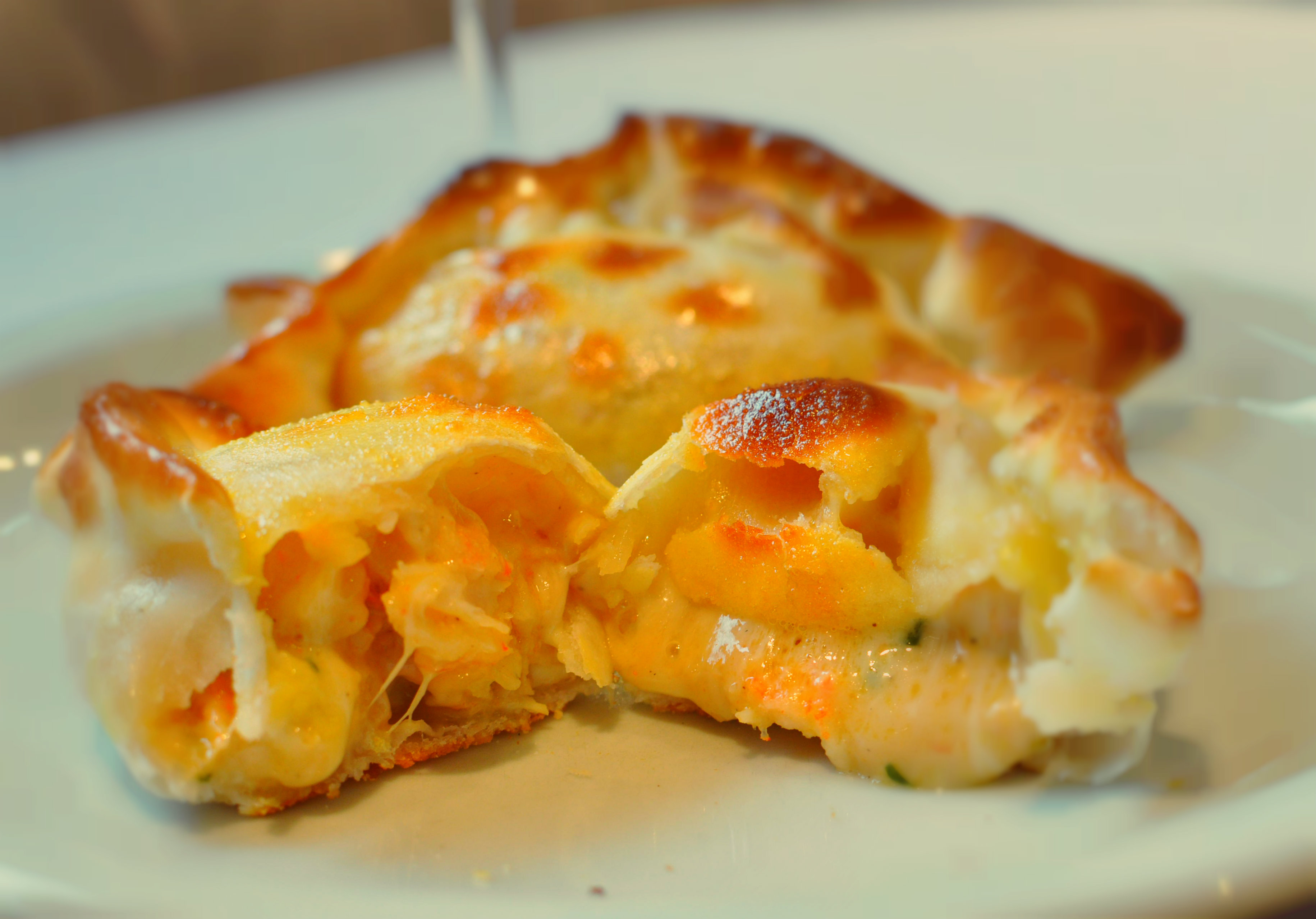 Another unmissable South American seafood empanada combo is the Chilean-inspired scallop and cheese empanada. Chile has a beautiful coastline and all along the seafront (especially towards the north) you'll find empanada kiosks serving these freshly fried or baked empanadas that are just impeccable with coastal Chilean Sauvignon Blanc. I recommend wines from Casablanca, San Antonio, Leyda and Limari regions, and look for wineries like Amaral, Casas del Bosque, Leyda, Matetic and Tabali. The crisp, herbaceous and zesty Sauvignon Blanc pairs wonderfully with the sweet scallops and warm, saline melted cheese for a salty freshness and salivating snack that gives you a little taste of the ocean. Prawn and cheese empanadas also work well with Chilean Sauvignon Blanc, and if you really want to impress your friends try and get hold of some Chilean King Crab which goes a bit better with the rounder and creamier Chilean coastal Chardonnay.
Argentina & Uruguay: Meat Empanadas, Malbec, Torrontes, and Tannat
In Argentina and Uruguay, carne is king. Every dinner plate is dominated by steak, street corners are evocatively fragranced with a waft of asado (BBQ) in the air, and empanadas are almost always stuffed with their beloved cow.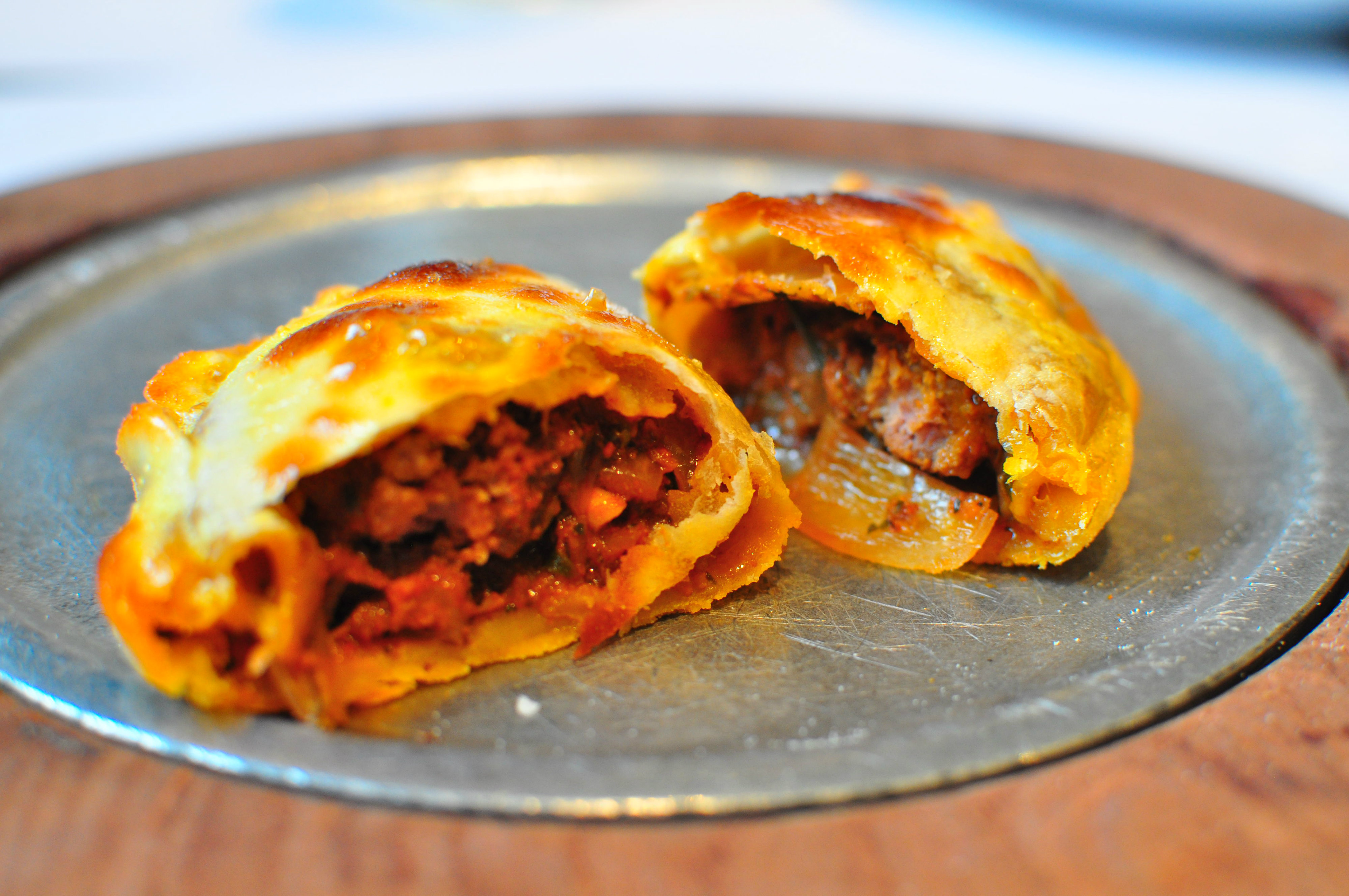 There are two ways to make the traditional, clay-oven baked empanada: either with ground beef, or with hand sliced steak (known as al cuchillo by the locals). Both are popular, but for what Uruguay and Argentina have in common with their empanadas, they beg to differ with their pairings. A classic Uruguayan pairing is with well-structured red Tannat, whose firm tannins clear away any of the fattiness from a meat empanada. Tannat holds its own with much fattier cuts of meat too, like earthy roast lamb empanadas or rich blood sausage empanadas, both of which match very well with the oriental spice notes of a barrel aged Tannat. Look out for wines by Bouza, Garzon, Marichal and Carrau.
On the other side of the Rio de la Plata comes in Argentina with its juicy Malbec offering a somewhat lighter red that will work well with both ground and hand-sliced beef empanadas. You can taste your way through the spectrum of Argentine Malbec along with the spectrum of Argentine beef empanadas: try adding some potato and egg to the mix for a lighter ground beef empanada which goes with a younger Malbec with little or no oak ageing (look out for Chaman or Domaine St Diego), or try the traditional Mendocino empanadas with about 40% fried onion or carne al cuchillo to go with a richer and darker Malbec, perhaps from the Uco Valley or north of Argentina that has spent time in the barrel (try out Altos Las Hormigas or El Porvenir). If you want to try the spicier empanadas from the Salta in the north add green olives, chili and raisins to a ground beef empanada, but this time skip the Malbec and pair it how they traditionally do in the region, with a Torrontes. The white wine surprisingly holds up very well to this more aromatic style of empanadas, especially if you go for slightly more food friendly, oily Torrontes like those of Marcelo Pelleriti and Jelu.
Brazil: Sparkling and Sweet
There's no doubt about it, Brazilians have a sweet tooth, and in homage to one of the best party nations finish your empanada journey on a sweet note while popping a bottle of Brazilian bubbly.
One of Brazil's most typical sweet empanadas (use a sweet or neutral pastry dough) is Pastel Santa Clara: stuffed with toasted almonds and an egg yolk and sugar "creme anglais" style filling. The warm toasted almond aromas work beautifully with a champenoise method sparkling wine that has those slightly toastier and more developed notes with time on the lees.
Below: Traditional presentation of Pastel Santa Clara. (Rota da Bairrada)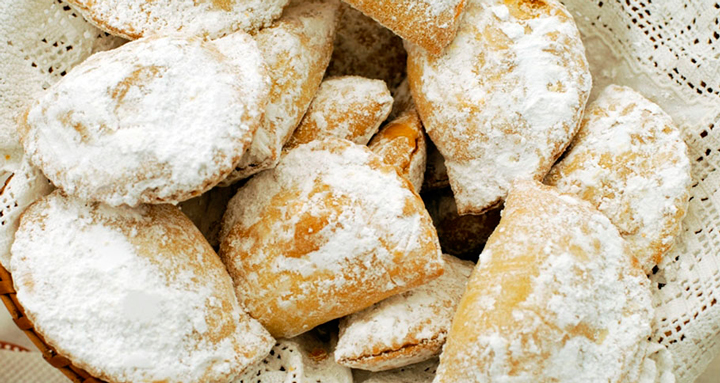 If you are going down the more fruit driven and young sparkling wine route (try Brazilian sparkling muscat, or Prosecco-style sparkling) try mango and coconut stuffed empanadas with a little crème patisserie for a tropical and sweet treat that highlights the fruit nose of the wines. Many Chardonnay-based sparkling wines also mimic this tropical fruit aroma and will work well with the above, or with baked banana and cinnamon empanadas, or with baked apple, cinnamon and flaked almond empanadas, in a crispy butter-fried pastry. Now wipe the drool from your chin.
South American empanada and wine pairings are endless. But as with any empanada party... you're guaranteed to need a siesta afterwards!
Amanda Barnes is a British wine writer living in and tasting her way around South America. She writes for various wine and travel publications including The Drinks Business, Wine-Searcher, Fodor's and The Telegraph.
You can download her free winery guide to Mendoza and South America at www.thesqueezemagazine.com