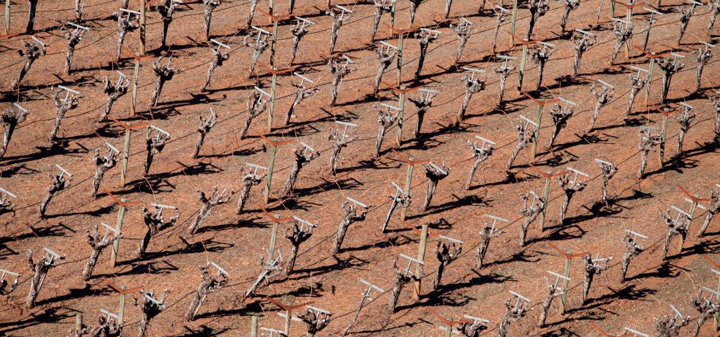 A recent news report by CBS News put climate change and its effects on California's wine country (specifically Napa Valley) in the focal point once again. This is a conversation that has been going on for quite some time now, but the present circumstances are more convincing than ever as the warmest winter on record has introduced an incredibly early wine season — and it may make for a great harvest and product this year as the grapes have even longer to ripen on the vine, but the long-term effects could be devasting for the region.
Basically, since the 1960s, temperatures in the United States have increased one to two degrees — and the government claims that over the next 40 years, temperatures in Napa Valley will continue to rise an estimated four degrees, potentially cutting the growing land in half. The Proceedings of the National Academy of Sciences published a study that was even more alarming, claiming that by 2050 it could shrink by 70 percent. According to the U.S.'s Global Change Research Program, this rise in temperature makes droughts more severe and widespread. But not everyone agrees with the outcome. There are other scientists that say even though the temperature does look to rise, there are several variables that might lessen its impact. Among these variables are our own (somewhat controlled) advances in technology and viticulture. However, it seems that there is a consensus in the scientific community that climate is indeed changing.
An extension of the wine industry being so important to the region, less product has a sizable regional economic as well: according to the crop report issued by the Napa County Agricultural Commissioner's Office, grapes make up $656 million dollars of Napa County's $662 million agricultural value, including including vegetables, olive oil, and livestock. That is more than 99% of its value, and includes jobs as well as money. Total harvest is already decreasing, and increased value (Napa's wine is selling for higher prices in the current market) will only cover the difference for so long. Even more worrisome? California produces 90% of the U.S.'s wine.
But while this report focused on Napa Valley, with the release of the National Climate Assessment (also from the GCPR) it is clear that there are signs nationwide pointing towards a troubling future, a future that no longer appears so much a possibility as it does a certainty. And the PNAC study predicts worldwide effects varying by region. Chile is expected to decrease by 25 percent but southwestern Australia, 70 percent.