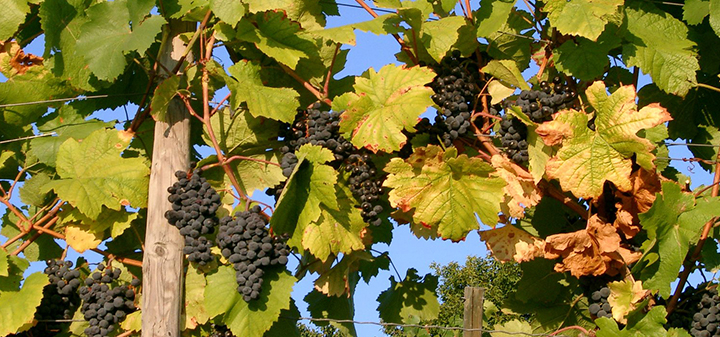 In the 1990's, Napa Valley's famed (and expensive) vines lay under siege by a deadly insect named Phylloxera, a pest that ravaged the vines all the way through the end of the decade, the extensive ripping out and replanting making for an estimated $6 billion of damage. Two decades later, memories of the epidemic are causing winemakers to be cautious yet again as a new threat grows among the vines: Red Blotch, a virus that causes delays in ripening of grapes and can lead to lower alcohol, dramatically affecting grape quality.
To this point, it doesn't seem to be widespread – although it is turning up in vineyards all over California and other winegrape growing regions around the country. In fact, grape growers don't seem too concerned at all, and winemakers insist that you'll continue to drink the fruity, oak-driven wines many of us have come to love, and at no additional cost to you. But one can't avoid being concerned: the ominous-sounding virus has no known causes and therefore, has no calculable preventions, making it a formidable insurgent.
[KNOW THY ENEMY: 10 VINEYARD INSECT PESTS]
You may have heard of other grapevine pests. There is the before mentioned phylloxera, mealy bugs, glassy winged sharpshooters, European grapevine moths, marmorated stink bugs, and light brown apple moths — all amusingly named but nonetheless daunting. It's what happens when you're dealing with an agricultural product. Red Blotch reduces sugar levels and increases acidity in wine, mostly infecting Cabernet Franc, Cabernet Sauvignon, Merlot, Petite Sirah, Petit Verdot and Zinfandel.
"We've dealt with leaf roll [another widespread grapevine disease] for years and this is just another in the same way we manage leaf roll. You won't see changes in the wine enough to impact quality," says Al Wagner, the vineyard manager for Clos Du Val winery. He farms 350 acres up and down the Napa Valley and he estimates that about 15% of those are infected with red blotch.
Andy Beckstoffer, the largest landholder in Napa Valley has even shrugged off the outbreak and termed red blotch, "the bug of the month," even though the winemakers are unsure whether a bug is the culprit.
So, what is a vineyard overseer supposed to do in order to stave off the ravages of this possible threat? Wagner and others to whom we spoke overwhelmingly cite the importance of planting "clean" grafted rootstock. Rootstock is the budded material to a grapevine which allows a vine to grow, and which seems to be where red blotch seems to be introduced. Researchers have even recently been granted government money in order to ensure clean, disease-free rootstock material for the wine industry are, along with plant nurseries, on the front lines in this latest skirmish against the ravages of yet another disease.
"The biggest thing is making sure the nurseries are not using infected material, and making sure the budwood and rootstocks are clean," emphasizes Dave Michul, the viticulturalist for Beckstoffer Vineyards, with 1,000 acres in Napa Valley and which farms another 2,600 in Mendocino and Lake counties of California.
His company has gone so far as to pull out those individual vines that are infected with GRBaV which he believes has infected only about 1% of those 3,600 acres. To date, no red blotch has shown up in Beckstoffer's, saving perhaps California's most important and costly vineyard, To Kalon, whose coddled grapes go into wine that run anywhere from $150-$350 a bottle.
"We don't know how this disease is vectored and where it originated from and how it spread so quickly," Michul says. "There are a lot of questions that need to be answered. In 2012 and '13 it didn't show too many symptoms. That helps me sleep at night."
Davie Piña, the owner/GM of Piña Vineyard Management with 1,000 acres up and down Napa Valley, told me that he has ID'd four different blocks, or nine acres, infected by red blotch.
"We could never figure out what was wrong with [the vines] and now we know," he explains. "We're catching a lot of the red blotch vines now. But this won't change anything. It's been around a lot longer than we know. It's always been there, but the last 10-15 years it started getting into the system. It's just another one of those items that you need to be well-aware of. If you're really careful, you can move forward."
Clos du Val's Al Wagner concludes: "We spent almost $10,000 to $15,000 last year investigating with aerial imagery, checking every block. And it will continue to cost. For every vine we pull out of the ground it costs us about $6 and the loss of production for three seasons. But, I'm not losing any sleep over it."
But should you? Considering that some of that cost from the wine industry likely will be passed onto you, making those big Napa Cabs even more stratospheric in their cost.