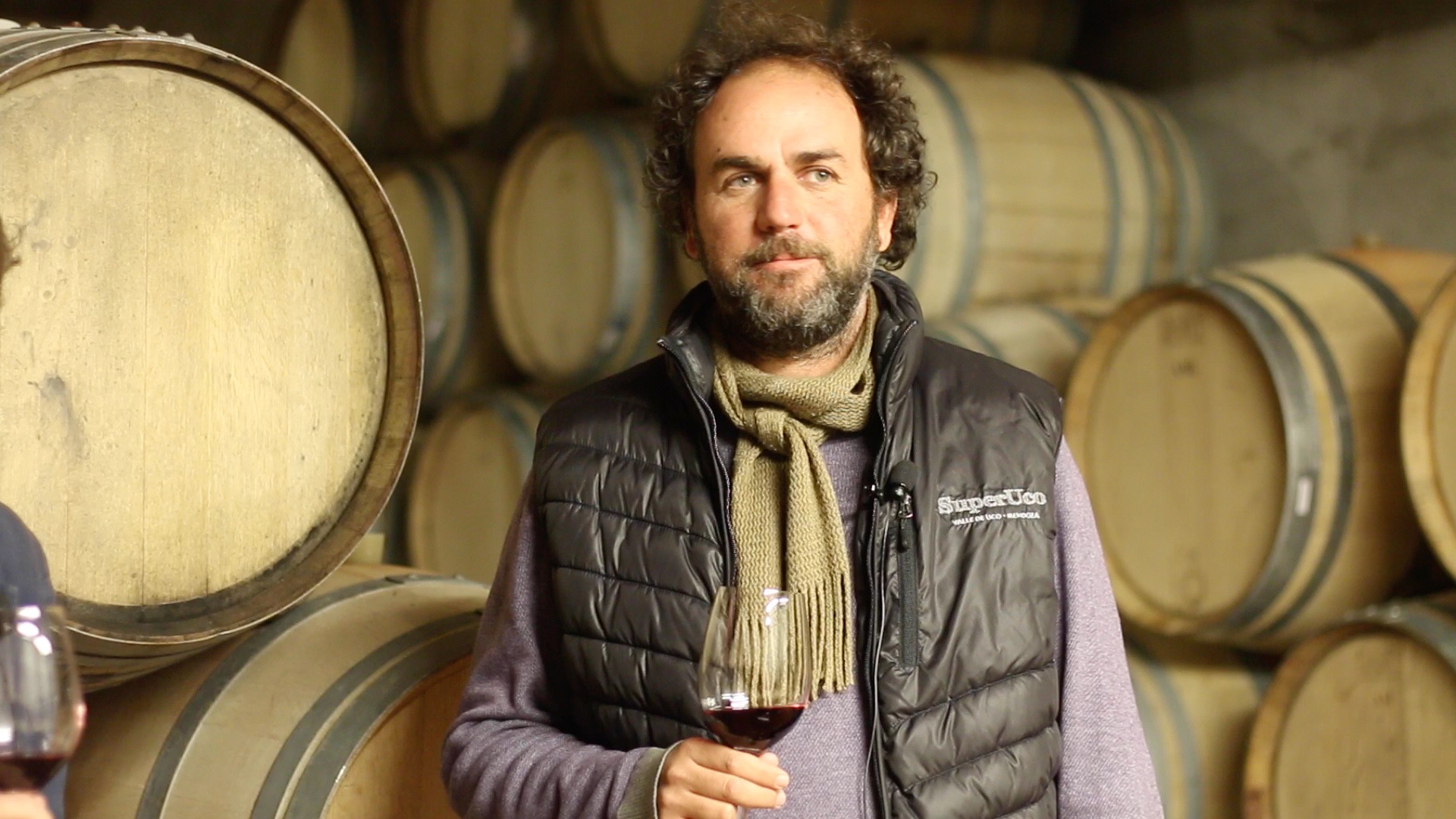 During a week long visit to Mendoza we asked many wine people what aspect of Argentine wine they are most excited about. The answer that came back from most was wine coming out of the high altitude Uco Valley sub-region of Gualtallary. When asked who is innovating, the name most often mentioned is the Michelini brothers and their estate, Zorzal.
Zorzal was established in 2007 by founder and general manager Gerardo Michelini, and his winemaking brothers, Juan Pablo and Matias. The estate is located just 80 kilometres southwest of Mendoza, and lies at 1,350 meters above sea level (the highest of any winery in the region). It is not a place where one would logically think to engage in agriculture.
The Gualtallary terroir is extreme. It is a parched desert-like area with shrubs and cactus blending into a barren landscape. The terroir at Zorzal is derived from a rocky limestone soil, with chalk-streaked stones tempered by a breeze from the Andes. The winery practices organic methods in the vineyards and uses indigenous yeast in the winemaking process.
The Michelinis are making a new style of Malbec - lean, bright and crisp, a radical departure from the big high alcohol Malbecs that put Argentina on the wine map. Zorzal tends to pick it's grapes a little earlier (greener) than most in Mendoza to retain freshness and acidity in their wines instead of the overblown ripeness that is too often seen.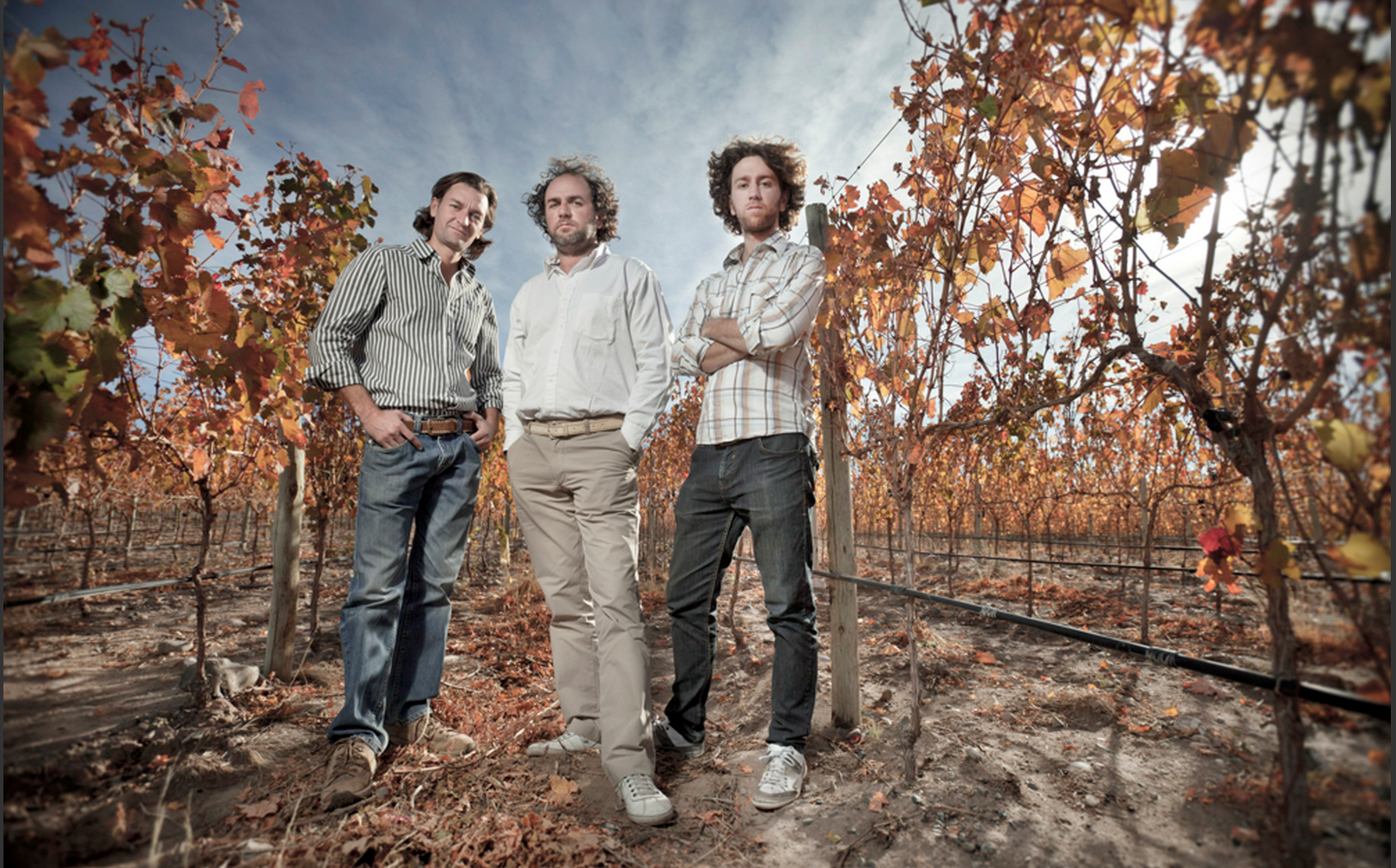 The Michelini brothers, Matias, Gerardo and Juan Pablo
Christopher Barnes: Gerardo, you used to be a banker in Mallorca.
Gerardo Michelini:Yes. In another life.
In another life. Then, you followed your dream. Most people are too scared to give up their jobs, and the money, go back and do what they really dream about. How did you find the courage to do that?
My education is in finance, originally. The dream I had with my brothers was to build this winery in this place. I worked in a bank to obtain the funding to arrive at this point. Banking was not the end, it was the way. It was the journey to arrive here.
We've been in Mendoza for a few days now, and when we ask what is the future of Mendoza, where are the best wines getting made, pretty much everybody is talking about Gualtallary, which is where we are right now. Tell us about how you found this spot, and what the terroir means to you.
Terroir is all for me, for the winery. We imagine this place in different ways. First the soil, we have unique soil in Argentina. It's almost 100% calcareous or calcareo in Spanish. It's not usual in Argentina. This is the first thing, because calcareous soil gives the wine an austerity, a minerality that is not usual in Argentina. Argentina normally makes a huge Malbec, sweet Malbecs, but this calcareous gives the wine minerality, austerity and terroir.
We've talked to a number of winemakers that have talked about modern winemaking in Argentina. In most Old World countries, modern winemaking means higher alcohol, bigger wines, more fruit. Here it's the other way around. Modern is going back to what is happening in the Old World and making leaner, lower alcohol, higher acid wines.
In Argentina, we have a different conception. For us, traditional wines are the kind that Argentina used to make, big Malbecs with body, jammy. For us, the modern wines are light, elegant, with acidity, easy to drink, easy to pair with food. We imagine more wines like this, but you have a reason. We are looking to Europe, the north of France, the Loire, Burgundy. These regions are for me, the best regions to make good wines.
Tell us about the wines that you are making right now.
We make wines like this. Wines that are fresh because we are in the fresh region of Mendoza. The altitude is at 1,400 meters high. As a result, the wines will be fresh. We are in the desert, like Mexico. Therefore, the wines are mineral, not jammy.
Gerardo, you started in 2008, is that correct? How has the winemaking evolved since you began making wine here?
We change everyday, everyday. When I think about when we started in 2008 and I see where we are today, we changed everything. We started with these traditional wines and wines with more body, but we learned that this place is different and we changed year by year to more wild wines than the wines we made in the past.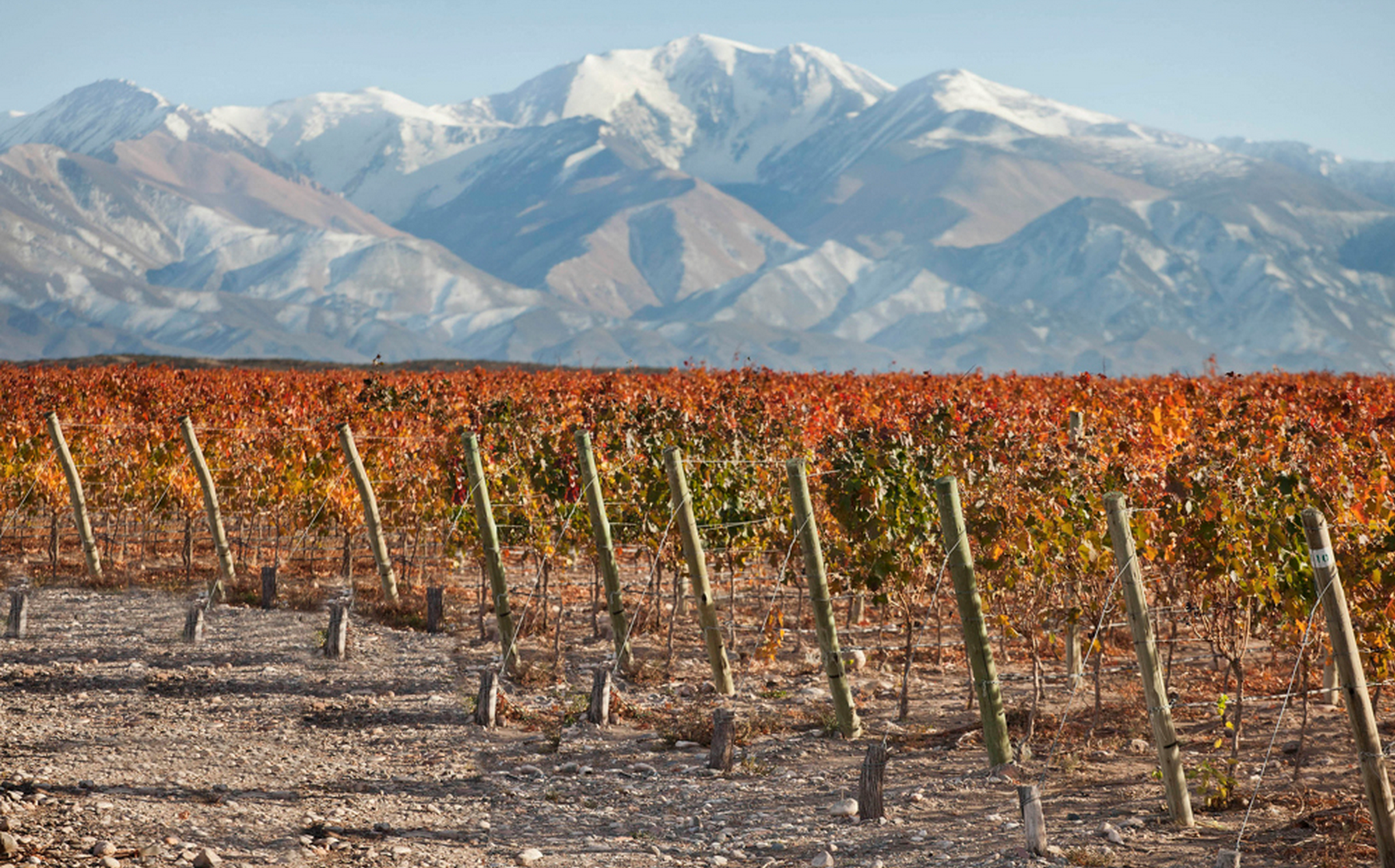 You mention wild wines, what does that mean to you? What does it mean to make a wild wine?
Wild wine is not wine with sugar, not sugar wines, but wines dry like arrows. Dirt wines get inside you. This is wild like an arrow.
Is it picking early?
The most important change is that we do nothing. We try to do nothing. We leave the grapes, 80% with the complete bunch, and wait. We just wait for the natural gift of this place. It's just the easiest way to make wine. We do nothing, we only wait, but we have an amazing valley with very healthy grapes and intervention would do bad things. Don't intervene with the wines.
Tell us about your agricultural practices. How do you go about growing your grapes?
In the vineyard, we farm organically and we are starting with the newest biodynamic process, which is not usual in Argentina. We started with biodynamics two years ago and we are falling in love with this process.
Do you have a favorite wine region?
I love the Loire. I love Sancerre. I love Agneau, but I love my wines too.
Gerardo, you do something very interesting with the way you vinify your wines. Tell us about that process.
We work with egg shaped vats that we love because they are different than the barrels. They are similar in shape, but the eggs don't put wood notes in the wine. That is a big challenge for us because when we saw eggs in France, we asked for these eggs to bring to Argentina and the price was huge. We decided to copy them using pictures and we developed them here in Argentina and it was much cheaper than buying them in France.
We started with one egg in 2011 and now we have about 20. In Argentina, there are now a lot of wineries with eggs. They copied us.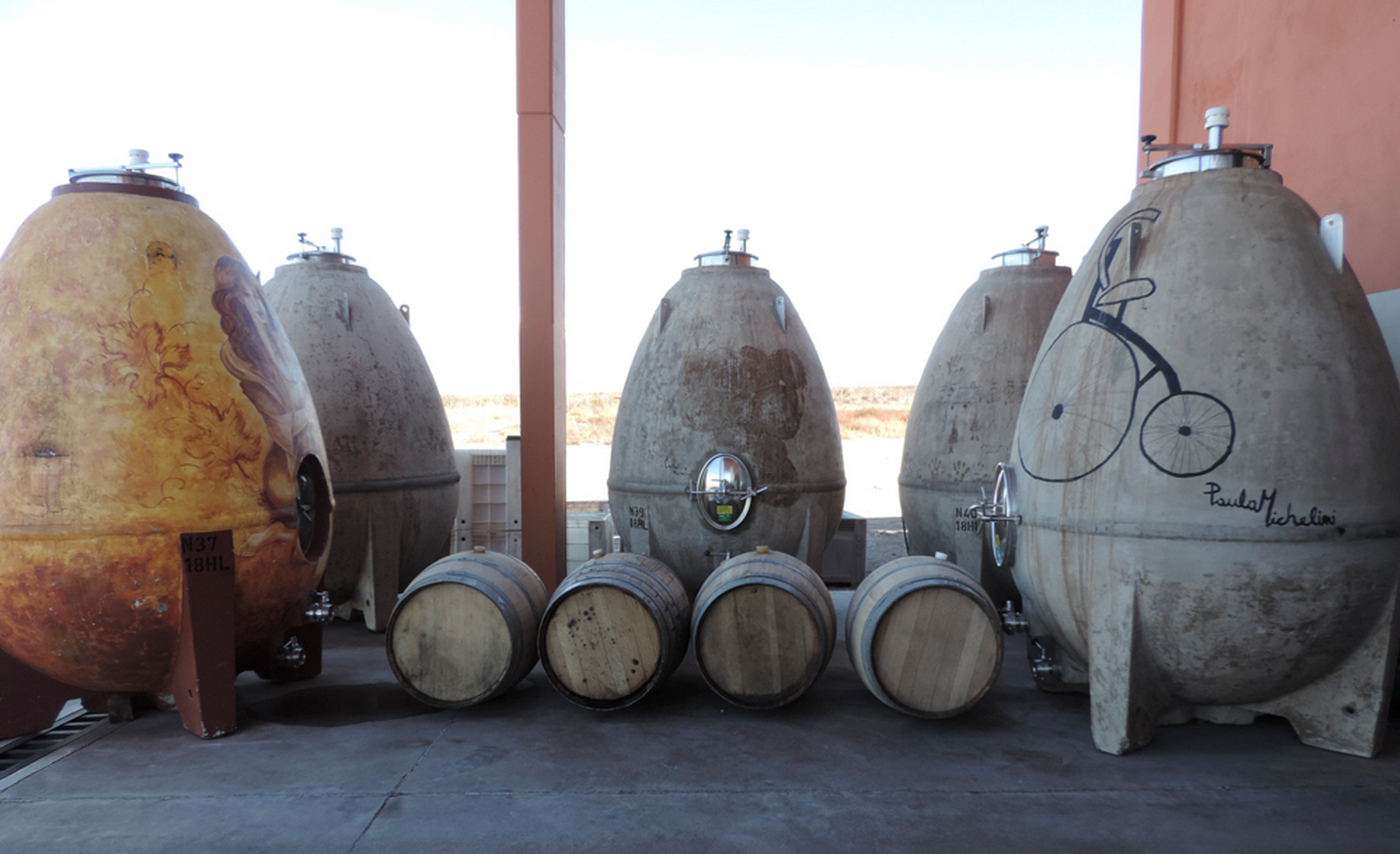 I've seen a few.
It was our idea. We didn't patent them. We didn't register the idea and the constructor earned a lot of money from our idea. The shape is very nice for completing the wine because the juices inside are in permanent movement, and convection movement gives the wine more complexity and more body.
How much wine are you making at the moment?
We make around 500,000 bottles per year.
That's quite a bit to be doing after such a short period of time.
Well, we grow every year. A lot of people worldwide want to see what we are doing here. This is fantastic for us, for our philosophy.
Zorzal was a dream for us. For me and my brothers. Every time we imagined a winery, we imagined it here in this place. We all worked in different wineries, as employees. We always dreamed of building a home here place in Mendoza, in Gualtallary. One day we did it and we are here.
Gerardo, tell us why you decided to get into the wine business?
This is a family tradition. My grandparents were born in Italy. Our last name is Michelini, we are from the north of Italy. They came to Argentina as immigrants. They decided to start here in Mendoza because they wanted to make wine.
We love the terroir. We love the soil, the sun, the climate. Our philosophy is to make wine, to represent the terroir, this place.
What does Zorzal mean?
Zorzal is a bird. A very ugly bird, but with a very beautiful song. We have a very famous tango singer who we call the Zorzal for his song. Zorzal in Argentina means tango, it means passion!
As of publication Zorzal is available for purchase at Zachy's for $13.99. The Zorzal Eggo is available at Slope Cellars for $36.99.