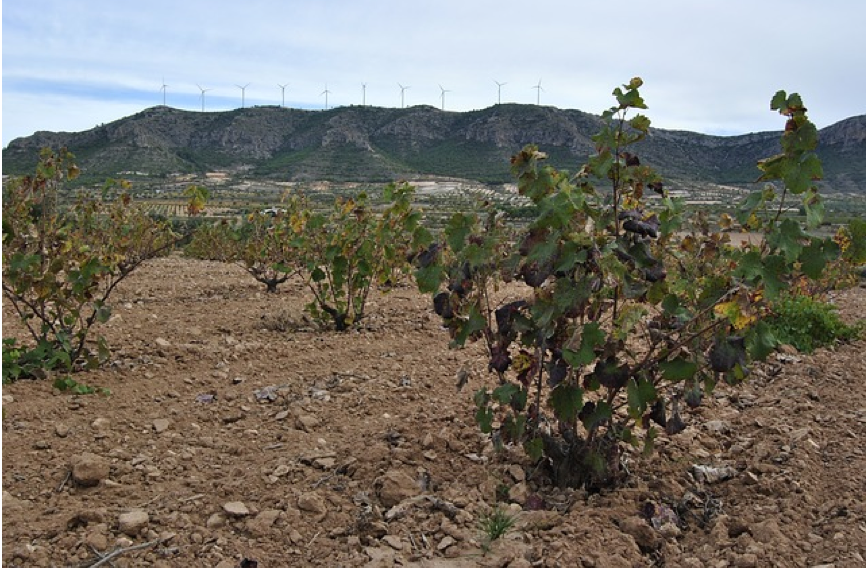 Geography & Climate
Jumilla is a wine Denominación de Origen (DO) located in the Murcia and Albacete regions of Spain. It is situated in the southeastern portion of the country on the Mediterranean coast and is bordered by Yecla to the north and Bullas to the south.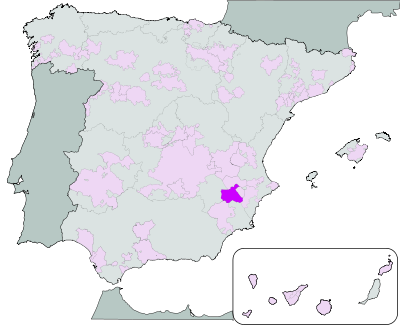 With approximately 32,000 hectares currently under vine and 3,000 registered grape growers, Jumilla is commonly regarded as the region's most significant DO in terms of quantity and quality of wine produced. The Jumilla viticultural area consists of 44 vineyards and produces 24 million liters of wine each year.
The landscape is characterized by expansive valleys and plateaus spotted with mountainous terrain. Altitudes range between 400 and 800 meters, as the region stretches between the Mediterranean coastline and the high inner plateau of Castile-La Mancha. The climate of Jumilla can be described as continental with temperatures generally varying between 45 and 80 degrees Fahrenheit, although temperatures can drop to below freezing and reach over 100 degrees. Typically hot, dry, and sunny, the risk of frost is rather low and there is always the prospect of drought, severe storms, and torrential rains. While grape growing can be challenging under these conditions, the high elevations and moisture-retaining qualities of the lime content in the soil help make Jumilla suitable for grape cultivation.
Grapes & Wine
The most significant red grape varietal found in Jumilla is Monastrell (pictured below); it accounts for more than 80% of the vines as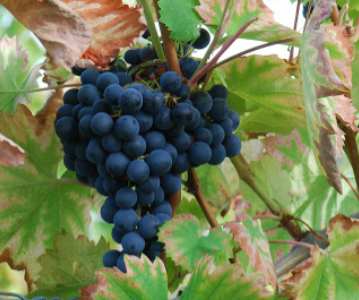 it adapts well to the difficult climactic conditions. It is used to produce excellent, high quality reds with black fruit and plum flavors, as well as refreshing, fruity rosé wines. Other red varietals cultivated in Jumilla include Garnacha Tinta, Garnacha Tintorera, Cencibel (Tempranillo), Cabernet Sauvignon, Merlot and Syrah. The primary white grape grown is Airén, but Chardonnay, Macabeo, Malvasia and Pedro Ximénez are also planted.
The wine industry in Jumilla prospered when phylloxera struck France, as this resulted in an increased demand for Jumilla wine. However in 1989, long after the pest hit other Spanish regions, Jumilla's wine industry succumbed to the insect. With vines wiped out and replanting necessary, vintners decided to rethink their approach to winemaking. This resulted in a modernization and a new focus on producing lighter, higher quality wines rather than the bulk wines for which the area was previously known.
Interesting Facts
The Jumilla DO was established in 1966, making it one of the oldest in Spain.

Monastrell is the third most widely planted grape in Spain, and is found mostly along the Mediterranean coastline. The grape is known as Mourvedre in France.

Cultivation of Syrah, Cabernet Sauvignon and Merlot has increased in recent years, and they are typically used for blending with Monastrell-based reds to add body and character.

Jumilla's wines, primarily its reds, are recognized worldwide and are frequently found on "best value" lists.


Jumilla is one of a few Spanish wine regions that have established a wine route, the Ruta del Vino de Jumilla (Jumilla Wine Route).