Muscadet is made with the Melon de Bourgone grape. The name Muscadet comes from vin qui a un goût musqué - 'wine with a musk-like taste.' Despite that origin name Muscadet is bone-dry, crisp, minerally, refreshing and in no way "musk-like." Melon de Bourgogne is a relatively neutral grape described by Ray Isle in Food & Wine as a "fairly nondescript variety." Winemaking techniques include "sur lie" aging allow the grapes to develop more flavor and texture due to its contact with the lees (the dead yeast cells left over after fermentation). Muscadet offers a great complement to fish and especially oysters.
Eric Asimov in his New York Times Wine School describes Muscadet as: "Like many great French white wines, Muscadet, which comes from the Pays Nantais at the Atlantic end of the Loire Valley near the city of Nantes, is not so much fruity as it is textured, with a range of subtle aromas and flavors that don't leap out at you but reward careful attention."
The Lieubeau family has been making Muscadet in the Loire for six generations. They are making excellent organic Muscadet in the village of Château-Thébaud just south of the Loire river near Nantes. Grape Collective chats with Lieubeau winemaker Vincent Lieubeau about his family estate and the combination of climate, soils and tradition that makes Muscadet great.
Jason Borrows: Tell us about the history of the estate.
Vincent Lieubeau: Welcome to Famille Lieubeau. We are growers and winemakers in Loire - Muscadet for six generations.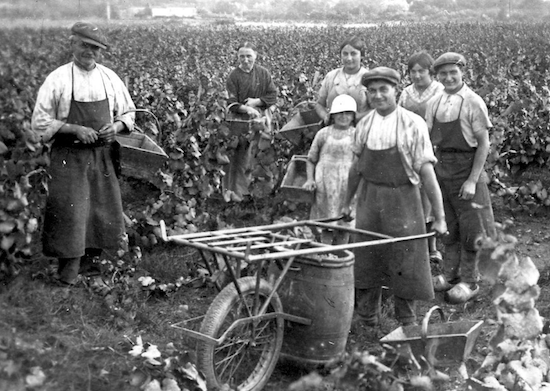 Our story begins in 1816 with Joseph Gregoire, an child orphaned under the porch of Nantes hospital. This place gave him his name Lieu-beau. The story now goes on in the village of Château-Thebaud with Pierre, Chantal, and their children Francois, Vincent, and Marie. We believe in diversity: nature, rocks, grapes, women and men from our team. Our Muscadet are grown under organic or Terra Vitis Sustainable Growing certification.
(Photo, above: Harvest by an early generation of the Famille Lieubeau.)
All of the three of us (Francois, Vincent and Marie, the three children) have been studying and working outside the winery, taking great experience and own skills for a couple of years. We have all stayed in contact with the winery issues, organizing regular workshops and helping when necessary. Finally, wine passion and family heritage have been stronger and each of us came back full time on the winery project. Within the team, Francois is in charge of commercial and marketing, I (Vincent) hold vineyard management and winemaking and Marie cares about administration and oenotourism. To us, winemaker is the life we chose as the greatest. It has to do with nature, culture and history, gastronomy, sharing and interactions with others. Not only a professional matter but a life project within the family.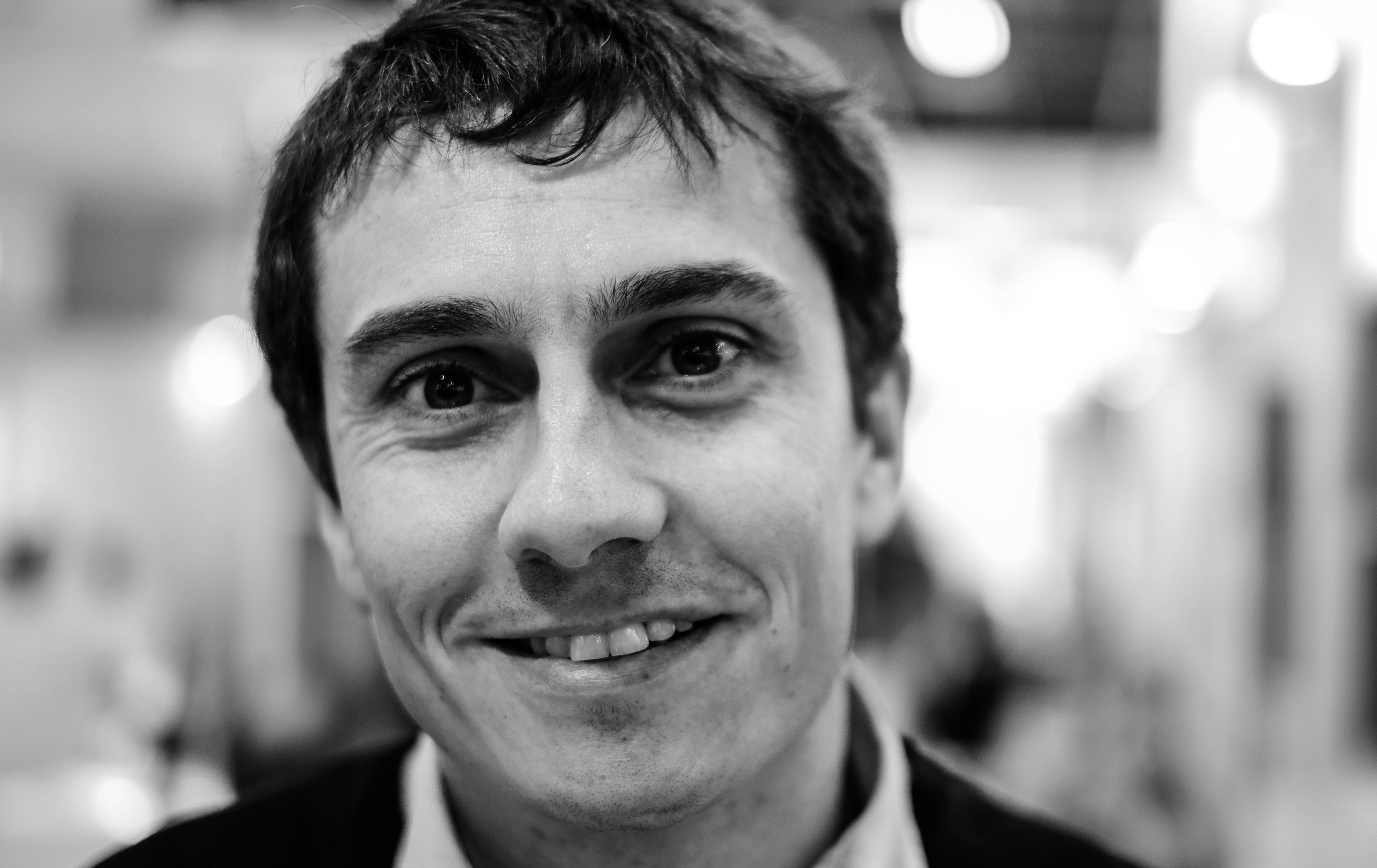 How long have you been making wine? How has your winemaking evolved over time?
The family has been making wine for the last six generations. While our grandfather only holds a couple of hectares, our grandmother was a haircutter, the winery was just enough for a family to live. Our parents Pierre and Chantal really took off the winery by specializing in wine, increasing the surface and investing in the quality. Formally, I am now the winemaker. I have both agricultural engineer and qualified oenologist degrees. I have been winemaking from the age of 25 while I was working as a consultant for a South of France-based advising company. I took this opportunity to travel, and experiment winemaking in all major wine countries and regions such as Champagne, Burgundy, Argentina and Chile, the US. When I joined back the winery and the Muscadet region, I brought a great experience and very specific technical skills and processes. Still with the family background and our father Pierre experience transmission and Muscadet terroir acculturation.
Talk about your terroir - soils and climate.
Our Atlantic Loire region is one of the greatest for white wines production as it offers the best balance between cool temperatures and perfect level of yearly rainfalls. But due to its northern and western position, it is also very sensitive to both spring frost and mildew pressure. Producing high quality wines with sufficient volumes is here always a challenge. Last year, we have been hit by frost and seriously damaged. In one night, we lost a significant part of our yearly production. This teaches you humility and resistance. On the other hand, every success is yours and all Lieubeau bottles shared with your friends and paired with a great meal makes us happy and bring sense to our life.
About soils, our region is the geologic Britannia, end of the Loire, close to the ocean. Whereas most wine regions are located on limestones (Bordeaux, Burgundy, Champagne), our vineyards stand on 500 million years metamorphic/volcanic rocks. They come from an old mountain chain named Massif Armoricain which after centuries of erosion forms our famous granite, gneiss and orthogneiss, schist, gabbro, amphibolite, serpentine. To sum up, Muscadet rocks are older, more diverse and very different. In a word, unique! That's what we show on the label "Vendanges au Centre de la Terre – Harvest into the Center of the Earth."
As a consequence, Loire and especially Muscadet make wines that are light and fresh, mineral and fruity with a great elegance and this versatile salty character you never forget.
What is your philosophy of winemaking - and also of viticulture? What makes your wines special?
We do every step of the wine from the vineyard to the bottle and that's what we love. It goes from planting, pruning, taking great care and harvesting at the vineyard, winemaking and ageing at the winery to direct sale in bottles to our customers, around the world. This is for us a great pride to provide a local, natural, delicious, family handcrafted wine and to have the closest relationship to our customers. Also, we hope you will have as much fun to taste it as we had to produce it!
(Photo, left Melon de Bourgogne grapes)
Intense fruit has always characterized the tasting of our "classic" wines such as Voyage Extraordinaire. Our objective is the absolute respect of the fruit (short pruning, tillage, grass cover, trellising, de-leafing, harvest sorting...) and technical investments at the winery (press fractioning, skin contact, temperature control, bottling) aim to its perfect expression. About our plot selections especially our Crus Clisson and Chateau-Thebaud, we focus on a "terroir driven" process with organic farming on old vines and greatest Muscadet situations, hand harvest, indigenous yeasts, no sulphur before fermentation and long "sur lies" ageing. This great care is pretty unique in the region.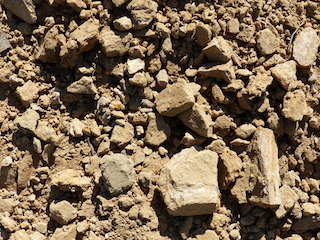 Which varietal/style is your passion and why?
Muscadet is 100% made from Melon de Bourgogne and only our region grows this varietal (with the exception of a couple of hectares in native Burgundy and Oregon). It is unique! As a consequence, we take as a mission to spread our wines and the singularity of our varietal to the customers. That's how "Voyage Extraordinaire" Muscadet is born, an introduction and an ambassador of Muscadet and its city of Nantes, through the books of its home child Jules Verne, science-fiction inventor. That's also the story behind the label "5 semaines en Melon - Five Weeks in Melon"
How would you describe the character of your Muscadet? What kinds of food is good to pair with your Muscadet?
This Muscadet is a crisp and fond white wine, full smoothness, freshness and aromatic expression with its natural spritz. Deliciously fresh, dry white with lovely citrussy fruit, pear notes and minerality. As our family winery is located at the end of the Loire, Atlantic mouth, you can feel the ocean breeze in our Muscadet. It offers both a great saltiness and freshness that make it the perfect match with all kind of seafood (and not only).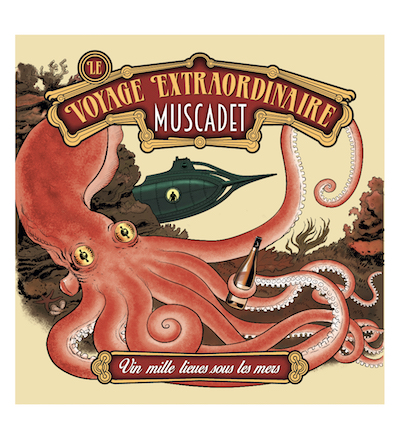 That's what "20,000 lieues sous les Mers – 20,000 leagues under the Sea" label tells!
(Photo, left: Voyage Extraordinaire Muscadet 20,000 leagues under the Sea label)
It is very versatile as we had fun imagining what might have been the saga of « Voyages Extraordinaires » by Jules Verne, the literary genius of Nantes and inventor of science fiction, if he had drawn his inspiration from the wine of his hometown. Through this original cuvee based upon his best sellers, we wanted customers to discover Muscadet, a dry and fruity white wine, from Melon de Bourgogne grape, perfect match for seafood. Our aim was also to show our devotion to our Muscadet great terroir and very active and attractive city of Nantes.
Most memorable moment making wine?
Of course harvest is always the key point and the most accurate moment in the winemaker's year. Every year during one day, we welcome 100 of our customers to discover and harvest at the winery for the benefit of the French national association "AFM Telethon" who cares about patients and their families who are affected by genetic, rare and progressive diseases. Family harvest stays as a memorable moment, under a bright sun, on the slopes of our Chateau-Thebaud vineyard, with perfect ripeness and sanitary state, and the best spirit within the harvest team. Unforgettable!
Other than your own wines what do you enjoy drinking?
We love wine! There is always an occasion or a friend to share a glass with. Other Muscadet, Loire Valley wines, esp. Chenin Blanc and Cabernet Franc at home. Friends from the Northern Rhone, Languedoc, Oregon and cousins Albariño, Grüner Veltliner and German Riesling when travelling. And a glass of Champagne to celebrate!