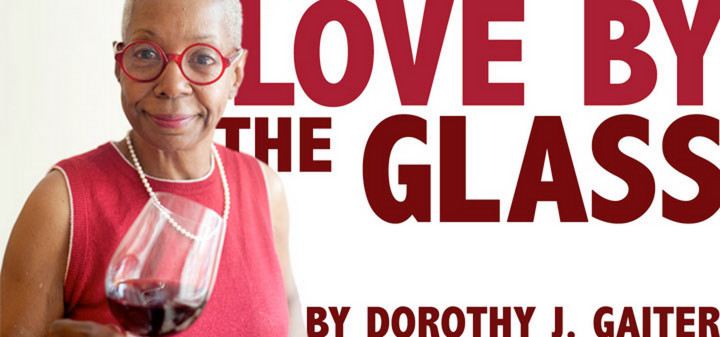 Here's a toast to openness! My first job out of college was as a reporter at The Miami Herald. I started on June 4, 1973, the same day as the handsome, smart, caring man I later married. John and I were 21, and the Herald was the place to be — a bustling newsroom filled with brilliant reporters, editors, and photographers who taught us a great deal about everything that's important.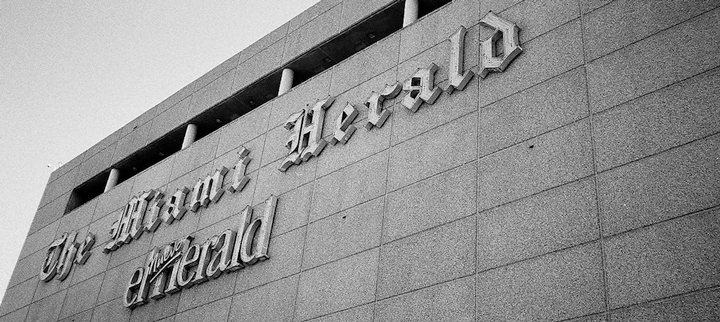 Above: The old Miami Herald building. (Nieman Lab)
We'd all been drawn to Miami, a city unlike any I'd ever seen in the United States. It was like a foreign country, or rather like many foreign countries crammed into one maddeningly complex, richly texture, beautiful metropolis. There were Jews with concentration camp numbers tattooed on their arms. And other Jews with still vivid memories of being barred from hotels on Miami Beach that posted signs that read: "No Jews or dogs allowed."
There were Anglos, or "regular" white people, as they were referred to by many Spanish-speakers. Many black people lived in more dire circumstances than in other large cities, some of them the ancestors of Bahamians who had built some of Miami's earliest structures. And with horrible frequency, a rickety boat from Haiti capsized, dumping its precious cargo into the ocean. Some mornings began with a call from the City Desk to get to a beach where a body had washed ashore.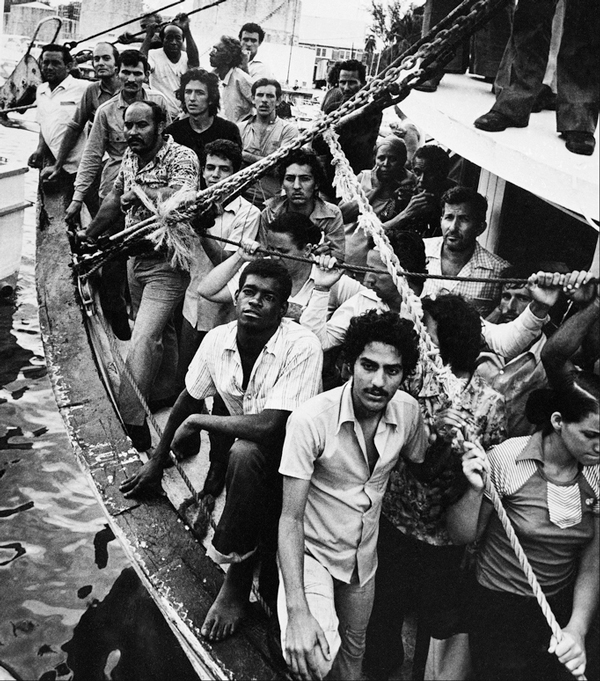 And then there were Cubans. Soon after Fidel Castro came to power in 1959, many Cubans fled their now-Communist homeland, 90 miles from Florida's coast. There were eventually increasing numbers of other refugees, from war-torn Nicaragua and El Salvador. But by 1973, the involvement of the United States with Cuba — the failed Bay of Pigs invasion in 1961, the Cuban Missile crisis in 1962, and airlifts of refugees that went on for years — had made Cubans unique in the City of Miami, where people of Cuban descent now constitute a majority of the population.
Right: A crowd of Cuban refugees, some of 125,000 that were allowed to leave the country for the United States, during the Mariel boatlift in the 1980s. (New York Times)
Among our Cuban colleagues over the years were a sweet intellectual who had become disillusioned with Castro and been imprisoned for more than 20 years; and a young man whose parents, fearful of what Castro's revolution would bring, had put him on a plane to America under a humanitarian effort called "Operation Pedro Pan" with other Cuban children. They were settled with American families until they could be reunited with their folks.
Bonnie Anderson, a white American colleague, lost her father, Howard Anderson, in Cuba. He had several family-owned gas stations and other businesses there where the family lived. But in 1961, he was arrested, charged with smuggling arms to overthrow Castro, sentenced to death and shot by a firing squad, the first American executed on Fidel Castro's orders. She later wrote about confronting Castro.
The news last week that President Obama had ordered a normalization of relations between the two countries is a good thing. I haven't spoken to my former colleagues, but I think with openness comes truth; that which was hidden, good and bad, becomes apparent, inescapable. I believe truth leads to the exercise of freedom, especially and eventually where it has been denied, and the exercise of freedom leads to better, more humane societies. This is why I became a journalist.
To toast the future or the present, we found these sparklers pretty darn impressive. They'd be great with or without food. And at these prices you can pour liberally and not hurt your wallet.
Starting with the best:
2007 Lantieri De Paratico Franciacorta Riserva Origines Pas Dosé. Franciacorta is located in the Lombardy region of northern Italy and the wines of the area were mentioned centuries ago by Pliny the Elder and Virgil. While Italy is known for several sparkling wines, DOCG Franciacorta wines were the first in Italy to undergo a second fermentation in the bottle, metodo classico or méthode traditionelle, the way Champagne is made. In fact, this method is required for these wines. The Lantieri Riserva Origines is 75% Chardonnay and 25% Pinot Noir and is pas dosé; it has zero grams of sugar. The juice was in contact with the lees in the bottle for 60 months.
Our notes read: "This was stunning, very Champagne-like. Clean, fresh and bright. Nice, youthful and fun with character and some complexity. Toast, yeast, grapefruit. Very classy. Focused and minerally, balanced. Good with food, good without food."
The next two Proseccos come from Adriano Adami, a family-owned wine grower that has been making wine for more than 80 years in Veneto, Italy. In 1920, Abele Adami, father of Adriano and grandfather of the current owners, Armando and Franco Adami, bought the Giardino vineyard, long considered among the best in the Valdobbiadene. Adami first gained recognition for its wines in 1933 at the Siena Wine Exhibition, the year it made what was regarded as Prosecco's first cru, Vigneto Giardino. These wines are made with the metodo martinotti or charmat method, with the second fermentation happening in steel tanks.
2013 Adriano Adami, Valdobbiadene Prosecco Superiore Rive di Farra di Soligo "Col Credas." This single-vineyard Prosecco rocked. So many can be tasteless and funky, but this was clean and crisp, with great acidity. The label said "brut" and we wondered if it really was that dry and it was. The wine is made 100% from the regional Glera grape (formerly known as Prosecco) grown in the DOCG Valdobbiadene Prosecco Superiore area in northern Veneto. Wines from the Rive, a subzone, must be sparklers and vintage-dated. John said, "I could come home to this every night." It had nice acidity and minerality and reminded me of apples and white peaches. It was wonderful with Peruvian roast chicken, with its array of spices.
2014 Adriano Adami Garbel Prosecco Brut DOC, from the city Treviso. This Prosecco is 93 to 95% Glera grape and 5 to 7% Chardonnay. While it had hints of apples, pears and peaches, it was quite crisp and John found it "austere." With some air and warmth, the fruits emerged even more, and it became a touch earthier.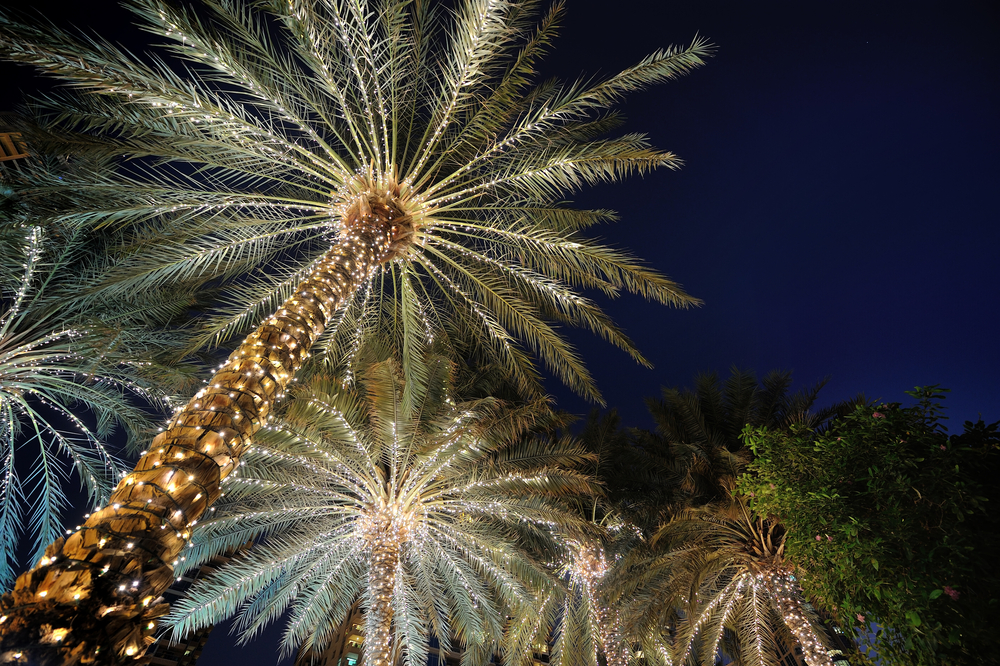 Now to recap some great wines I wrote about this year for you to enjoy or to give as a gift:
2010 Chimney Rock Cabernet Sauvignon Stags Leap District, adored by me and Frank and Claire Underwood, the ruthless characters played by Kevin Spacey and Robin Wright on "House of Cards."
Portland, Oregon-based Teutonic Wine Company's 2012 Medici Vineyard/Chehalem Mountains Riesling. They make the best Rieslings in the U.S. Only 97 cases of this one were made and The Grape Collective snagged some. The Pinot Noirs are fabulous, too. They made only 49 cases of the 2010 Alsea Vineyard and it's sublime.
Left Foot Charley Traverse City, Michigan. For wine lovers who like to be adventurous, there's this 2012 Blaufrankish. A dark, herbal delight.
Tishbi Estate Winery, Israel. This 2013 Chenin Blanc is Kosher (mevushal) but you don't have to keep Kosher to love it. It's a charming way to greet guests and would pair well with lighter dishes as well.
Happy Holidays!
Dorothy J. Gaiter conceived and wrote The Wall Street Journal's wine column, "Tastings," from 1998 to 2010 with her husband, John Brecher. She has been tasting and studying wine since 1973. She has had a distinguished career in journalism as a reporter, editor, columnist, and editorial writer at The Miami Herald and The New York Times, as well as at The Journal.