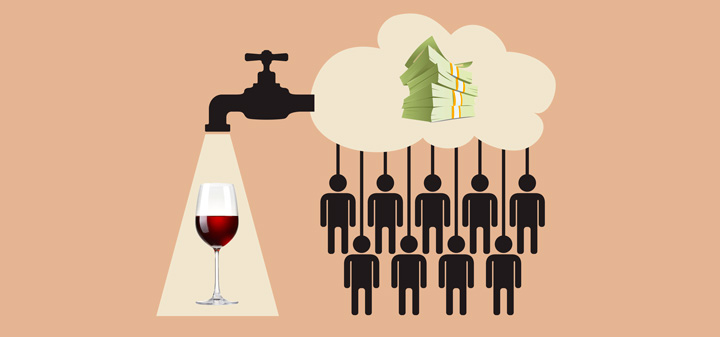 English winery Chapel Down has recently embarked upon a campaign using crowdfunding to finance various development and renovation projects. In early September, the Kent-based company set out to attract outside investors via equity crowdfunding site Seedrs, with the goal of raising £1.6m ($2.6m) to foot the bill for vineyard expansion and the construction of a new winery and brewery. By offering consumers the opportunity to buy shares in the company, those supporting the initiative receive financial benefits as well as discounts and perks like free tours and tastings. Chapel Down has already succeeded in attracting over 1,100 new investors, and has even broken the website's record for the amount of money raised for a single project.
Now crowdfundning wine isn't necessarily new. In fact, in "Taking Wine Online," Grape Collective editor Michael Woodsmall spoke to crowdfunding platforms as a part of the larger tech trend:
Not all of the current consumer-facing wine-tech mash-ups are at the bottom of the funnel, simply enjoying the fermented fruits of the labor. Consumers who take serious interest in wines and want to be more involved from the start might turn to Naked Wines, a UK-founded Napa-based crowdfunding platform. The service invites customers to invest in vineyards by asking that they pay a monthly $40 fee — circumstances that led chief executive and founder Rowan Gormley to call the company the "Kickstarter for wine" — in return for exclusive access and wholesale prices. Naked Wines' third and most recent funding round raised $10 million. The company even plans to open a winery in Sonoma to offer space and equipment to winemakers in need, as well as capital.
But to experience success the way Chapel Down did is new. Anyway, with that success in mind, GC decided to have a look at some other wine-related endeavors using online crowdfunding sites to raise money.
Rooftop Reds Brooklyn Vineyard
One of the more successful crowdfunding campaigns we came across was for Rooftop Reds Brooklyn Vineyard, the world's first commercial rooftop vineyard. The project was successfully funded in March, gaining 203 backers and $16,820 through the popular crowdfunding site Kickstarter. The concept behind Rooftop Reds was Devin Shomaker's idea to bring winemaking to major urban areas and to produce the first-ever authentic city vintage. In May 2014, the founders of Rooftop Reds planted a 50-vine rooftop vineyard in the Windsor Terrace area of Brooklyn and are now looking forward to their first harvest.
Another interesting project using crowdfunding is WineHive, a modular eco-friendly wine rack with unlimited add-on capabilities. Created by John Paulick, WineHive is seeking $13,750 via Kickstarter for custom retail packaging for its product. So far the campaign has reached just over half of its goal, with 41 backers and $7,665 raised. Depending on the amount contributed, potential backers are offered incentives such as special offers, T-shirts, and wine racks. This is the second Kickstarter campaign for WineHive; the first time around they generated over $65,000 to develop their wine rack.
Laura Maguire and Kyle Gabriel of Paper Planes currently have a campaign on Indiegogo, the world's most established crowdfunding platform. Paper Planes is the first winery in the Russian River Valley to exclusively make rosé. The goal is to create an authentic California rosé wine and to celebrate what makes a California rosé unique. With less than two weeks left, Paper Planes has raised over 75% of their $8,000 goal. Contributions will help the winery create their first batch, and perks for supporters include everything from postcards to gift baskets to a lifetime supply of rosé.
Also running a campaign on Indiegogo is The Project X Wine Experiment. This is a collaboration of a team of young and upcoming winemakers that are currently under the tutelage of the most renowned winemakers in Napa Valley. They are setting out to make the biggest and boldest Cabernet Sauvignon of the 2014 harvest. By contributing, supporters get to observe the creation of a fine wine through personal blog updates, as well as receive samples and tasting notes from the winemakers. Those who give over $1,250 are considered "founding wine partners" and in addition to receiving four cases of wine, they also get the opportunity to pick and crush the grapes and get their name included on the bottle label. So far, Project X Wine has raised a third of its $14,000 goal.