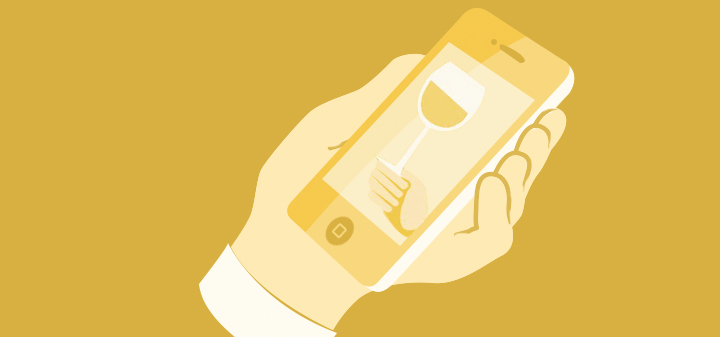 Maderized. Possibly refermented. Maybe corked. In layman's terms, it had gone bad.
Steeped in unnamed sources, a critical report by Teri Buhl on Growth Capitalist in late June was enough to put Wine.com, the most valuable domain on the market, and its venture capitalist investors on damage control. The site, so seemingly simple in its URL and execution—sell wine, everyone loves wine!—had apparently faltered yet again, despite another sizable round of funding. Employing such adjectives as "evil" and "greedy," the post's author attacked Baker Capital for poor management and reported that after $75 million of failed funding (this particular number was included in an update by Venture Beat after the original article had appeared), the group was fed up and the site, or, more appropriately, the URL was for sale. Wine.com denied the reports, but many signs suggested that Buhl's article was onto something: Bad business and even badder blood between Baker and Wine.com's former founder Chris Kitze made it clear that ill-advised contracts and discordant decisions had left countless millions on the table. But are these numerous recapitalizations and subsequent uncertainties just the way of this particular world? Or is this perhaps an isolated incident? Are fast-moving tech and slow-processed wine incompatible? Many recent signs would suggest that Wine.com's stumble is part of a larger trend. Even so, the merging tech and wine space continues to show vast interest from investors and real potential for rapid development in a growing community.
Valuations alone would make that point. Wine.com was bought for $3.3 million over a decade ago, and is now rumored to be worth something in the neighborhood of $5.7 million. Redwine.com, the second most valuable domain, is also looking to fetch a cool seven figures. But what to do with these URLs is the multi-million dollar question. Regulations and laws surrounding the sale of wine put a tremendous weight on the light-footed fancies of investors, and flash sale sites often lag to a slow start.
Amazon's entry into the wine-selling space last year was to much buzz, and has seemingly gotten off to a faster start with strong footholds in both tech and wine—and an already engaged user base. But this is its third attempt; the first two failed. The difference this time? It's not managing the fulfillment or shipping; it is simply acting as a referral service, taking a 15 percent referral fee once a purchase is made—but that is on top of a subscription fee and other costs. There is still doubt as to whether the allure of a huge consumer base is enough to get winemakers to build a two-way marketplace and overcome Amazon's hefty shares. But the massive company's re-entry alone reflects a re-energized excitement about the wine e-commerce space and is encouraging for the people and companies occupying it.
The encouragement trickles down to the smaller players: daily-deal peddlers Lot18 have brought in an impressive $44.5 million, and recommendation generating Club W has raised $3.1 million. But again, these sites that solely sell the wine—of which there are many—struggle to make any real money. And wine flash sale sites in general, even the private ones employing algorithms and promising a more personal experience, tend to carry the same impersonal direction that umpteen-page wine lists at a five-star restaurant might: an imposing catalogue with un-relatable sommelier simply offering slightly lower prices.
Vinfolio might just be the most inaccessible, and its growth has reflected it. Targeted at high-end buyers and sellers, this wine marketplace for the rich has received countless rounds of funding, including from wine-industry veterans such as Jon Moramarco and tech-titan Steve Case, but its money well continually dries up. This was expected to be a $327.8 billion industry by 2016. And we live in an increasingly tech-centric world. So what's the problem? Where is the disconnect?
It seems to be in the accessibility, or relatability, of the space in general.
"The current situation for consumers is that wine's too hard," says Julia Weinberg, head of Partnerships and Alliance at Delectable, an image-based wine app. "It's difficult to learn about, get access to it, for people to know why they may or may not like a producer, style or varietal."
It's apps like Delectable that appear to be, at least temporarily, solving the problem. Apps bring a lively, friendly conversation to everyone's hands, and are increasingly gaining momentum, tapping into the inherently social aspects of swirling, sniffing, spitting, and drinking. None of this comes as really too much of a surprise: they have found an entry point that doesn't require the upfront and operational costs sidelining flash sales sites.
Take Copenhagen-based Vivino, marketed as the most downloaded wine app in the world and highest-ranked wine app in the US store. With a quick snap of your camera phone, users can match wine labels with up to 1.3 million bottles in their database, where it will then, in turn, provide information about the winemaker and its country of origin as well as the brand, varietals, vintage, and, most importantly, nearby locations where it can be purchased. Balderton Capital was impressed enough to lead the latest investment of $10.3 million. The recent cash flow follows the addition of optical character recognition technology, improving accuracy to 86 percent. It is effectively a newer, solely mobile version of the once-popular CellarTracker, or the more universal Vincellar, maintaining records of what you've had for quick reference later on.
But it is Delectable, which also employs image recognition technology to identify wines pictured, that is at the forefront of a recent surge, gaining users as well as positive reviews. The app focuses on both the serviceable wine data alongside social aspects, allowing its one million users to tag friends, add locations, and generally engage with other enthusiasts.
"It disintermediates the knowledge and the access. The social aspect is essential," explains Weinberg. "We learn from each other."
Both Delectable and Vivino act as digital wine journals, allowing users to assign ratings and take notes. But Delectable's database is larger, at over two million bottles, claiming to be the most complete and accurate one available. And with recent developments including more comprehensive wine profiles and an interactive map where users might visually group their entries by origin and region, it is growing as well, receiving $2 million in funding from Palantir founder and CEO Alex Karp, Yammer founder and CEO David Sacks, and special advisor Ron Conway. Behind Alex Fishman (also of Palantir, the popular startup fighting financial fraud), the app, started in 2011, utilizes large-scale data integration.
"There's fantastic data out there, but it's not all in the same place, and not structured so that it's actually usable," says Weinberg.
That is until now. The best part? If you're really into a wine you're having at dinner, the app allows you to order it then and there, for delivery a few days later. It's also been rumored that in the near future you will be able to purchase certain wines only available on Delectable, by certain special partnerships with wineries. Then there's the additional and recently announced partnership with VinTank, whose Social Connect is the world's only wine-industry-specific social monitoring software. The collaboration means that wineries will now see trends in who is drinking what, as well as when and where, so they might, in turn, better serve those interests.
Delectable's ever-increasing comprehensiveness alongside its community presences is speaking to cohorts in the space.
"I think that Delectable is tracking the trade in a really stellar way: building personal brands; a social network for wine—a social stimulus," says Brad Rosen, a tech-savvy wine aficionado whose Drync, the newest bottle-scanning app to receive notable attention, might very well be the current darling of the wine-app world.
Between the two founders Bill Kirtley and Rosen, they bring years of app experience to the project, Kirtley having previously worked at Apple and Rosen with Phillips, Motorola and Cisco. It started back in 2008 as a simple wine-scanning app, similar to Vivino, but recently raised upwards of $1 million from a group of angel investors including Mark Hastings, Andrew Moss, and Jack Remondi in what we assume is excitement surrounding new developments.
While its round is a mere drop in the oversized barrel of Vivino's funding, Drync figures to even further optimize the e-commerce experience by focusing solely on the purchasing of the wine, through them, right then and there, making it as seamless as possible. At a bistro and love what your waiter is pouring? Taking a quick picture, locate it in the app's 1.7 million-bottle database, and order a crate's-worth so you won't forget to do it when you get home, perhaps a little flush from dinner. Consider it a Shazam-meets-iTunes — at least that's how they introducing it.
Not all of the current consumer-facing wine-tech mash-ups are at the bottom of the funnel, simply enjoying the fermented fruits of the labor. Consumers who take serious interest in wines and want to be more involved from the start might turn to Naked Wines, a UK-founded Napa-based crowdfunding platform. The service invites customers to invest in vineyards by asking that they pay a monthly $40 fee—circumstances that led chief executive and founder Rowan Gormley to call the company the "Kickstarter for wine"—in return for exclusive access and wholesale prices. Naked Wines' third and most recent funding round raised $10 million. The company even plans to open a winery in Sonoma to offer space and equipment to winemakers in need, as well as capital.
All of these developments in consumer-facing technology are creating a wine industry that is more open, more accessible.
"It's the democratization of wine. People feel smarter. They buy with confidence," says Rosen. "We're empowering consumers to not be intimidated."
It's self-evident, really. Communities of connoisseurs and beginners alike are forming around accessible and relatable conversations. Perhaps most importantly, this accessibility is translating to dollars being pumped into the already gargantuan industry. And the wine itself isn't forgotten. With crowdfunding platforms alongside more traditional investment groups, and firms supporting winemakers and wine buyers, oenophilia-at-large is maturing quite well. But what's the next step?
"This three-tiered shipping—it's a disaster, it's a nightmare," Rosen concludes. "It's a bunch of old boys lobbying in Washington, trying to keep it cordoned off. It's hard for new entrants to succeed. The next step is that it becomes more efficient, and that's through the [continued] use of technology."
For Weinberg that efficiency will not only champion new entrants in winemaking, but new entrants in wine buying and, in turn, drinking as well.
"One thing—and this is just my own personal opinion—that we've been very sensitive to is what is the best way for people to learn about wine, what is the best way for people to fall in love with wine. It's not merely commerce, it's welcoming people into this amazing culture," she elaborates. "The industry for a long time has been factioned. There are these different camps. We've created this democratic platform for people to come together."
Michael Woodsmall is a writer and editor based out of New York City. He cut his teeth through consulting on a number of editorial startups and a handful of apps, and previously served as the Managing Editor of The New York Observer. He is currently the Managing Editor at Supercompressor, a products-pegged men's lifestyle site.