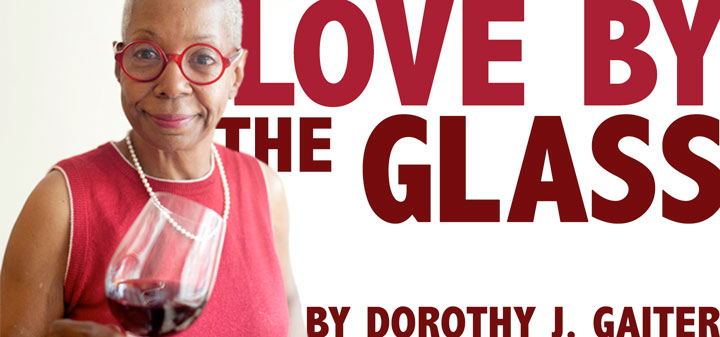 Hendersonville, North Carolina -- We had just flown into Asheville and rented a car to drive an hour or so to see Jim and Judy, a mere two months into their retirement, and we were not going to arrive empty-handed.
For us, whenever possible -- and, trust me, with commercial wineries in every state now it's possible, folks -- that means visiting a local winery, trying out its wines and buying some to take with us. It's harvest time right now, the wineries are bustling and you should visit one as soon as you can.
As luck would have it, we found two family-owned wineries that were not very far from each other: Saint Paul Mountain Vineyard, which bills itself as the "the oldest commercial vineyard in Henderson County," and Burntshirt Vineyards, which had an intriguing name, and which opened, like Saint Paul, in 2012, as the state's 114th winery.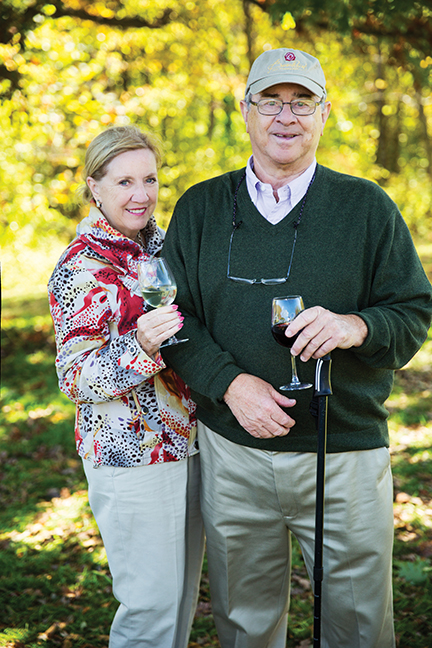 Alan Ward, the owner of Saint Paul Mountain Vineyards, and Lemuel and Sandra Oates (right), the owners of Burntshirt, grew grapes before opening their high-altitude wineries, which are now charming, bucolic destination places with wines that clearly are drawing customers, plus live entertainment. Burntshirt also had every type of wine-themed merchandise you could imagine. And as with wineries from the North Fork of Long Island to Napa Valley, they apparently also do a bustling business in weddings. Both have food trucks onsite and at Burntshirt you can order a "gourmet" box lunch a day before your visit and have it waiting for you, or you can bring your own picnic.
At Burntshirt, we had a choice of the Dry Wine Tasting or the Sweet Wine Tasting -- seven wines of each type and a souvenir glass for $7, or both tastings for $10 plus tax. We opted to share the Dry Tasting (we sniff and swirl more much than we actually drink), and started with Burntshirt's signature white, a Grüner Veltliner, a grape we associate with Austria. It was pleasant and light, perfect later with a crisp salad with almonds and blue cheese that we had at Jim and Judy's stylish new home at the foot of a mountain beloved by the family.
"It's rare for our region, and growing it at these elevations, it's doing really darn well," Justin Taylor, 29, Burntshirt's assistant winemaker, said of the Grüner when I called him a few days ago. The high altitude makes for low humidity and cool nights that follow sunny days. "Rainfall is not too bad generally, but ripening up some varietals can be a challenge," he explained. Burntshirt makes about 5,500 cases each year, and its apple wine, "fermented dry," Taylor said, is its best seller.
How and why Grüner Veltliner? But first the name.
Burntshirt is named after Burntshirt Mountain, where the Oates's have one of their two vineyards. The young woman who rang up our purchase told us that mountain myth has it is that many years ago, while farmers on the mountain burned the fields to clear them for planting, a fieldhand threw his shirt into a fire and that year's crop was bountiful. So it became a tradition. I love tall tales like that!
Why the Grüner? When the Oateses decided to use some of the property that had been in their family for generations to grow grapes, they consulted Mike Jackson, an agriculture specialist, to select the types of grapes. Jackson was growing grapes at Point Lookout in Edneyville, N.C., with Alan Ward, who on a different site has his Saint Paul Mountain winery.
At some point, there were 19 grape varieties planted at Burntshirt; now there are 13. "They threw a lot at the wall to see what stuck," Taylor said. The Grüner stuck and has won awards. When they decided to use their grapes to make wine, Sandra Oates researched about 30 wineries.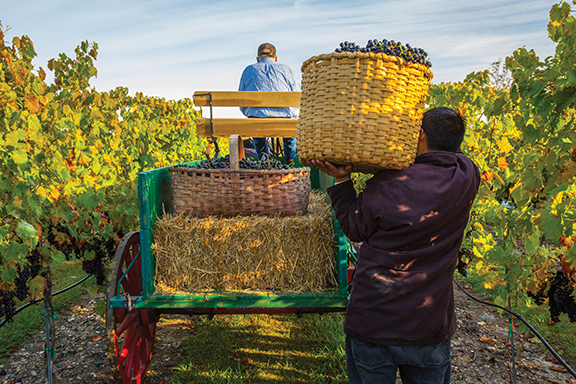 The vineyards at Burntshirt
Next up was the unoaked Chardonnay, which was nicely acidic and fresh. Then the O Cellars Reserve Chardonnay, O for Oates, which tasted of tropical fruits and had an oiliness than some Chardonnays can have. The Altitude 3400 Blend, which consisted of Merlot, Cabernet Franc, and Chambourcin, gets its name from the altitude above sea level of Burntshirt Mountain. The blend was outstanding, with nicely focused bright, ripe fruit, with the Cabernet Franc doing a lot of the talking. Then we had the award-winning Merlot, which had good structure and just the right amount of everything.
We had discussed the Cabernet Franc with the pourer, amazed that it could get ripe there, and it did not disappoint. Amazing. The last wine we had was the Meritage, a blend of Cabernet Sauvignon, Cabernet Franc, Petite Verdot and Malbec -- all estate-grown. The Meritage was rich and, like the wines before, it displayed an impressive amount of restraint.
"I enjoy us being a member of the Meritage Association. If you use the permitted varietals and participate in a way that the group sets out for you, you can really make a spectacular wine," said Taylor, who has a degree in applied sciences and oenology from a local community college. He became assistant winemaker last year after time in the tasting room and works with a consulting winemaker in Virginia who visits regularly. The wines aren't available outside the Carolinas, an example of many wineries that have only-in-state sales, which makes visiting them so special.
At nearby Saint Paul Mountain Vineyards, we had just exited our car when a guy who looked like he was from Central Casting drove by in a small red tractor pulling a cab filled with green and gold-speckled grapes. John asked what type they were and the fellow said, "Vidal Blanc. Taste them." The fruit lover in me couldn't resist, so I picked a couple from a fragrant bunch and ate them one at a time, swooning. Seeing my reaction, he said, "Have some more," and I did.
It's sweet experiences like that that keep us committed to visiting wineries whenever and wherever we can. Here are some tips to help you get the most out of your visit:
1) Hire a car or have a designated driver. You'll drink more than you think you will.
2) Go to small wineries and skip them if there's a bus in the parking lot. At smaller places, the chances are better that you may meet the folks who actually make the wine. Taylor said he's "in the thick" of harvesting now so can't promise he can talk to guests as much as they'd like. "I love people to visit at this time," he said, "but my attention is taken up by the fact that I have grapes that are hitting the ground every day."
3) Have an open mind. Be open to tasting everything.
4) Be courteous. Others are there to have a good experience, too.