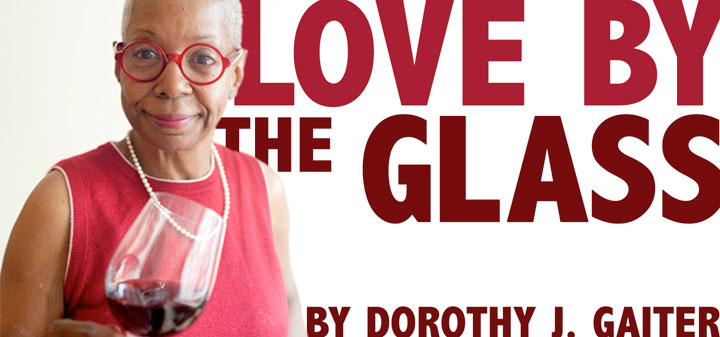 Just about everyone I run into these days empathizes with the White Rabbit in "Alice in Wonderland" when he said, "The hurrier I go, the behinder I get." It must be the season or maybe we are approaching The End Times. I mean, what's up with Murph?
Outside, as I write this, the trees are putting on quite a show, letting loose a shower of gold and orange and rose-colored leaves with every gust of wind. The Halloween sign-up list has been retrieved from our mailbox and we are ready for hordes, well-stocked with candy and Cava.
To help with your entertaining, everyday casual dining, and gift-giving needs, here's a list of 12 wines that we've especially enjoyed this year, along with some food-pairing suggestions. (I'll write about others and the people who make them in greater detail in the weeks ahead.) Each of these deserves more words than I can devote to them here, but I'm feeling like the White Rabbit, running out of time with so much left to do.
Decades ago, when we lived in Coral Gables, Fla., we began pouring Champagne or sparkling wine for any adults who rang our doorbell on Halloween. One year, a colleague at The Miami Herald, Lou, came with his wife, Terry, and both were dressed like Fidel Castro, with fake beards and cigars, a cheeky thing to do in a suburb of Miami! We poured them what was our house bubbly at the time, Domaine Chandon from California.
This year for Halloween, we'd recommend Dibon Brut Reserve Cava and Marrugat Brut Cava from Bodegas Pinord, Catalonia, Spain, (about $11 each). These are from the 150-year-old organic Bodegas Pinord, which is owned by the Tetas family. Both are made from the traditional blend of Macabeo, Xarello and Parellada grapes and made by méthode champenoise. The first, from the high-elevation Dibon vineyard, is a touch sweet, like green apples and toast, and will leave your grown-up trick-or-treaters happy. So too the Marrugat, grown in clay, limestone and sand in mild Mediterranean climate, and possessing a different flavor profile, more lemon-lime, but still crisp.
Unusual Whites
These I'd serve or give to bona fide wine lovers. They're somewhat challenging, but ultimately rewarding for those unafraid to venture into unchartered territory.
2011 Vigneti Massa, Timorasso "Derthona," Italy ($25). Our notes say, "funky white," and we mean that as a compliment. The folks at Astor Wines & Spirits write, "Many Italian wine experts consider Timorasso Italy's best white wine." Timorasso is an ancient grape, all but wiped out by phylloxera. It was rescued by Walter Massa, who found some struggling vines on his family's vineyard properties, thought they had potential and began cultivating them on prime property, producing his first varietally labeled Timorasso in 1987. (Derthona is the ancient name for the town of Tortona. Colli Tortonesi is a DOC in southeastern Piedmont, in northwestern Italy.) Still, it wasn't until 1995 that he actually began selling it. We wrote, "Sturdy acidity, earth, some spice, ripe lemons. Totally engaging. We thought how interesting the winemaker must be. I liked it more as it got warmer. The citrus became more pronounced." This would go well with roasted vegetables, a heavier fish, anything with mushrooms or in a cream sauce like veal or chicken or even Lobster Newburg. (astorwines.com and flatiron-wines.com)
Left Foot Charley, 2013 Murmur, Old Mission Peninsula, Traverse City, Mich. ($18). Whenever we see anything from Left Foot Charley, we pick it up, and I've written about some of its other wines here: (grapecollective.com/articles/love-by-the-glass-left-foot-charley). Murmur is 48% Pinot Grigio, 36% Pinot Blanc, 7% Chardonnay, 5% Riesling and 4% Gewürztraminer. The winery's website and the label say this about the wine and its label: "Those swirling clouds of starlings you see swooping and diving like a single black spirit over the vineyards are called murmurations," the "ultimate improvisation," I guess like the blend.
We wrote, "This is a wonderful, crisp, fresh white, like biting into a Red Delicious apple. Unusual and delicious. Fruit-driven, a slight spritz in the beginning. Delightful and beautifully made. Lively and fun but not dry, dry." Sip before or after a meal. (leftfootcharley.com).
Furmint is Hungary's leading white grape variety -- so leading, in fact, in the country's Tokaj region, where it is indigenous, that it now constitutes more than 70% of all vineyard acreage. The organization Furmint USA (furmintusa.com/tokaj) is making a huge push to get it into your mouth. We found one recently on the menu at Toast, on the Upper West Side. DNA analysis identifies Furmint as a half-sibling of Chardonnay, Gamay and Riesling, so think astonishing ripe acidity, solid minerality and expressive of its terroir. I'm talking about the dry expression, not the extremely famous sweet version, Tokaji Aszú.
This dry one stood out: 2012 Erzsébet Cellar Pince Kiraly Dulo Furmint ($32) -- furmintusa.com/winery/erzsebet-cellar. Erzsébet Cellar is owned by the Prácser family, in which Dad, son and daughter hold degrees in viticulture and oenology. Father, Miklós, is vineyard manager; Miklós Jr. is winemaker; daughter Hajnalk, handles sales; and her husband, Ronn Wiegand, a Master of Wine and Master Sommelier, blends the wines. "Beautifully made," our notes say. "Wine of great balance and great fruit. Clean with focused crispness. Amazingly dry. It tastes rust-colored, brown, like molasses but they kept a tight rein on it. They had a vision for this wine. Clearly obsessive about it. Absolutely delicious." When we wrote our wine column, Tastings, in The Wall Street Journal, we sometimes quoted Wiegand, since he was founder of Restaurant Wine, a trade newsletter and consulting service. With this wine, we immediately thought of a mushroom chicken dish or Hungarian Chicken Paprikash. FurmintUSA sent this and it's hard to find, so be open to trying any Furmint you see.
Traditional types, good values
2011 Château d'Archambeau Blanc, Graves, France ($14). "A good example of white Bordeaux, its classic Sauvignon Blanc/Semillon blend. This is rich especially with air and warmer temperature. Honeyed and earthy as it warmed; citrusy and steely when colder. Had it with Zoë's stuffed chicken for Mother's Day," we wrote. (sherry-lehmann.com)
2011 Zuazo Gaston Crianza, Rioja, Spain ($12). "Ripe, dark fruit with rich earth. 100% Tempranillo. Needs air and it opens into a soulful red. It reminds me of Louis Martinis we'd age because they got lost in the cellar. An amazing value. It did my brisket in Grandma Helen's pot proud." (Wine-searcher.com)
2012 Badia a Coltibuono Chianti Classico, Tuscany, Italy ($20). Organically grown, classic blend of Sangiovese, Canaiolo, Ciliegiolo and Colorino grapes by this long well-regarded estate. "Very good, had with broiled salmon and it was just right. Black cherry, raspberry, fruit-forward, good minerality and earth, lifting acidity; nice light touch. Fresh, like being in Tuscany. Food-friendly," we wrote in our notes. We grabbed this when we couldn't immediately put our hands on an affordable Pinot Noir in our cellar and its versatility here, frankly, surprised us. Anything with a tomato or cheese sauce, or grilled. (Wine-searcher.com)
Classics done exceptionally well
2009 Château Thébaud Pont Caffino Muscadet from Pierre-Luc Bouchaud, Sèvre et Maine, France ($28). We simply wrote, "An excellent example of Muscadet," and on a rare occasion put our notebook away to drink the wine and watch the sunset while seated near a fire John had just made. The Bouchaud family has been making wine since 1850. The Pont Caffino vineyard boasts 70-year-old Melon de Bourgogne vines and loam and granite soils that produced this wine, which is nothing short of brilliant. It sat on its lees for four years, being stirred only in its first month. First there's minerals—think slate and flint-- then lemon, white flowers and grapefruit and I immediately think slurping oysters! Muscadet can age beautifully, but it must be well-kept. We trusted the store, (bestwinepurveyors.com), and the importer, (sergedoreselections.com).
Kitá Wines Syrah 2012 and Kitá Grenache Blanc 2013, Camp 4 Vineyard, Santa Ynez Valley, Santa Barbara, Calif. ($60 and $22, respectively). Winemaker Tara Gomez graduated in 1998 from California State University, Fresno with a degree in enology, made possible by a scholarship from her tribe, the Santa Ynez Band of Chumash Indians, whose vice-chairman is her father. In 2010, the tribe purchased the Camp 4 Vineyard from the late Fess Parker (yes, Davy Crockett and Daniel Boone), whose winery she worked for after graduation, before a long stint at J. Lohr. "Kitá," which began making wine only in 2012 in Lompoc, means "Our Valley Oak." Gomez says she believes she is the only Native American winemaker in the U.S. We wrote of the Syrah, "No nonsense, pure, clean, focused, not too earthy, really pinpoint, super. Would age beautifully. Black core. Long, long finish. Brawny, masculine, chewy, herbal." Of the Grenache Blanc we wrote, "Mouth-watering, lemon-lime, lychee, honeysuckle. Smells like an Alsace wine, clean and prickly. Fresh, great acidity. Ripe and minerally." (kitawines.com)
2013 Pfendler Pinot Noir, Sonoma Coast, Calif., ($45). The late Peter Pflendler planted the first vineyards on this family's Sonoma Mountain ranch in 1992 and his widow, Kimberly Pfendler, a UCLA grad who acted as a scream queen in some awful movies before marrying him in 2004, is preserving and extending his legacy. In 2007, Peter, a wine lover and Harvard-trained lawyer, died from a brain tumor, but he had accomplished a great deal. In 1974, he founded "what became the world's largest aircraft-leasing company. When he sold it in 1989, he had the cash to buy a cattle ranch east of Petaluma," according to Wine-searcher. The winemaker is Greg Bjornstad, a Wine Spectator scholarship winner who interned at Château Lafite-Rothschild and worked at top shelf wineries in California. "Great Pinot nose with roses and raspberries," we wrote. "Lovely, medium color. Spicy, lovely, long blue and blackberry finish with granite. Intense fruit, everything in balance. Clean, fresh and complex. Really fine and worth the money." (pfendlervineyards.com)
Try to grab some time with your loved ones now. Make time. It's important -- and wine will help you make the most of your time together.