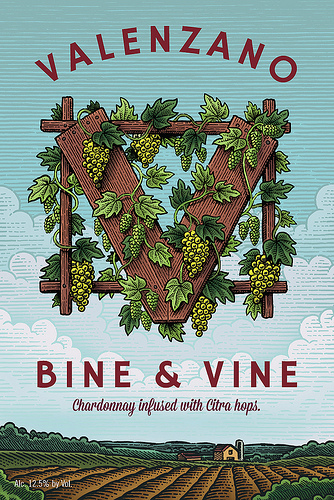 We've reported on wine in beer before, but New Jersey's Valenzano Winery is taking it to a whole different level by creating a dry-hopped Chardonnay. Called Bine & Vine, Joe Sixpack (not his real name) reports on Philly.com that homebrewer/winery employee Michael Jones (during an IPA appreciation session) thought, "What if we could get this hop flavor into a wine? We researched it and didn't find any other winery that had done it. But we figured, why not?"

Experiments were conducted with numerous hop varieties, until the Citra was deemed the winner. Expounding on the serious intent of Bine & Vine's creation, Jones clarified it "...is definitely not a novelty that we produced for the sake of doing something weird. It's a great wine and it can really stand up to be paired with a lot of foods."
So are you ready to pour yourself a glass of dry-hopped Chardonnay? Or would you prefer to keep the hops in your beer?