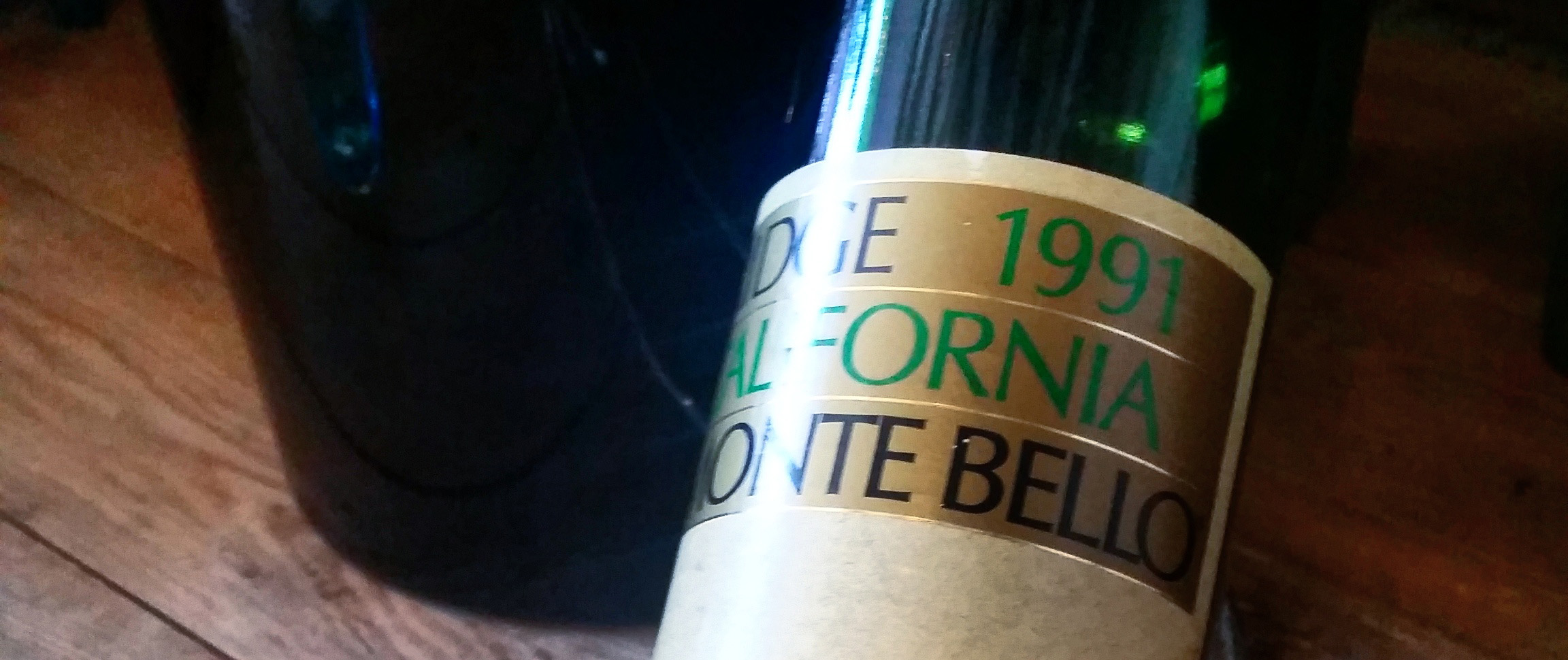 Fifteen years ago, Stephen Tanzer, one of the world's leading wine critics, described the Cabernet Sauvignon from Ridge's 1991 harvest in Monte Bello Vineyard as "among the top dozen made in California during the last 20 years."
So when I tasted the wine on January 16, 2012, my expectations were high. A few friends and I had gathered at a local steakhouse to explore some of California's top wines from the 1990s; bottles from producers like Seavey, Dominus, Chappellet, and Dunn were on the table. And the Ridge outclassed everything. The wine, grown in the Santa Cruz Mountains, exploded out of the glass with sweet, fleshy fruit, wild herbs, and graphite. It was concentrated but light on its feet. The finish lingered impressively.
The Ridge Monte Bello stopped us in our tracks. It was as if we had discovered the Holy Grail. Without question, it was the best California wine I'd ever had.
That evening, I went home and checked Wine-Searcher.com -- a website that combs through the inventory of nearly 14,000 U.S. wine shops -- to see if the wine was available for sale. It wasn't. But I desperately wanted to recreate that initial experience. So when I learned, sixteen months later, that a collector in Florida was looking to sell some 1991 Monte Bello, I bought two bottles.
I drank both within a year, opening up my final bottle last January with two friends who had just welcomed a baby. This past Christmas, those friends left me speechless when they gave me a bottle of the wine. Remembering that I'd described it as the best California wine I'd ever tasted, they purchased a bottle when they spotted it online.
That bottle was opened over lunch this past Saturday in New York. It was as thrilling and delicious as it was three years ago. Just as important, though, it demonstrated that great wine is more than just a beverage.
By uncorking the 1991 Monte Bello, I was able to tell five friends, old and new alike, why the wine meant so much to me. Two California winemakers were present, so the wine quickly inspired a profound conversation about the Santa Cruz Mountains and the past, present, and future of California Cabernet.
Pleasure matters, obviously. But those of us who obsess over what we drink aren't just looking for something tasty; we're looking for an experience, an indescribable story that only wine can tell.
That combination revealed itself again on Saturday evening when my group met up with two others at Marta, a hot new Italian restaurant just north of Madison Square Park. One of the friends who joined us brought a 1971 Aglianico from Mastroberardino, an Italian winery in Campania. In part, he purchased it because of the vintage; he was born in 1971. He brought the wine to dinner because one of our companions is infatuated by old Italian wines, so he knew it'd be appreciated. When we noticed that the restaurant had the 1998 offering of the same wine on its list, we ordered it for a side-by-side comparison.
Both wines were positively arresting. And, like the Ridge, the two Aglianicos offered us something beyond deliciousness. The side-by-side comparison inspired a conversation about the remarkable value offered by many Italian wines -- and the seductiveness and sensuality of old wine.
Saturday's experiences help illuminate my obsession with wine. No other beverage can so connect us to the past, offering a window to other places and cultures. Alcohol matters, of course, but no other drink can so effectively connect us to one another, inspiring conversations about life's deepest questions. Wine is romantic. In its greatest moments, it provides far more than pleasure; it provides an idealized reality.
David White is the founder and editor of Terroirist.com, which was named "Best Overall Wine Blog" at the 2013 Wine Blog Awards. His columns are housed at Grape Collective.