" Their wines astound for their purity, their distinctiveness and their almost radical evocation of a pre-modern age."
Eric Asimov, New York Times
Collio is home to some of the world's great skin contact wines. "Collio" is taken from the word colli which means hillsides and describes the terrain of the region. Located in the northeast in the province of Friuli Venezia Giulia, it sits on the border of Slovenia. The 17-hectare Radikon estate is located in the town of Oslavia, 300 meters from the Slovenian border.
Alongside neighbors Edi Kante and Josko Gravner, Radikon is one of the pioneers in Friulian wine. The vineyards were originally planted by Stanislao (Stanko) Radikon's grandfather Franz Mikulus with Ribolla Gialla. In 1948, the family planted Merlot, (Tocai) Friulano and Pinot Grigio. With the 1979 vintage they started to bottle their wines and then in 1995 they started to make their white wines with lengthy periods of skin contact. 2001 saw further innovation as they conducted a test with half of the production bottled without the addition of sulfur leading to the decision to bottle without the addition of sulfur from 2002 onwards. The Radikon family utilize a very traditional approach to viticulture and winemaking using large older Slavonian oak barrels without temperature control and no added yeasts. Stanko Radikon died of cancer on Sept. 11, 2016 at the age of 62. His wife Suzana and their children Saša and Ivana operate their family's estate.
Grape Collective talks to Ivana Radikon about her family's historic estate and the evolution of skin contact wine.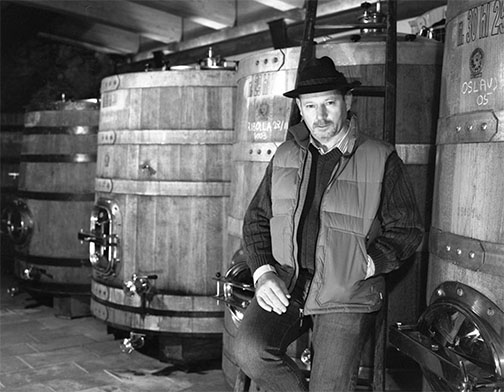 Grape Collective: Ivana, tell me a little bit about the history of the family estate.

Ivana Radikon: This family estate and this piece of land we are in now has been part of our family property since the 18th century. We have a long tradition of wine growing, and also wine production. My great-grandfather used to produce wine just for the house, and after my grandfather produced some bulk wine for the local restaurants. And my father (photo left) was the first to actually bottle the wine in 1980, so with the vintage 1979.
(Photo: Stanko Radikon)

He was producing white wine at the beginning and red wine, obviously also, but in '95 we had the first change. He started thinking about his childhood memories and the wine made without any preservatives, which was made by his father and before that, his great-grandfather. So he decided in '95 to make a first batch, a half production of Ribolla, made using skin contact, and he liked the wine straight away. And so he decided then to do only skin contact wines. Unfortunately in '96 we had a lot of hail, and so many vines were damaged and we didn't produce much of anything. So in '97 we had three wines, two whites and one red, and they were all made skin contact.

Talk a little bit about the process of making skin contact wine. How is it different from making conventional wine?

So orange wines are wines made as red wines and using white grapes. So we produce our wine, taking the grapes, we hand-pick them and then we de-stem them, so we don't use any stems. And we put it in big oak barrels where we do the maceration. So we leave the skins together with the liquid part. It depends on the wine. We have one with a short skin contact, which is 10 days, and the other wine with the longer skin contact of three months. So the wines are different, and also have two different goals. One wine is to be easy drinking and maybe more approachable to people that don't usually drink orange wine, the other is maybe for someone that has already drank some orange wines, and so they're a little bit more complex.

And talk a little bit about the terroir here in Friuli.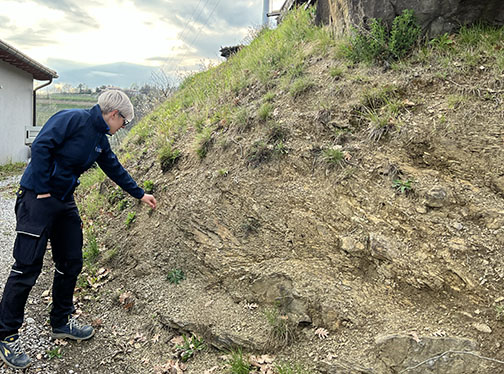 So we are in the Collio region and our soil is called Ponca. It's very important for us because we have a part of clay and a part of marna (marl), arenaria (sandstone). And these two together make a perfect combination because the clay part gives us the possibility to have always a little bit of water, and so the vines don't really stress out a lot, even if in long periods with no rain, which are becoming more frequent. And the other part of marna gives us all the minerality, and when the vine digs with the roots, it goes five, six meters underground. This marna it's kind of a rock, and so it raises a lot of minerals, which we can also find then in the wines.
I think part of the terroir, it's our beautiful land, because we have a lot of woods and many different varieties of plants, so we have very good biodiversity. We try to keep it this way because we try to mow every two rows to leave the insects always moving in the vineyard, which are very helpful for us. Another thing I have to point out is that our neighbors are also very respectful of the biodiversity and the terroir in general, because they all work in a respectful way to nature, and this is very important because we share with them water and air. So if they weren't respectful, it would be difficult for us to be respectful as well.

Fantastic, and talk a little bit about the climate here.

So Friuli is usually a very humid and rainy region, which is now changing a little bit, and I think we're going to face some interesting problems in the next years. At the moment we still have rain. It just rained actually, it's not as bad as in other Italian regions. So our main problems during the year are oidium and peronospora, which are through funguses and which we fight by keeping the grapes as free as possible. We try to remove the leaves around the grape. We have good ventilation here, so it helps a lot. And during the year we use just copper and sulfur for the treatments, and that's it.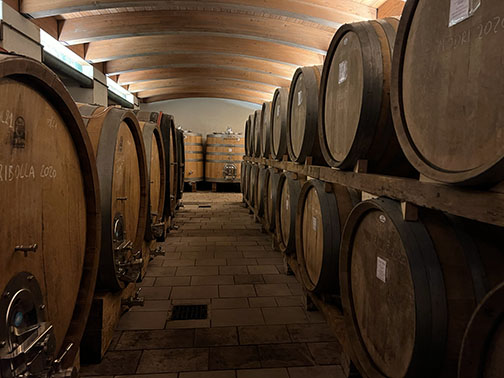 And talk a little bit about your philosophy of viticulture.

We are in an organic regime, so we have certain rules to attend to but we try to do some other things as well. For example, we do some green manure during the year, which is now, thanks to the bees and many insects, replanting by itself. So we don't need to actually plant it anymore. As I was saying before, we try to mow every two rows. As you see, there is a high grass, so we don't disturb all the insects. Just mowing and spraying, it's done by the tractors. Otherwise, we do everything by hand, and because otherwise it's impossible. We try to be the most respectful as possible to the plants because we try to keep the vineyards for many, many years. For example, we have vineyards from the '50s and '60s, which are still producing very well. So you don't have an expiration date on the vineyards.

And talk a little bit about the varietals that you work with.

We have some international varieties and some local. We have eight varieties, five white and three reds. Our main grape is the Ribolla and we are trying to be ambassadors of Ribolla and we want to spread that worldwide. The other local grape of the whites is the Tocai Friulano. We have three internationals, which are Chardonnay, Sauvignon, and Pinot Gris, which we feel like they're almost local because they've been here since the '80s, '90s. So yeah, we feel that they are kind of ours. And then we have three reds, which are Merlot, a very small production of Pinot Noir, and then the Pignolo, which is another local variety. And it's very, very small, like a hundred hectares all together. And we really want to keep it here in Friuli and make it also well known, because it has a very big potential.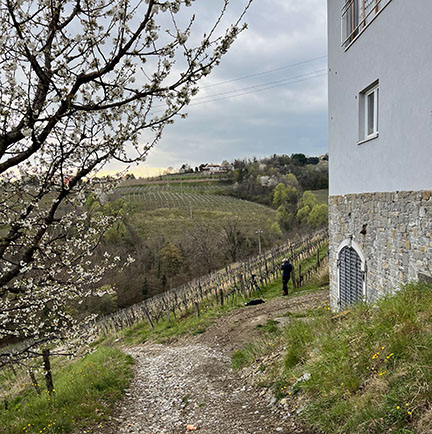 Natural wine seems to be becoming more and more popular. Is that something you see when you go out and you talk to wine lovers?

So yes, orange wines are becoming very popular these days. The most important thing for us is that people are also becoming more informed about these kinds of wines. We started in '97 selling these kinds of wines, and so we have a little bit of experience. In the first years it was very, very difficult to make people understand what we were doing. So during the years, especially I think from 2015 to 2016, this world really exploded, and we had a lot more people coming by and also people were coming here because we are here, Gravner is here, Dario Prinčič and other producers. So they were not just visiting for other things, but for wine. Nowadays orange wine, natural wine is very popular. I think that we have a little bit of advantage with respect to other regions, because we were one of the first to go back to this kind of production. So yeah, we are a little bit ahead of them.

Do you feel there is a Georgian influence?

It's not something we feel. My father was just thinking about his past and he's never been in Georgia even if he wanted to go. But, it's not something that is really related to us. But definitely they have never stopped making this wine, so probably they're the most consistent orange wine producers during the years. For example, there was a Georgian producer talking to my brother and he was thanking us because we're in Italy, we are also in a winemaking region, but we are a little bit more famous than Georgia. And so people started knowing these kinds of wines because of Friuli and then going to Georgia. This was fun to know because they never stopped making these kinds of wines, but they weren't very popular around the world, just locally. So yes, it's strange, but it's true.