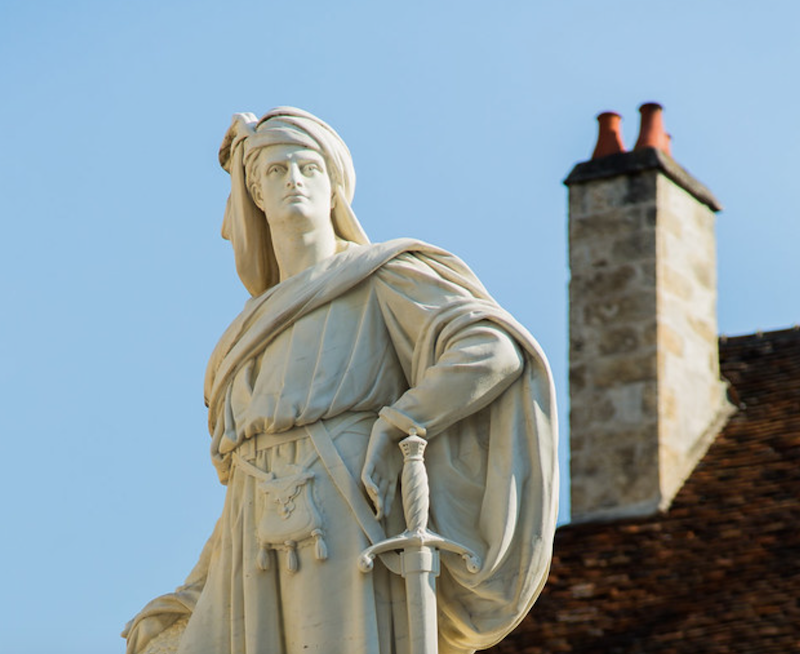 The alchemist. He who makes something out of nothing: taking scraps of metal and creating gold. One of the most renowned French merchants and political benefactors, Jacques Coeur, was not only an investor and businessman but was also rumored to have partaken in the tomfoolery of alchemy. We now know that if these claims were true, that this man, seen as an early emblem of French mercantile prowess, whose visage was briefly portrayed on the 50 franc bill, was in fact a counterfeiter, a charlatan, a fraud, a fake, a deceit-- okay, you get the picture.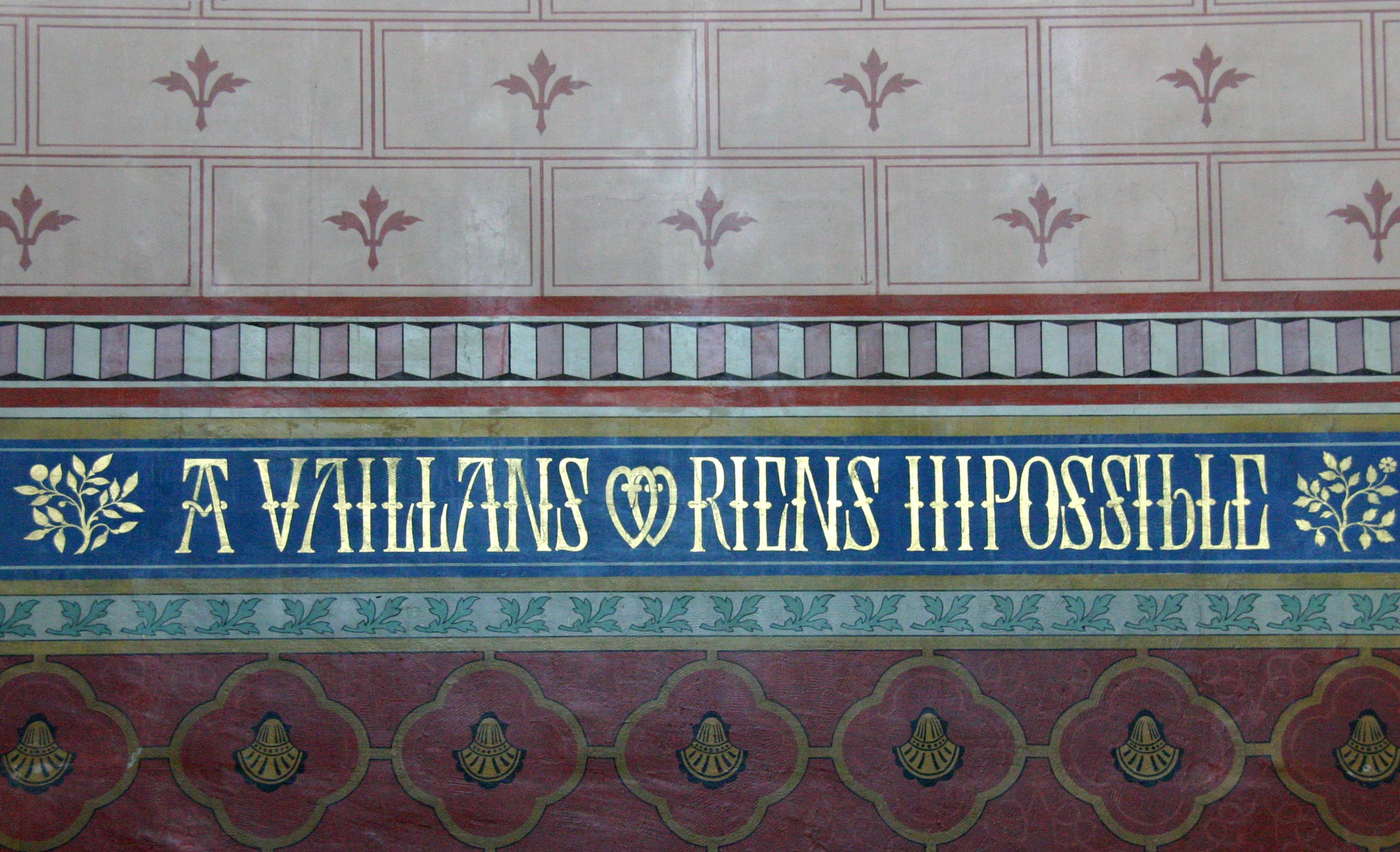 Coeur was born in Bourges to a rich mercantile father. He started off as a silversmith (where he possibly picked up an "understanding" of alchemy), and through various social machinations, certainly aided by his father's reputation, became master of mint, and eventually King Charles VII's right-hand financier. He bought up and soon held a monopoly on various products: crops, furs, and wine. Coeur's palace in Bourges is known for some audacious design aspects, depicting foreign scenes of his mercantile travels to the Levant. The most gaudy, however, is the facade that reads his chosen motto, A vaillans couers riens impossible, "To a valiant heart, nothing is impossible" decorated quaintly if unimaginatively in crimson red and replacing the word heart with... a heart.

Just northeast of Coeur's hometown, where his palace still stands and is visited today, is the wine Appellation d'Origine Contrôleé of Menetou-Salon. According to Loire Valley Wines, this appellation has been growing vines since at least 1063, back when winemaking was a holy activity and the Lord of Menetou gifted vines to the Saint-Sulpice-lès-Bourges Abbey. Later documents reveal that the wines made in this adjacent wine region to Bourges were a feature on Jacques Coeur's dinner table. It was rumored that Agnés Sorel, one of Coeur's mistresses, noted the wine from Clos De La Dame as a personal favorite. While Clos de La Dame exists no longer, Domaine Chavet makes a wine called La Dame De Jacques Coeur as an homage to Agnés Sorel.
Jaqcues Coeur's downfall was sparked by accusations of him poisoning Agnés Sorel. I like to imagine that if he really did poison her it was an elegant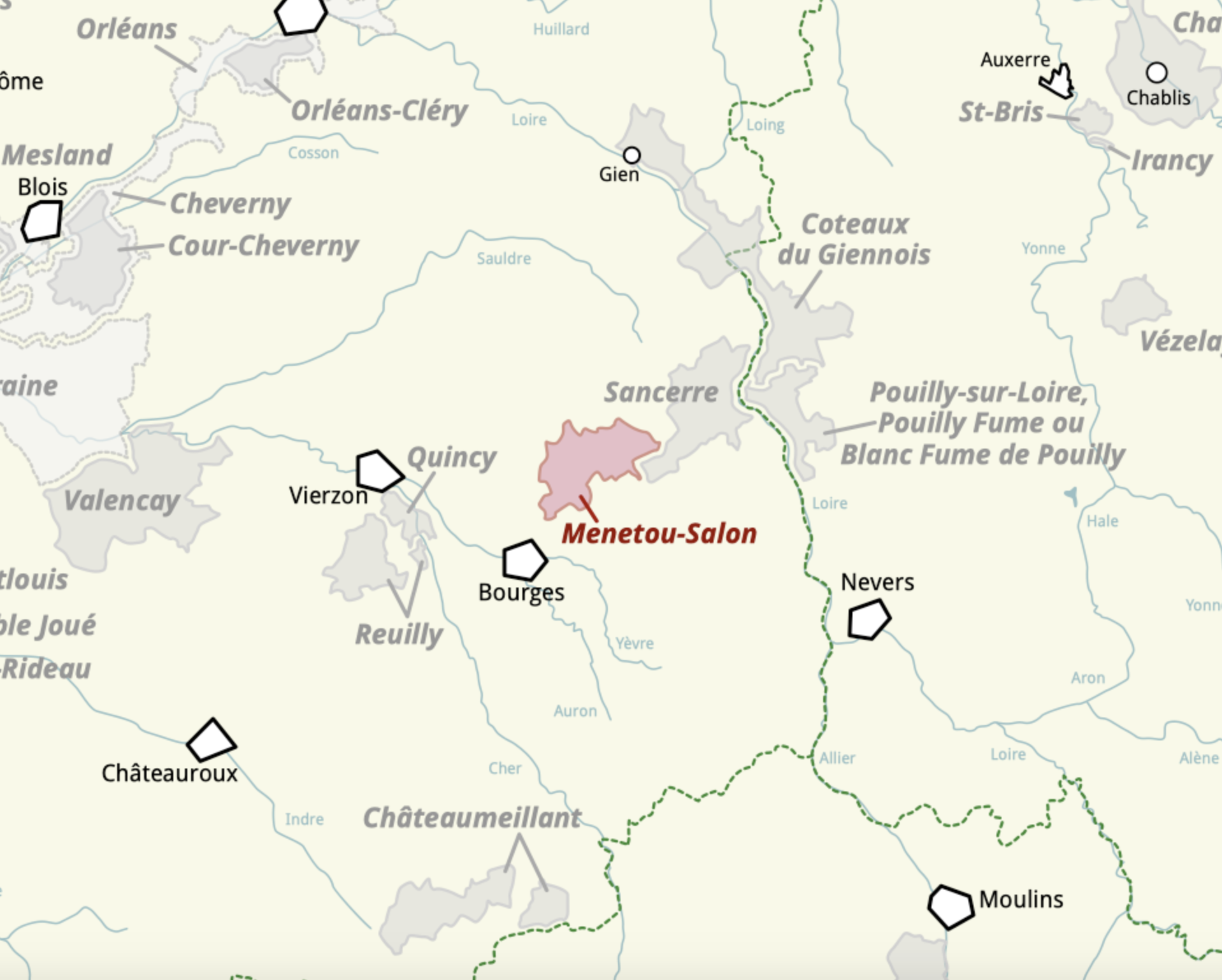 drop of cyanide in a glass of bright, zingy Menetou-Salon Sauvignon Blanc (although I'm sure in 1450 without stainless-steel tanks, the wine was much more...rustic?). Speculation aside, in February of 1450 Agnés Sorel died suddenly and many countrymen, mostly Coeur's business competition, accused him of foul play. His reputation tarnished, he abandoned his Palace in Bourges near the vineyards of Menetou-Salon, and fled to Provence. He slithered his way back up the social ladder and was able to die with some dignity and pass on some of his estate to his sons. His name is still found on streets in communes and cities throughout France.
Image generated using <a href="http://www.winemapsapp.co.uk">Wine Maps Pro</a>. Copyright © Jon Lord (© OpenStreetMap contributors).
This enigmatic story highlights the excitement that Menetou-Salon wines can bring to the table. With neighboring Sancerre's rise to popularity, it has become mainstay to walk into a wine shop, go to the French whites and start scanning the bottles for Sancerre. There is a reason Sancerre is an old standby: it's freaking fantastic. You could go your whole life only drinking Sancerre when you want a great Sauvignon Blanc and be extremely content; but your taste buds and your wallet could both have their expectations altered if you step right next door to Menetou-Salon.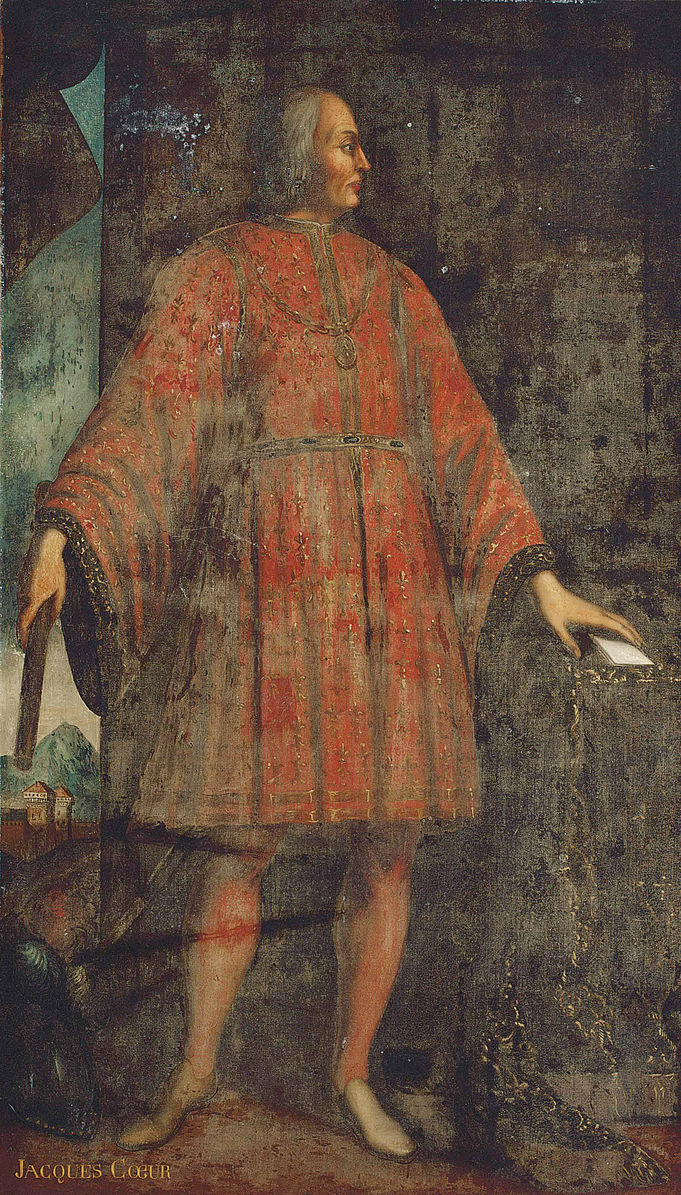 Menetou-Salon produces mainly whites from 100% Sauvignon Blanc, but a third of production is reds and rosès of Pinot Noir. The whites are the real winners and what you are likely to find exported. In a large blind tasting, Eric Asimov tasted a plethora of whites from the Central Loire and while many Sancerres jumped into the top 20 list-- the number one was the 2010 Cuvée le Charnay Menetou-Salon from Jean-Max Roger.
Menetou-Salon has the same Jurrassic limestone soils of Sancerre and the same great potential for minerality-driven zippy whites. Phillipe Gilbert's 2018 Menetou-Salon Blanc shows characteristic Sauvignon Blanc notes, with extended lees bâttonage giving the wine a bigger mouthfeel and some heftier smokiness. Bâttonage is the process of stirring settled dead yeast cells into aging wine to add flavor. Sounds gross, tastes great.
(Jacques Coeurs by Follower of Jean Fouquet)
Some skeptics describe soil matching to grape type as a pseudoscience as baseless as Coeur's alchemy, but the proof is in the pudding… or the wine, rather. Sauvignon Blanc loves calcareous limestone soils, and Menetou-Salon is no different. Jacques Coeur would've told you that-- and more so Agnés Sorel; this wine might have been the drink that sent her to an early grave. Today, Menetou-Salon whites are best drunk young, fresh and cold with green veggies, seafood, and soft white cheeses. These wines can be really affordable and are perfect with a decadent alfresco brunch of oysters, scallops and endive gratin, or a weeknight tilapia with sauteéd spinach.
The story of Coeur, the alchemist, turned monopolistic businessman, turned national hero, turned scorned outcast, turned national hero yet again is a story that can make modern man roll his eyes. Hasn't this same behavior been again forgiven through the easy punishments given to the white-collar criminals of the 2008 financial crisis? Unfortunately it is a waste of time to try to judge past actors through a modern moral lens. If you could go back in time and stick a pipette into a fermenting vessel and take a sip of a fifteenth century Menetou-Salon vingeron's concoction, I bet you would be horrified to taste an oxidized, woody, cloudy, warm wine; but the opportunity to see the nebulous version of what would later evolve into the racy, exquisite wine of Menetou-Salon would be an invaluable, albeit inconceivable, experience.