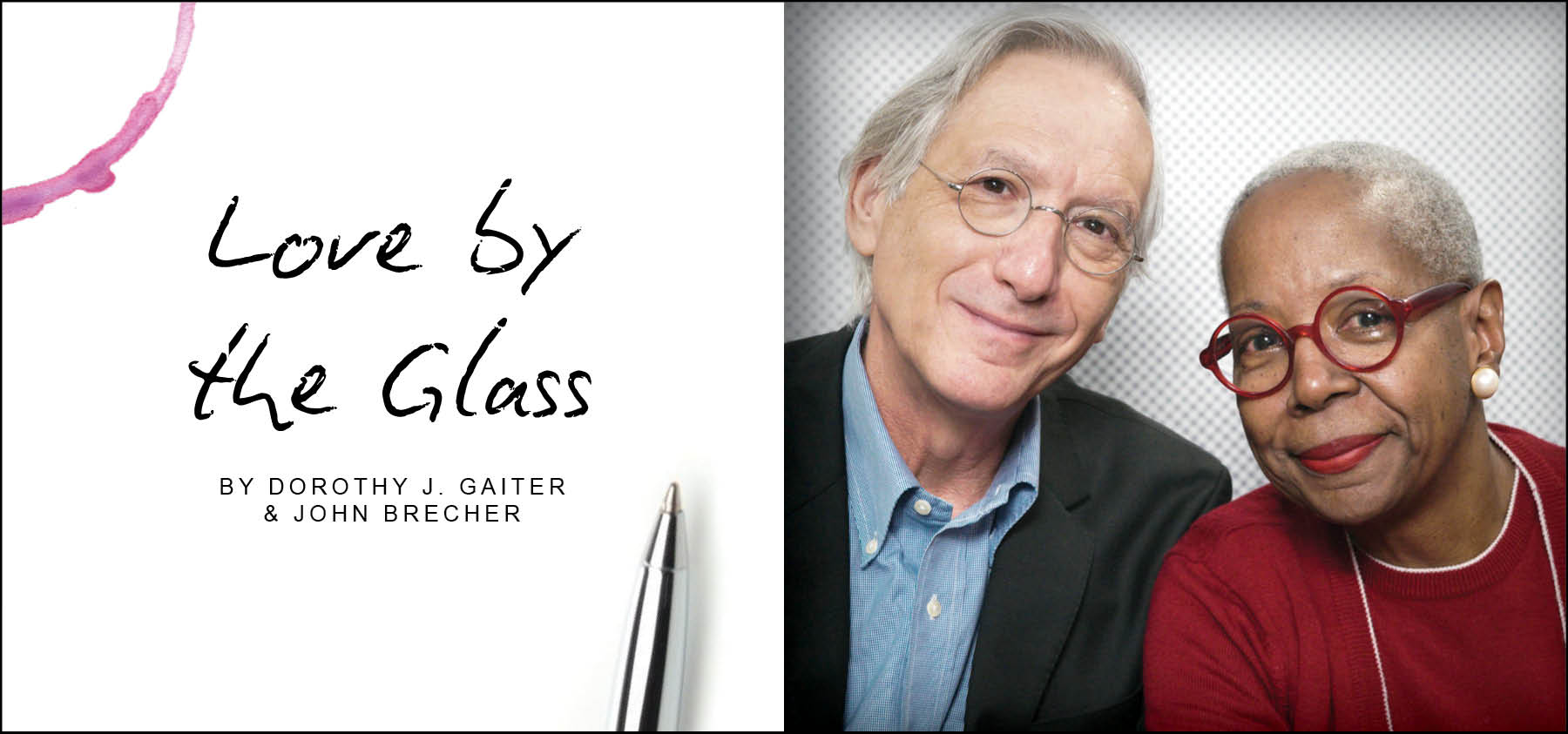 We look at holiday catalogues. Back in the day, we used to get piles of them, starting on Aug. 1, from companies like The Horchow Collection and J. Peterman. We studied them closely and often ordered from them. We still receive a few, so we know there are a lot of really bad wine-related gifts out there. We once wrote a column in The Wall Street Journal on the most outrageous offerings. No. 1 on our list: an Elvis bottle holder, to insure that your wine wouldn't get all shook up.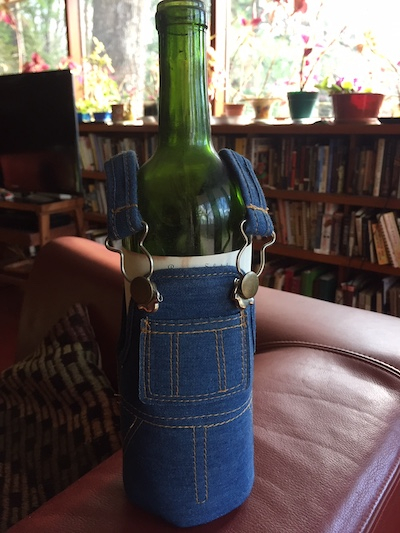 Don't give a present to a wine-lover or budding oenophile that probably will never be used, like the "I hope you brought wine" doormat. That would never be a great idea, but especially not now, when dinner guests are so 2019. That said, we'd be remiss not to point out that it really is the thought that counts. On a North America tour with a band several years ago, our daughter Zoë, a professional drummer, found a wine cover called "Vinderalls" (see picture) in Kansas and lugged it around for weeks so she could give it to us for the holidays. It has no practical purpose except it makes us happy every time we see it.
Here are some ideas based on our work this year and on current events (and, yes, we saw face masks with wine themes). In most cases, these will require some early work, which is why we're running this column now. In addition, many are pricey. It has been a tough year and maybe we're in the mood to spend more than usual on someone special.
--An amazing Cabernet Sauvignon from the USA to celebrate one of the many things this country can do at its best. And, given some predictions that climate change will make Napa less of a Cabernet paradise in the future, this could be an opportunity to savor something that could be lost. Don't scoff at that possibility: UC-Davis just had a webinar during which that was discussed. Among our favorite high-end Napa Cabernets this year: Cardinale Winery 2016 ($350), Spottswoode Estate Vineyard & Winery "Family Estate Grown" 2016 or 2017 ($225) and Shafer Vineyards "Hillside Select" 2016 ($300). These would make any wine-lover remember the promise of Napa Valley, before too many wines began to taste heavy, overoaked and manipulated. (For the white-wine lover in your life, we were also impressed with Spottswoode's 2019 Sauvignon Blanc, at $42, and even more so with 2018 from Acumen Peak, which is $75.) Keep in mind that if you send wine, have it shipped overnight because of the weather. Wine.com is a good place to look and wine-searcher.com is a terrific resource to find wine, including maybe in your recipient's state, so it needn't travel far.
--Any wine from Cain Vineyard & Winery in Napa. We've been fans of Cain and its delicious, highly personal Cabernet blends for a long time. This year, the winery on top of Spring Mountain and the homes of the people who work there were devastated by fires. Fortunately, its wines from 2016, 2017 and 2018 had been stored safely off-site. You would be doing a mitzvah, for the winery and your giftee, to order a bottle from cainfive.com and maybe one for yourself, too. It's known for Cain Five, Cain Cuvée and Cain Concept. More broadly, do a quick Google search and check out all of the wineries on the West Coast that were affected by the fires and think about giving them some business so they and their workers can begin to dig out. We wrote a column this year about how Sky Vineyards in Napa Valley atop Mt. Veeder is still recovering from a fire in 2017; you can buy its wines on its site. If you would like to help workers and first responders directly by giving a donation, here are details.
--A mixed case of wine from members of the Association of African American Vintners (AAAV). Wine has been an exclusionary community for far too long, which is bad for the industry and bad for consumers. We wrote about that for Grape Collective and Dottie wrote about it for SevenFifty Daily. But it appears that progress is being made. You can help – and gift some good wine in the process – by buying wine at this website or directly from some of its members. We're fans especially of the estate-grown Petite Sirah from trial lawyer Theodora Lee's Theopolis Vineyards in the Yorkville Highlands of Anderson Valley. You'll also see Longevity Wines, which is owned by winemaker Phil Long, current AAAV president. He succeeded AAAV co-founder and longtime president Mac McDonald of Vision Cellars in Windsor, Calif., whose first release was a 1997 Pinot Noir. Here's McDonald's email address: [email protected].
In March, Long signed an agreement with Bronco Wine Co. that will put his Classic white-label wines made at Bronco's headquarters in sizable quantities in stores nationwide. The scope of that arrangement is a first for a Black-owned and operated winery. On the AAAV's site are Longevity's reserve black-label wines, which he and his son make at their Livermore, Calif., winery. AAAV member André Hueston Mack's food-friendly Maison Noir Wines from Oregon are available at his website.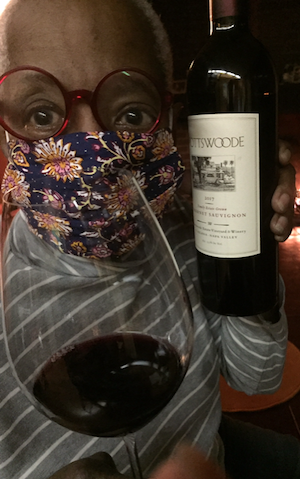 --Glasses that look classy on Zoom. Overall, we're pretty easy when it comes to wine glasses. As long they are sturdy enough to actually use yet also elegant, hold at least 20 ounces (so that we can swirl and sniff) and don't cost too much, we're happy. But these are unusual times. Many people are drinking wine while they Zoom with friends. Some are attending virtual wine tastings. So we'd suggest these. Your Zoom partners will be jealous when they see them, and these glasses would flatter any wine you put in them.
--Wines from your state to a recipient in another state – or, heck, propose a trade. Wine is being made commercially in all 50 states, but we'd guess few people out-of-state have tasted a Riesling from Michigan or a Norton from Virginia or a Touriga Nacional from Texas. (Whenever we write a sentence like that, we get notes from people saying, "Why didn't you mention North Carolina?" or "What about New Mexico?" and that makes us smile because we love the passion of local fans.) It has been a difficult year for wineries and your support matters, not to mention that it will give the recipient a whole new appreciation of the wines being made in your state and all over the USA.
--A gift certificate for a special wine, or two or three, from a fine restaurant near your recipient's home. Just to stay afloat, some outstanding restaurants, with government approval, are selling wine directly to consumers (often only with food) as takeout. These are sometimes rare treasures and many people are not aware this is possible. With Google, it's easy to find good restaurants. Check them out online, and call them if they seem to have a good wine list. This could well be a once-in-a-lifetime kind of present.
--A gift certificate for a small wine store near your recipient. These stores also need your help right now. We're giving this gift to our daughter Media and her husband, José. For a twist on this, look for a good wine store near your recipient and ask the merchant if they'd be willing to choose a case for a set amount. This will mean 12 surprise bottles. Even after 47 years of enjoying wine, this is exciting when we do it, and we've been doing it regularly during lockdown. It doesn't require us to spend time inside the store. We pay online and just pop the trunk.
--A small wine cooler, maybe for 20 bottles. These are available in many places, from amazon.com to Home Depot. They are always a good present since they keep a few bottles at a good temperature, but they're more important than ever right now so your recipient can buy several wines and keep them well, and therefore avoid multiple trips to the store or multiple deliveries. We're unable to give you a specific recommendation because the one we most recently bought is no longer available. However, there are some basic models for less than $200 that hold 20 bottles.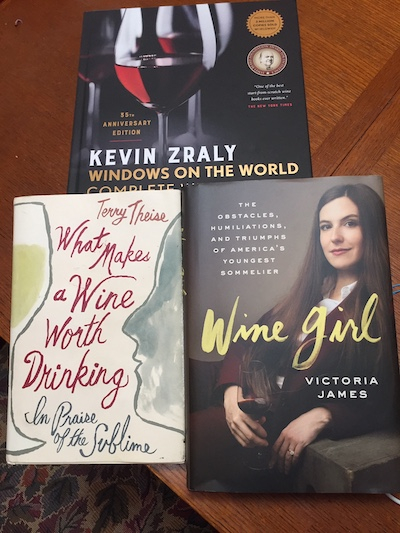 --Three books. There are so many wine books on shelves and it seems like most of them promise to make wine "unintimidating." Do you really want anyone to think you believe they're the kind of person to be intimidated by a beverage? So here are suggestions that are very different yet very 2020: The first is "Wine Girl," by sommelier Victoria James, about being a young woman in the wine and hospitality industry. It's harrowing, uplifting and outstanding. It also has a lot to say about wine and what it really means. The second is Kevin Zraly's "Windows on the World Complete Wine Course." This is the 35th edition of this classic. While many wine lovers have at least one copy, this one is written with the interesting perspective of Zraly's 50 years in the business. Zraly has always talked, taught and written about wine as a passionate believer who happens to know a lot, not a know-it-all speaking from the mountaintop. (We are pictured and quoted in this edition with comments that seem very prescient to this moment in wine gatekeeping.) For pure poetry about wine, it's hard to beat Terry Theise's "What Makes a Wine Worth Drinking: In Praise of the Sublime." Consider this from him: "I find soul in these wines because something in them ignites something in me."
--While we're all stuck inside watching TV anyway, how about this for a useful and unusual present: Give a $100 bill and a setlist of wine-related movies that your friend may never have seen because many were hard to find until recently (the money is to pay for the viewing). We hadn't even heard of "This Earth Is Mine" with Rock Hudson and Jean Simmons, but we really enjoyed watching it a few months ago. And, sure, everybody has seen "Sideways," but how about "French Kiss" with Kevin Kline and Meg Ryan? Does everyone remember how important wine was in Alfred Hitchcock's "Notorious"? And everybody should see "Uncorked."
We don't know about you, but we find it very frustrating today to figure out where to watch just about anything. There's a 1940 movie based in Napa with Charles Laughton and Carole Lombard called "They Knew What They Wanted" that we still haven't been able to locate. So spending some time putting together a list of wine-related movies and how to watch them would be a lovely present, and we'd guess one that younger, tech-savvy folks might think about getting for people like us who have lived through more vintages.
Dorothy J. Gaiter and John Brecher conceived and wrote The Wall Street Journal's wine column, "Tastings," from 1998 to 2010. Dorothy and John have been tasting and studying wine since 1973. In 2020, the University of California at Davis added their papers to the Warren Winiarski Wine Writers Collection in its library, which also includes the work of Hugh Johnson and Jancis Robinson. Dottie has had a distinguished career in journalism as a reporter, editor, columnist and editorial writer at The Miami Herald, The New York Times, and at The Journal. John was Page One Editor of The Journal, City Editor of The Miami Herald and a senior editor at Bloomberg News. They are well-known from their books and many television appearances, especially on Martha Stewart's show, and as the creators of the annual, international "Open That Bottle Night" celebration of wine and friendship. The first bottle they shared was André Cold Duck. They have two daughters.

Banner art by Piers Parlett