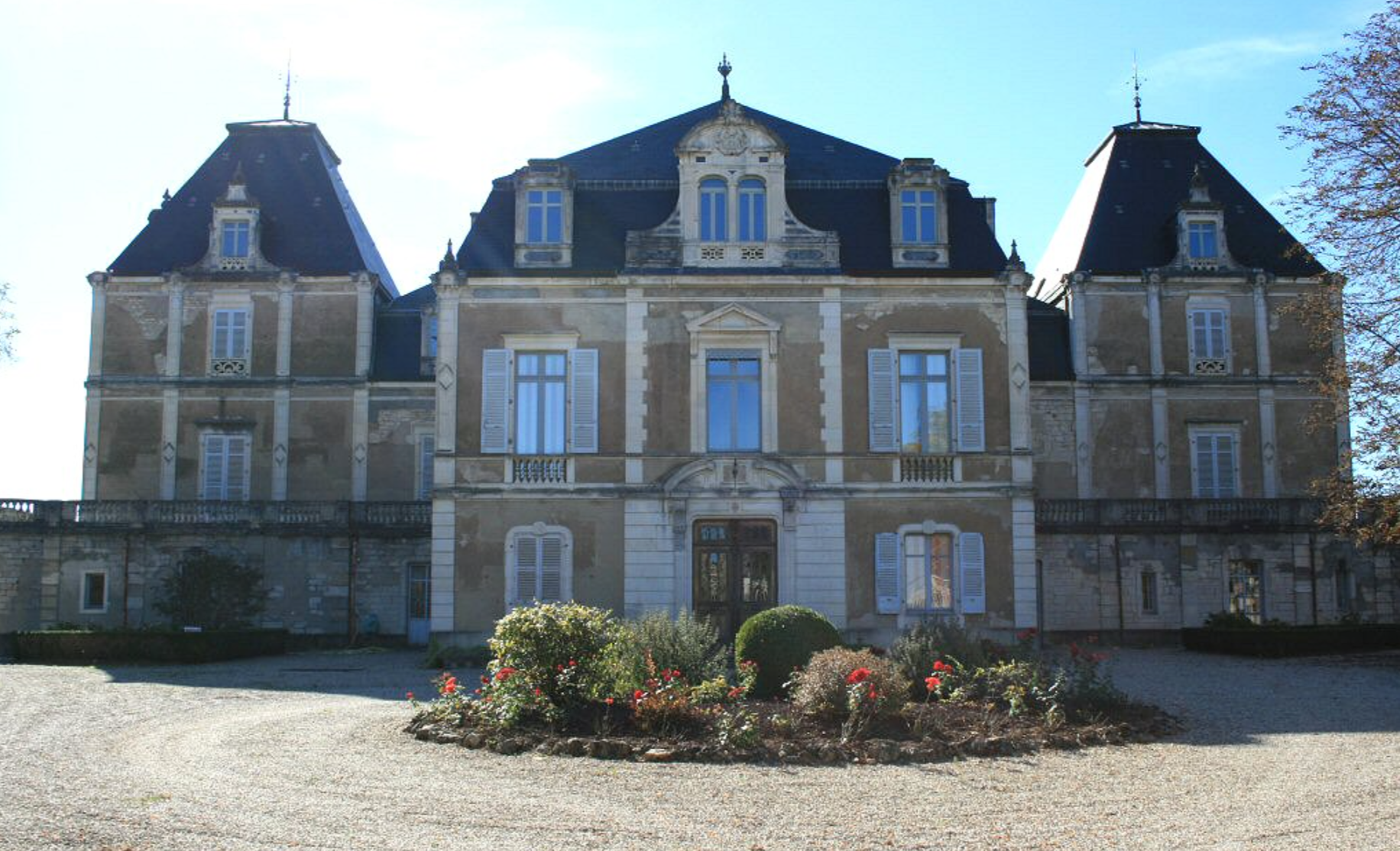 Meursault, an AOC established in 1937, is located between Pommard and Puligny-Montrachet in Côte de Beaune, France. Although it's just over three miles from north to south, Meursault is relatively large when compared to its neighbor, Puligny-Montrachet.
Approximately 98% of Meursault production is focused on white wine, and the region is known for producing exceptional whites made from Chardonnay grapes. Pinot Noir is another variety cultivated here, but it comprises less than 5% of total wine production in the region; it's called Meursault Rouge. There are no Grand Cru vineyards within Meursault, nevertheless, a number of great Premier Cru plots can approach Grand Cru quality.
Meursault is blessed with classic Burgundy terroir featuring marl-limestone slopes and hills."Climat" and "lieux-dits" are the ultimate expressions of Burgundy terroir. "Climat," a French term, means precisely delineated plots of land marked by a unique terroir. In 1935, "climat" became the official and legal word applying to all Burgundy appellations made by the National Institute of Origins and Quality (INAO) in France. In Meursault, there are several climats classified as Premier Cru vineyards. You can find "Meursault Premier Cru" and the vineyard name, or simply "Meursault Premier Cru" on the wine labels.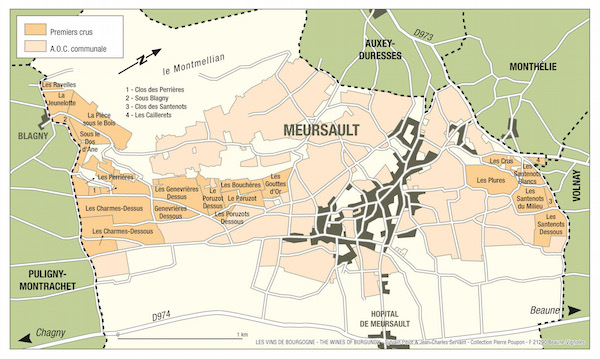 "Lieux-dits"are also defined areas recognized for their own topographic or historical specificities, but their precise geographical locations are not registered by the INAO. There are 19 climats classified as Premier Crus and 53 lieux-dits in Meursault. The 19 Meursault Premier Crus include: Blagny, Charmes, Clos des Perrières, Genevrières, La Jeunellotte, La Pièce sous le Bois, Le Porusot, Les Bouchères, Les Caillerets, Les Cras, Les Gouttes d'Or, Les Plures, Les Ravelles, Les Santenots Blancs, Les Santenots du Milieu, Perrières, Porusot, Sous Blagny and Sous le Dos d'Ane.
Classic white Meursault is gold with a greenish hue or canary yellow, but as the wine ages it leans towards bronze in color. When the wine is young, it shows a bouquet of white and yellow flowers along with flint minerality, and buttery, honeyed citrus fruits. On the palate it is rich, almost fat and round, with a toasted nutty flavor of almonds and hazelnuts.
FOOD PAIRING
Meursault goes well with subtle and fine-textured fish or meat such as grilled lobster, crawfish or king prawns in garlic butter sauce, and poultry or veal with white sauce. Dishes with aromatic and crisp textures match with the lively minerality, acidity and supple balance of the wine. Even blue cheese makes an excellent pairing.
Suggested serving temperature: 12° to 14°C
2013 CHATEAU DE CITEAUX MEURSAULT LES NARVAUX
100% Chardonnay grapes, 13.5% ABV
One of the most well-known producers in Meursault is Chateau de Citeaux, owned by Philippe Bouzereau who bought the estate in 1995. Located in the heart of Meursault, Chateau de Citeaux is also an historic site, and was previously a national property for 200 years. Mr. Bouzereau replanted the original grape vines destroyed by phylloxera and restored the 11th century cellar. Coming from a winemaking family for nine generations in Meursault, the Bouzereau family owns multiple small plots from Aloxe-Corton to Santenay.
Philippe Bouzereau Jr. has run the business since 2004, practicing sustainable farming in the vineyards and following traditional winemaking methods with the moderate use of new barrels. The wines produced by Chateau de Citeaux reflect the terroir of the area rather than an individual vineyard. Chardonnay grapes come from Auxey-Duresses, Meursault, Puligny-Montrachet, and Chassagne-Montrachet. Pinot Noir grapes are cultivated in Aloxe-Corton, Auxey-Duresses, and Santenay.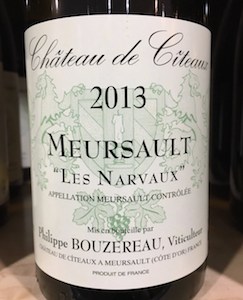 Narvaux, a lieu-dit single vineyard, is one of the most prestigious village appellations in Meursault, just above the Premier Cru "Les Genevrières" vineyards. Even it does not reach Premier Cru status, oenophiles know that it is capable of making excellent wines.
The Chateau de Citeaux Meursault Les Narvaux is yellow in color with a hint of green. The wine shows moderate concentration with notes of lemon zest, green and yellow apple, and unripe pineapple on the nose and palate. In addition to fruit characteristics there are hints of crème fraîche, mushrooms, buttery toasted hazelnuts, and white stone minerality. This is a complex wine, with high acidity, medium body, and a long finish.
FOOD PAIRING
Any cured white fish or even trout or salmon go very well with it. White meat with mushroom cream sauce is another great pairing idea. Soft to semi-hard cheeses such as brie or gruyere are always excellent choices. Dare to try something different? Try teriyaki chicken meatballs. The combination will blow your mind!