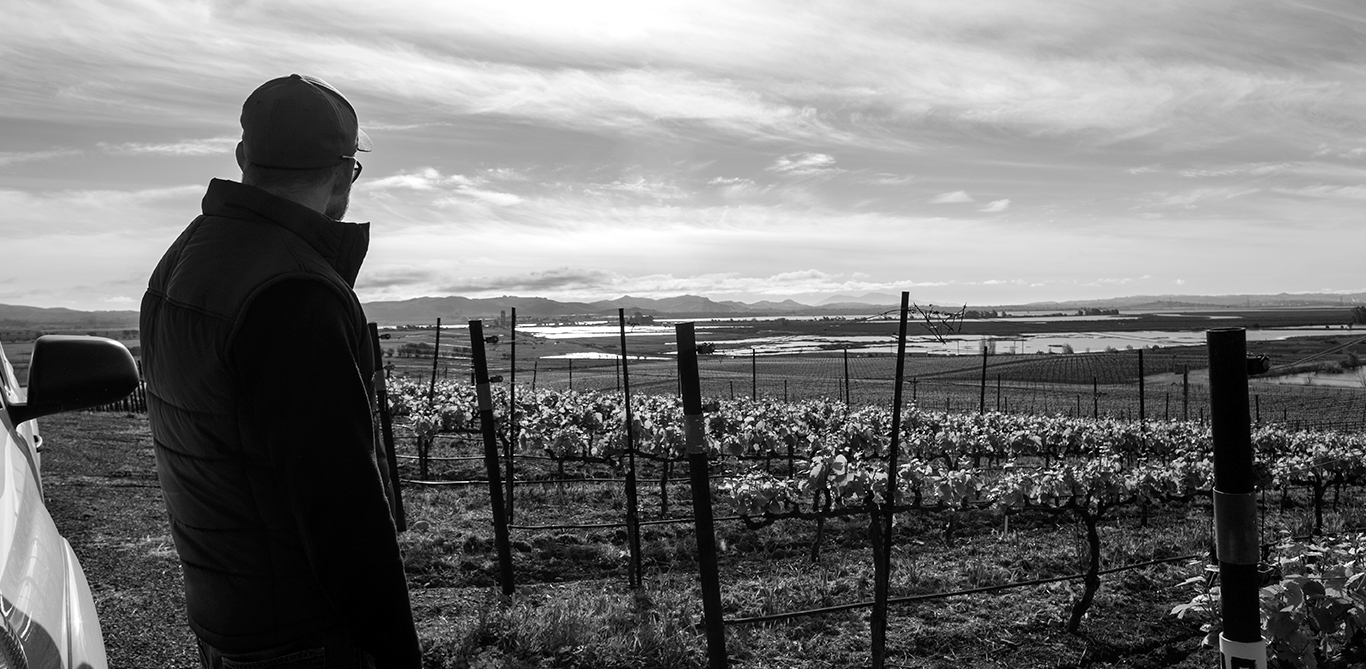 Koerner and Joan Rombauer moved to Napa Valley in 1972 and established Rombauer Vineyards in 1980. Today the winery, famous for representing big, bold premium California Chardonnay, is run by first-, second- and third-generation family members.
Grape Collective's Peter Feld talks with Richie Allen, the Australia native who went from a Rombauer internship to top winemaker, about the label's iconic Chardonnay and the sudden popularity of its Sauvignon Blanc, Rombauer's first new varietal in 24 years.
Peter Feld: Richie, how did you get to Rombauer Vineyards?
Richie Allen: I literally was working as a winemaker in Australia as a student for Penfolds' wines in Magill in Adelaide. After I graduated, I'd done a harvest near a valley with a small tiny winery, and I knew I had to get experience quickly. I was getting these small winemaking jobs, but nothing big, getting experience quickly. The seasons are reversed, so you go back and forth doing harvest.
So I'm like, "Okay I'm going to go back to Napa." That's where I first tasted wine, that's what sent me to California wine.
Photo: Koerner and Joan Rombauer with their children in 1972
How did you get your start in winemaking?
My first degree was in molecular biology. I took a year off in the middle of my degree, which is standard, young Australian practice; you take a year off and you leave the country for a year and go see the world, like a gap year. In Australia, we just call it deferring for a year. If you don't have this one year gap as a student on your resume, it's like, "You just did your degree? Did you not go see the world?" Because in Australia, it's so far away from everywhere, when you leave, you leave for a while. You're going to spend 18 hours getting to Europe, you're going there for six months minimum, period.
I was a rock climber. Me and my best mate, we were like, "We're going to go to the west coast of America. We're going to go to Yosemite, we're going to go to Joshua Tree, we're going to go to Smith Rock, and then we're going to go to Italy and climb all over the north of Italy." So we get to California, we basically touched down in Sacramento. I know Sacramento really well, I've got a bunch of friends who still all live up there, and that was sort of our base in California.
A friend up there was like, "Hey, my girlfriend's turning 30, we're going to go wine tasting in the Sierra Foothills. Do you guys want to come?" Mind you, we're not quite legal drinking age, but that's a minor detail.
She was turning 30 and you're …
They thought it was bizarre that we were 19 and we just packed up and left and we're going around the world for a year. It's like super common for an Australian to do that, but the people we were hanging with in America couldn't believe that we were 19 and were doing that. They were just the people that we connected with, so we got to go wine tasting. That was the first time in my life I'd ever had a Cabernet, a Zinfandel and a Nebbiolo in front of me.
There was always wine in my parents' house, my parents used to go to wineries, they'd drag us around as kids, we'd sit in the back of the car, we hated it. Mom and Dad said, "We're going to go wine taste today and buy some wine." My brothers and I would be like, "This is the worst thing in the world, so boring. This sucks." So I come to her wine tasting, and I was like, "Wow, this is..."
This is the foothills, not Napa now?
This is the foothills, so that blew my mind. We went off to Yosemite, and we did a bunch of rock climbing for a couple months and we came back to Sacramento, and another person in the same group of friends goes, "All right, I'm going down to Napa. I've got to go pick up my allocation of Beringer Private Reserve." I didn't know what that was. This is back in '98 so that's when Beringer was king.
We went with him down to Napa for the day, and he took us to Opus. We went to Beringer, he was picking up his wine and I got to try Napa wines. That whole experience of trying wine in California, I was like, "Okay, this is really interesting." These people became like my peer group. They were 10 years older than me, they were all professionals, so I kind of looked up to them.
I just got fascinated by wine, and the more I learned about it the more I realized it was science-based--and that's what I was good at. As soon as I finished my science degree, I was working on a project because the head professor was like, "You need to do your PhD." I came in and said, "I'm sorry, I want to go study winemaking. Sorry."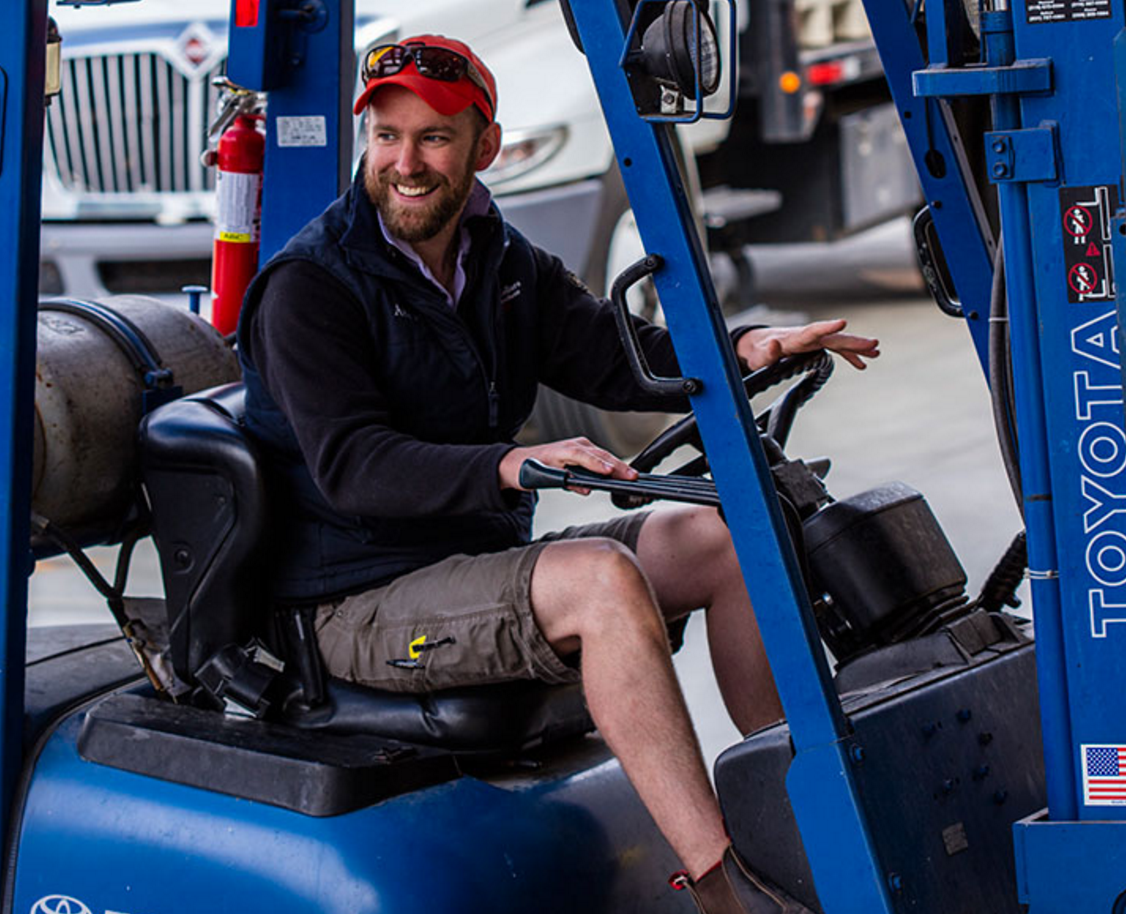 Photo: Richie Allen
Big career change.
Yes. I literally packed my bags and drove 12 hours to Adelaide and started my winemaking degree. Never looked back.
So about Napa, then. What was it that brought you back?
You become obsessed with wines and then become a real wine geek. I wanted to go back to California, and the more you read, you realize that Napa's one of the top places in the world to make wine. I wanted that on my resume, so I went through an exchange company that helps graduate winemakers find jobs, and they found me a job at Rombauer.
That was an internship?
It was an internship for four months.
That's a short internship.
Yes, that's how long the harvest is. Three to four months. I ended up staying until Christmas, which was only five months, and I had a job lined up as a harvest winemaker in New Zealand in Hawke's Bay and so I left. While I was in Hawke's Bay, Rombauer called and said, "Hey, would you be interested in coming back?" I was like, "Well absolutely, but what's the job?" They said, "We can offer you a junior winemaking role. Would you come back?" I was like, "I've only got a six month contract in New Zealand. Sure, I'll come back."
I came back and I stayed for six months at Rombauer and I went to leave and they said, "No, no. We can get you another visa. We'd like you to stay." I went back to Australia and I thought about it and I said, "Yeah, I'll go back." I got my visa, I came back.
I stayed another year and a half and then I got a bit antsy again. I wasn't used to being bolted down in one place. My whole life was two bags: my rock climbing gear and my winery clothes.
I literally quit and took a job on the South Island, New Zealand as a winemaker and I was there maybe five months and Mr. Rombauer called and said, "No, we really need you back. We need you to come back."
My now-wife, my girlfriend at the time, she'd moved to New Zealand with me, and that was our first time living together and she didn't like where we were living in New Zealand. We were in this really tiny, tiny town that was probably the most unattractive part of New Zealand. It's on the way to everywhere but it's not actually anywhere. She loved Napa when she'd come to visit me. She's like, "No, we'll go back to Napa. That'd be great."
You had good support from her.
Yeah. I get off the phone to Mr. Rombauer and I come back and she's, "Did you take the job?" I go, "Yeah, I took the job." She goes, "Well how much does it pay?" I'm like, "I don't know. I just said yes." She said say yes! I said yes!
Within like, 60 days, no, it was less than that. It was like 25 days, we were back in California. I literally got off the plane, they handed me my cell phone and off I went.
Something obviously very strong happened in your relationship with Mr. Rombauer starting with the internship, that they were so intent to get you back there.
I'm not 100 percent sure, but 2004 was my first year and it was a really compressed harvest and I was working in the red cellar. Part of the cellar mainly did Chardonnay and part of the cellar did reds. The reds were sort of on the other side of the Chardonnay so you'd go back and forth. I had two sections interspersed between Chardonnay tanks and it was a really compressed harvest.
The drinking fountain was at the far end of the place and it was quite a far walk to get fresh water. I mean, you're running all day, back and forth doing stuff. I'm like, well, the guys always stop for like every hour and go have a glass and I'm like, "Well, it's a pain." It was really hot, it was like 110°. I needed to stay hydrated, so I brought my CamelBak water pack into work. I thought if I just fill it full of water, I can drink a couple of gallons of water a day. I don't have to stop every hour for 10 minutes and have a drink, and I can get more done. So I just did that.
I think it was my work ethic and also if I saw something wrong I'd point it out. It's harvest, there are 10 million things happening at once. You know when a war starts and they call it the fog of war, stuff happens, and trying to get information to make accurate decisions is really hard because there's so much going on and it's happening so fast. Harvest is the same, so mistakes happen. If I saw a mistake, I'd be like, "No, that's not right, don't do that," and I'd grab the work order and take it back and say, "Hey, they're gonna do this. That doesn't look right." They would say, "Oh, no, it's not. Thank you." There'd be just tiny things like pumping a small amount of wine into a large tank and it'd be a waste of the tank. I'd just do little things like that.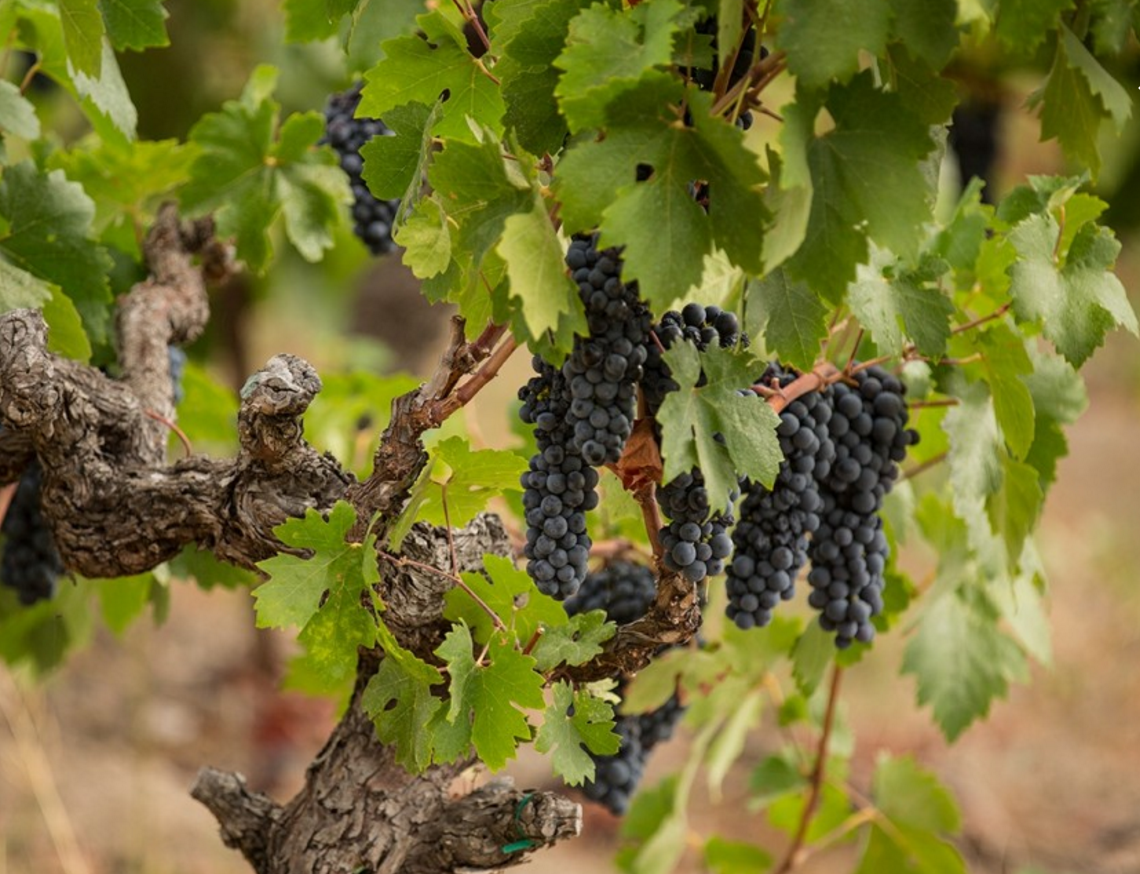 That's what we would call a "360 degree" attention to detail.
There would be tanks of Cabernet and tanks of Pinot, like the custom-crush clients--we don't make Pinot--and I saw them drain one tank of Cabernet, and it was a good amount, and then they were draining a tank of Pinot. It was a really small amount. The compressor's quite big. They're going to have to put the Pinot skins on top of something else, so they went to put it on top of Cabernet and I'm like, "No, you don't do that. That's not how you make wine. That's wrong."
I remember grabbing that work order as well and they said, "Oh yeah, thank you so much for catching that," because there are work orders flying everything. As a winemaker you rely on the staff, and you're only human, you make mistakes.
Personally, I don't send cellar notes down into the cellar unless I've double checked them, and when you're getting tired the other winemakers have checked them because you just kind of rely on everyone to catch it, and they don't know what you're thinking. I just would see things and I'm like, "That's not right." They just liked that. They knew they could rely on me. I showed them all the little things I'd learned making wine in other parts of the world, and it just snowballed and snowballed. Like in my first year, they'd be blending the '03 Merlot and I was allowed to sit in on blending. I don't know why. I was just an intern, but they let me do it, but they obviously liked me.
They trusted your judgment.
Yes, they trusted my judgment.
You'd had all this formal training, you'd studied and now you're in the trenches.
I had five or six years of experience working in wineries part-time while I was a student as well, so I had a lot of experience coming into it. A lot of winemakers, honestly, they want to make wine the way they like it. They have huge egos and they're very much, "I think this is a good wine." It's like, "You know what, mate? You can think that's a great wine, but if the customers don't like it, it's useless." You can tell yourself it's good because your ego's this big, but it's not actually any good if people don't like to drink it, then it's no good.
I worked at Penfolds, and Penfolds had very set wine styles. It's one of the top red wine producers in the world, and they have a house style much like a Champagne house. It doesn't matter who's making Grand Cru Cuvee, that Champagne has a style and the winemaker has to understand that style and he has to make the best Grand Cru he can, but it's got to taste like Cru. He's not going to come in and change it. Penfolds is very, very similar. They're not going to come in and change how they make Grange or Magill Estate or 707. The style of those wines is defined. You can tweak it and try to eke out more quality, but you can't change it.
Rombauer's very similar. We have Rombauer Chardonnay, Rombauer Zinfandel, Rombauer Cabernet, and the styles were set. I wasn't coming in and going, "Well this is how I'm going to make the wine." I had to come in and go, "Right, I have to understand exactly how that wine is made. Stylistically, what makes it what it is and what's the best possible example of that style," and do it.
In some respects you have to check your ego at the door and you've got to understand what makes that wine great, why, and be able to do it every single time.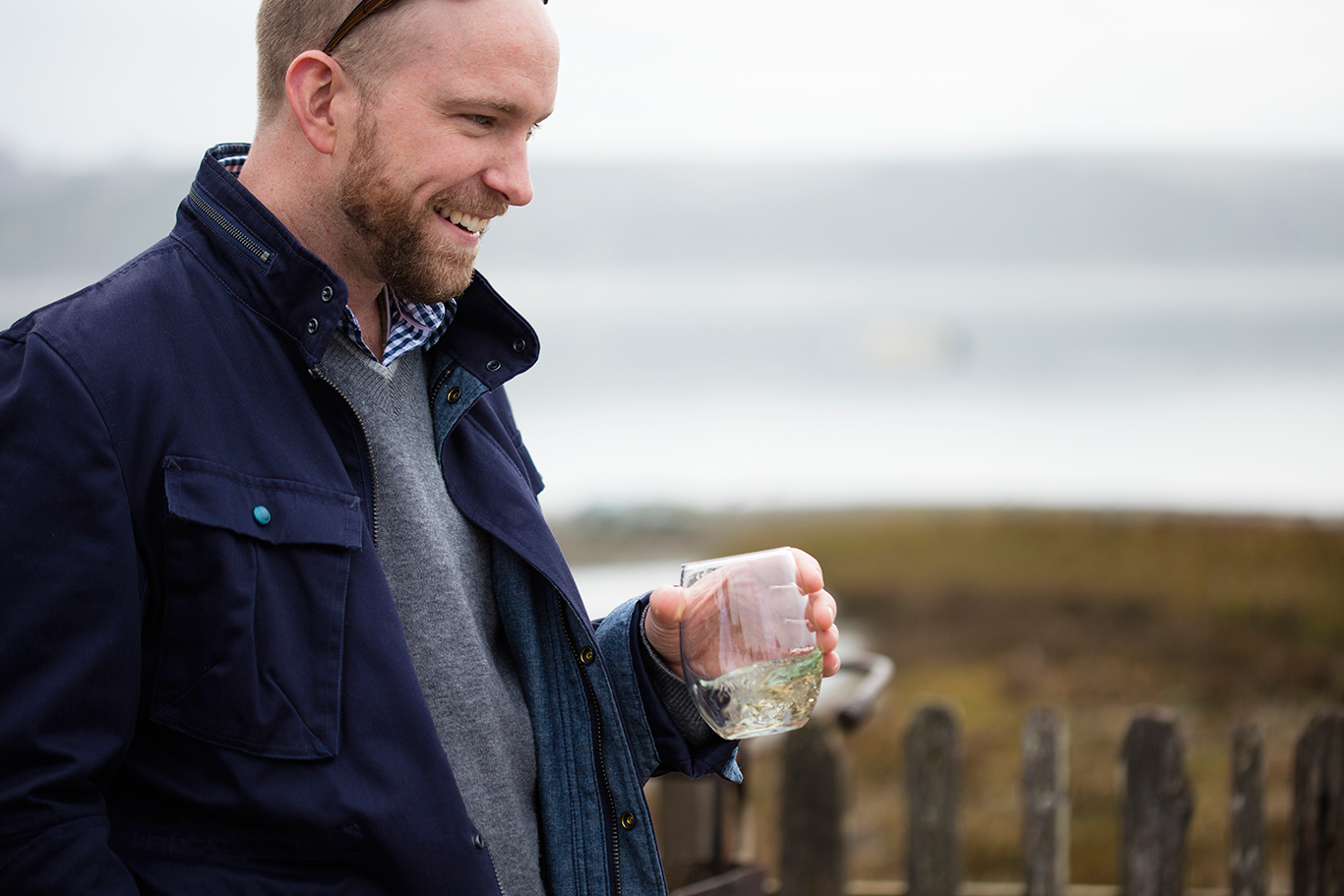 It seems like Rombauer has sort of shifted, in that it began with reds, with Cabernet, and is very much known for the whites now.
That's our newest thing is Sauvignon Blanc and it's a huge hit in New York.
I knew more about the Chardonnay.
That's what we're famous for, the Chardonnay.
Now the Sauv Blanc is the new thing?
In the commercial wine world, things move fast. Fads come and go, corporations produce new labels all the time. They'll jump on the Sauvignon Blanc fad, they'll jump on the Pinot fad, they'll buy up a brand that's big and they'll ramp up production, destroy it and discard it, and find the next brand to buy.
In the traditional wine world, things move slowly. Like, 20 years in the traditional wine-sense is quick. It takes five years to get a vineyard to produce a full crop of fruit. It really doesn't start producing decent fruit until 10 years, and if you want really good fruit, like on a really good site with a succinct vineyard that is producing high-quality fruit year-in, year-out, it's really 20 years. That's half your career.
What was the history of the Sauvignon Blanc?
We made Cabernet in 1980, we added Chardonnay in '82, Merlot in '83, Zinfandel in 1990, 2014 we added Sauvignon Blanc. So that was 24 years before we added another varietal, and that was five years in the planning before we added it. It was five years of, "What kind of wine are we going to make? Is it going to be Sauvignon Blanc?" Once we decided on Sauvignon Blanc, "Can we do it? Can we do it better than everyone else, and can we give the customers what they want?" There's five years of planning before we even put a wine in the bottle.
Now you're seeing the results of it.
Yes.
2015 was the first?
2014 we made a very small amount. We put it through our retail room. That's like our test market, that's our barometer. Do people like it? Did we get the style right? It lasted 60 days or something. Seventy days.
It was very popular. You were very happy with it?
I was super happy with it. It was so drinkable, it was so refreshing and so bright. It was exactly what we thought was missing from Napa Sauvignon Blanc. We produced a few thousand cases this year, all within the same vineyard. Rather than going out and saying, we made a great wine, we really love it, let's go out and find other vineyards, we took the vineyards where we were buying fruit and just increased our allocation. Stylistically we could keep it the same.
Did you make changes between 2014 and 2015?
No, we just tried to make a little more. We sent a few hundred cases to New York. The best part is, first of all, no one ever knows that Rombauer makes Sauvignon Blanc, so when they see it they're like, "Oh, what's that?" When they try it, they're like, "That's actually really good."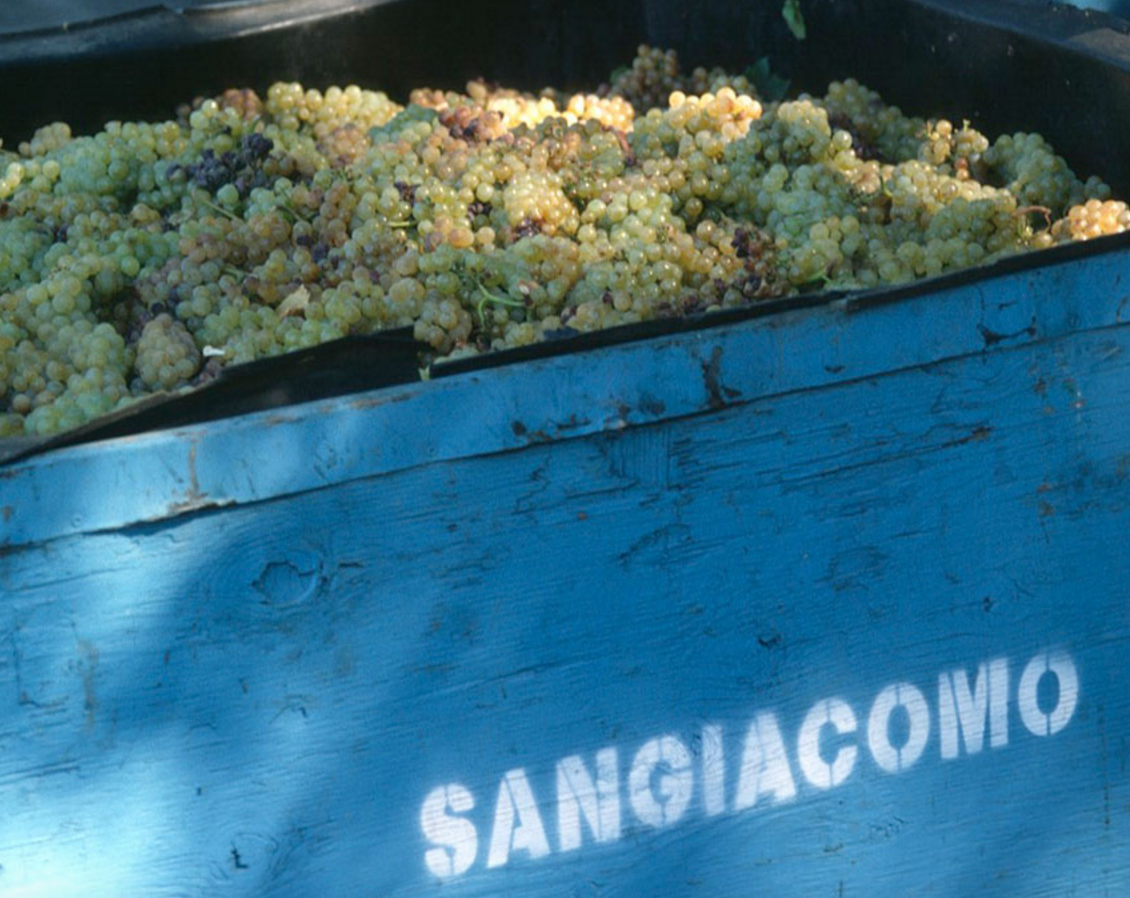 You went through some very intense years with the drought and it really affected the grapes.
Being Australian, drought is part and parcel of farming. So when California started complaining about a drought, I was like, "Wait until we're 12 years in and we'll call it a real problem." We're three years into this drought.
It changes winemaking, though.
The first thing we look at when we look at a vineyard is where's the water coming from, how much of it is there and what's the quality? We've looked at vineyards to purchase, we've looked at land to purchase. Has it had water? It's had water but it hasn't been high quality, and we walk away. Water is the most valuable resource when it comes to any sort of farming.
There's this big thing, "Wineries use so much water." If you look at water used for growing grapes, especially in Napa Valley because we're trying to produce super-premium fruit, the way water is used is so conservative in farming-speak. It's such a small amount of water used to grow super-premium grapes for making wine that it pales in significance to other types of farming. Cotton, almonds, rice. They grow rice in California!
It seems that it's moved up the whole time frame, right? Everything's earlier.
Everything's earlier. Say you looked at grape vintages of the last 150 years and you looked at what were the best vintages. You look at the harvest dates. An early vintage, on average, is a good vintage.
Vintages starting in 2012, 2013--those were very dry years. A lot of California winemakers were very proud of what they were able to do with those conditions.
We had some really interesting years. '10 was a relatively late vintage. '11 was very late. '12 was early, '13 was early, '14 was early. '15 was early. '16's gonna be really early as well. We had bud break within three days of what we had last year, last year was our earliest vintage ever.
So long as we have a normal warm summer, once the vines start growing, once they wake up, the clock's ticking. Cool weather will gain you a couple days on either side, warm weather will gain you a couple days on the other side. Once the clock starts going it doesn't stop.
It's really funny, we started tracking certain physiological points in the vines' growth and when they fall, in reference to when we harvest grapes, because we want to see how, stylistically, are we picking our grapes roughly at the same amount of time, from certain physiological points in vine development. We looked at 10 years of data for Chardonnay, Cabernet, Merlot and Zinfandel, from basically flowering to harvest. We're like a five day window every time. We never realized it because we knew vines have a clock that ticks, but we just thought it must vary drastically based on the year and what we're tasting and flavor. But it's literally like this five, maybe seven day window in some vineyards. It's incredibly consistent. We didn't even realize that.
You're known for the Chardonnays in particular. There are two philosophies of Chardonnay. There's a California--you're particularly identified with--and then there's a more European kind of a Chardonnay. Tastes change fast.
Wine's very fashionable. If you look at wine trends, it's a luxury item so it changes with fashion. The way I look at it is, if you can deliver the highest possible quality every time, even if the fashion changes and it's high quality every time, year-in, year-out, people still buy your product if it's reliable. But if your wine does this year-in, year-out, some years it's good, some years it's bad, they will follow the fashion.
When the tastes change, it's almost like the "Sideways" phenomenon for Merlot, except with regard to Chardonnay. I like these big California, buttery, oaky or whatever, and suddenly you're...
You're not fashionable anymore.
I don't care whether it's fashionable at all. I care what it tastes like.
It's funny. I would say probably the last seven or eight years consumer preferences have definitely changed, and I don't think they've changed away from a style of wine. I just honestly think wine consumers have become way more educated.
Because of the Internet? Why do you think that is?
I just think wine's more readily available now than it was 20 years ago. Knowledge on wine. People eat out more than they did 30 years ago. Wine has become part of your dinner. If you went to a steakhouse 35 years ago, would they have wine? Okay, so it might not have been great wine, but now people understand what makes a good wine and what doesn't make a good wine.
And people understand what pairs with what. If they understand what quality is, so long as you're making a high-quality product, they can associate with it. They might not buy a bottle of Rombauer Chardonnay every time. If they did, then everybody would be making it, and wine would be kind of boring if we're all making the same thing. It's kind of nice, even though palates have changed and perception has changed, we're still making the highest quality product we can. People will buy ours and they'll also buy someone else's. Bring on the difference. I'd rather customers buy 10 bottles of wine and have 10 different bottles than buy 20 bottles of the same thing like it's Coca-Cola.
Does it affect your craft? Do you stop and think as you're planning over the years, do you allow these trends to affect you?
We don't so much follow varietal trends, but we definitely follow the customer's perception of our product. Our products have evolved. If you try out Cabernet now versus 15 years ago, stylistically it's very similar but the wine has changed. It's the same with the Chardonnay, it's the same with the Zinfandel. We're constantly trying to make them as appealing as we can. So to answer your question I'd say it does affect how we make the wines to a degree, but we're still trying to keep what makes the core elements of that style.
How do you deal with the fact that people have a certain image of Chardonnay?
When people say they don't like Chardonnay, you know the "anything but Chardonnay," it kind of drives me a little nuts. I'm not going to lie. If you look at Chardonnay as a grape varietal it's spread all around the world. There's more Chardonnay spread around the world than any other white varietal, and it makes a more diverse portfolio of styles of wine than any other variety. You have Blanc de Blancs. If you look at the cream of the crop of Blanc de Blancs: Salon. At the other end you have Rombauer Chardonnay, and then you have everything in between.
If you say to me, "Oh, I don't like Chardonnay," it's like you've just pulled out half of the world's wines effectively. Half of the great wines in the world are made from Chardonnay. How could you say, "I don't like Chardonnay?" It's just mindboggling. You might as well say, "I don't like wines." That's how I feel. That's how passionately I feel about it.
Philosophically, if you look at the differences of the types of Chardonnay and look at some of the styles and the flavor profile of the European, kind of your classic, delicate Chardonnay versus the big California Chardonnay we all have in mind?
The way I look at it is, if someone said to me, "Why do you make Rombauer Chardonnay? Why do you make this big Californian, buttery, oaky Chardonnay?" Because we can do it. Our climate is right for doing that. We have clay soils and we have a huge amount of sunshine, we get the grapes very, very ripe. That's the style that is going to suit that climate best.
On the flip side, I can't make Montrachet. I don't have the right soil, I don't have the right climate. It's just not possible. But then in Montrachet, they can't make Rombauer Chardonnay and they shouldn't try. They should keep doing what they do best, and they do it better than anyone else in the world. I can't make wines like that.
My vineyards and my climate and the soil, it won't allow me to do it so I'm not even going to bother trying. I could try, but then I'm going to make really average Chardonnay and I don't want to make really average Chardonnay. I want to make great Chardonnay. I'm going to make what the climate gives me.