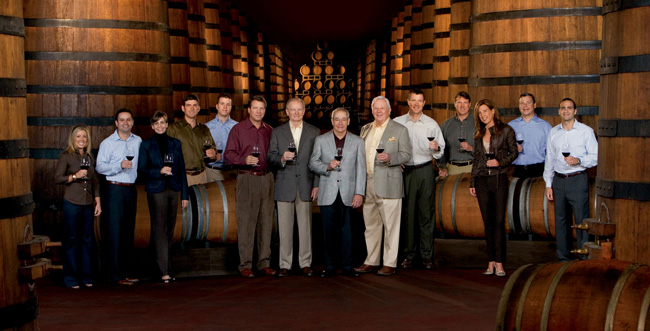 "I'm just going to get you something to eat, like a little nibble, a mini-burger or something," Gina Gallo tells me with a grin. As we sit down for an interview in the MacMurray Vineyard Estate's main house, we're secluded from the nearby commotion of 3,000 bustling guests at the annual Taste of Sonoma, the only time the historic ranch is open to the public.
"Now we do a proper slàinte!" Her eyes flash as she offers me a toast of Rosé bubbles from J Vineyards, the Healdsburg-based family winery that is a recent Gallo acquisition. "Salute!," we chime together and clink glasses. "You have a little Irish in you, don't you?" Well, no, why? "You're the only one who knows that when you do a salute, a slàinte, you have a sip."
Born into the legendary winemaking family pioneered by her grandfather Julio and great-uncle Ernest when they were just teenagers, after a family tragedy (their parents died in a murder-suicide) left them orphans, Gina Gallo's own career blended the commercial and creative sides of the business. She studied business psychology at Notre Dame de Namur in Belmont, CA and worked in Gallo's sales department, then enrolled in UC Davis's Viticulture and Enology program and apprenticed under Gallo's longtime winemaker Marcello Monticelli. With her brother Matt as grower, she masterminds Gallo Signature Series.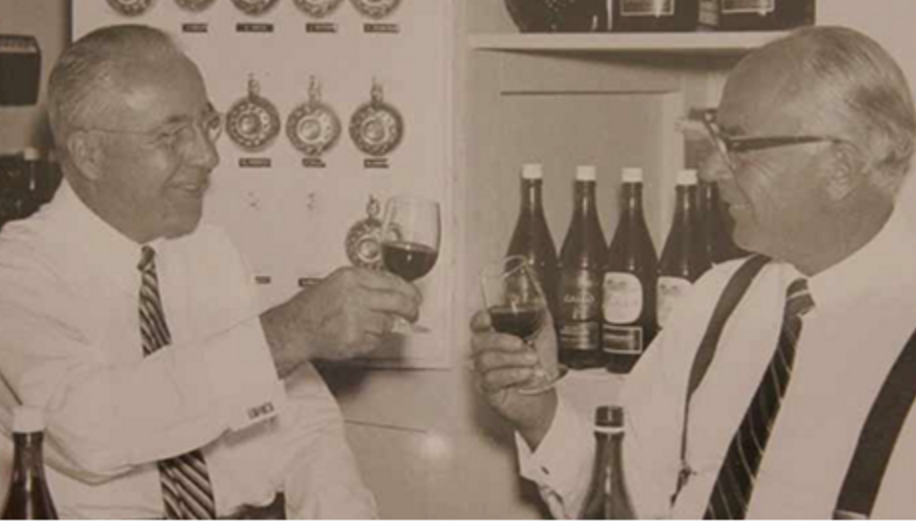 Gallo makes unabashedly popular wines. One of the most creative marketing companies in any industry, E&J Gallo has created distinct brand after distinct brand, fighting the perception that low-cost wine is a commodity. They pioneered use the use of creative ad campaigns on television within the alcohol beverage industry. Following the American Dream in the depths of the Great Depression, the two brothers built the largest family-owned winery in the world on the back of their own hard work. While many other large family concerns such as the Mondavis have been swallowed by large corporations, Gallo remains a family business.
And while the family's roots are in Modesto, Gina Gallo is a dominant player in the tight-knit Sonoma wine industry. At the series of events that make up the annual Sonoma Wine Country Weekend, including gala bashes and culminating in a September 6 Sonoma Harvest Wine Auction at Chateau St. Jean that raised a record $4.5 million for local charities including the Fund the Future youth literacy initiative, Gina and her husband, the dashing and theatrical winemaker Jean-Charles Boisset (always clad in his signature red socks), were omnipresent and always the center of attention.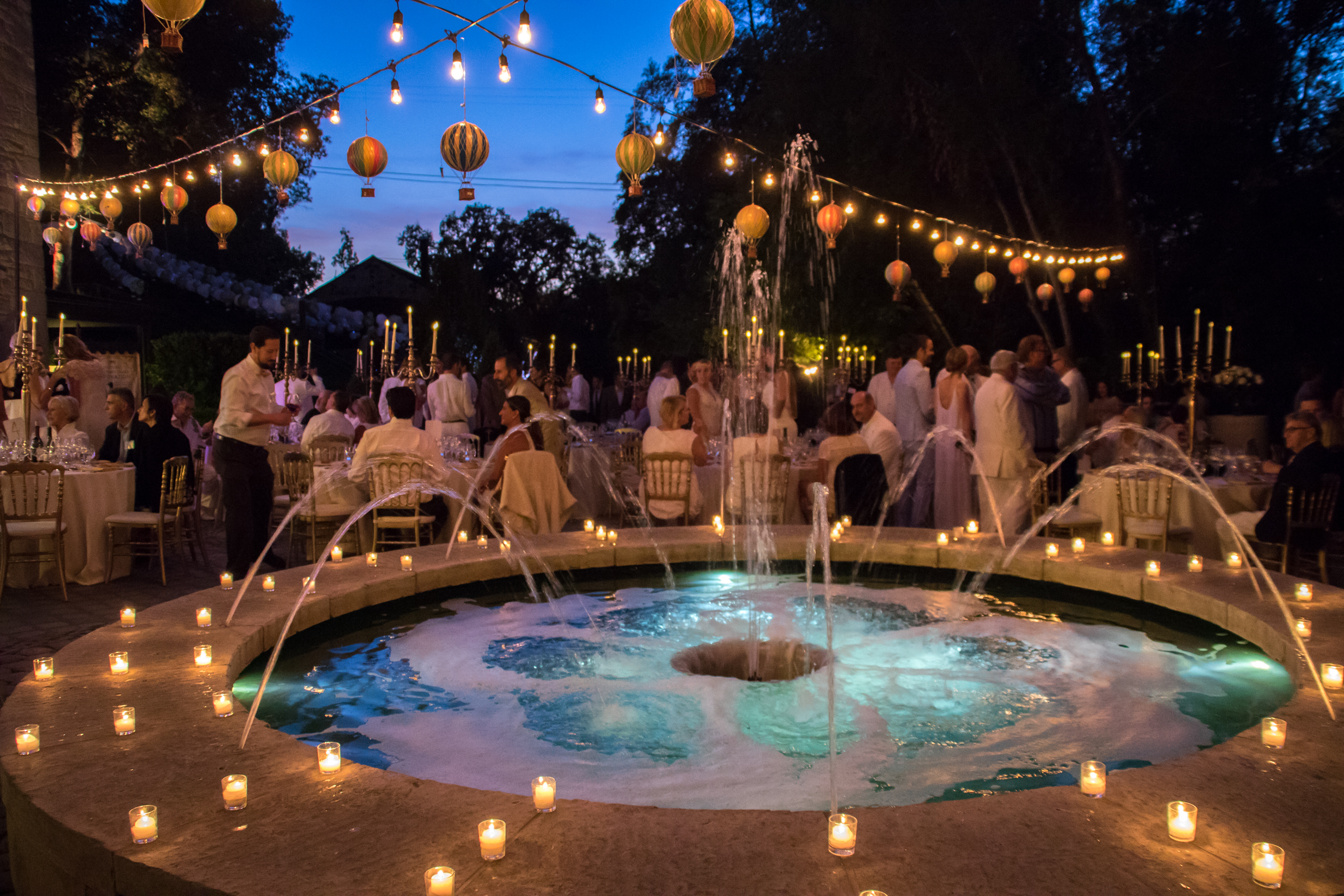 The night before the auction, the Sonoma winemaking community came together for a preview dinner at the historic Buena Vista Winery, which Jean-Charles, scion of France's fifth-largest wine producer and head of the Boisset Collection, purchased in 2011. Guests toured two historic 1860s buildings from the original Buena Vista Vinicultural Society, one of which houses an almost medieval Wine Tool Museum and an impeccably 70s-style Bubble Lounge (photo below right), and were entertained by The Count, a jovial local actor portraying Agoston Haraszthy, the Hungarian count and onetime San Diego sheriff who founded the winery in 1857.
Buena Vista, in fact, is a testament to the blend of modern winemaking and historical preservation – as well as to the blend of craft and commerce. The two original buildings survived the 1906 San Francisco earthquake, but were condemned after further damage from the 1989 Loma Prieta quake. After the purchase, Boisset had structural engineers devise a unique "core drilling" retrofitting plan that drilled vertically into the old stones, inserting steel rods coated with resin, none of which is externally visible. Throughout the property are historical and educational signs that emphasize Buena Vista's history. And while the wines now produced by Brian Maloney pay tribute with names including "The Count" and "The Sheriff," the philosophy behind them is very modern.
In the acknowledged shadow of neighboring Napa, Sonoma's cozy wine industry has to find innovative ways to market its brand. The county boasts impeccable wines with distinctive character, like membership-based Ram's Gate's 2012 El Diablo Chardonnay or the 2013 Martaella Vineyard Pinot Noir from Benovia (another family-based enterprise, whose name combines those of married proprietors Joe Anderson and Mary Dewane's fathers). But events like the Sonoma Wine Country Weekend, the development of destinations like Boisset's Buena Vista, with its Wine Tool Museum, Bubble Lounge and the Count (and Jean-Charles's red socks), an initiative to make Sonoma wines 100 percent sustainable by 2019 (with 70 percent of the county's winegrowers already certified) and social media campaigns like wineblogger Amy Lieberfarb's #SonomaChat – the 21st century version of Ernest and Julio Gallo's early adoption of mass media in the 1960s – play an important part in helping to make the charms of these great wines vivid to the consumer.
While Gina told me that her marriage to Jean-Charles (below left) does not entail any winemaking collaboration between the two families, both based elsewhere but in love with Sonoma, it's clear that family is central to her and to her company. Besides the J Vineyard acquisition, the family's 1996 purchase of the vineyard founded by actor Fred MacMurray in 1941 included recruiting MacMurray's daughter, the irrepressible Kate MacMurray (below right), to work in the business. I was able to speak with Kate during Taste of Sonoma, sitting in the living room where she was raised as a girl.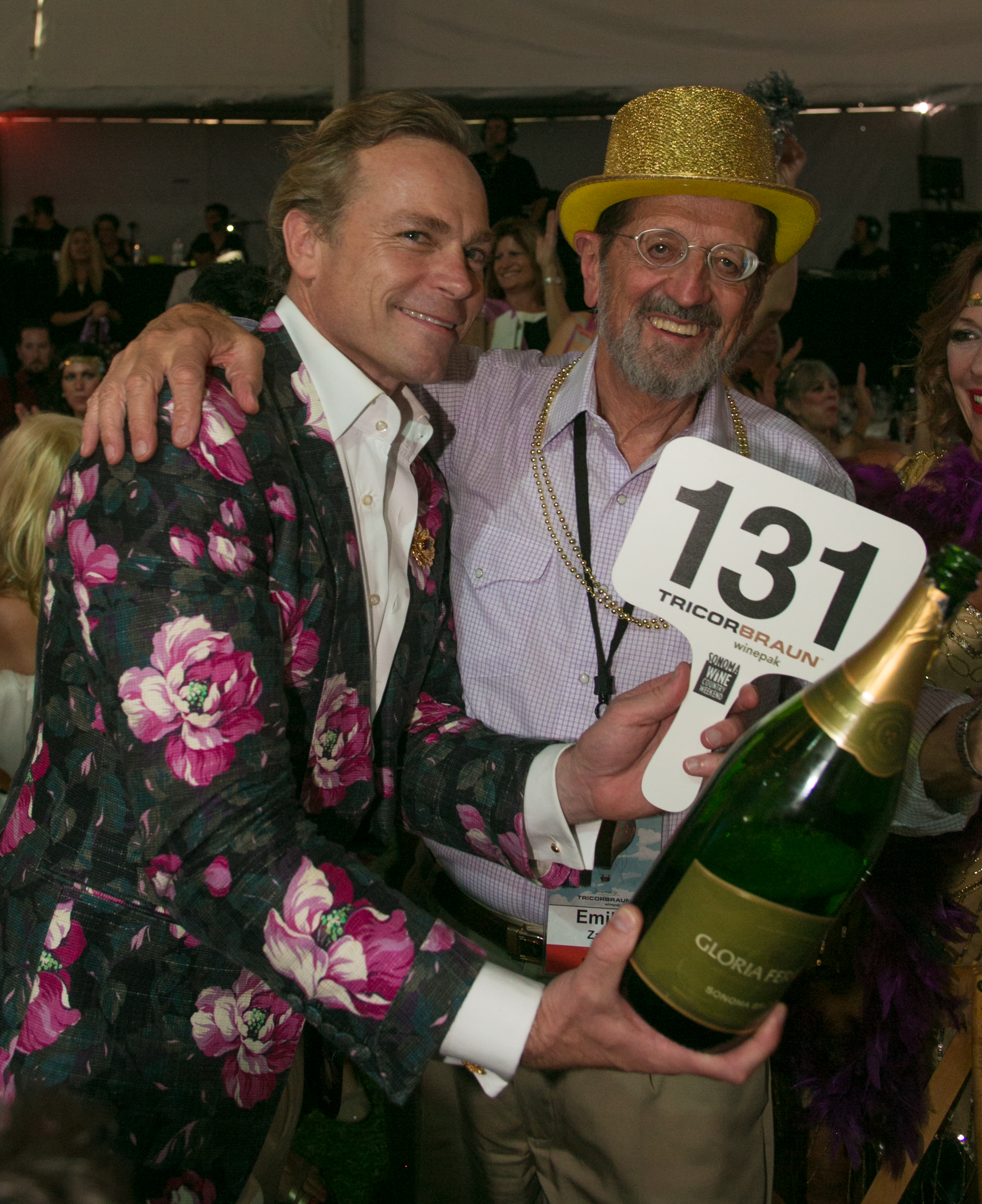 "It was really a first-class miracle," Kate described her chance to work with Gallo. "The question has come up, why would you sell the ranch? We knew, always, that the funds from the sale would help support my parents' charitable foundation, the Fred and June MacMurray Foundation. We always knew that, but still, it was difficult, of course, because you see how beautiful it is here and all of our family members loved the ranch and many memories here. But we knew the most important thing was that the ranch be with a family that would love it as dearly as our family had and would continue to love it and preserve its history, but also maintain the agricultural piece. To keep it in open land."
The sale to Gallo fulfilled Kate's wishes: "The three things that my father was most devoted to was to keep the ranch intact, as not cut up into pieces, to keep it in agriculture and to have it family-owned. A family that would bring it into its heart, their heart as well."
Since the sale was so personal to MacMurray, the chemistry she felt with the Gallos was vital. "We only met with the Gallo family. That was it. We never put a For Sale sign up and we met with Gina's father, Bob, her brother, Matt, just the two, father and son, came down to Los Angeles and met with my mother and me and our family attorney and business manager. They were marvelous. As soon as they walked in the door, they had their cowboy hats in hand and they had some papers with them and we were at our family attorney's office, very small, very informal, and we just had a marvelous day about talking about food and wine and family and recipes, and a little business, of course, naturally."
But the choice to come work for Gallo came a few years later, after the sale was done. "The family actually approached me, in 1999. I was still working, trying to sell screenplays, trying to find my footing in film production, but it wasn't happening, for whatever reason. So when Bob Gallo called and said, 'Would you like to come and work with us?' I said, 'In what way?' What would they possibly want me to do?' He said,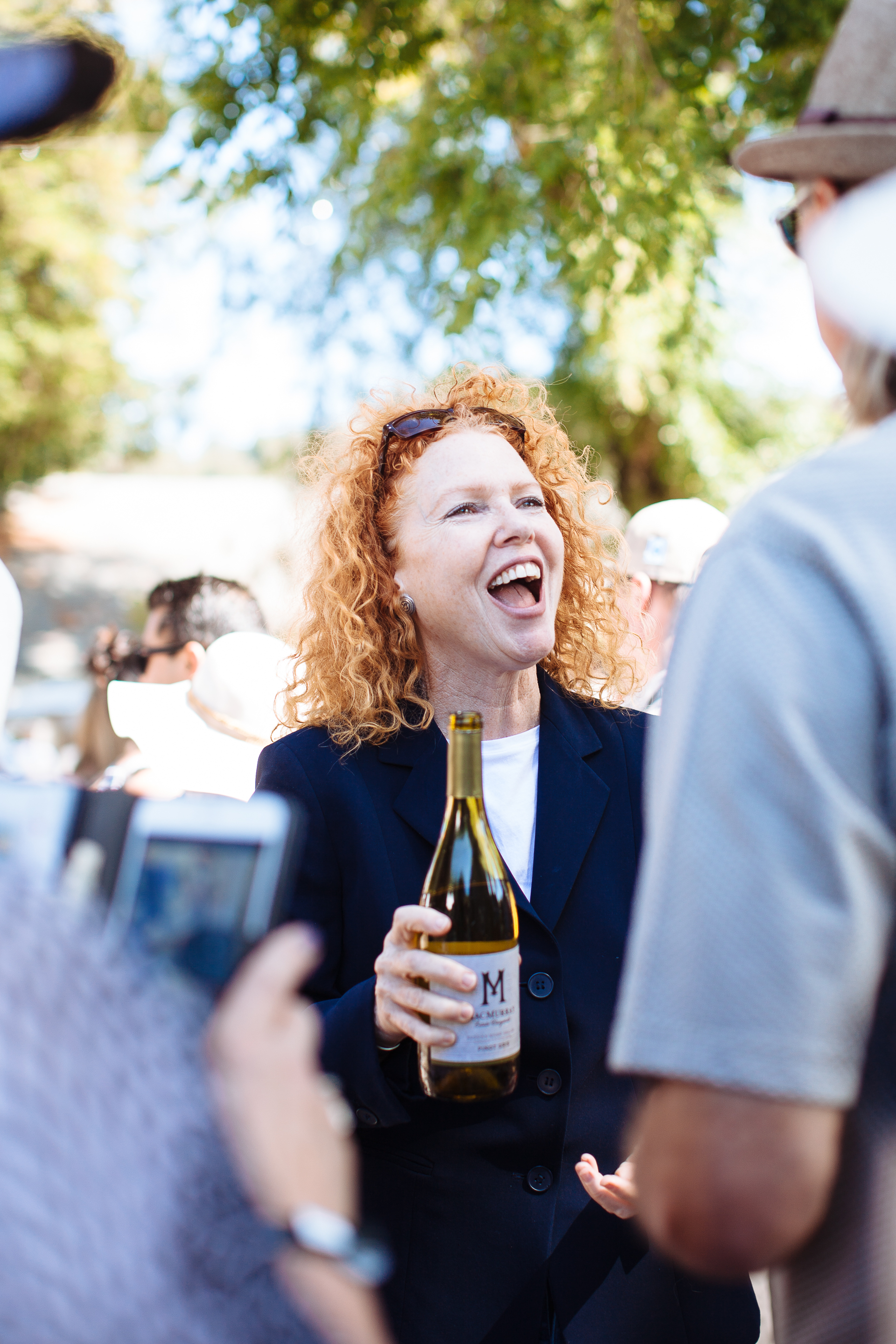 'Well, we want to put together a brand of, a label MacMurray, and we would love for you to hop on board with us and work in sales and marketing. We want to rethink the use of the house and the lawns and everything,' and I said, 'I don't know a lot about wine.' I said, 'I'm kind of a scotch drinker, actually.' He said, 'Don't worry about it. We'll teach you everything you need to know.'"
I laugh, and tell Kate I love scotch too. But in Sonoma's wine industry, community is as much of a bond as love of wine. As Kate tells me, "for me to work with a family that was devoted to the idea of this place and to be able to come back to the place that I love the most and that holds my fondest memories, and to also, and this is the real personal part, everybody knew about my dad's film career and my mother's as well, and a little bit about the family life, of course, but not his devotion to Sonoma County or to this newer generation or to his feeling about land and about what you can grow there and all the opportunities there. For me it was important to marry this idea with his film history, but with his love of the land. The Gallo family was so gracious and kind because they allowed me that avenue. That's why I'm here."
Some of my conversation with Gina Gallo follows:
Grape Collective: You had worked on the sales side before becoming a winemaker. How do you merge your understanding of the sales and marketing side of wine with the craftsmanship of winemaking?
Gina Gallo: I think it's another dimension to have the experience in sales, to understand the people, to understand the market, and then come back and create. I love to cook. I collect cookbooks, which is all crazy, and I love pictures and I read a little, but when I really cook, you'll come to our house we'll have a plate of pasta or we'll have a great piece of meat or something nice and light. A little bit of this, a little bit of that.
We always had to work as a family. When I grew up, the gardener would be on vacation, or in summertime, always, "I want to do the garden, Dad!" I loved the garden. I wanted to do the lawnmower. I wanted to do the irrigation. I loved to prune.
I did not want to be doing laundry. Not that it's bad, some people love it, right? Some people like it, it's very methodical. It doesn't mean you're going to be doing laundry everyday, but it means that there's some other type of task.
Is there a kind of collaboration, on your level between your style of wine and what your husband is doing?
So separate. So different. I was just talking about it yesterday with someone. So, family is family. Work is work, it's not about family. But I grew up in a family business.
I don't know how anyone could really shut the door. Even if I didn't grow up in a family business, I think I would go home and say, "God, I had a hard time with this and this situation." And who are you going to trust more than your family? You want to talk to your husband. Your partner. It's so intertwined.
For us though, as far as work, business is extremely separate. We love wine. We love food. Absolutely, we collaborate on certain things.
What I think is important is you have that passion. You create, you believe. The other thing that is very important when creating wine, and what I do, I love it and I do it well, I don't think about myself. Okay, I see this. I feel it. I'm creating. For something that's not even in me. You have to. Creating wine, it's artistic, right? You're an artist. It creates a space, it creates a pleasure.
We all know quality. Quality's done, forget that. We all know how to create quality wine, then it's just stylizing. What do you want to create? What do you want to do? How do you do it? For me, it's hard because I have a style. I would be much more Bordeaux. I'd be much more European. I'd be much more higher acid. That's not America's style, in general. That's 10 percent of the world, and everyone wants to probably be there, not everyone wants to be, but it is there.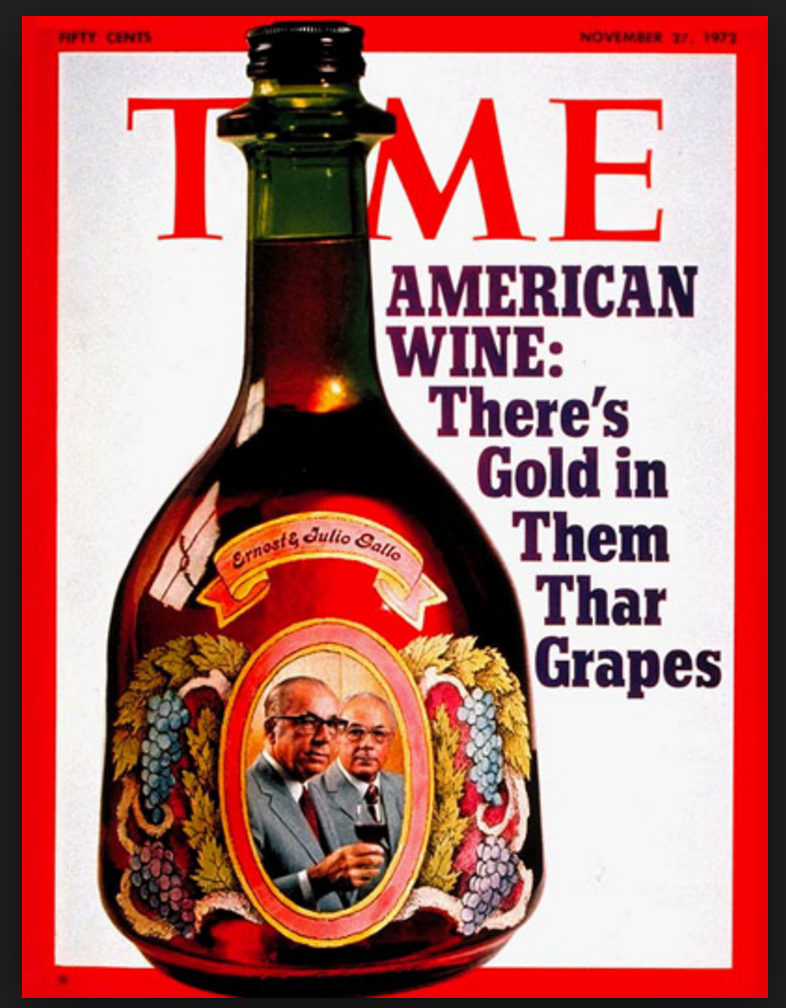 Gallo has huge brands that appeal to a lot of people. Does your Signature Series give you an opportunity to play with things that are a little bit different?
Exactly, yes. Gallo is big. Yes, we have amazing individuals that are focused. We work hard. I'm fortunate to be a family member. Fortunate that I love making wine.
When I came out with the Signature Series, the whole thing is, it's my signature. I build upon my grandfather, Julio. No one hears about my father, Rob, it's like the missing link. He was my grandfather's right hand. He did everything.
I have a foundation of understanding and learning through the table, sitting and breaking bread. Understanding what their vision was. Now, I have this opportunity to make wine. I really love making wine.
There's 80 percent of the foundation. The other 20 percent: pushing because you can't live. You have to live, right? It's just who you are, to breathe.
What do I believe in? What do I want that Cab to taste like? What do I feel like that Chardonnay. Not that it's going to be "better," because it doesn't matter: today, if you have a bad wine, you're just ordering the wrong wine because all wine's solid, it's just what inspires you.
What makes you go, "Wow, that moved me. I want to know that person more." Or, "I don't care to know them, but I just like this wine, I want to buy it." To me, wine's personable, like food.
I feel fortunate to have a foundation. I look at my grandfather, Julio, my Great-uncle Ernest, they started after Prohibition. Their parents died extremely young. They started when they were probably 14, they were young, no parents. My grandfather Julio was traveling to Chicago selling grapes. My Uncle Ernest was traveling to New York selling grapes. I can't fathom seeing my little girls at 14. Can you imagine? It was a whole different era. They had no road map. Prohibition broke. Depression. It was unbelievable. One was this way, one was this way. They needed each other. It was like a marriage, at the end of the day. They could not live without each other.
I would rather be where I am versus that, but at the same time where they were, it was the Depression, they were struggling like crazy. There was no road map. They created the map. On their own.
They had little noise, today we have a lot of noise. Whether it be our children, whether it be our friends, whether we have the media. It's noise. So to break away and just say, "Can't I be who I want to be," it's not as easy. I think. It is a testament of why they were amazing.
How predetermined was it that you would go into wine? Was it a necessity that you would stay in the family business, or did you have the freedom to maybe not go into wine?
I grew up on a vineyard, it was a farm [in] Modesto. When I was a child, we always had our Sunday dinners and usually Saturday or Friday dinners with our grandparents. I loved how my grandfather talked to my father, spoke to us too, about the family business. It was like we were a part of it. Sunday, after Mass, we would go drive through Livingston during harvest and see the tank. We couldn't punch down tanks. Now, we're in another world, now I get to I punch down those tanks.
We farmed. Like I said, I loved doing the irrigation at home, pruning with my father, there was something about it. I didn't want to be in the laundry room.
It's very hands-on?
Both are hands-on. It's so interesting. I like washing and drying. Ironing, forget it, I'll never do it. It's probably like baking. It's kind of bizarre that I look at it this way, I'm not a baker because you know what a baker has to do, it's very scientific, you have to follow exactly what it is.
You like improvising.
I just go, I like this, this, and this. When I started making wine, my grandpa said, "Oh, excellent." He put me in the experimental area, where you had to be exact. The best foundation. I appreciated it, and I love it, and I get it, and I use it even today.
I love cooking. Cooking, to me, I'll have you over tonight. I don't know what we would have, something simple, I wouldn't feel bad about it. Even if it's bad, it won't be bad.
I doubt it would be bad.
It's about being together. In America, everyone's scared because it's not going to be perfect. Mine's not going to be perfect. At the end, you realize it doesn't matter—you just want to be together. A good glass of wine, even cut cheese, and do this. Right?
When you go to Italy to travel to wineries, you say, "I want to see five wineries in a day." But you see maybe three because you are having lunch, dinner, and it's like, wow. Very hospitable. It's communal.