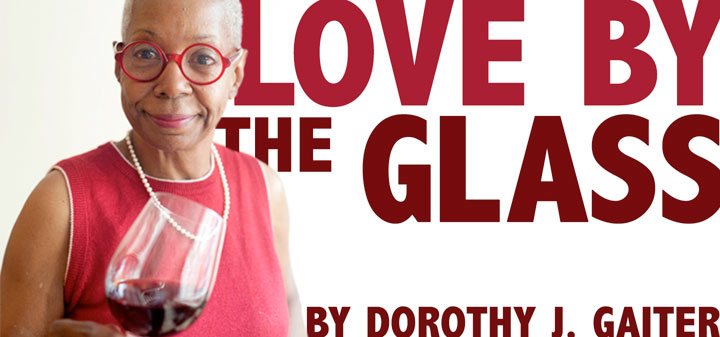 Years ago, Michael Mondavi was asked if he stood in the shadow of his famous vintner father, Robert Mondavi, with whom he had a challenging relationship. The younger man replied, "I say that when you stand on his shoulders, you can see much further."
We have no say over what family we're born into and kids don't come with user's manuals. Families are fragile ecosystems. When family members hurt each other, the wounds can be seismic, with tremors extending outward for generations. What we do with that pain can make or break us.
Last week, Michael, now 73, was in town to be given Wine Enthusiast's Person of the Year award for 2015 at the magazine's Wine Star dinner at the New York Public Library. Adam Strum, editor and publisher of Wine Enthusiast, called Mondavi "tireless" and praised him for helping to build the Robert Mondavi Winery in Napa, "a famed business that was to change the face of American wine forever."
The announcement of the award last November capped an auspicious year for Michael. It marked his 50th harvest and the 10th vintage of "M by Michael Mondavi," the flagship single-vineyard wine of Michael Mondavi Family Estate and also the 10th anniversary of his Folio Fine Wine Partners, which imports wines from family-owned wineries from around the world, owners like Susana Balbo, Marchesi de' Frescobaldi, Bruno Giacosa and Charles Heidsieck, as well as Mondavi's own wines.
What's more, Michael is making and importing wine with his entire family: his wife of 47 years, Isabel, and their son, Rob Jr., 45, and daughter Dina, 39, the fourth generation of Mondavi winemakers in Napa Valley. He's taking the best from his father, especially an affinity for classy, elegant Napa Cabernet Sauvignon, while trying to steer clear of the pain his dad inflicted with his constant and sometimes public criticism of Michael and his younger brother, Tim. By the time the Robert Mondavi Winery empire was sold to giant Constellation Brands in 2004, Michael had left his job as chairman of the board of his family's company and was barely talking to his father.
There was finger-pointing all-around, at times with Michael on one side and his father, Tim, who was winemaker during most of its years, and sister Marcia on another. But Michael didn't withdraw in sorrow and anger; he founded Folio Fine Wine Partners a few months after the sale, another path forward for him, his wife and their children.
Michael's company biography identifies him as founder and coach.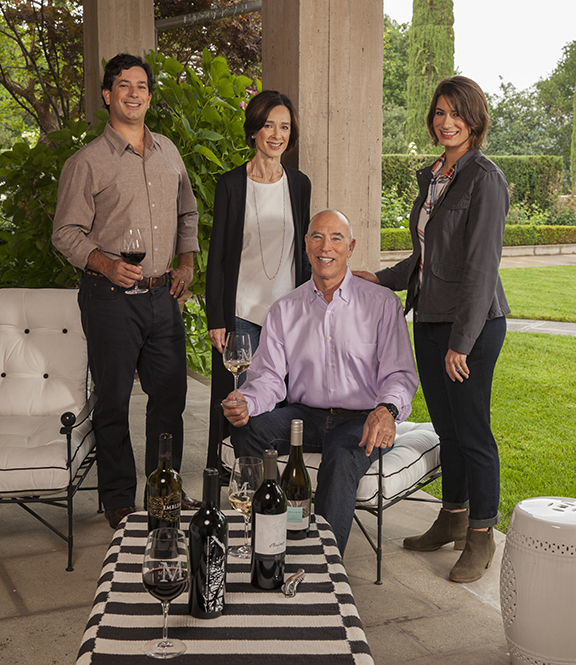 Rob Jr.,Isabel, Michael and Dina Mondavi
"So what does being coach mean?" I asked him at a luncheon that he and Dina hosted prior to the awards ceremony. Tall, with friendly, sometimes wary blue eyes and an easy smile, Michael Mondavi looks like a more amiable version of his chiseled, intense father, who always seemed to me to be able to see further than most mortals and was driven, driven, to get there. Robert preferred "Bob" but he appeared too larger than life to me for that.
"It means delegate, not abdicate," Michael told me. "You want to call out people doing good in public and criticize them in private. If you criticize them in public, they won't listen to you. They're more creative, they get along better with their friends when you praise them in public.
"Dad didn't delegate until he was 80," he continued, "and he criticized me and my brother in public." Most notably toward the end, the criticism was about the declining quality of their top wines.
"I bet that was hurtful," I offered.
Looking away for a few seconds he said, "It was hurtful. It was very hurtful. I will make mistakes," he said twice, implying, I thought, not that mistake.
You would have to be a wine lover who has been living under a rock for many years not to be aware of the tragedy of the Robert Mondavi Winery. People have used the term "epic" to describe the story of the family and the sale of its iconic wine empire. When my husband and I wrote The Wall Street Journal's Wine column, Tastings, we were asked for a blurb for a colleague's book about it, The House of Mondavi: The Rise and Fall of An American Wine Dynasty. The quote about standing on Robert's shoulder comes from it, Julia Flynn Siler's book. Our blurb read: "The House of Mondavi is a compelling, sweeping, and ultimately heartbreaking American story of ambition, lust, and wine."
Some of the most painful reading was Robert's caustic put-downs of Michael. "He'd often level these criticisms in front of employees and distributors," Siler wrote. "Michael would work on plans with his team for weeks and then present them to his father, who'd dismiss them immediately: 'I think that's a terrible idea,' he would say. 'We're not going to do that.'"
"It makes you feel like crap, whether the criticisms were accurate or erroneous," Michael is quoted as having said to Siler. In time, Michael concluded that his father hadn't intended to hurt him and his brother; he just did not know how to be a father. Siler wrote that Michael was affectionate with his children: "In front of his colleagues, Michael would tenderly kiss Rob even when his son was in his twenties."
For his part, Robert eventually realized the pain he had caused his sons. In his 1999 autobiography, Harvests of Joy: How the Good Life Became Great Business, he wrote, "I was unaware, at the time, of what I now call the humiliation factor. If you're going to give someone a dressing-down especially your top managers, do it in private. Then they aren't humiliated and don't lose face with their colleagues and the people they are charged with leading.
"For many years," he continued, "I was totally blind to all this. And it caused Mike and Tim enormous pain and anguish, sometimes to the point where they were on the verge of leaving the company."
Before the empire crashed, wanting something that they owned and controlled, Michael's family collectively purchased and planted vineyards in the Atlas Peak AVA in 1990s. Michael said at lunch he had noticed that the California wines that triumphed at the Judgment of Paris competition 40 years ago this May were grown on hilly, high-elevation land. So that's what he sought in Napa Valley. Dina, who had studied in Florence and polished her Italian, said she saw the way her Dad reacted to the beautiful spot and told him it had Animo, spirit or heart. Liking what his daughter said--nice affirmation--that's what the 15-acre, volcanic, stony vineyard that rises to an elevation of 1,350 feet was called. They also purchased a 95-acre property called Oso Vineyard near Howell Mountain.
Rob Jr. is the winemaker for the family wines: Animo, Emblem, a collaborative project with Dina; Isabel Mondavi wines that please his mother (read easy-drinking); and "M by Michael Mondavi" wines. (Rob Jr. also makes a Bordeaux-style wine for Christopher R. King and Justin Anthony, business partners, called King of Clubs that retails for around $800, "for the top one percent of the world who really love high-end prestigious wine," King told Forbes.com. in 2014.) Tony Coltrin, master winemaker and partner, who in 2014 worked his 50th harvest with the Mondavi family, focuses on the family's wines in the Folio portfolio: Oberon, Hangtime, and Spellbound brands.
(Many of the wines mentioned here are available at the Wine Gallery in New York City, winegallerynyc.com; Grapes, the Wine Company in White Plains; Wine.com; and Total Wines.)
The 2014 Emblem Chardonnay was served before lunch. Only 170 cases were made of this first release. It'll hit stores this spring at $35, and it was pleasant, with hints of tropical fruits and a gentle acidity at the end. I think I would have enjoyed it more a tad warmer. Lunch began with the 2013 Emblem Cabernet Sauvignon ($35), which Dina said her brother had "pulled the wool over our eyes with by sneaking in other grapes" like Zinfandel (2%). The wine also has Petite Sirah, Merlot, Petit Verdot and Syrah, a true field blend. It had racy acidity, some black pepper and black cherries; probably great with pizza. Next up, the 2012 Animo ($85, 85% Cabernet Sauvignon and 15% Petit Verdot). It had more structure, depth and stiffer tannins, with violets on the nose.
Dina said that when she and Rob Jr. made their first Emblem Cabernet Sauvignon, they were modest with their projected production. "Then," she told me, "Dad tasted it and called and said this is good, make more of it!" A nice vote of confidence.
A four-year vertical of M by Michael Mondavi followed -- the 2007, 2009, 2010 and, to be released this spring, the 2012. The grapes for M, which retails at $200, grow at the crest of the hills and are harvested a dozen or so times to pick them at optimal ripeness. "It's a labor of love, it's expensive that way," Michael said. The mostly Cabernet Sauvignon blends reminded Michael of his father's description of the wines he sought to make. "For years my father said they should have the strength of a Charles Atlas but the softness of a baby's bottom."
"Years ago, I was looking to make big wines with body and intensity, but the wines have to invite you back into the glass. When you serve Grandmother, you've got to make wines that taste good. With her, if my plate is empty, her food is good."
Of the M's he said, "They need to be of the same style, but we also want to find the complement of Mother Nature's variables," reflecting each growing season character. These were big wines, still young, and my favorite was the 2007. It had ripe, red fruits, rich earth and minerals, silkier tannins and the herbal qualities that good Cabernet can have. And it had awesome balance. Everyone participates in the blending and the assessments of how the wines are developing in the barrel and in bottles.
"Balance is where Dina struts her stuff," Michael said, beaming at his daughter. Dina told me that her mother doesn't like to visit the winery so they take what they're working on to her and then watch closely her reaction.
Rob Jr. didn't make it to the luncheon because of the snowstorm but responded this rather studied way to my emailed question, asking what it's like to work for his dad:
"As we were evolving the vineyards and wine style of our family wines, Dad was opened to the suggestions and evolution yet, much like a 'coach' he wanted a solid demonstration. Of course this is proper and should be expected from any business head. Yet how MM went about this was from a more-inspired point of view.
"As I evolved the winemaking style, initially, the volumes decreased while the style and quality exponentially jumped. Of course this impacted revenue which created tension," he continued. "Yet we discussed the long-term play privately and as a family determined that as a multi-generational family, it was essential to maintain long-term vision, style and quality."
Robert Mondavi died May 2008 at the age of 94, having accomplished what seemed like an impossibly lofty ambition back in 1966, when he started his namesake winery, to produce California wines that belonged on the same table as some of the world's best.
He had wanted his offspring to inherit his winery. But where he saw one winery enterprise, his three offspring have built separate businesses. In 2005, Tim and Marcia and their children (fourth generation) founded Continuum on Pritchard Hill in Napa Valley to make estate-grown wine. Meanwhile, Peter Mondavi Sr., Robert's brother, and his family, still own Charles Krug winery, which the Mondavi family bought in 1943 and from which Robert and Michael were banished decades ago. And there's what Michael and his family built.
I asked Michael what he thought his dad would think of all this, opening my arms to frame all of his family's wines before us. "I think he'd be thrilled that he was right about the great potential of Napa Valley wines," he said leaning across the table toward me. He sounded very much like a man who had come to terms with his past and was enjoying the present.
Dorothy J. Gaiter conceived and wrote The Wall Street Journal's wine column, "Tastings," from 1998 to 2010 with her husband, John Brecher. She has been tasting and studying wine since 1973. She has had a distinguished career in journalism as a reporter, editor, columnist and editorial writer at The Miami Herald and The New York Times as well as at The Journal.
Please join us on Open That Bottle Night, Feb. 27, at A Café, 973 Columbus Avenue, in Manhattan. Tell Al, the manager, at 212-222-2033 that you're reserving for OTBN or email him at [email protected]. See you there!