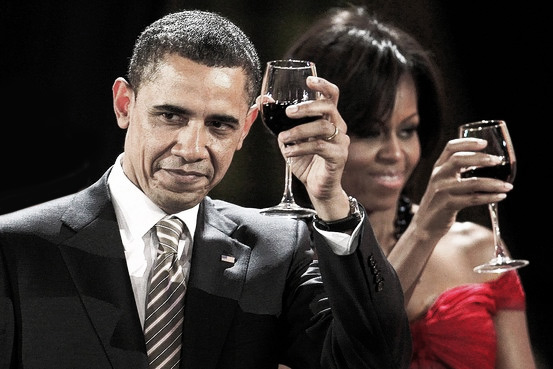 When it comes to presidential drinking, American history has witnessed both extremes. Martin Van Buren earned the nickname "Blue Whiskey Van" because he was able to drink to excess without showing signs of intoxication. Franklin Pierce was a heavy drinker who, when his presidential term ended, famously declared, "There is nothing left… but to get drunk." George Bush notoriously put his drinking days behind him before ever taking the nation's helm, and maintained his sobriety during his time in office. But two Presidents, Barack Obama and Thomas Jefferson, enjoy and enjoyed their days at the White House in moderation.
Several years ago after a routine physical, President Obama received this advice from his doctor: "Continue smoking cessation efforts, a daily exercise program, healthy diet, moderation in alcohol intake, periodic dental care, and remain up-to-date with recommended immunizations."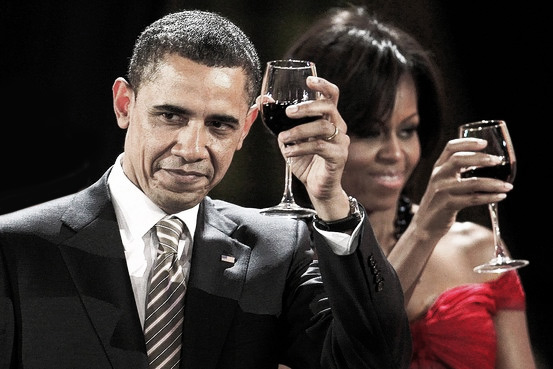 Some right-wing blogs zeroed in on the suggestion of "moderation in alcohol intake" as an acknowledgment by the doctor that Obama had been drinking in excess and needed to limit his consumption. This, however, couldn't be further from the truth — fact is: Obama partakes in an alcoholic beverage here and there, but does so responsibly and in moderation.
Left: The President and First Lady toasting the nation. (Wine Folly)
So, what is Obama's drink of choice? He has been seen with an assortment of adult beverages, from beer and wine to margaritas and martinis. After winning the presidential election, Obama celebrated with a bottle of Graham Beck Brut NV, a sparkling wine from South Africa. On a date night with Michelle in Manhattan's West Village, Obama was spotted drinking wine that accompanied his five-course tasting menu. On another evening out in DC, the President and First Lady opted against selecting from the restaurant's famous and extensive wine list and instead ordered martinis, straight up. The restaurant manager later reported, "They didn't even finish them. They drank mineral water all night and then ordered coffee."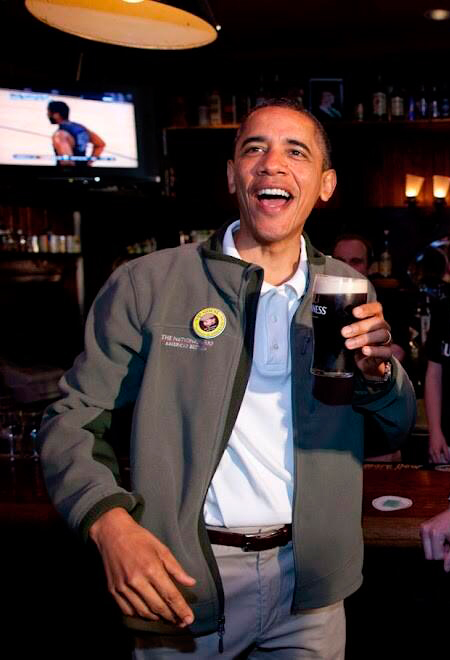 Obama also enjoys cracking open a cold one every so often. He has been spotted at basketball games and other sporting events enjoying a brew. He was seen celebrating St. Patrick's Day with a pint of Guinness at the Dubliner in DC. At the Iowa State Fair, he famously treated a group of supporters to a round of beer after they began chanting, "Four more beers!" Obama's beer of choice was once Bud Light, but his tastes have evolved over the years to local craft brews.
Right: Obama and a cold one. (Wikimedia)
He even purchased a home brewing kit and White House Honey Brown Ale (made with honey from the White House hives) is officially the first alcohol brewed or distilled on the White House property. Since the first batch was brewed, the White House has branched out to include Honey Porter and Honey Blonde Ale. To brew your own White House Ales, find the recipes here.
But Obama isn't the only home-brewing President this country has seen. Jefferson had a strong interest in making his own malt liquor, beer, and wine as well. For the third leader of the country, it wasn't solely about the alcohol, but about the scientific process and perfecting the technique. In an 1810 letter penned to pioneer winemaker John Adlum regarding a batch of wine he was creating, Jefferson wrote: "I noted Cooper's recipe for making wine which you mention in your letter, and regretted it because it will have a tendency to continue the general error in this country that brandy always, and sugar sometimes are necessary for wine.This idea will retard & discourage our progress in making good wine. Be assured that there is never one atom of any thing whatever put into any of the good wines made in France. I name that country because I can vouch the fact from the assurance to myself of the vignerons of all the best wine cantons of that country which I visited myself. It is never done but by the exporting merchants, & then only for the English and American markets where by a vitiated taste the intoxicating quality of wine, more than it's flavor, is required by the palate."
It has been well documented that President Jefferson was a wine aficionado, and he is quoted as saying, "Wine brightens the life and thinking of anyone."

His love of wine formed early on during his time as Ambassador to France when he developed a taste and appreciation for French, Italian, Spanish, and Portuguese wines. Before his 1784 visit to France, Jefferson mainly consumed Madeira and port with the occasional glass of red wine. His changing tastes were attributed in part to America breaking bonds with the British government. In 1817, Jefferson stated, "The taste of this country (was) artificially created by our long restraint under the English government to the strong wines of Portugal and Spain."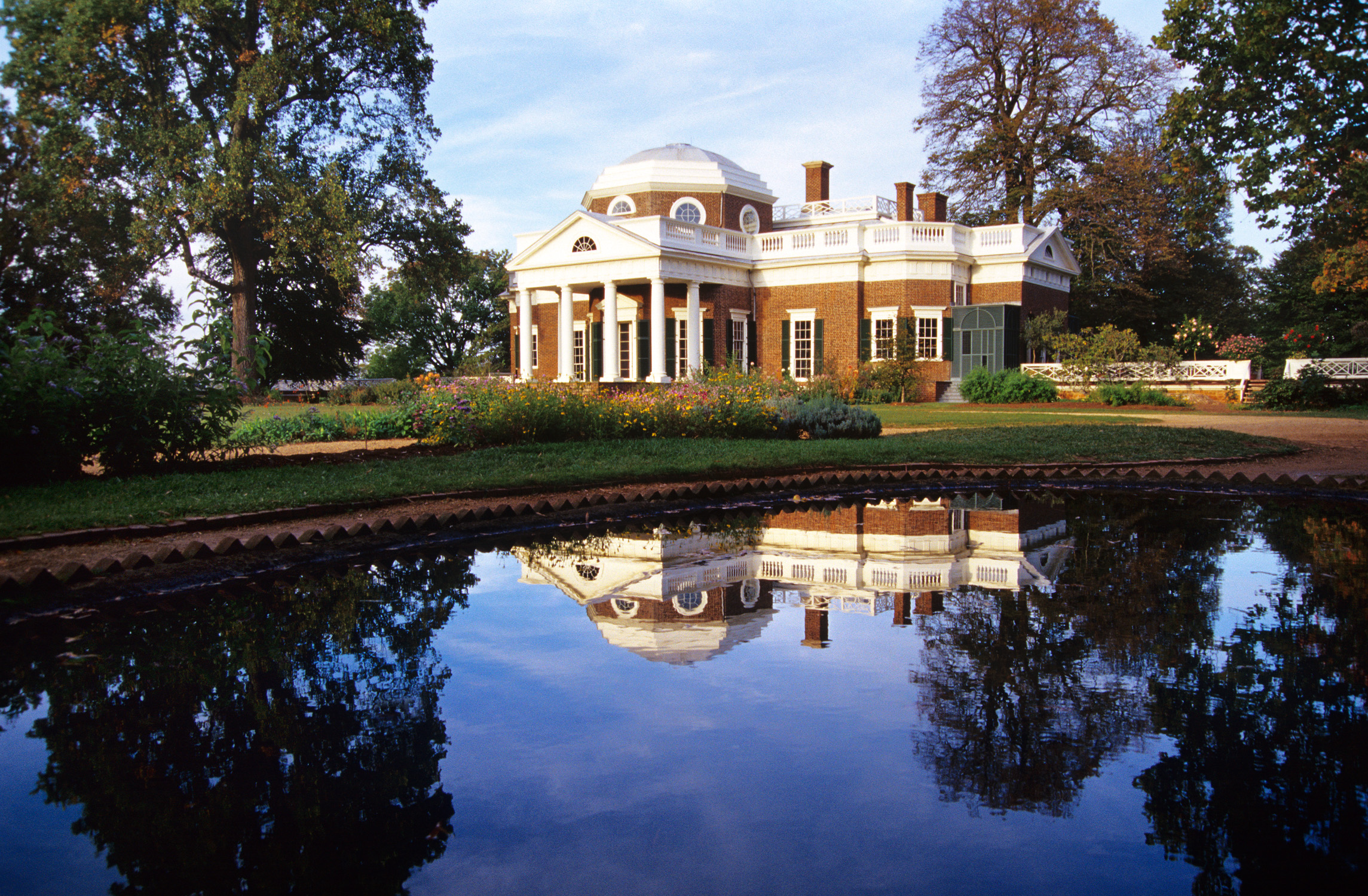 Jefferson's Monticello estate featured a winery, brewery, and an impressive wine cellar stocked with an assortment of wines from Europe. He enjoyed hosting dinner parties with delicious spreads of gourmet food and massive amounts of fine wine. Because he never wanted to see a guest with an empty glass, he had a dumbwaiter installed between the dining room and the wine cellar. This not only reduced the wait between refills, but it also took a load off the servants who were constantly running up and down the stairs.
Left: House to many home projects. (Monticello.org)
Although Jefferson was a wine buff, he did not drink to excess nor did he enjoy consuming hard liquors like rum and whiskey. He promoted wine drinking in lieu of spirits, as wine contains a lower percentage of alcohol. He also advocated moderation, saying, "My measure is a sober one of three or four glasses at dinner, and not a drop at any other time."
To watch a Grape Collective video interview with Gabriele Rausse on the subject of Thomas Jefferson and wine, click here.
More Presidential Picks:
Allies, Drinking Buddies: Churchill and FDR's Boozy Brotherhood