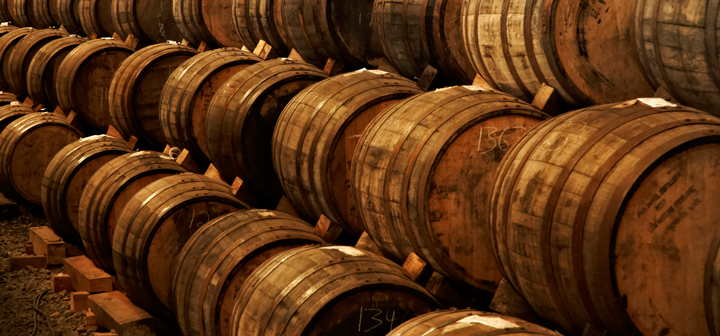 Editor's Note: Vardo in the Vineyard is a series following Amy Tsaykel's life as she resides in an RV parked atop a vineyard in Sonoma County.
This fall, I've spent more time than usual behind the bar of our winery tasting room. There, I love to surprise visitors by drawing liquid treasures from tanks and barrels. Typically, this elicits gasps of delight from guests. Yet it also means offering unfinished wines: our works in progress.
Before drawing a sample, I survey the wines in tank and barrel — what's actually ready to drink? I wouldn't serve a wine that's just been yeasted or sulfured, for example. As importantly, I gauge the audience. Can my guests even handle a work in progress? Or will they wrinkle their nose at the extra oak a barrel sample might show? Will they be baffled if the wine is still partly sweet? Perhaps the real question is: who among us can appreciate what is, and not only what might be?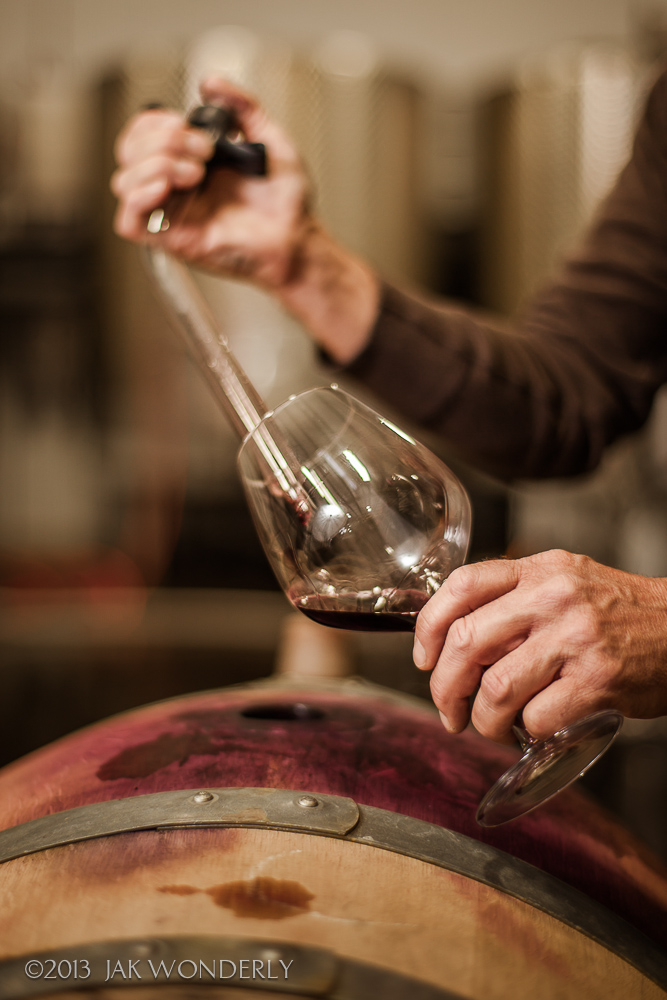 Any seasoned traveler will endorse the cliché that the journey is the destination. Yet most of us have a very difficult time appreciating the twists and turns along life's way — just as a novice taster struggles to appreciate an evolving wine. Meanwhile, winemakers are fully trained in tasting works-in-progress. These pros begin sampling their fruit well before it's crushed, fermented, or bottled. In the midst of this extensive process, how does a winemaker cultivate appreciation for each stage, which inevitably includes the awkward and unexpected? What can we learn from their art?
Right: Winemaker Michael Lancaster of Tin Barn Vineyards pulls a sample from barrel. (Photo by Jak Wonderly)
Michael Lancaster, winemaker and my employer at Tin Barn Vineyards, suggests that finding beauty amid the changes entails keeping perspective. "You can't be overly reactive," he says. "When tasting, we all experience highs and lows. Part of that is due to the wine's aging process, and part to the individual palate, which can be affected by something as trivial as what you had for breakfast. The wine is always evolving, and so are you."
As Alan Watts says, "The only way to make sense out of change is to plunge into it, move with it, and join the dance."
Personally, my dance moves need work. Here in my half-renovated trailer, the scene changes every week. Anyone who's ever lived amid a construction project knows how difficult it can be to find comfort in such imperfection. On a given day, I might not have vent covers, cabinet pulls, or matching linens. Paint spatters might lace my ceiling and floor (and I will swear to touch them up later, but "later" unravels into weeks). My landlord might wrinkle his nose at my yard, temporarily piled high with supplies for my next building project. Home is evolving and so am I.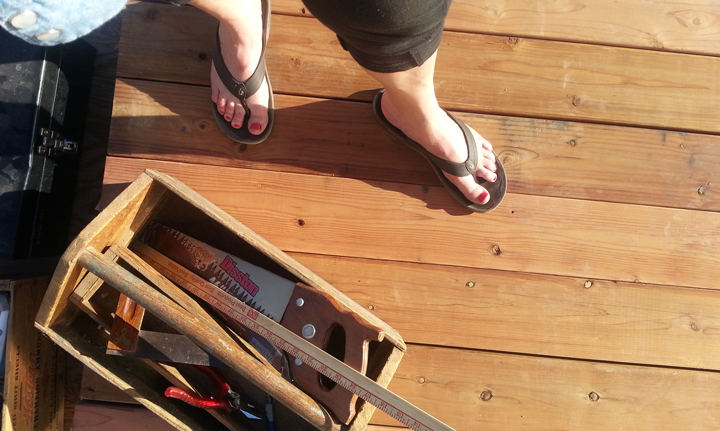 Above: My trailer's recent deck project was not pretty every step of the way.
Of course, it will not always be like this. It wasn't like this before, when I lived in a sweet garden cottage. There, I hosted starlit dinner parties and cozy movie nights, cooking up chicken and dumplings for my most promising dates. Home was less transitory.
This will not last forever, yet it's lasted longer than expected: two years. This home has been evolving for as long as the Cabernet Sauvignon my employer will release this fall. I'd like to release, too. I'd like to take the beauty of my home and offer it up to friends, family, stranger — like a fine wine.
Meanwhile, I follow the winemaker's advice and keep perspective. I surf out the change by anchoring in the familiar — the artwork by friends and family that fills my walls, the morning yoga ritual that bastions my spirit, the evening wine that takes my edge off. And even when the taste makes me wince, I savor this present moment.
House Wine: Domaine René Muré Crémant d'Alsace
Few places in the world — certainly few winegrowing regions — have endured as much transition as Alsace. Centuries of tug-of-war between Germany and France have shaped a regional identity that's as fluid as wine itself. Its vines thrive in the dry, sunny climate framed by the Vosges Mountains to the west and Rhine River to the east. Most are single-varietal, organically grown Germanic white grapes; a few outliers exist.
Rising in popularity is Crémant d'Alsace, a sparkling wine blended from white grapes and made with the same technique as Champagne. René Muré, whose family has been growing grapes in biodynamically prepared limestone and clay soils since the 17th Century, makes Crémant from fully ripe, whole-cluster fruit. The resulting wine is round yet crisp and easy to drink.
Find René Muré Crémant d'Alsace here, perhaps stocking a few bottles so you can taste and appreciate the wine at different points in its evolution. It's work in progress, after all.
Author's Note: Bradley P. Friedman, an enology and viticulture professional based in Napa, has an uncanny knack for pairing wine and story. Sincere thanks to him for this latest recommendation.