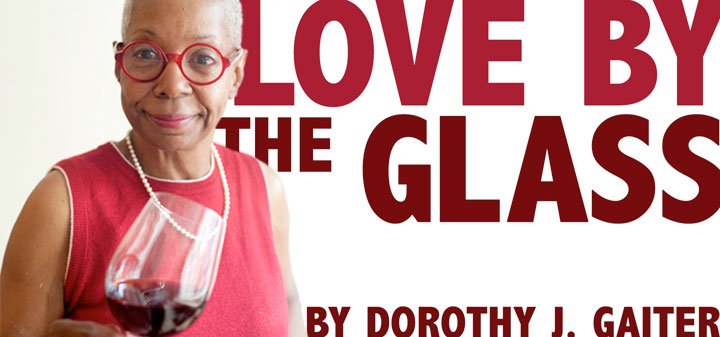 I want to talk to you about Pinotage. Hello? Hello? Still there?
You may think only its two mothers -- or, hey, its two fathers -- could love this grape. It's a cross between Cinsault and Pinot Noir. John and I have been true believers for years, even when it was difficult, and it's been mostly difficult. But we recently had a spicy, delicious one, a 2011 "Pinotage By L'Avenir" Western Cape (Laroche) that I wanted to share with you.
Next year will be the 90th anniversary of the creation of Pinotage by Abraham Izak Perold, the first professor of viticulture at Stellenbosch University, in the center of South Africa's wine industry. It's the nation's signature red. Pinot Noir is famously difficult to grow-- even in Burgundy-- so Perold attempted to make it heartier by crossing it with Cinsault, a rugged southern Rhône variety. Back then, Cinsault was known in South Africa as Hermitage, so the new grape took its name from a mash-up of the two varieties
Perold's experiment almost didn't survive. The cross produced only four seeds and he planted them in 1925 in a garden at his home on campus, not on the university's experimental farm. In 1927 he left the university for a job at a winery and the garden was left untended. The university came close to destroying the vines when it ordered a clean-up. Charlie Niehaus, a lecturer at the school who knew about the seedlings and went on to become an industry pioneer along with Perold, happened to be passing the house and saved them. The young vines, then known only as Perold's Hermitage x Pinot, were moved to nearby Elsenburg Agricultural College, where another viticultural professor, C.J. Theron , grafted them onto a new type of rootstock. Perold and Theron together named the grape Pinotage. The first wine from it was made in 1941, the same year Perold died, and South Africa has been running to and from it ever since.
OK. I've danced around this long enough. In the wrong hands and grown in the wrong place, the wines can be off-putting. This, of course, can be said of just about any grape variety. But in this case, off-putting is my polite way of saying that too often Pinotage can smell of burnt rubber or paint and taste like sweet green peppers. Yech.
Still, it's often a hard sell even when it tastes good. In 2002 for our Tastings column, we interviewed winemaker Kent Rasmussen, then of Napa Valley, about the Pinotage he'd made. He'd worked in South Africa and back in California found a plot of Pinotage and made 450 cases in 1992 and 1996. "It was a neat wine," he said, and some distributors took it, "but no one ever reordered it," he added. So he donated a lot of it to charities and eventually opened around 200 cases of it and blended it into his other reds. We'd found the 1996 and thought it quite good.
The Laroche on the label of the Pinotage at the top traces its history to 1850 in Chablis. This particular Laroche is fifth generation Michel Laroche, who created Domaine Laroche, an influential producer of terroir-driven Chablis. In 2005, he bought L'Avenir Wine Estate in Stellenbosch. There, he made two Pinotages, one from vineyards in Stellenbosch, which receives some oak, and one a blend of Stellenbosch and Swartland fruit from the Western Cape, which only sees stainless steel, the bright fruit cooled at night by the Atlantic Ocean and left alone to shine. As the latter's label says -- correctly -- the Pinot Noir aspects of the grape come to the fore. It wasn't by any means "Pinotage lite." It was nicely earthy, with hints of black pepper and raspberries. It tasted red not blue, which is the way I usually describe Pinotage. In fact, it was the most elegant Pinotage I've ever had.
Laroch retired in 2011 and sold his wineries to AdVini, a network of winemaking companies. He and his wife act as brand ambassadors, a spokeswoman for Wilson-Daniels, its sole U.S. importer, told me. "The category in general is tough," she said when I asked if it was a hard sell. "But if our sales people can get accounts to taste the wine, it's always a surprise regarding the quality."
If you're up for a little adventure, do your palate a favor and try this. It's especially good with lamb.
Dorothy J. Gaiter conceived and wrote The Wall Street Journal's wine column, "Tastings," from 1998 to 2010 with her husband, John Brecher. She has been tasting and studying wine since 1973. She has had a distinguished career in journalism as a reporter, editor, columnist, and editorial writer at The Miami Herald and The New York Times, as well as at The Journal.