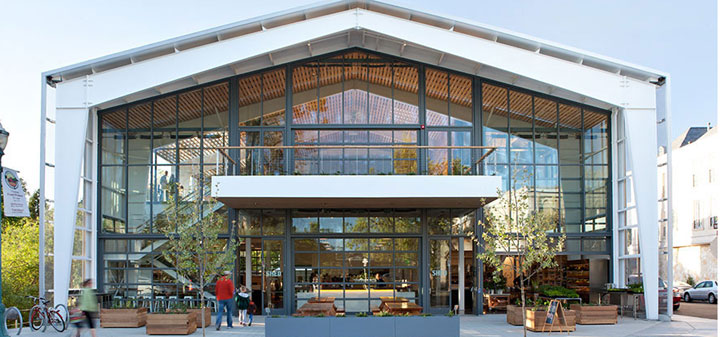 Healdsburg has always billed itself as the anti-Napa: Less than 60 miles separate the two, but Healdsburg tends to feel more like Mayberry RFD to Napa Valley's Beverly Hills 90210. Located on the idyllic Russian River, its leafy town square (yes, there really is one), is surrounded by historic buildings that have been nicely restored without being twee. To be fair to Napa, Healdsburg does have its share of posh spots to stay like the Relais & Chateaux Hotel Les Mars, the Hotel Healdsburg, historic Madrona Manor, and romantic comfortable B&Bs like the Belle de Jour Inn. More contemporary choices like the H2 Hotel or the Healdsburg Modern Cottages (a clever aggregation of four small California bungalows redone in midcentury style) will satisfy one's inner hipster. There's even the de rigueur "Top Chef Masters" presence of chef Douglas Keane, who closed his highly-regarded upscale Cyrus restaurant to go the casual route with the Healdsburg Bar & Grill. But what really caught my attention on my last trip was The Shed, which opened earlier this year on North Street just off the square.
It's overwhelming at first: Sunlight floods into the barn-like structure from an almost three-story-high glass front. The space houses a café (with an impressive wood-fire pizza oven), a coffee area, a fermentation bar (local wines, house-made kombucha, and craft beers—all on tap), and shelves and tables stocked with chic tableware, cookbooks, prepared food, baked goods, artisanal olive oils, chocolates, condiments and the like. There's a little garden shop out on the patio, too. It was so whitewashed and dazzling at first I could barely take it all in. Plus I was starving and very, very thirsty.
Luckily, my problem was easily solved here. The lunch menu is small but the dishes are thoughtful, like everything is at The Shed: There was a smoked mozzarella pizza with cherry tomatoes and arugula on the day I was there (as well as an excellent "Margharita"), eggplant Bolognese pasta also baked in that oven; a delicious creamy cauliflower soup with chives; a few salads (including one with roast duck and dried cherries) and a mezze plate. The open-faced sandwich of prosciutto, fig jam, apples, and arugula came on a dense and chewy seeded dark bread. I passed on the alcohol (I was driving) and was surprised and amused to find a selection of "shrubs," perhaps the original soft drinks of Colonial times, vinegar based and very refreshing—we're talking D'Anjou pear vinegar, peach Champagne vinegar and Meyer Lemon rice-wine vinegar; it's Northern California after all. If any place can bring back these drinks again, it's The Shed.
If it sounds like foodie heaven, it is—in fact, I went twice on the three days I was in town. Co-owners Cindy Daniel and Doug Lipton have created a dramatic-looking place that is part community hangout, meeting space (there are food classes and concerts upstairs), modern general store, and tourist destination. It's definitely worth a stop—even if you're on your way to Napa.
25 North Street; HealdsburgShed.com
Barbara Fairchild is a nationally recognized culinary authority with more than 30 years of experience in food journalism.