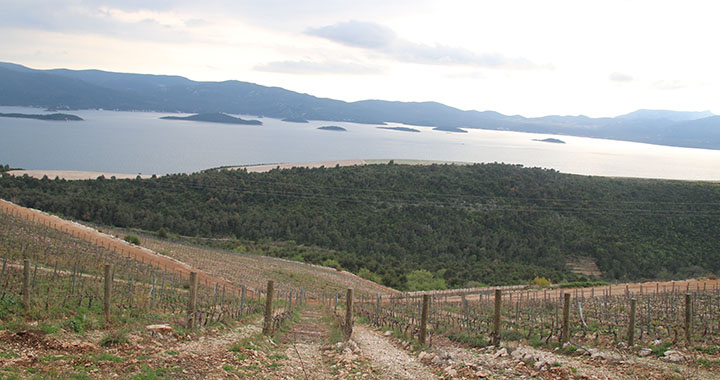 The Štimac family, owner of the Rizman winery, is one of Croatia's most famous sporting last names. Igor Štimac is a well-known modern soccer player in Croatia, playing center back for the national team as well as for Derby County in the Premier League. The family's winemaking roots go back to the current generation's grandfather Mihovil Mijo Popich, known by his nickname Rizman and after whom the winery is named.
Rizman was born in 1885 and lived to be 96 years old. He resided in the valley of Neretva, where the vineyards were located. The Rizman winery skipped a generation of Štimac family starting its production in 2006. A new vineyard was planted in new locations, the necessary infrastructure was built and a completely new winegrowing region was created in Croatia.
Rizman winery is rather new on the Croatian wine scene but they are the pioneers behind Croatia's newest wine appellation, Komarna, which is 60 kilometers from Dubrovnik, overlooking the Adriatic from the mainland near the isthmus of the Pelješac Peninsula. The Štimac family is the first investor and ideological initiator of the new winegrowing region, which includes more than 80 hectares of vine plants in 2012.
Grape Collective talks with Damir Štimac about the challenges of developing a new wine region, organic viticulture and belonging to a famous sporting family.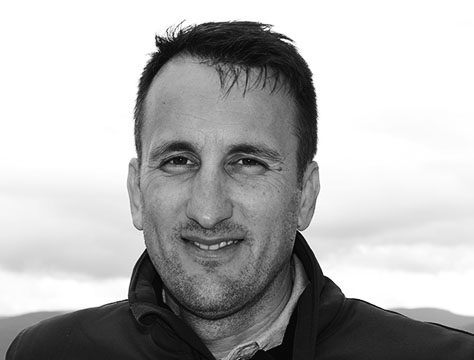 Christopher Barnes: So we're in Croatia's youngest new wine region. It's a small number of producers but you're doing very interesting things.
Damir Štimac: We are located in Komarna. It's the youngest wine region in Croatia, you're right, and we started it 10 years ago. We now have here seven producers and about 90 hectares of vineyards and also 1,700 olive trees. It was our family's idea, to start with the planting and to start the vineyards. But our grandfather was also a winemaker about 100 years ago, very near from here, 10 kilometers, and he had 8,000 grapes vines there and produced and sold wines also.
So your grandfather was a winemaker on a family scale. What made you guys decide, "You know what, we're going to turn this into a business. Not just make it for the family but we're going to do sales and marketing and make a lot of wine." That's a big jump right?
Yes. It's a big jump and you never know when you start how far you will go and after 10 years we can say it's a big job behind us because there was nothing here before. It was interesting, very clean soil and from the beginning we started with organic production. So this is also the only wine region in Croatia where all the producers have organic production so all our wines have organic certification for the European Union. And 90% of our vineyards that we plant are indigenous varieties.
Talk a little bit about the indigenous varieties that you've planted here and that you're making wine with.
Croatia has a big history. We are the seventh or eighth country in terms of number of varieties. And there are approximately over 100 indigenous varieties. So it's our heritage and we want to present that heritage and recover some grapes and wines which have maybe been put on the side a little bit.
So also we have one planting day here in the small vineyards and we plant 250 grapes, four varieties which are indigenous and which we never had before. Now we have the whole family of the variety Plavac Mali. Before we had Plavac Mali as our main red variety in the vineyard, we also had Tribidrag or Zinfandel but today we plant another parent of the Plavac Mali, the Dobričić variety.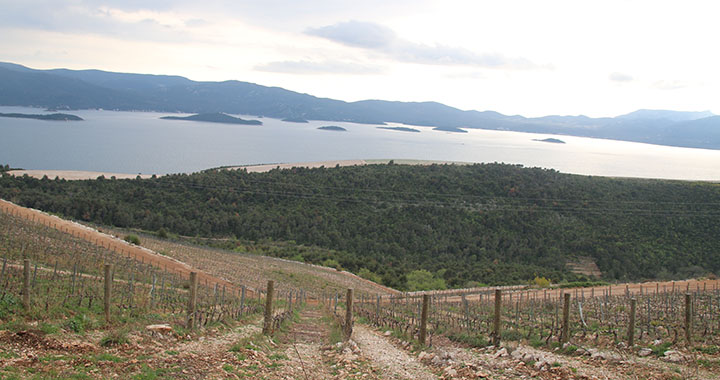 Talk a little bit about the terroir of the region.
This part and the now old region soil is limestone and you see when we walk that we crush and there is only a little small part of earth and everything is rocks. I think it was very difficult for the grapes to find their way but now after six, seven, and eight years of some different grapes we see every year better and better results. The grapes show us that they find their way and we have a big number of sunshine days and sunshine hours, about 2,600, and all our vineyards are on the slopes and between 15 to 25 degrees. A lot of the work in our vineyards is by hand.
It is unusual that a region that is this hot has good natural acidity. We have very good acidity in our wines, which we are very happy about. Wine critics are also very happy and they conclude that the Komarna wine region has a good future.
Damir, literally you're talking about 30, 40 centimeters of top soil and then it is solid limestone rock. I mean it is hard to believe that the grapes get through that.
They find a way.
Take a 360-degree virtual reality tour of the Rizman Winery in Croatia. This experience only works in certain browsers including Google Chrome. You can also experience the VR tour directly on Youtube.
So talk about the history of Croatian wine. How has it evolved and you are in an area that's particularly seen a lot of difficulties?
Regarding history, we go back to the 15th century when our old wines were exported to France, to Italy. So we produce here good wines from our indigenous varieties and one of them was Tribidrag, today well-known as Zinfandel in the United States or Primitivo in Italy. You know that science has proved that it comes originally from Croatia and the first name for that variety was Tribidrag. That was the reason why we also put our wine under that name, under Tribidrag. So we definitely have a good history but we also have different phases of history. The last maybe 100, 50, 30, 20 years... I'm not too old so I can't tell you what was maybe long ago...but for the last 10 years definitely in Croatia and in this region of Dalmatia we have had a wine renaissance. We made a big investment in the property and made new wineries and brought in new equipment, good knowledge and with good positions with our old wine grapes we expect that they will one day produce big wines.
So a region, which had real troubles during the wars, wine in a way is something that's kind of helping to bring the region back.
Yes definitely. Every war had different levels of hardship and unpleasant effects. And normally in our region we have a small number of producers and we have had some corporations and in the last 10 years it wasn't good for the corporations. They're almost not working today, but on the same team there are new players and new investments. I think that now in Dalmatia, in Croatia, you really have a good choice of different indigenous varieties in wines.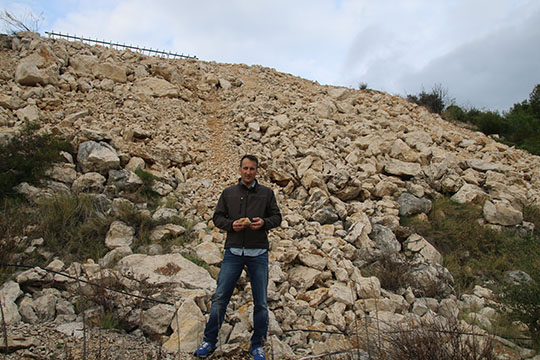 How would you compare the soils and maybe the character of the wine here versus some of the other regions in Croatia?
Here you see the slopes are somewhere up to about 30% so it's really very different and expensive to produce wines, but each region of Croatia has some of its own specific things and its own varieties, so we have maybe three main regions. We have Slavonia with the varieties Graševina and Istria with Malvasia. Dalmatia with the Plavac Mali red, Posup with white and other varieties of white. We are a small country but with a lot of difference, a lot of varieties.
So from the time that you started the winery until now, how have things evolved? Has experience taught you to change certain things?
Yes. You're always changing normally and I think with every business you never know everything when you first start. It was at the start like maybe a hobby, but after a few years it was changing a lot and I developed a lot passion for it. It is the type of business you can't look at like a business. You put all business on the side and really live this. In our case definitely and we are really living for this and every day brings something new. Every hour is bringing something new. It's not easy but we're happy.
So Damir in terms of your philosophy of winemaking and your philosophy of viticulture talk a little bit about that. You farm organically and you farmed organically from the beginning.
Yes. So organic is not only our philosophy for production, it's also our way of living. It's our way of how we're cooking in our house and how my wife has been preparing everything in our kitchen for the last 15 years. We also get our food from small producers who control production. So here in our winery it's been a very clear strategy from the start. We want to take the best from our vineyards, from our wines, and it was very easy for us to start organically because of the soil.
It was very clean soil. It's still clean so we just go for what is clean and white. Also we want to help the identity of our part of Croatia, our part of this region, so to present our terroir. To present our varieties. All our labels have our indigenous variety so that was maybe strange but for us very simple. We show what we are.
And you're one of three brothers. Your middle brother is somewhat famous as perhaps one of Croatia's most famous sportsmen. He was the coach of the national team and he starred for many many years in the Premier League in England.
Of course. We are a sports family and all three brothers including me were in sports. I also had a little bit of training in football. My older brother Mihovil who is together with me in this business was a very good handball player. We come from a small town called Metcovitch which was very well known as a city, a small city of great football and handball names. And Igor was the most popular name from our family; he was a former player and now he is a very successful coach.
So sometimes it has been good and sometimes it has been a little bit heavy to have that surname when we started with the wine business. I want to separate our brand from our name because I want to let the wines shows and present their own story. So that was one of the reasons that we chose the nickname of our grandfather, Rizman. A lot of people today also don't know who the owners of Rizman are and we have a lot of wine buyers.
All photography and videography by Piers Parlett
Editor's note: As of publication Rizman Winery is not currently available in the United States
For more on Croatian check out Croatia: A Land of Wine Stories by Zeljko Garmaz