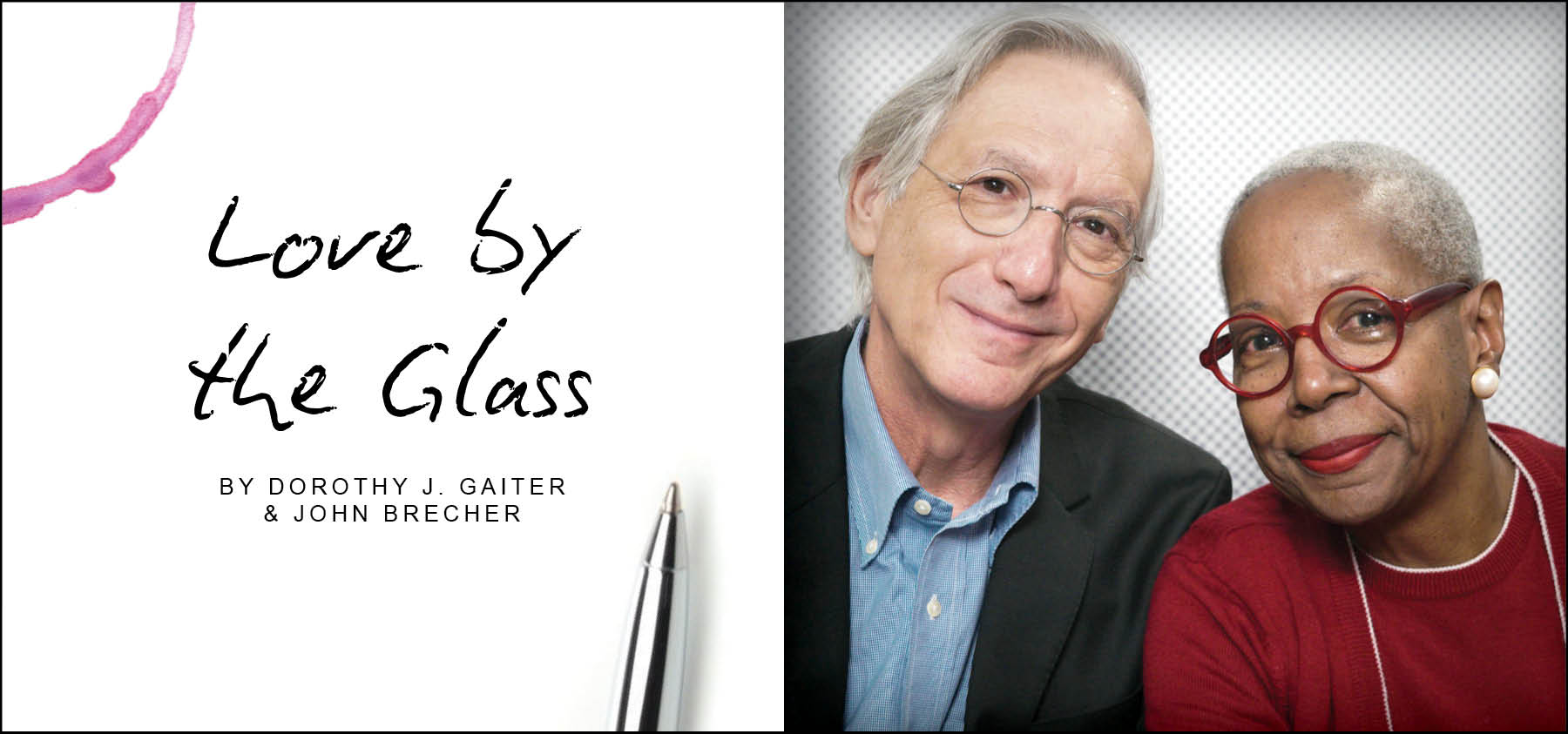 If you enjoy wine and pay attention to what you drink, you've probably noted some names that give you confidence when you're in a wine store or a restaurant. When we were first falling in love with wine, the names of wineries, importers and vineyards did that for us.
We knew house styles, which varieties wineries did well. However, the steady corporate acquisition of wineries' names with too often little or no regard to the founders' winemaking principles has made some once-reliable brands an iffy proposition. Still somewhat bankable today are the names of importers headed by wine lovers whose taste we trust, although as those founders die or retire, they're being replaced by committees of diffuse palates and perhaps different intentions.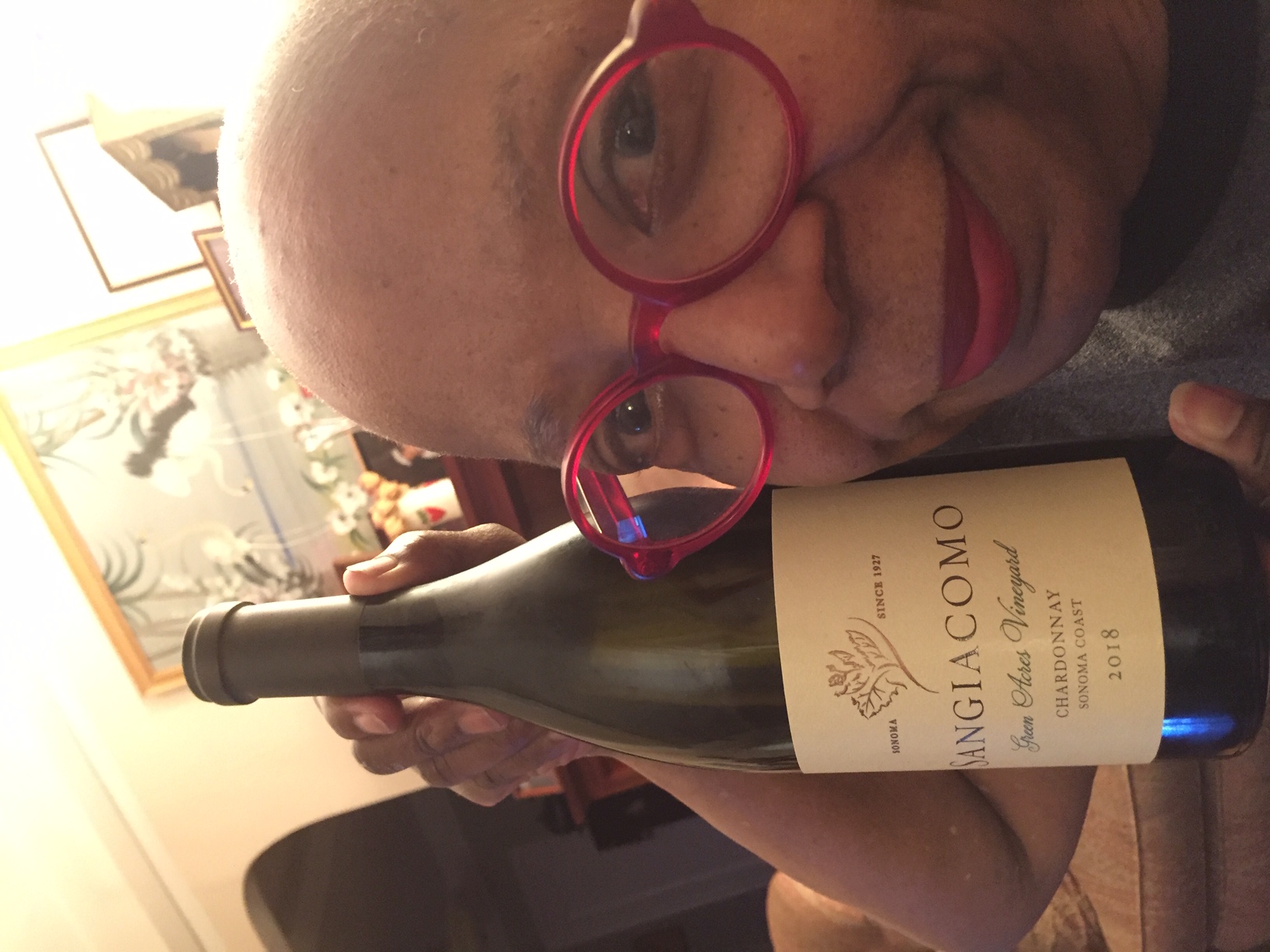 And some still reliable names are vineyards. One of those, Sangiacomo Vineyards in Sonoma, has adorned many of the vineyard-designated wines we've enjoyed over the years. The Sangiacomo family has farmed in Sonoma County since 1927. For more than 50 years, since 1969, it has grown grapes there, mostly Pinot Noir and Chardonnay spread now in 16 certified sustainable vineyards across 1,600 acres in four American Viticultural Areas: Carneros, Petaluma Gap, Sonoma Coast and Sonoma Valley. They also have a vineyard in Oakville, in Napa, for their Cabernet Sauvignon.
With the Sangiacomo Family's 2016 releases, it added its own brand to the impressive list of more than 85 wineries that have been using its grapes. Of that number, 35 make vineyard-designated wines from Sangiacomo Vineyards, wineries that include wineries that include Brulium, Chappellet, La Follette, MacRostie, Neyers, Rombauer, Ram's Gate and Saxon Brown. Winemaker James MacPhail, who has worked with the Sangiacomo family's grapes for more than 20 years at other wineries, including his own now-sold winery, is Sangiacomo's winemaker.
A Sangiacomo Family Vineyards media representative sent us some of its 2018 and 2019 wines recently and we were impressed by what the family has done with its own grapes. Each of the three Chardonnays (Green Acres, Roberts Road and Sonoma Coast vineyards) was distinctive, but there was a through line of acidity that connected them. We enjoyed how they changed with temperature and air and how two had hints of lime and one of lemon. The Pinot Noirs from Roberts Road and Sonoma Coast were soulful and deep. We debated if we were tasting them blind whether we would think the lot was from Burgundy or California. The Cabernet Sauvignon was stately. (The Pinots and Chardonnays are around $60 to $80 and the Cabernet is $120.) We had such a thrilling time that we called Steve Sangiacomo, 46, who runs the business with his siblings Michael, 52, and Mia, 50, to ask, among many questions, why make wine now?
"It's a natural evolution of our family business. My grandparents came over and started this business farming pears and apples. My dad's generation, the second generation, his two brothers and sister started the grape growing business. Our third generation, my brother Mike and sister Mia, took our opportunity to expand the family business with the vision for it being around for the next 50 to 100 years," Steve told us. Their dad, Angelo, is 91. (sangiacomo-vineyards.com)
"We use less than one per cent of our grapes in our family wine, so we will always be farmers. We will always be selling grapes to our wonderful producers," Steve said. The family's wine brand consists of 2,000 cases total, a tiny amount, that's sold through its wine club and mailing list and directly from the winery. Current releases include two Chardonnays, a white Pinot Noir that we did not taste, three Pinot Noirs, and a Cabernet Sauvignon. The main vineyards are Home Ranch, the center of the business; Green Acres, the first vineyard planted and the most popular Chardonnay source (Old Wente and Hyde clones) and Roberts Road Vineyard, which produces Chardonnay and Pinot Noir used by more than 20 brands, with more than a dozen making vineyard-designated wines with its grapes. With vineyards broken down into blocks according to their terroir and grape types and farmed accordingly, the family has more than 300 blocks.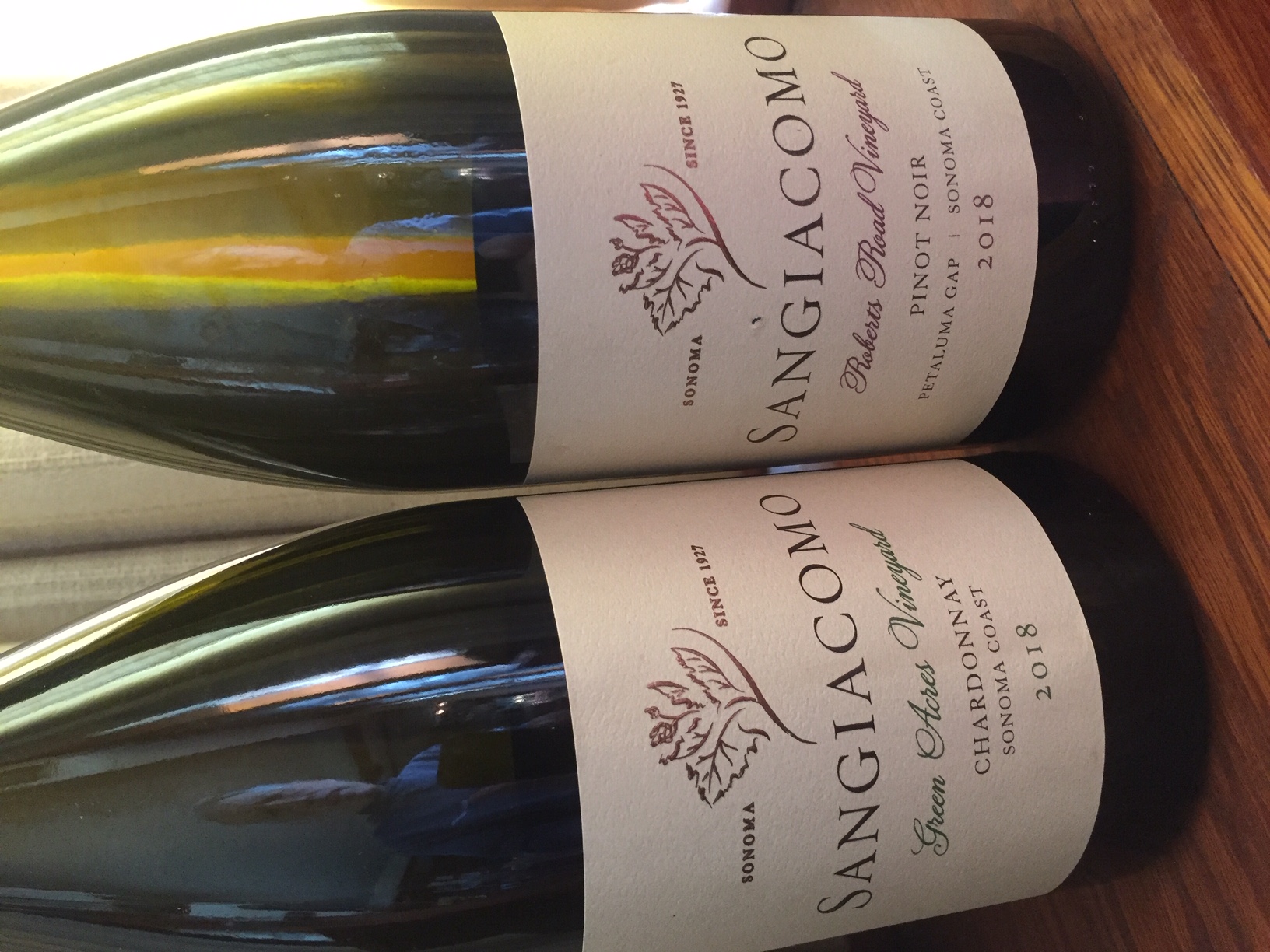 "One thing we've learned as we've seen other winery brands develop is slow growth. Make enough to be able to sell for the next year, but try not to carry a lot of inventory. We've focused, as we told James, on making sure it's the best of the best. Quality is always at the forefront. If a barrel doesn't make the cut, don't be afraid to not include it in the final blends," Steve said.
"Winemaking can get very heavy-handed in terms of processes and techniques and oak and all of the different elements to make it wine," Steve said. "James still does his art and his techniques that are committed to making world-class wines, but it's more of just doing everything we can to let the vineyard be the showcase at the forefront of each wine."
To have staying power for almost a century, especially in agriculture, where Nature makes the calls, takes not just brains and perseverance but also fortuitous timing. The family business started with Vittorio, who came to California in 1913 from Genoa, Italy. After working on farms and starting a successful scavenging business, he yearned to work with the land as he had done in Italy. So he bought 52 acres of fruit trees in Sonoma in 1927 and the next year married Maria, a young woman also from Genoa. They focused on growing pears and apples and during the Depression, when land was cheap, they kept buying it, working it with their four children.
At one point, the family was the largest grower of pears in Sonoma County, according to its website. But when Americans stopped buying canned pears, the second generation decided on grapes and completed the transition in the late 1980s. The quality of their grapes became so renown that in 1985 the family trademarked Sangiacomo Vineyards, with a right of approval. That means wineries that want to affix the name of one of the family's vineyards to its label must have its wine approved by the family, Steve said. Gundlach Bundschu was the first. Wineries whose wines the family deems flawed are turned down.
We asked if there were economic reasons why the family wanted to finally make wine, but Steve said no. "Regarding the economics of making wine, it takes a long time to be profitable on the wine side," he told us, laughing. "A lot of our winery clients jokingly said 'you're going to realize that quickly.'
"There's a diversification component in terms of having our own wine brand and providing an opportunity for the next generation," Steve said. "They're not all going to want to be farmers. There are seven. Hopefully there will be a couple who will want to work the dirt and get up for frost protection and harvest at 2 o'clock in the morning."
Having their own brand "has made us better farmers. Even though we're really in tune with wineries and the wines that are made from our grapes, working closely with our vintners for the previous 30 years, when you make your own wine, you're really more involved in every phase, the evolution of the wine from grapes to the bottle," he added.
Working with other winemakers and winery owners means developing and nurturing relationships. For years, the family held festive and instructive tastings to which they invited wineries that use the family's grapes. A lot of wine and information is shared. The pandemic shut that down, Steve said. "We do Pinot Noir in February and Chardonnay in March so for the 2019 vintage we did it and I think the Chardonnay tasting was literally the week before the shutdown of the world. That was a big component over the years in learning how our farming techniques affected the wine."
Climate change has made the family more efficient in how it uses water. There haven't been dramatic enough shifts in degree days, he said, for them to think about replacing the grape varieties they grow so well, "but we're keeping an eye on it in terms of what could grow best in the future. We're definitely having more discussions on other varieties, more for diversification and education."
Like what? we asked. "We're planting a little Riesling and Pinot Blanc and a few of those types," he said. "Super-small amounts, one-acre trials."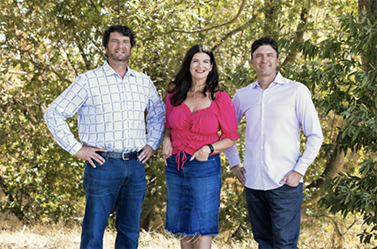 We asked what was his favorite part of winemaking. "We're not winemakers in terms of that whole side of it -- the chemistry side is not our forte. James is the winemaker. But I like to deal with the taste of the different components. That's where we learn a lot about the different clones and different sites and vinification techniques that James has decided to use. I love to taste each individual block and, from there, neutral oak, and some oak and those elements. All of the things that contribute to the complexity of wine."
(Mike, Mia and Steve Sangiacomo)
The Sangiacomo family also prides itself on its relationship with its workers, 30 percent of whom have been with them for more than 20 years. It provides single-family homes for six vineyard supervisors. "Our philosophy is our employees are like our family, like our family that started back in the '20s with our grandfather," Steve said. "We have fathers and sons working together. Sort of how our family has worked together."
Dorothy J. Gaiter and John Brecher conceived and wrote The Wall Street Journal's wine column, "Tastings," from 1998 to 2010. Dorothy and John have been tasting and studying wine since 1973. In 2020, the University of California at Davis added their papers to the Warren Winiarski Wine Writers Collection in its library, which also includes the work of Hugh Johnson and Jancis Robinson. Dottie has had a distinguished career in journalism as a reporter, editor, columnist and editorial writer at The Miami Herald, The New York Times, and at The Journal. John was Page One Editor of The Journal, City Editor of The Miami Herald and a senior editor at Bloomberg News. They are well-known from their books and many television appearances, especially on Martha Stewart's show, and as the creators of the annual, international "Open That Bottle Night" celebration of wine and friendship. The first bottle they shared was André Cold Duck. They have two daughters.
Banner by Piers Parlett