Armenia, often referred to as the "Cradle of Wine," boasts a winemaking history that stretches back over 6,000 years. Voskeni Wines (the name is a combination of Armenia's indigenous varietals: Voskehat and Areni) taps into this historical legacy, producing wines that reflect the very essence of the land they come from. Voskeni Wines is located in Sardarapat in the Ararat Valley, an area which is steeped in history, being the site of a pivotal battle in 1918 that secured Armenia's independence.
Voskeni Wines, epitomizes the soul of Armenian winemaking, with its deep-rooted connection to tradition, commitment to sustainability, and a portfolio of exceptional wines. The winery was founded by Smbat Mateossian, a businessman from Boston, who moved to Armenia in the early 1920s. However, after the Russian revolution Mateossian was arrested, had his preoperty confiscated and later killed. Decades later the Mkrtchyan family—changed from the original Mateossian, to avoid further persecution, visited the village in 2009 and were able to buy some of his original land back and continue the dream.
Grape Collective talks with Smbat Mkrtchyan, Voskeni Winery owner who was named after his grandfather. (This interview was conducted in English and Armenian and translated from Armenian by Sophie Khachatryan)
Christopher Barnes: Tell us about your family history.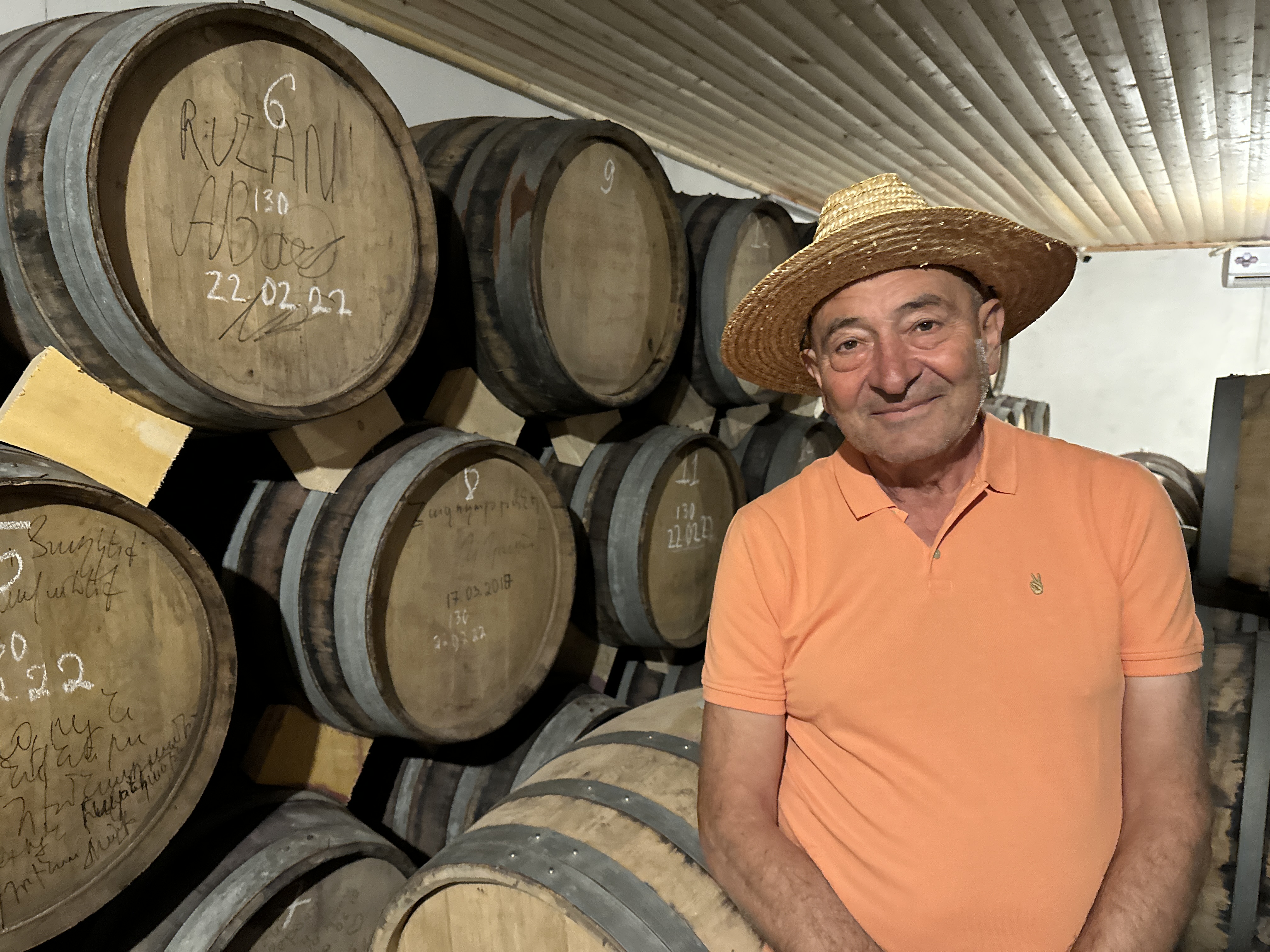 Smbat Mkrtchyan, Voskeni Winery: I'll gladly tell you about my family history beginning with my grandfather Smbat Mateossian, who went from Armenia to America to work and came back very rich, but it was taken from him by revolutionary officials of the time and they made him give another part to the local revolutionary committee. Later under Russia's rule, during Stalin's repression era by his order my grandfather was arrested and executed as "koulak" [rich landowner].
(Smbat Mkrtchyan)
My grandfather had a dream to have vineyards in his country and to produce wine. Unfortunately, his life was cut short by Stalin's repressions, but our family gladly continues his legacy.
What was it like living under communism?
What was it like here at the time? As soon as he returned, they took everything from him in Novorossiysk. My granddad arrived from America on board of his own ship. He was only 41 years old when they killed him. I will tell you with pleasure about my grandfather's knowledge and how he was able to choose this location, this volcanic soil, for vineyards producing exceptional grapes. He knew very well astronomy and the Armenian legend about this particular terroir, this land. My own family lived for about 30 years in Moscow, the capital of Russia, but one day we decided to come back to our roots and fulfill our grandfather's dream.
When did they come?
In 2007 when the Soviet Union was already collapsed, we found the owners of the lands that belonged to us and we bought them back. We bought the lands back. They were already privatized after the collapse of the Soviets.
How many areas in Armenia are cosidered good for grape growing?
There is Areni region in Armenia, Yeghegnadzor region, Vayots Dzor, which are considered winemaking regions of Armenia. The climate conditions in these regions are favorable for winemaking processes. And specifically the Ararat Valley where we are situated is not considered a winemaking region, however, the grapes we grow, Areni, atypical for the region, produce high-quality wine which always gets gold medals in the best festivals worldwide.
This area has had a lot of historical challenges as a region.
I will gladly present a small part of Armenian history that is closely related to our land. I am talking about the battle of Sardarabad that happened about 103 years ago during the Turkish-Russian War. They wanted to take from us the Ararat Valley. Over the past 100 years a lot of blood has been spilled here, Armenian blood, and it was in Sardarabad's battle during the Turkish-Armenian War. The Turks lost and they were not successful in gaining the Ararat Valley which today now feeds Armenians as well as other countries and which surprises by its bounty and tasty harvests. It is the particularity of our water, sun, and soil which we use, are proud of, and are guided by. Our success is due to the fact that we always use local product and by doing that we represent our Armenia.
And can you just explain what happened in 1915?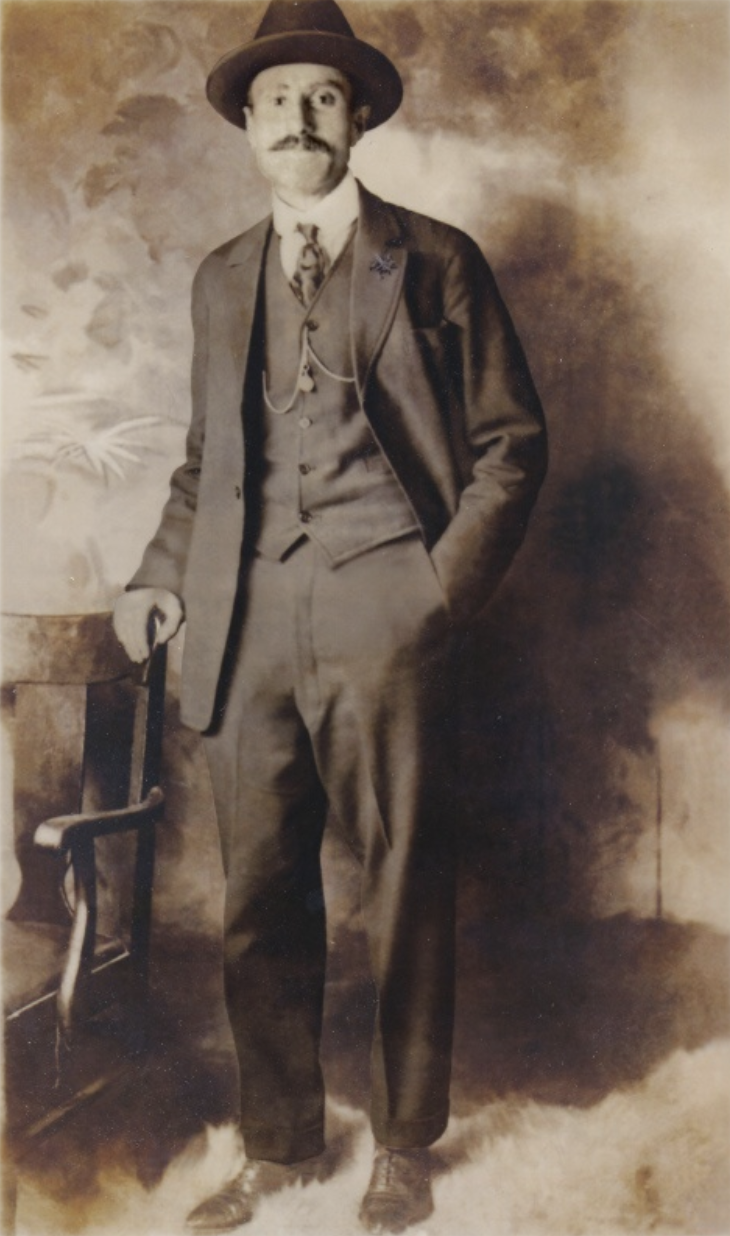 My grandfather is not considered a victim of genocide. He was already in Armenia during that time. My grandfather's ancestors were genocide victims. Our ancestors were pilgrims who traveled to many countries and brought back knowledge of medicine, astronomy, construction. Three or four descendants of those brilliant people are our relatives and are themselves scholars now.
(Smbat Mateossian)
So let's talk about Mt. Ararat and the importance of Mt. Ararat. Is there an emotional importance to Armenia of Mt. Ararat?
As I mentioned before, the knowledge of my grandfather was related to the Armenian legend about Mount Ararat, Mount Aragats and Carahundge. Carahundge is a small ancient observatory that served as a guide to ancient people in the times of Silky Way that passed through Armenia. And the jewel of Armenia, Mount Ararat, had its meaning and its history starting from the times of Noy. We have specific grape varieties called Areni and Voskehat which date many centuries back and which never were mutated. Since then till nowadays they grow the same way, have the same appearance and the same taste. Knowing all that was the driving force for us to come back and to make the dream a reality.
And talk a little bit about the importance of the historical, past to the present in terms of Armenian winemaking, the importance of looking backwards to look forward.
The winemaking in Armenia didn't have the bright future that Armenians were hoping for. Because we had the period of Soviet times when it was decided that Armenia had to develop the production of brandy. Other republics were to produce wine. And so on. However, times have changed and we now have the opportunity to cultivate our local grape types and produce magnificent wine which we can present on different world stages and get the appreciation from different countries for our wine production.
I would gladly elaborate on this point. One of our grape varieties, Voskehat, which has centuries-old history. At some point in history, the Armenians had to pay taxes to Persia and the taxes were given in gold. Many times they didn't have gold to give and paid taxes in grapes. That grape is called Voskehat nowadays, and justifiably so ("voski" means gold) and it is considered the jewel of Armenian grape varieties.
And tell us about the soil here.
It's volcanic soil. The land has volcanic origin. It is a soil with sand and lime, and the grape that goes on that type of soil is not very fruitful but instead is very tasty with very interesting notes. Very interesting tannins that from the first taste, taste different from many other wines from the same grapes.
What kind of grape varietals are you working with?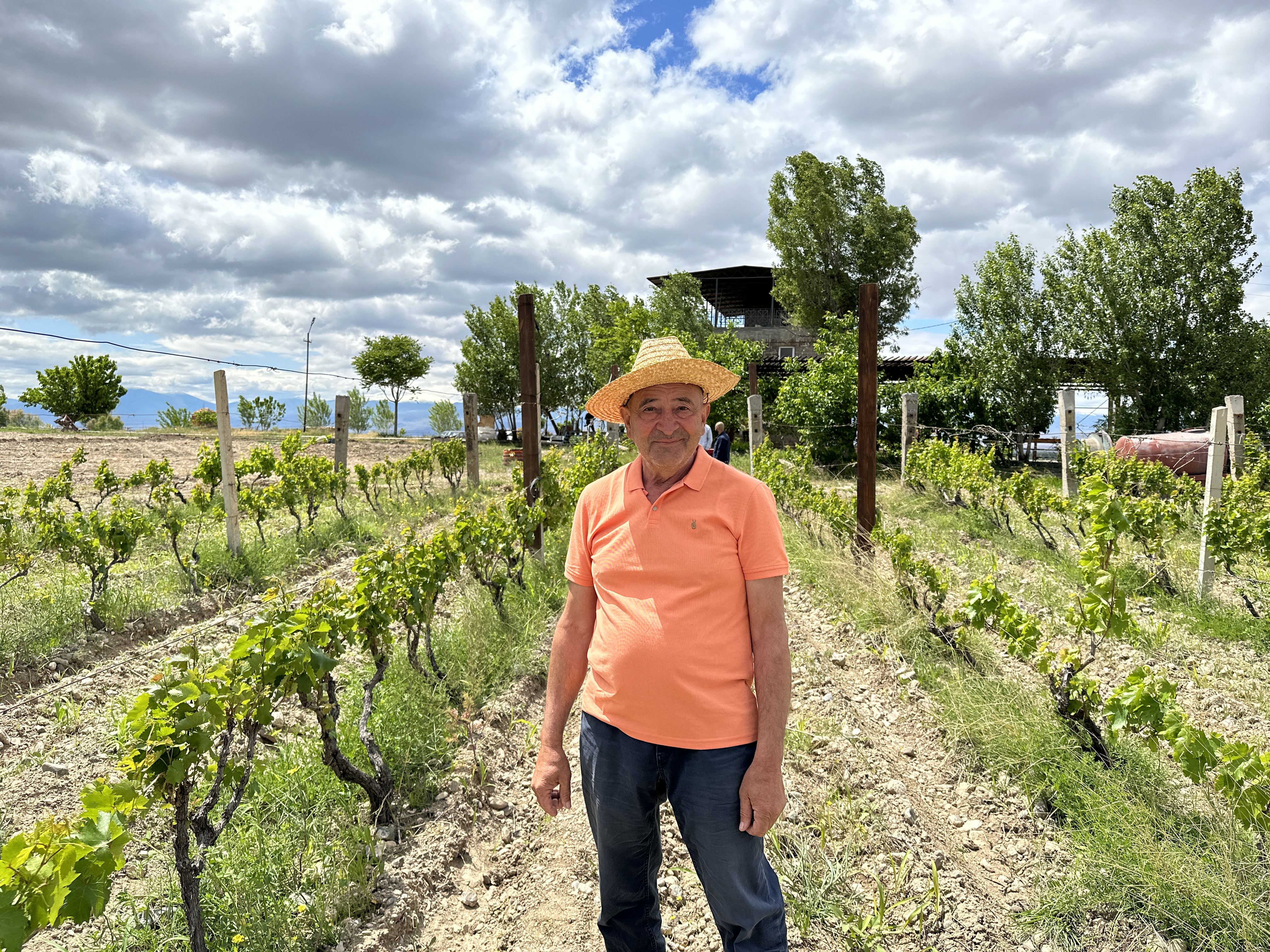 We mostly deal with local Armenian varieties of grapes, specifically Areni and Voskehat of which one part we grow here, at this volcanic land situated 936 meters above the sea level, and we also own land in the Vayots Dzor region which is farther away from here by 170 km and is situated at 1,748 meters above the sea level. The grapes that grow there taste and smell very differently, although they are the same variety. The difference is really big. A very good example of that is our Sardarabad Reserve Wine made from grapes gown in our Ararat Valley soil and our Reserve 130 Areni with grapes grown in Vayots Dzor. However, it is important to say that 130 is the age of the vines, 130 and more. Both those wines participate in the same competitions and both of them receive the highest prizes.
Perhaps you could talk a little bit about your philosophy of winemaking and viticulture.
Our family business is gardening and winemaking. Before becoming professional viticulturists, we were doing the important job of preserving the Voskehat grape variety from extinction. We are very proud of that accomplishment. We have that philosophy, that concept, behind our business and every year when we produce wine full of tannins, we never lose the face when presenting it to the world.
Is the viticulture conventional or sustainable or organic?
We have a very different approach to viticulture. What this means is that we use medicinal materials, materials that are not absorbed, such as copper and lime. In other words we have supplies containing copper or lime which are not absorbed by the roots and thus by the grapes and don't leave any traces thanks to which we easily pass any biological tests in any laboratories around the world.
What are your hopes hopes for the future of Armenian wine?
The volume of wines produced in Armenia is not very big and it cannot influence worldwide winemaking. I think that in Armenia we have a very long way to go in grape cultivation and winemaking industries. And the government has its role to play in all this. I would like the quality of our wines to be on such a high level and so justified, impeccable, andinteresting so that the international journalists are excited to present us justly to the world.