From feeling terroir while tooling around British Columbia's wine country a motorcycle to, as a musician, appreciating how Tool challenges him like a great bottle, Luke Whittall has a lot to say about how wine moves him. Get to know Luke via our latest edition of blogger interviews, SpeakEasy, and keep up with his adventures on two wheels visiting Canada's vineyards at Wine Country BC.

Besides the blog you also have a podcast and conduct video interviews. How do these latter formats provide a different perspective and impact when it comes to learning about wine versus words alone? What advice would you have for bloggers who want to branch out to audio and video?

My favourite quote from Frank Zappa who said that writing about music is like dancing about architecture. Writing about anything is inherently flawed in that it can't always communicate exactly what any experience is truly like. The best writers are the ones who have a heightened vocabulary and an ability to use language effectively. Still, I've always found that reading about wine (or wineries) never gave me the same experience as actually tasting the wine or visiting the vineyard.
I find that podcasting (audio or video) allows a much deeper level of communication about the actual experience of tasting or drinking wine. A typed transcript of one of Gary Vaynerchuck's videos for Wine Library TV says nothing about the experience compared to the videos of him jumping around the room in excitement about a wine. There's lot more information about the experience in hearing and seeing his and his guests' reactions to a wine.
I chose audio podcasting for the same reason - it communicates the experience on a much deeper level and it's more of a social experience, which I think is what wine all about as well. I've had up to 6 people on a podcast before. Most people drink wine as part of a social group and the reactions of the group can communicate yet another dimension to the wine's experience.

My advice for bloggers wanting to branching into audio and video? Don't do it alone and make sure that it sounds good. Unless you are going to taste wine while skydiving, great looking video is ruined instantly by crappy audio.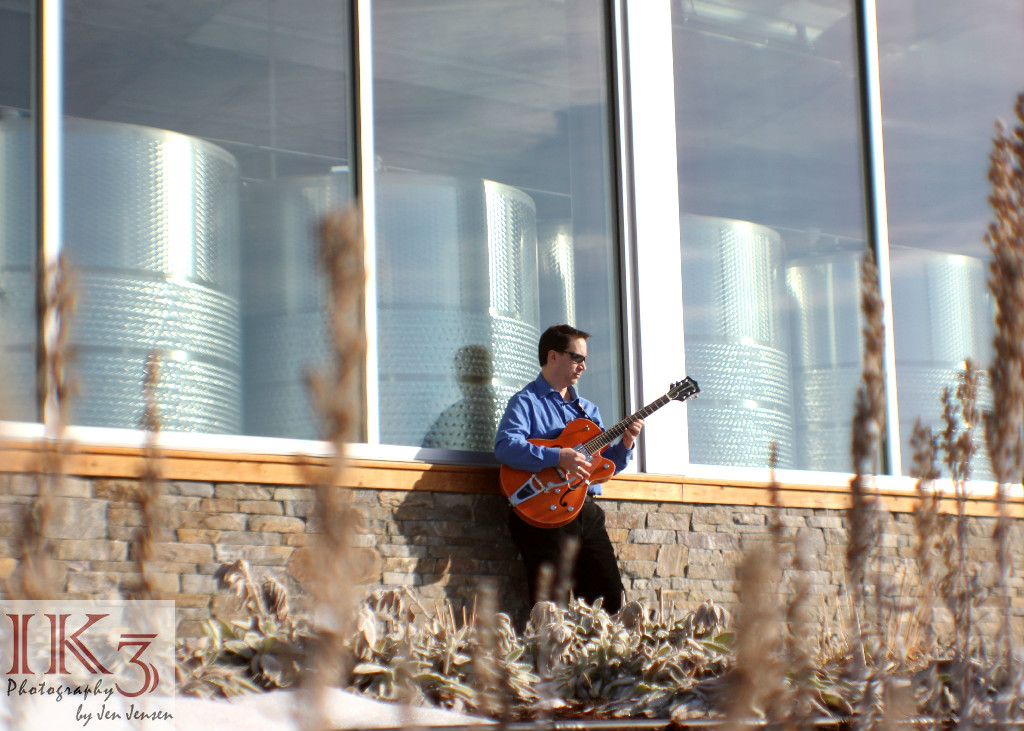 Speaking of audio, you are a musician and create all the music for your podcasts. As a "recovering musician" does this part of your life ever help you appreciate wine? Has wine, or even specific wines, inspired your music?

Perhaps it has helped me appreciate it because I like to be challenged the same way with wine as I do with music. I get bored with songs that have no depth to them or that don't have different layers to hear. Every time I listen to a Beatles song, I'll hear something different that I hadn't heard before and I love that. I've had Tool's Lateralus CD in my car for 6 years for the same reason.
I love all styles of music but I'll listen to some more frequently than others because they challenge me to listen. It's the same with a wine that tastes the same with every sip - I lose interest. I want to be challenged and get a new taste experience each time. Quality wines do that.

As for inspiring music directly, I think it's mostly influenced my sense of place. The two albums that I've recorded since living in the Okanagan Valley have tons of references to the landscape (terroir maybe?) and have used that as inspiration. Both album titles actually refer to places. One is called "On Black Sage Road" (by The Gala Vanters) which is a local road in Oliver that has a lot of vineyards on it. The other is called "Strandlines" which was inspired by the story of glacial Lake Missoula in Montana which affected all of the Washington State wine growing areas.

Last year's Wine Bloggers Conference was in Penticton in British Columbia. As a local, how do you feel the region was received by visiting bloggers and what were you hoping people would (figuratively) take away regarding the wine?

From what I heard, everyone seemed to have a good time and enjoyed the wines and experiences. I remember being quite proud of how the wineries I knew represented themselves and that I was glad with how everything went. I like to use Stuart MacLean's motto to describe BC wine - "We may not be big, but we're small" - and I hope that everyone had a great adventure while they were here. That's the best thing with the world of wine - that sense of exploration. What are you going to find and taste today that you've never tasted before?
I think most of the bloggers that attended the Penticton WBC were the most adventurous group I've ever seen at any WBC that I'd been to before. That spirit of adventure is a big part of the wine industry in BC because it's still new and there's a lot of discovery, adventure, and creativity by the industry's pioneers. And some of those pioneers were pouring wines themselves that week.

You've become quite a motorcycle enthusiast. What's it like touring wine country via two wheels rather than four?

It's awesome. I can't buy or taste as much on trips, but it's still awesome. Driving in the elements like that, I can almost feel where the microclimates are because sometimes the temperature might change slightly going past some places or a vineyard will smell different somehow. It's a whole other experience than being sealed up in a car. However, I have developed a new appreciation for paved driveways.

What are the BC wineries you like to point your motorcycle towards when it comes to a great tasting room experience?

There two places that I like to go on the bikes at the moment. The Similkameen Valley and Okanagan Falls. The Similkameen (we call it The Sim) is just spectacular. I actually have to be extra careful driving there because the valley's beauty is so utterly distracting. The wineries are generally a good distance apart so there's always a good ride between each of them. There's a good diversity among the wines available, the people are awesome, and it's there isn't a huge amount of traffic.

Okanagan Falls is another exciting place for riding. The wineries aren't as far apart as the Sim but some of the roads around there are unbelievable. There's a good diversity in the styles of wines produced there and a lot of history in the area as well. Plus there's a beach on Skaha Lake and it's an easy destination to reach from anywhere in the Okanagan.

What restaurants should not be missed when visiting BC wine country?

So many to mention! Every sub-region in BC has a handful of wineries that have restaurants and there are a growing number of high quality culinary experiences in the valley. In the southern part of the Okanagan, I have a real weakness for Terrafina at Hester Creek in Oliver - they make spectacular pizzas. There's also a food truck called Hammer's House of Hog in Oliver that makes authentic southern BBQ to die for. The wine bar at the Watermark Beach Resort is a great dining experience and is a huge supporter of local wines. The patio at Nk'Mip Cellars in Osoyoos has the best sunsets in the south.

Around Penticton there are more options including Burger 55 - the most unbelievable burger place where you can "customize your craving" - the menus are on clipboards that have more options than buying a car. Brodo Kitchen in Penticton is amazing for lunches - incredible soups. After a hot Okanagan day, Local Lounge and Grill in Summerland can't be beat because it's in the shade by dinner and it's right on the shore of Okanagan lake. That's a true Okanagan valley dining experience right there.

How did you first get inspired to podcast and who would you say were your mentors, past and present?

I listened to podcasts daily while working in vineyards years ago. The first wine podcast I really got into was Grape Radio who had amazing interviews with people from all around the world of wine. I still listen to their interview with Terry Theise which is one the best podcasts I've ever heard.
Terry David Mulligan was producing Tasting Room Radio out of his barn in Naramata at the time. That show was more radio-oriented since that's how his show was distributed. Terry's been a professional broadcaster for years and has tons of celebrity connections. Look for his interview with Anthony von Mandl of Mission Hill, who is one of the Okanagan's biggest visionaries to get a real sense of the genesis of the BC wine industry.

BC wine's first real "podcast" though was BC Winecast by David Bond, who featured interviews with winemakers over the phone. It was crudely recorded - you can hear all kinds of background noise like chair squeaks and stuff - but it was the first time that you could hear a wine maker casually talking about making their wines. It was awesome!


At some point it dawned on me that I could produce a podcast. I already had most of the recording equipment anyway. I found that there really was no online resource that focused on BC wine at the time. There was also a real neglect of the wine industry by local wine media in BC, many of whom were older and remembered when BC wine was not exactly high quality. It seemed to give them a bit of a jaded perspective somehow.

So I found a few friends of mine in the wine industry who were all under a certain age and got them together to taste wine and chat. Sometimes we'd pick a topic and relate it to the wine, sometimes not. I tried to make it what I thought was a good podcast - simply a conversation about wine from people who were interested in learning and had experience in making, selling, marketing, and working with it.

It was mostly just conversations, which is really all that a good podcast is - Chris Hardwick's "The Nerdist" is the ultimate form of that "recorded conversation" style. It's not slick FM banter that's compressed or auto-ducked. It isn't radio, it's podcasting and they're brilliant at it. The recent interview with Daniel Radcliffe is probably the best example of that social-conversation style. Podcasting fits naturally with wine because that's exactly what we do when we drink wine - chat and be social.