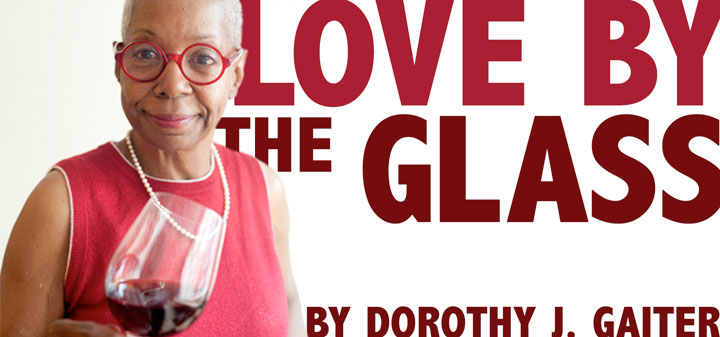 The first time Andrew Friedlander met Mark McKenna, who was then assistant winemaker at Montevina Winery in Amador County, in the historic Sierra Foothills AVA, McKenna tried to talk him and his wife Janis out of starting a winery.
"I told them that loving wine is the worst possible reason to own a winery. I've seen marriages fail because of them. It's heartbreaking. You've got to like the process. It's hard, hard work," McKenna said last week, as Friedlander, now McKenna's boss at the winery they built, looked on. The couple named their winery Andis Wines, a compilation of their first names.
I'd say especially from their 2010 Reserve Barbera (Cooper Ranch) ($28.99), and 2011 Original Grandpere Vineyard Zinfandel (Amador County) ($64.99), as well as other varietals, they don't mind hard work. The Barbera was the best one we've ever had that was made in America and the Zinfandel was one of the best.
Andis Wines give us faith that California winemaking, in the right hands, can still produce wines of elegance and integrity. They are intelligent, true-to-type wines at a price that doesn't put them only in the hands of the wealthy.
Founded in 2009, Andis makes wines mostly from purchased grapes, which is a wonderful thing if you have the money and are grape-savvy enough to identify the best. Check and check. Friedlander co-founded and built the largest commercial real estate company in Hawaii. His wife, who splits her time between Hawaii and Amador County, is a senior investment management consultant with Morgan Stanley Wealth Management. McKenna, a Berkeley grad, learned from some of Amador County's best winemakers. This year's harvest will be his 19th.
"Grapes can be looked on as a commodity but that's not the way great wines are made," he told me. "We decided, let's go find the best vineyards in our region, regardless of the grape variety. I mean Semillon—who puts that in their business model?" Their first one, made from a Semillon vineyard planted in 1978 that was going to be replanted to Zinfandel before they talked its owner out of it, sold out in 11 weeks.
They contract now with two dozen winegrowers in Amador and nearby El Dorado counties. The Andis Vineyard, which surrounds the couple's state-of-the art eco-friendly winery, was planted in 1978 mostly to Zinfandel by the property's previous owner. Some acres have been replanted to Barbera, Grenache and Malbec.
McKenna contacted me last month on our Facebook page, facebook.com/winecouple, after reading my column here about Dierberg Vineyard in Santa Barbara County. He said he worked for a young winery in Amador County. "It is great to see someone pointing out that terroir exists not just on a macro scale but truly sometimes from one row to another," he wrote. "Trying to do something that truly explores the incredibly diverse potential of the area -- much like you talked about in the column."
The mention of Amador County, which is located in the western foothills of the Sierra Nevada Mountains and is east of Sacramento, made us smile. It is Zinfandel Central. Native Italian grapes like Barbera and Sangiovese flourish there as well as Rhône varietals like Syrah. Among our first wines from there were Montevina Winery's robust, dry-as-dust, spicy Zinfandels, late-harvest, and nouveau-style ones too, from the late 1970s. We also had Sutter Home Zinfandels from Amador, including a white one back in the 1970s.
Amador County has been the site of winemaking since 1849, when the first winemakers sold their wines to Gold Rush adventurers. The soil is perfect, iron rich from granite, with clay loam, which provide vines with abundant nutrients and good drainage. In dry conditions, which California knows a thing or two about, the vines' roots have to extend deep for what they need, which results in grapes of concentrated, complex flavors. The hot, sunny hillsides help with ripening while the cool evenings help the grapes retain their acidity. Napa has a similarly wide temperature disparity over the course of a day. However, Amador's land prices are a pittance compared to that longer-established wine destination, which Friedlander said wasn't lost on him. Some of the state's oldest vines are in Amador, including the oldest documented Zinfandel vineyard, the celebrated Grandpere, planted in 1869, and still productive.
Intrigued by Mc McKenna's note, we ordered a half case from the winery. After one sip of the first wine, the Barbera, John and I looked at each other, eyes widening. It had hints of cherries and tobacco, but here's the thing: it had amazing structure and crispness. My notes say, "Structure like a Bordeaux. Elegant, and that's not a word we usually use describing Barbera." We usually think of Barbera as lusty and rustic, almost gulpable in its exuberance. This was classy.
We saved the Grandpere for last. By this time, I was emailing with Friedlander and McKenna because they were coming to New York to try to find distributors and restaurants to carry their wines. They felt good about their mission in New York, they told me when we met just before they left town. However, currently their wines are available only at the winery and in California, Hawaii, Idaho and Tennessee.
Our notes on the Grandpere, which take up close to an entire page say, "Such a deft hand. You can smell the structure, as odd as that sounds. Tastes like old, concentrated fruit, like little berries. We are enjoying the grape." John said, "I feel like I could drink tiny sips of it all night, as much as I wanted. It's wine like this that reminds me why we fell in love with wine."
I asked McKenna how he achieved such structure in the Barbera and the Grandpere. He said that he left them at a higher acidity than some winemakers because he wanted them to go well with food—cards with recipes come with each wine—and because he wanted his wines to have long lives.
The half case revealed a tension that we find in wine-drinking, a good tension. John put it well: "Wine should be a daily pleasure, but at the same time, it should be more affirmative than water. It should be an everyday beverage, but occasionally, there should be something like this," he said clinking his glass of Grandpere with mine. "This is a fabulous wine."
Dorothy J. Gaiter conceived and wrote The Wall Street Journal's wine column, "Tastings," from 1998 to 2010 with her husband, John Brecher. She has been tasting and studying wine since 1973. She has had a distinguished career in journalism as a reporter, editor, columnist, and editorial writer at The Miami Herald and The New York Times, as well as at The Journal.
Order wines directly from Andis at their website.