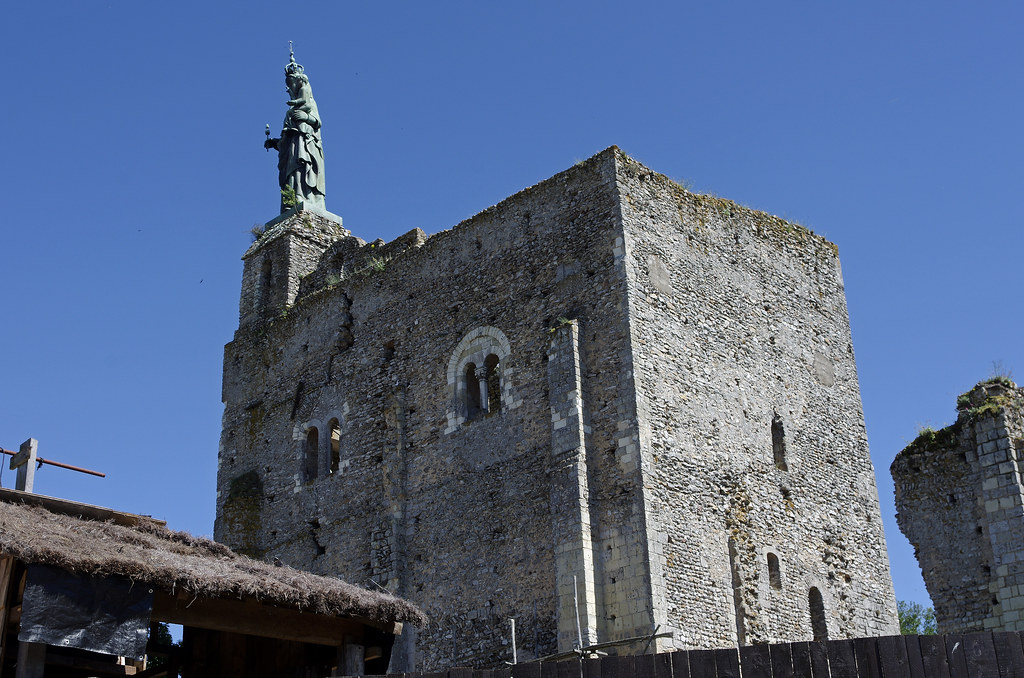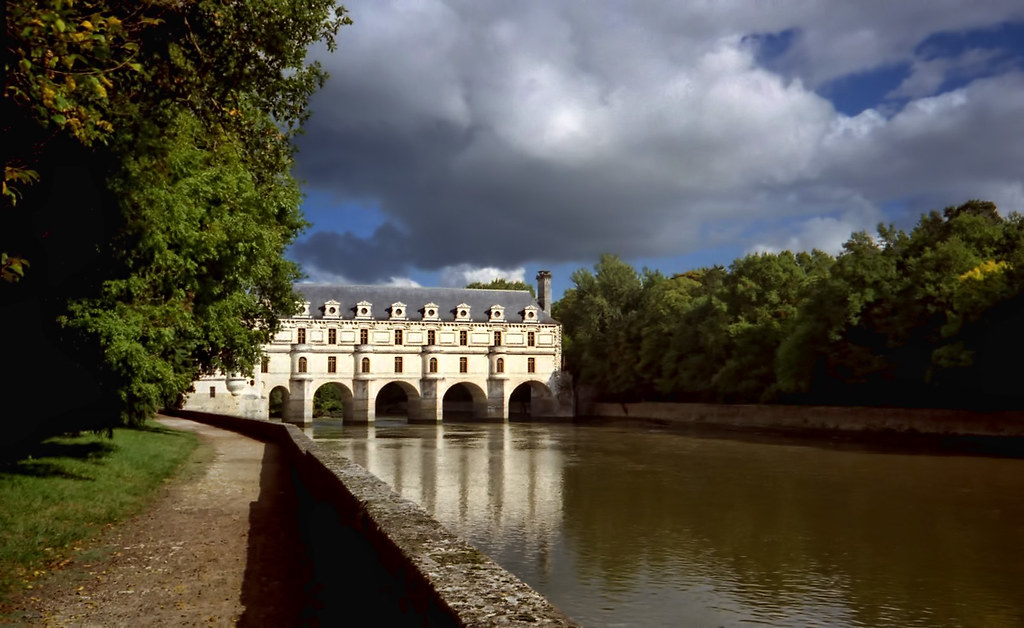 In the Centre-Loire, Sauvignon Blanc reigns supreme. Quincy is a small but mighty expression of this grape. I've always found it interesting that the etymological root of Sauvignon is the French word sauvage. The wines that Sauvignon Blanc yield are anything but savage; neither are the pastoral scenes found in this region, the farthest inland reach of the Loire Valley. In between wine appellations, there are vast stretches of land dedicated to cereal crops, apple orchards, and other produce. Among the agricultural land are medieval keeps and fortresses; Montbazon is a few kilometers to the west of the Centre-Loire and hosts possibly the oldest intact French castle. Ancient architecture may inspire feelings of awe and wonder-- but certainly not savagery. What's more indicative of civilization than medieval relics and food crops to feed a bustling nation? Nonetheless our savage friend, Sauvignon, not only survives but thrives here; and there's more than just Sancerre.
("If I could turn back time..." Chautea De Chenonceau straddles the Cher River")

When I first poured Domaine De Villalin's 2019 Quincy and took a whiff, I did a double take and checked to make sure I grabbed the right bottle. Two small appellations, Quincy and Reuilly, kiss the Cher River, a tributary of the Loire. They are small appellations often viewed as SancerreLite™ (or at least that's how I described them to people before actually tasting a Quincy Sauvignon Blanc myself). In The Wine Bible Karen Macneil dedicates a sole paragraph to the wines of Quincy and Reuilly at the end of two pages waxing complimentary on Sancerre and Pouilly-Fumé; granted they produce a lot less wine and export an even smaller percentage. Regardless, I expected Quincy to be akin to a younger cousin at the family reunion, telling your family he's happy that he decided to stay in his hometown serving tables, while his older cousin Sancerre moved to the city and became an investment banker. Not the case.
My first delightful sip of Quincy was so surprising because I was expecting gooseberry, a little pine or mint on the nose, some flint and minerality (you know classic Sancerre notes) maybe just pared back. What I received was unripe peach, candied lemon peel, papaya, and a little spice halfway between a fresh herb and warm Caribbean allspice. It reminded me more of a Pinot Gris I had in New Zealand, than a classic Sauvignon Blanc expression. This was not SancerreLite™ at all, this was Quincy.
Two distinctions make Quincy a unique appellation: the age of its AOC status and the use of a co-operation cellar by many of its winemakers. Quincy was the first appellation in the Loire and second appellation in France to be granted AOC status, second only to Chataneuf-Du-Pape. Quincy was renowned and prolific when it gained its Appellation Contrôlée status in 1936, but after World War II many winemakers turned to churning out cereal crops. Through the years neighboring Sancerre and Pouilly-Fume gained larger recognition. Winemakers in Quincy and Reuilly continued making wine and in 1992 the co-operation cellar La Cave Romane was created.
(Get your magnifying glass to see if you can find diminutive Quincy in the lower-right corner of the map of the Loire Valley)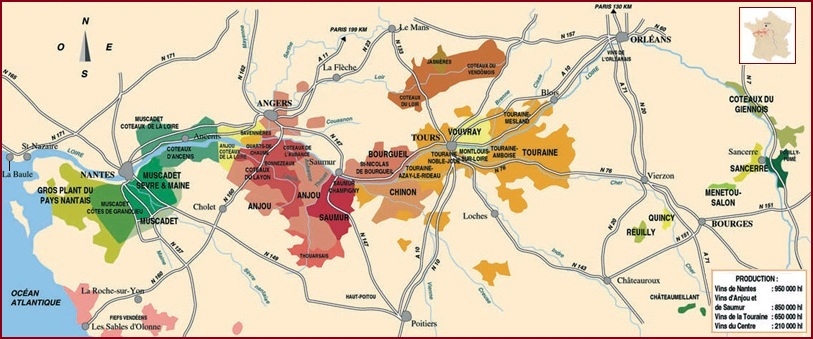 European countries are familiar with wine co-ops; Italy and France produce about half of their wine through co-ops. Regions like Languedoc, known for producing large quantities of wine, often operate through these cooperatives to produce bulk wine: growers band together to combine grapes from their vineyards, and use a shared cellar and equipment often making table wine and Vin de Pays, where individual appellation often cannot be listed due to a wider grape source.
The co-operation cellar works differently at Cave Romane De Brinay. Cave Romane represents growers in three appellations: Quincy, which only grows white Sauvignon Blanc; Reuilly, which does Sauvignon Blanc, Pinot Noir as a red and both Pinots Noir and Gris as rosé; and finally Chateaumeillant, growing Gamay, Pinot Noir, and Pinot Gris making reds and rosé. These growers pool resources in order to share the use of the cellars and equipment, but the grapes remain proprietary to individual Domaines. Another distinction--Quincy has very sandy soils. Sand makes the fruit ripen much quicker, resulting in a more fruit-forward wine than Sancerre and Pouilly-Fumé, which are influenced by limestone soil, giving them their indicative minerality.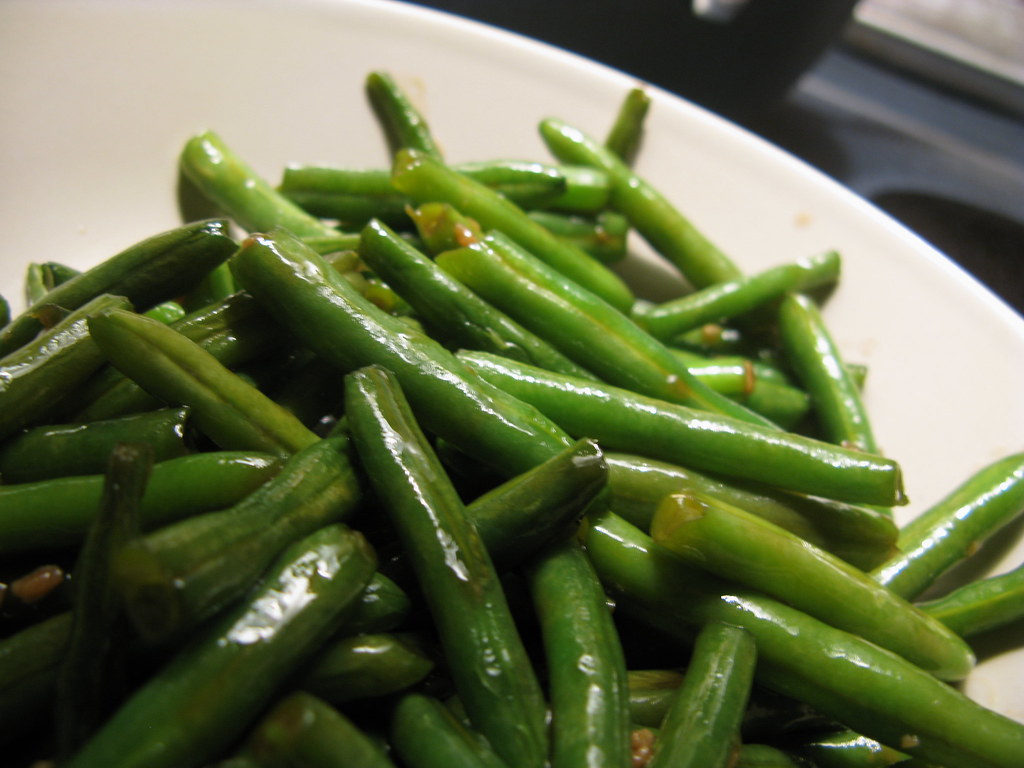 (The Loire hosts a variety of crops and produce. Green beans and the sometimes pesky-to-pair asparagus are great matches for Loire Valley whites)
Loire Valley Wine recommends seafood and grilled fish as a food pairing for Quincy, maybe even a goat cheese omelette or mushrooms. Check out their interactive map of the Loire appellations if you love an infographic as much as I do. I settled down on a weekday to improvise in the kitchen with what I had in the pantry and fridge after opening up Domaine De Villalin. I had some haricots verts (okay, they were regular thick green beans, but when I drink French wine I can't help but live my Francophile dreams). I put a fresh loaf in the oven with a dough I had been slow-rising for a few days, and ran to the store to get some cheese. Chévre certainly danced with Quincy like it does with Sancerre, although admittedly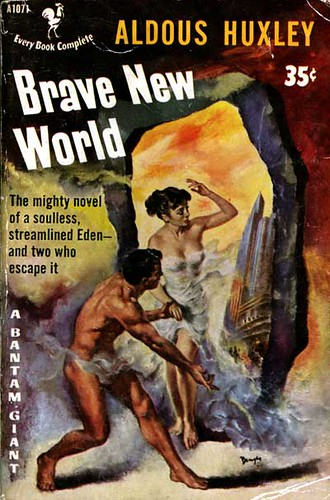 more minerality could cut through the creamy texture and match the saltiness of the goat cheese. Shallot, garlic in browned butter with crunchy toasted almonds to coat the veggies, topped with two plump poached eggs. Haricot verts played beautifully with the grassy herbaceous notes, and the almonds accomplished what I hoped for and accentuated the fullness of the fruit flavors. A warm poached egg yolk coated my mouth and an acidic sip refreshed it. This meal made realize how accessible yet interesting this wine truly is. Quincy is not a pretentious wine, its a wine for people who love to drink wine.
(Paperback cover art of Aldous Huxley's Brave New World depicting John the "savage")
The word "savage" will always harken to Aldous Huxley's Brave New World. In the novel, John is seen as uncivilized because he still believes in love, courtship, and intimacy; he weeps for his mother when she dies, to the horror of "civilized" people who have learned to eschew the unnecessary process of grief. We learn very early in the narrative that tongue-in-cheek adage: that civilization, industrialization, and modernization are really making us the savage ones. Could we embrace Aldous Huxley's version of savagery with Sauvignon Blanc, by sharing a bottle of Quincy with loved ones? Stare into your sister's eyes a little too long, enough to make you both laugh and snort some wine out of your nose; hug your roommate and offer him some wine even though he left his dishes in the sink again last night; enjoy the last few warm days of autumn with a seafood dinner and a beautiful bottle of Quincy with your mom and remind her just how much she means to you.