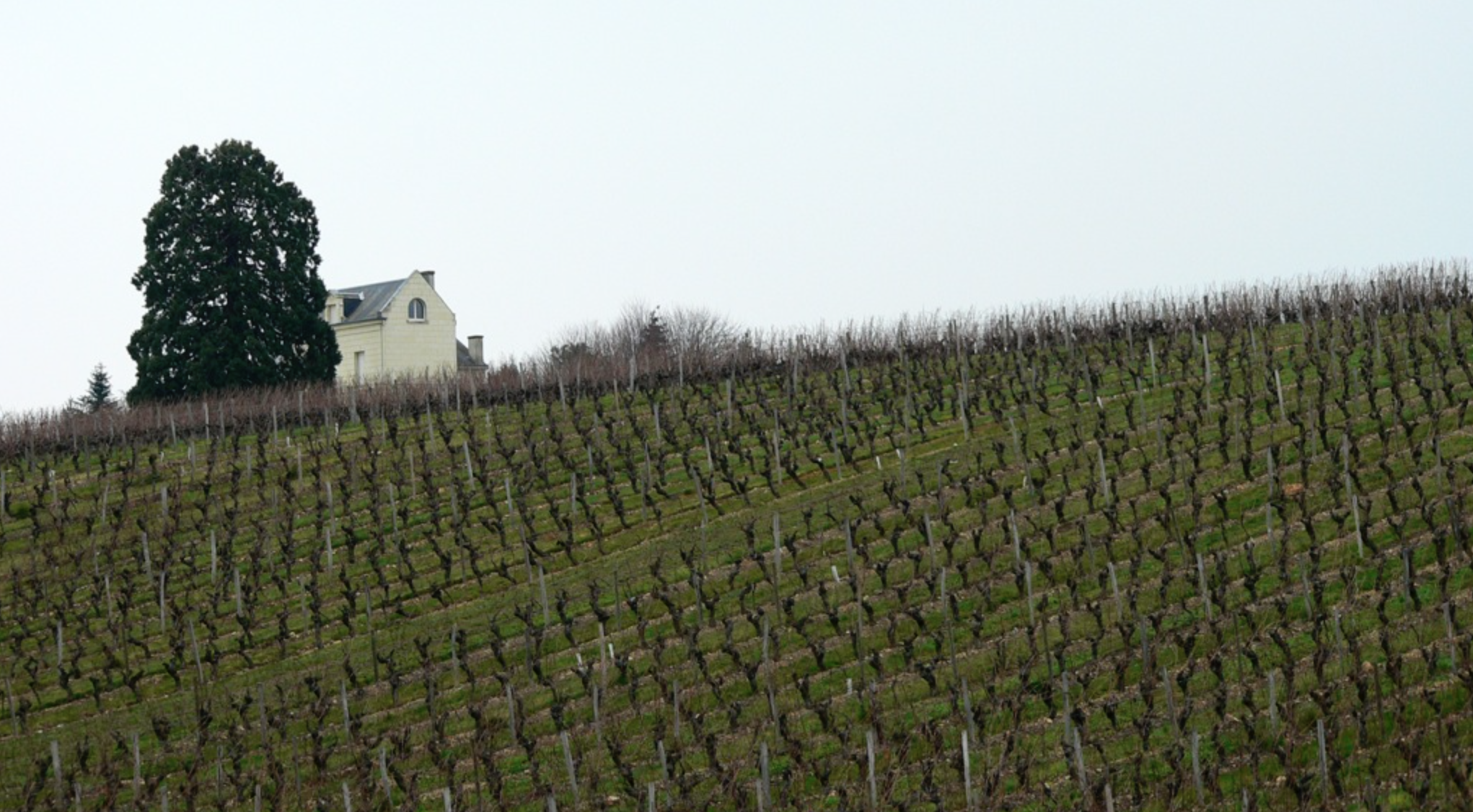 Chinon and Bourgueil, some of the finest and most age-worthy red wines, have been produced in Touraine, Loire Valley for centuries. Chinon AOC, Bourgueil AOC, and Saint-Nicolas-de-Bourgueil AOC set the standard for classic Loire Cabernet Franc.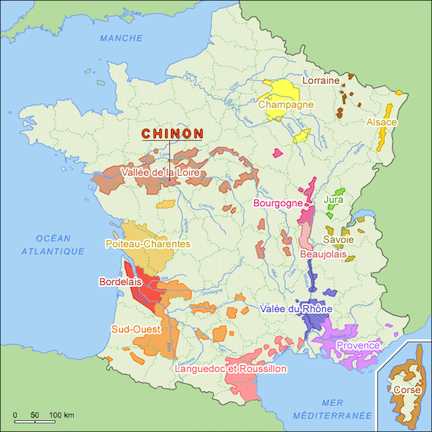 The town of Chinon is located on the banks of the river Vienne in Indre-et-Loire, where three soil types predominate: tuffeau, clay and Varennes. These soils and terroirs are important factors for contributing depth and age-worthiness to the appellation's wines. While Chinon typically produces the softest and richest expression of Cabernet Franc, wine from Bourgueil is generally more tannic and austere in style, and wine produced in Saint-Nicolas-de-Bourgueil tends to be very light in color.
Cabernet Franc, locally known as Breton in Loire, is a thinner-skinned grape, and although it can be vinified alone, it is commonly blended with Cabernet Sauvignon and Merlot. The color of Cabernet Franc often shows dark ruby red, with more pronounced violet and lilac floral on the nose; red and black fruits such as raspberry, cranberry, red cherry, blackberry and blackcurrant on the palate, along with noticeable minerality and earthiness. It is often characterized by a green leafy, vegetal strike that can range from sage, green bell pepper, and grass. It has slightly less tannins than Cabernet Sauvignon and often has a smoother mouthfeel but with racy acidity.
Cabernet Franc is so friendly that it complements a variety of foods such as beef, pork, poultry, and even seafood and vegetables. Often, people think Cabernet Franc should be paired with red meat, especially beef or lamb, and of course, that would work perfectly. However, a more daring and unconventional pairing might be an impressive and surprising change for you and your guests. This easy preparation of Roasted Salmon and Beets with Herb Vinaigrette, from Australian chef Curtis Stone, is a wonderful example of how a red wine can pair marvelously with seafood. Not only will the herbal and vegetable notes in Chinon complement the herb-rubbed roasted salmon, but the earthiness will enhance the flavors of the roased beets. The body, minerality and acidity of Chinon will highlight the texture and richness of the salmon, while the floral notes enhance the herbal qualities of the dish. Try this recipe with a glass of Chinon, you will find pairing seafood with red wine can be a delightful experience!
Roasted Salmon and Beets with Herb Vinaigrette
by Curtis Stone
Ingredients:
4 medium beets, preferably golden (1 pound), scrubbed and every thinly sliced lengthwise
6 tablespoons extra-virgin olive oil
Kosher salt and freshly ground black pepper
1 1 ½ pound skinless salmon fillet (from the head end)
1 tablespoon finely chopped fresh chives
1 tablespoon finely chopped fresh flat-leaf parsley
1 tablespoon finely chopped fresh tarragon
3 tablespoon finely chopped shallots
1 tablespoon grated lemon zest
¼ cup fresh lemon juice
4 cups mixed baby greens
Directions:
For directions check out Dr. Oz's site.

Wine Suggestions:
2012 Bernard Baudy Chinon Les Granges, Loire, France
2002 Olga Raffault Chinon Les Picasses
2010 Clos Rougeard, Saumur-Champigny Rouge