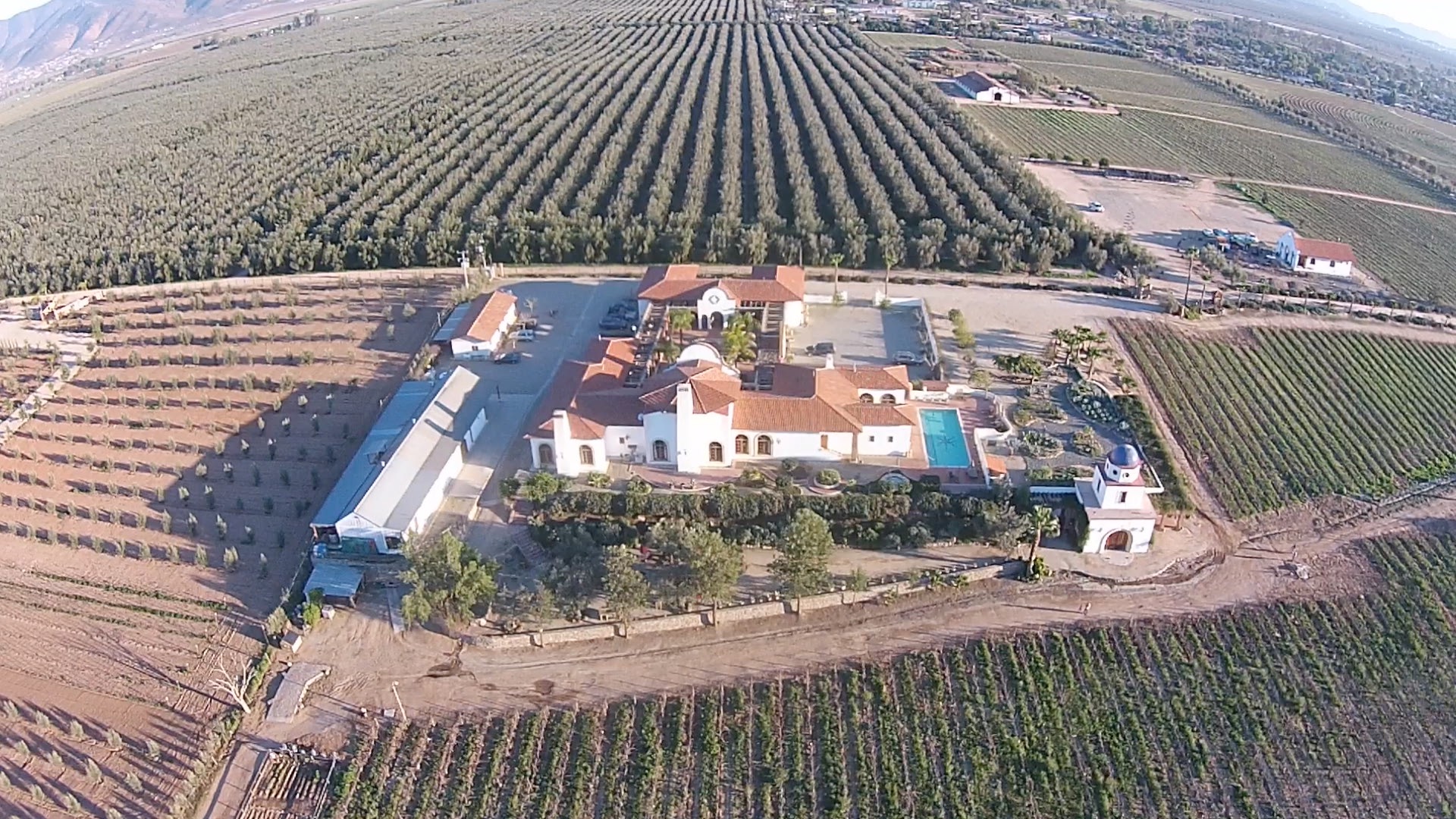 Tru Miller, a Dutch native, and her California-based banker husband Donald, were looking to buy a wine estate and the untimely death of Tru's son Arlo pointed her in the direction of Mexico and the Valle de Guadalupe.
Adobe Guadalupe has 60 acres of vineyards where they grow Cabernet Sauvignon, Merlot, Nebbiolo, Tempranillo, Malbec, Grenache, Cinsault, Mourvedre, Syrah and Viognier grapes. They started their vineyards in 1998 and had their first harvest in 2000. In addition to being a winery, Adobe Guadalupe is a luxury hotel and breeds horses. We talked to Tru Miller and head winemaker Daniel Lonnberg about the development of the Valle de Guadalupe.
Chistopher Barnes: Tru tell us a little bit about your background.
Tru Miller: I am originally from the Netherlands. And you would think, what is this woman from the Netherlands doing in Baja California de Mexico? I absolutely love it here, love working with grapes, love working with horses and love working with very interesting people. Today we are with some of these very interesting people and if you would like, I'll introduce you to them.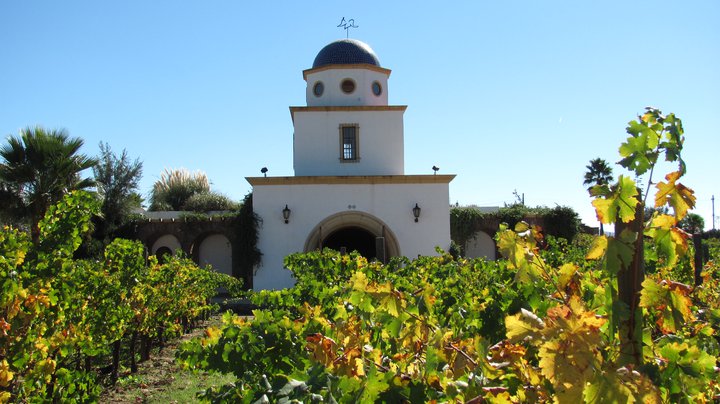 Tru, tell us when did you first move to Baja?
Tru Miller: I moved to Baja about 17 years ago. I used to live in Southern California. I still have a house there just in case this doesn't work out. But now I don't think I have to worry about if it will work out, because it is working out. So, I hope to die here eventually. This is the place where I really like to be. I became Mexican. I'm a Mexican citizen and I'm very proud to have that citizenship.
What is special about Baja?
Tru Miller: Baja is mostly special of course because of the people, number one. Number two, which is probably just as important or almost as important, is the climate. It's like a super climate. It's the climate that is very, very, good for our grapes. We're thinking of the hot days to cold nights and the breeze that comes in every morning and every afternoon. Like in many places in the world where we have this, this particular area, this valley, I think it's just wonderful.
It's still in the beginning and just starting here, and all of a sudden it has become a boom. Now we have over 100 wineries and I think when I came here we had about six or seven.
Daniel, tell us how you made the move from Chile to Mexico.
Daniel Lonnberg: I lived in Mexico for 10 years and worked in Adobe for five years. Baja for me is a very good decision - to move from Chile to Mexico. Too many people ask why because beer or tequila is from Mexico, but for me it's a very good experience. Obviously in Adobe, it's a winery, a very good winery, important in Mexico. I think it's the best winery in Mexico. The characteristic of the wine from Adobe is refreshing, very good, all blended. Our wine is all blended and the quality versus price is very good.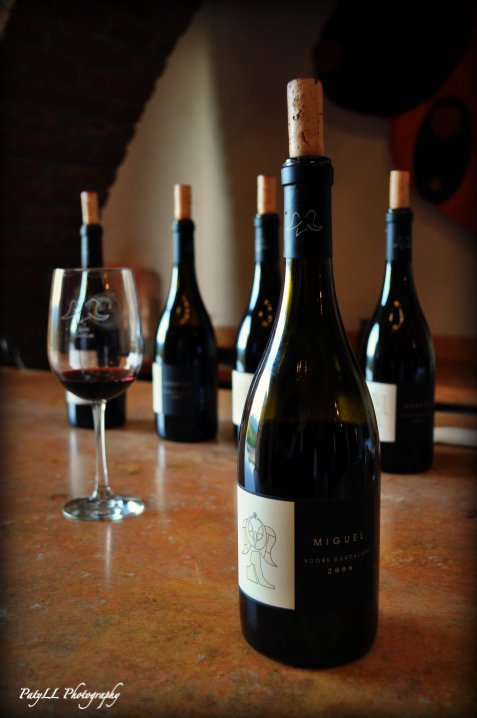 What kind of grapes grow well in the Valle de Guadalupe?
Daniel Lonnberg: Valle is a mini-laboratory because so many grapes are growing in Baja, but especially here our vineyards have so many grapes. For example, Cabernet, Tempranillo, Malbec, Syrah, Grenache, Nebbiolo are very important grapes growing in Baja because ot their potential and the tannin is very, very good. There is a little portion of Merlot but other grapes are being grown right now for example, some white grapes, Cabernet Sauvignon, and there are other grapes.
There was this piece in the Journal that complained about the salinity of the wine. I don't know if you have an opinion on that, saying that the wines have a salty characteristic to them. Do you agree with that statement?
Daniel Lonnberg: I think it's the condition, the soil and the water that are problems because this year for example there isn't too much rain. I think the condition of the soil and the water obviously are factors but you need it to work in the winery. Obviously it's a characteristic of Mexican wine, but the Baja wines are different, for example, than wines from other parts of Mexico. The weather and the conditions have to be right, especially for growing the grapes, and I think the potential is very good. The conditions in this region are very similar to those in Napa, for example, for the climate, for the weather. For me it's a very special place for the work and the wines.
Tru Miller: I think we're very lucky to be working with Luis Garcia and with Daniel Lonnberg and also with Jose Fernandez who's our agronomer. They're very much aware of the situation and how the soil is made up. I think since we're so aware of what is happening in the soil, our agronomer is already starting to work with this. We get people from Davis and other people from other countries who give us ideas and our agronomer who's been with us for 17 years knows exactly what soil is about.
That is one good thing, they talk very much about this. There's a lot of communication between the agronomer and the winemaker. I think that helps a lot in how the end product comes about.
If you were to describe the terroir or the region Daniel how would you describe that?
Danniel Lonnberg: The terroir in Baja I think is minerality, obviously. I think the condition of the ground for the grapes is good, obviously the sun is very good. Maybe the uniqueness for me is a special condition, it's the rain for example. Every year the condition is changing, it's not the same. This is a very big problem when you work in the vineyards and work with the wines because it's not the same every year and every year it changes.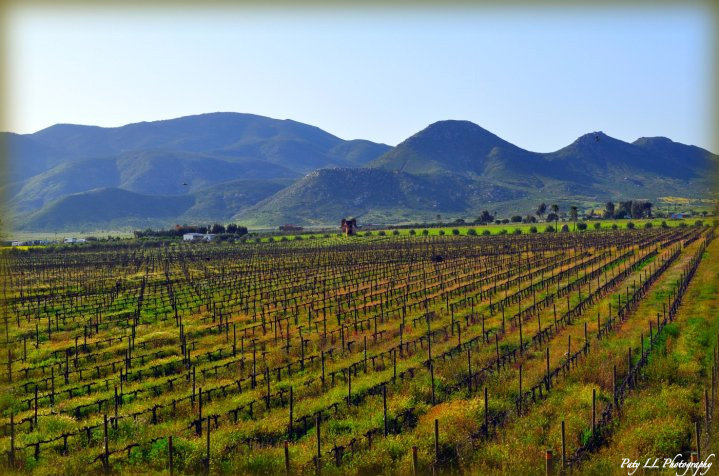 Tru Miller: You know it is very special and valuable for a person like Daniel Lonnberg who has a name in Chile to come here and want to work here and to work with really the best agronomer in our country; to decide to be in this valley because yes there are challenges and the challenges are the minerals and the lack of enough rain water. I think you see it as a challenge as well. They really enjoy this micro-climate and they really enjoy the hot days and the cold nights and they really enjoy when it rains - you know it's fabulous.
Like right now we're desperate for rain and it looks like next week it's going to rain and everybody is talking about this. This morning I was in town and everybody says it's going to rain. I think it's almost a challenge that they like to work with to come up with these wines that are special and different and they see these bad omens almost as something for them to overcome. I'm really so proud of our team for wanting to do this - that they don't say oh we'll just go here and there, you know Australia, South Africa. Oh these are fabulous places and it would be easier maybe to make the wine. No, these people are really challenged and I think they really want to do the job here.
Talk about what inspired you to grow grapes here. Like when you found this place you decided to get into the wine business as work.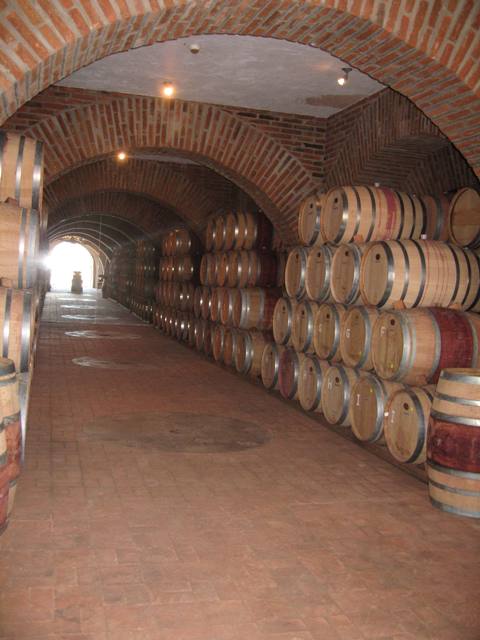 Tru Miller: Yes, really it wasn't so much me because I really love horses. It was when my husband who was a banker wanted to retire, as he was really the one who was a wine nut. Actually, we were looking in Napa, Sonoma. We were looking in South Africa, we were looking in Australia. Then something very, very horrible happened to us because one of our children who wanted to actually work with us in the vineyard died in a car accident. For two years we didn't really think very much about this anymore.
I'm not a very religious person but it was almost like a spiritual experience to hear about this valley and so we came here and we decided to buy the land. Also at that time the land was much less expensive than in Napa or Sonoma. Now it's just been booming and the prices are high. Then we thought oh we had the land and then some really interesting things happened to us which is really not that unusual but I thought it was. We talked to the people here, we asked who is the best winemaker in Mexico.
Well they all said it was Hugo D'Acosta, who was very famous, but someone told my husband that he cannot work with him because he is the general manager of Santo Tomas and Santo Tomas is a huge winery. Well my husband said, maybe we'll just have lunch with him, and what university did he go to? Montpellier in France, very interesting, I'm sure he'll know somebody from Montpellier who'd like to work with us.
Then Hugo D'Acosta said to me, "Tru I will call you probably in 10 weeks or so and I might actually have somebody." Then he called actually in 10 days which was how I can remember the numbers. I said to Hugo D'Acosta, "You found somebody so quickly." He said "It would be my honor and my pride," you know how Mexican people and Spanish people speak, "to work with you." Well wow, how come? He said that just the day before he had left Santo Tomas. Now we're actually starting and so Donald asked him what else we needed and he says, "Well you need an agronomer."
Well of course the best one, etcetera, etcetera. That's how it worked and it worked because the best people did decide to come and work with us. Then to end up with Daniel Lonnberg from Chile who really has a great name and this very elegant hand that he has with the grapes is for us absolutely wonderful. My husband passed away and so now it's just the four of us going ahead.
Tru, you have a hotel here as well. What inspired you to do that? And how do you see the future in terms of development in the valley? How do you responsibly grow the area?
Tru Miller: I think we're okay, I really do. Thank God we decided to have the bed and breakfast because we would have been bankrupt if we didn't have it. At the time when we started it we were the first here to do so. There really were no hotels so when people actually wanted to come and visit the big wineries like L.A. Cetto, Santo Tomas, Monte Xanic, they didn't have a place to stay.
We started with six rooms and the basics. At that time people didn't want to go for dinner to Ensenada because it's 45 minutes away and there are usually dirt roads and all that. Then we had to actually open a kind of restaurant. It was all necessary, it wasn't like we had thought of this. Actually the six rooms we built for friends but the friends really came just once and that was it. Then my husband said to me, oh you know the prices of these barrels and the corks and the bottles are astronomical, we need to think of something else and I said we can rent these rooms out.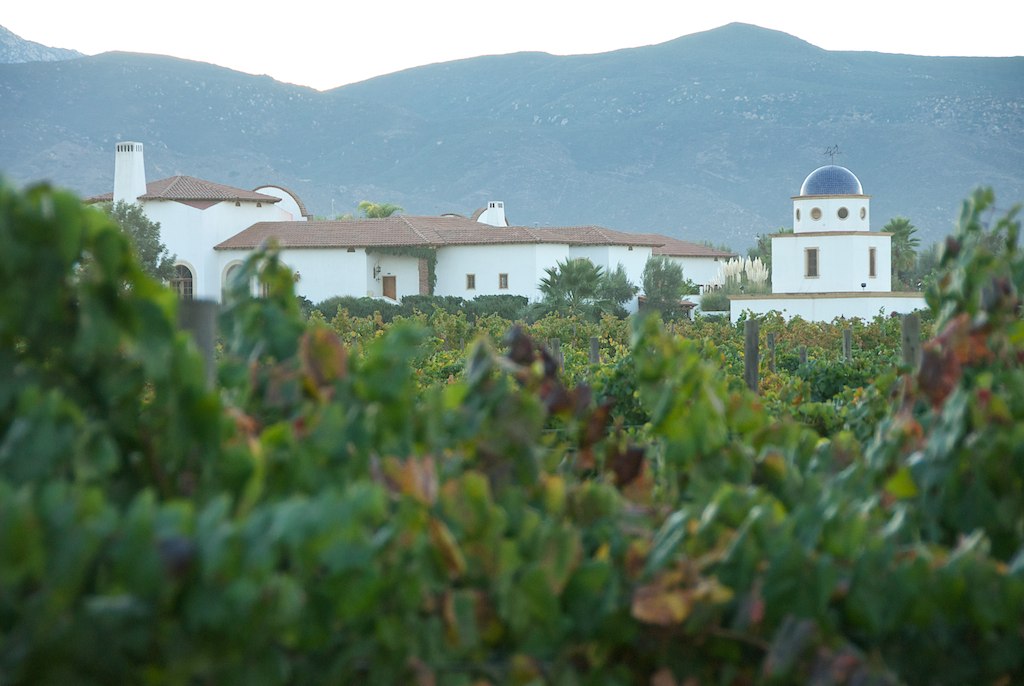 That's how we started and it was nice, it was fun because it wasn't like a business, and it was really you know we were retired and we were doing this never thinking that we would be one of the best wineries in Mexico. Never thinking that I would actually export wine to the United States, never thinking of any of that. That just came and now as we're thinking about how there's a boom here mostly because of the food, and we have all these famous chefs like Plascencia and Benito, Anthony Bourdain. I found this incredible chef from South Africa who went to school in Lausanne and I'm from Europe and I'm thinking oh wouldn't it be nice to have a European meal here. He's here in the summer, his name is Ryan Steyn and I'm sure he's a descendant from the Boers in South Africa which I don't find fascinating. We have a restaurant here, an outside restaurant with European food.
Then we have a food truck with Leda Gamboa who is a famous woman from Cancun. All the restaurants and the hotels in Cancun started with this all inclusive idea. Remember you get a plastic band on your wrist, It's a fabulous idea. I think we have seven children and they can just eat and have everything. But what happened was the people didn't leave the restaurants and the hotels anymore, they stayed because everything was right there.
My friend Leda packed up and said you know Tru I'd like to maybe do a food truck with you. Well the food truck to me is like something in Los Angeles or New York. I said I'd like to keep it a little bit more at the level that I'm used to. She said you'll see. We'll go to the table, ask what they want, and we're doing Tapas Espanola, so Spanish tapas and it is a success, it really is. She's a wonderful woman. She's doing this and so now with all the foodies going on and being all over the place, this place is packed every day.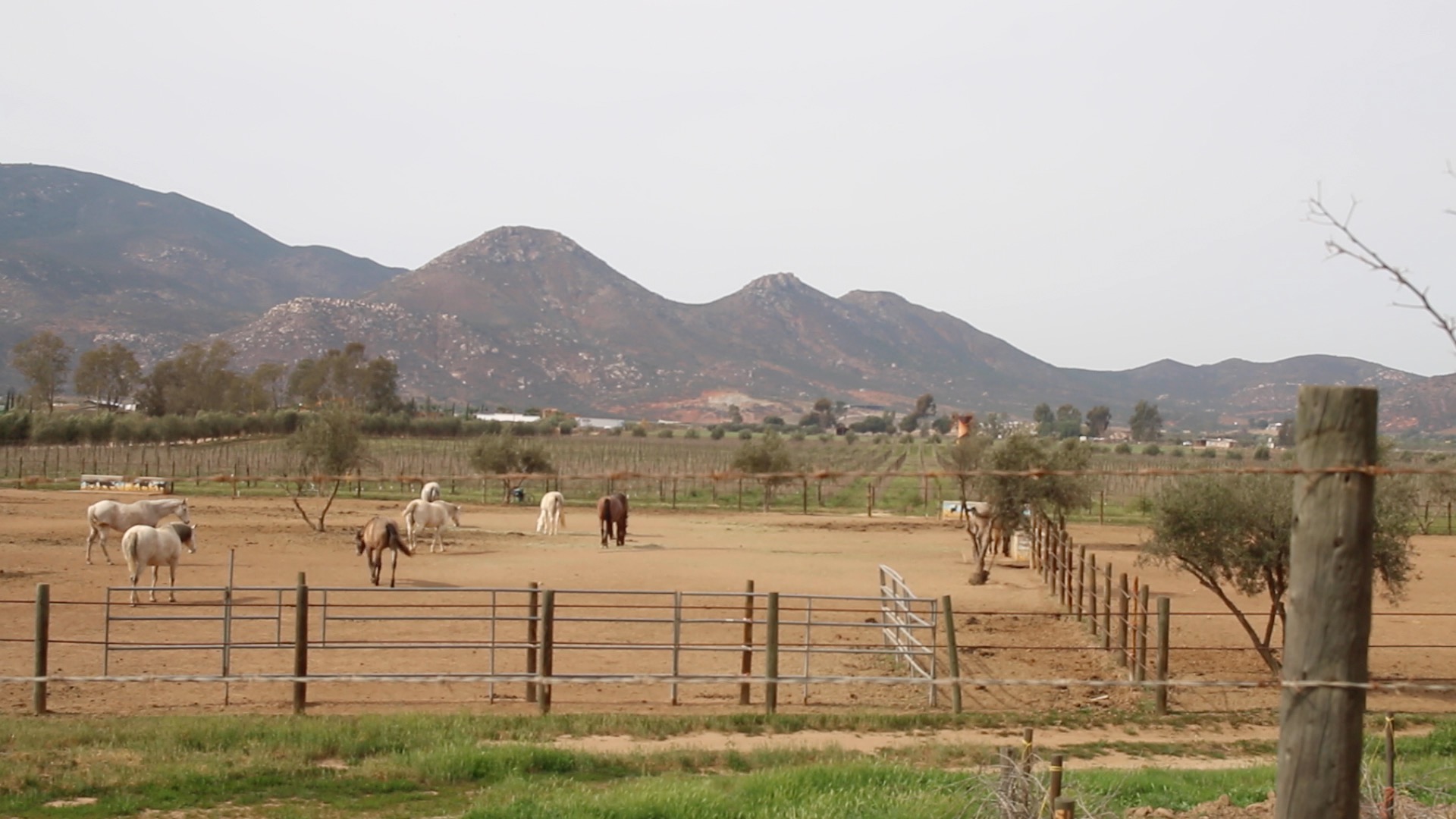 Tell us about the horses you have here.
We breed Azteca horses. Azteca horses are a little bit like our wines. We work with blends. We don't have 100% Nebbiolo or 100% Cabernet Sauvignon. We blend our wines and that's what we like and that's our flagship. The horses are a little bit similar. Our horses are Andalusian horses from the south of Spain. I always used to work with them but when I came here you see the rough mountains and what we have. These are not the kind of horses to really take into the mountains and have a good day because their ankles are this and that.
We breed them like Mustangs with horses from the United States. We have the resistance and the elegance of the Andalusian horses. This is a fantastic horse and now it has become the horse of Mexico, the official horse of Mexico. The pride and joy of Mexico are our Azteca horses and I'm so proud of them. I have to sell horses but I don't like to sell them because then they're in a plane and they're full of anesthesia and all that stuff so we work with semen and we sell the semen mostly to Europe.
Read our feature story on the Valle de Guadalupe and watch our video interviews with:
Drew Deckman of Deckman's en El Mogor
Pau Pijoan of Viñas Pijoan
Israel Zenteno of Monte Xanic
Alvaro Alvarez-Parilla of AlXimia
Paolo Paoloni of Villa Montefiori