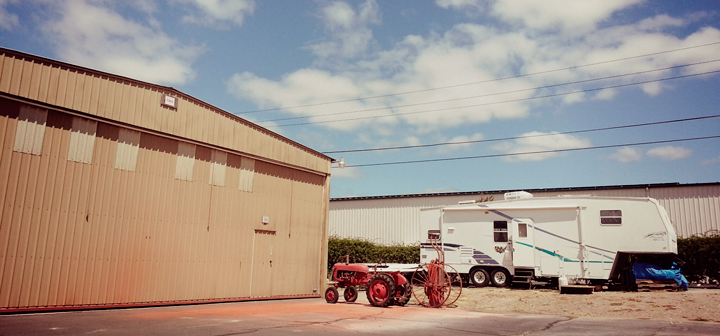 Editor's Note: Vardo in the Vineyard is a new series following Amy Tsaykel's life as she resides in an RV parked atop a vineyard in Sonoma County.
"A terroir only exists by virtue of one's childhood mythology . . . we have invented these words of tradition rooted deep in the land and identity of a region . . . because we want to solidify and objectify the magical, bygone years that preceded the horror of becoming an adult." ― Muriel Barbery, Gourmet Rhapsody
Let's be clear: my vardo does not sit squarely in any vineyard. Instead, it's parked at a small hobbyists' airport, where vintage airplanes take off and land all day. Stretching beyond the looming metal hangars are acres and acres of Pinot Gris and Cabernet Sauvignon. I walk these vines regularly at sunset. Sure, it's a technicality, but spinning a façade of utterly unspoiled landscapes would be just plain wrong. My airport/vineyard/winery mashup, with its passionate pilots, tinkering mechanics, and creative commotion, is a different sort of place. Somehow, it's been a fitting (if unlikely) home.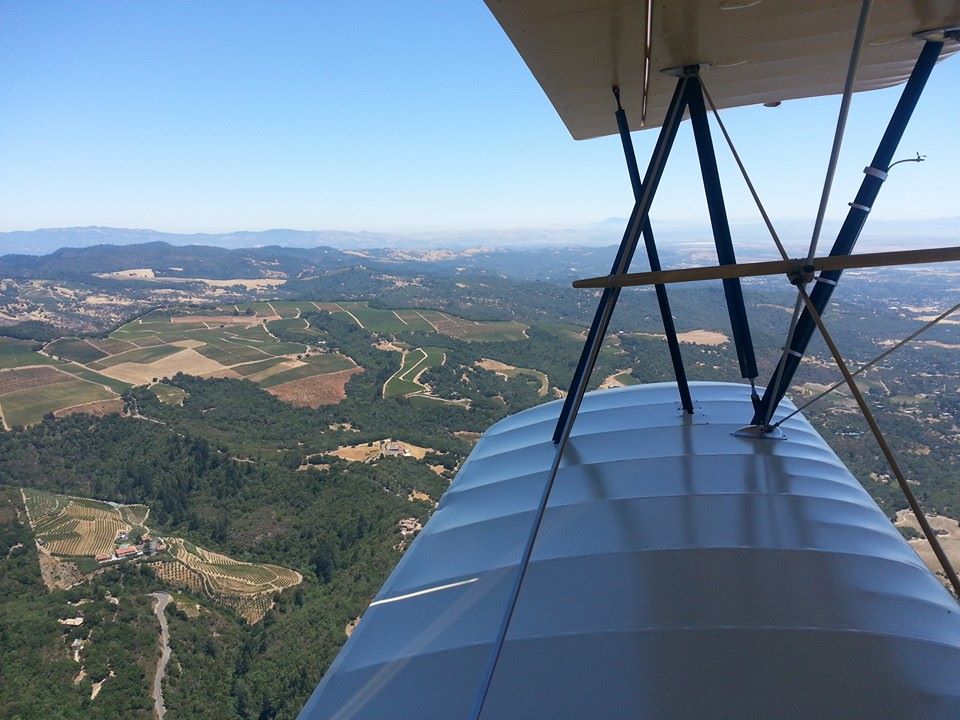 Left: Where my life has taken flight. (Amy Tsaykel)
Why so fitting? By offering low rent and opportunity for solitude, the place has given me unsurpassed freedom. Freedom is exactly what I've needed to thrive in recent years. As my man Pico Iyer writes: "Home... is not just the place where you happen to be born, it's the place where you become yourself."
Hmm... kinda like terroir. Yes?
Lord knows the topic of terroir can start a round of serious mudslinging among oenophiles. Yet we can all agree that the word terroir implies a sense of place, whether referencing physical or cultural elements. I believe both aspects are crucial, in wine and in life.
Discovering my own personal terroir has taken digging. It has revealed black soil, desert dust, and red clay on both U.S. coasts. It has exposed truth way stranger than fiction. More than anything, it has opened frontiers where I can try and fail, then try again — learning juicy lessons while wrapped in the abiding love of blood kin and "found" family.
If grapes are as complicated as people, then no wonder we analyze them so tirelessly.
My vardo's first parking spot actually was in an unspoiled vineyard — old vine Zinfandel, tamed by a hot young producer with whom you're likely familiar. Unfortunately the property was foreclosed, dashing the winemaker's plans and mine, too.
Oh, but the vineyard was so pretty!
Lesson #1: Appearances are superficial. Dig deeper.
My landlady turned out to be a drunken fraud who was the subject of a scathing federal investigation. It turned out she didn't even own the property she was renting to me. Meanwhile, my neighbor kept showing me his extensive gun collection, which was either a threat or some kind of primal flirtation.
Yes, we are still talking about Sonoma.
Lesson #2: Trust yourself above all others.
After the foreclosure, I peeled outta there with dust flying. Rattled and uncertain of where to go next, I asked an acquaintance if I could park at his airport. It's just for the holidays, I thought. I'll move it when I get back to town.
Right. That was almost two years ago. I am still living at the airport.
Lesson #3: Everything changes.
Don't you forget it.
I have previous experience with airport proximity. As a kid, I'd visit my grandparents in their house just a mile from the Atlanta airport. My grandfather, an engineer and ceaseless innovator, designed the house himself; my family raised its walls. Planes zoomed and boomed overhead, thrilling my cousins and me. I was twelve years old when the airport expanded and bought the entire neighborhood for parking lots. All of the houses were moved or destroyed.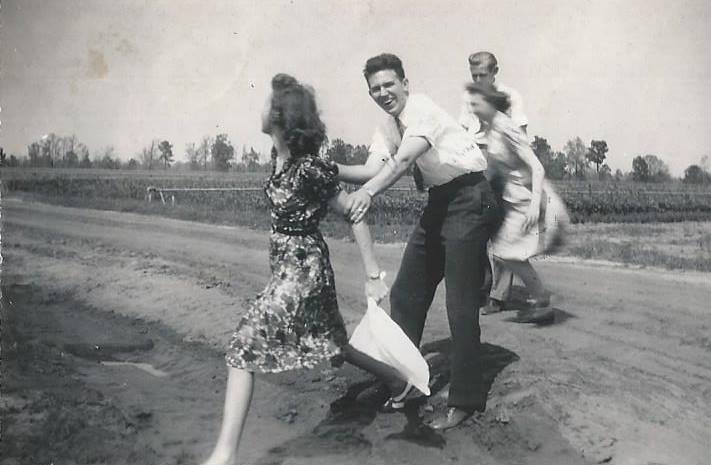 Everything changes.
When my grandfather designed a new house across town, it was decimated by a tornado several years later. We all learned something about resilience and nonattachment. We all counted our blessings. We all moved on.
Right: My grandfather Bill helps my grandmother Norma across a muddy ditch in Alabama, 1930-something. (Amy Tsaykel)
To this day, the now-massive Hartsfield-Jackson International Airport is a critical part of my family history. Multiple family members have been in its employ, and an uncle lives and teaches nearby. While most family has stayed rooted back East, some have taken wing and to make a home elsewhere. I was the first of my generation to leave the Southeast, fourteen years ago.
Last week, I returned to the old neighborhood to help bury my grandfather on a hill near the airport. Jets roared over the eulogy, offering (as the preacher said) "an intersection of our ordinary world and the heavenly one." We listened. My hapless niece scratched madly at her foot, having stepped on a hill of fire ants. My tough, military-trained cousin turned with damp eyes. My mother handed me a crude film canister filled with some my grandfather's ashes, to be spread over the Blue Ridge Mountains. The air smelled like fuel and barbecue and rain on hot asphalt.
With every visit back South, I imagine giving up the trailer for a sweet house in the South. In fact, a few years ago, on the brink of divorce, I briefly moved from California to Atlanta. My family embraced me. But within months, I knew that it was all wrong.
Roots and wings: this is my personal terroir.
Below: Most everybody except my grandfather, taken at his funeral. (Amy Tsaykel)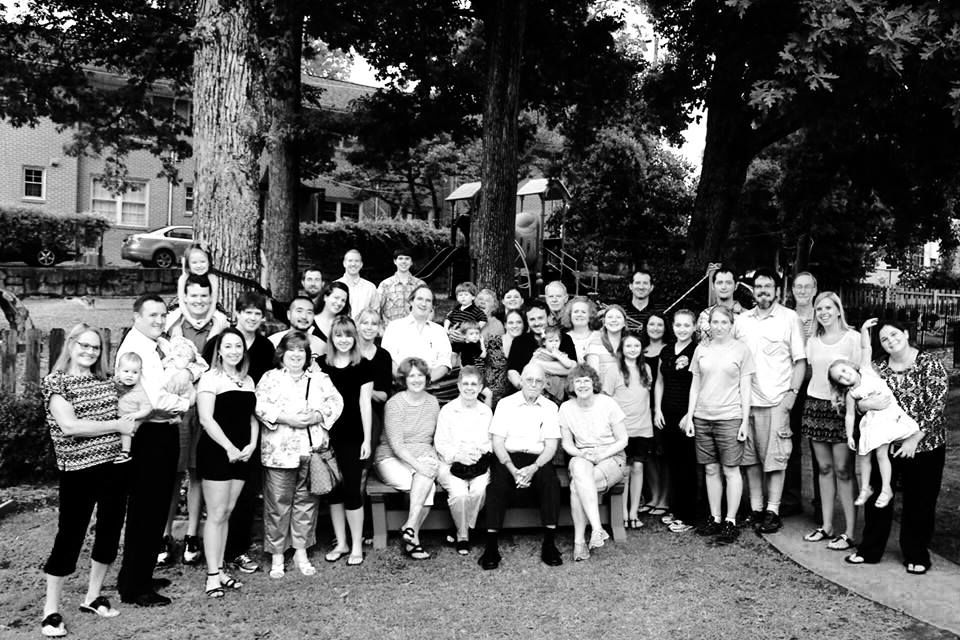 Now home in California, I am happy to return to the bustle of the airport. When I pull up, it's movie night in one of the hangars, and the pilots have ordered pizza. These adventurers identify with the concept of making home in transitional space.
Recently one pilot took me for a ride in his vintage, open-cockpit airplane. It's an experience that never fails to induce pure giddiness. Suspended above wine country: this is home. To live is to fly.
What comprises your personal terroir — makes you thrive in your own distinct way?
House Wine
Contemplating your own sense of place, you'll need a wine that knows exactly it's coming from. The rich history and renowned terroir of Scala Dei (Latin for "Ladder of God") suits the occasion. Founded by Carthusian monks in 1163, the winery was the first in the famed Priorat region. Scala Dei Prior Criança 2008 Priorat is a lovely blend that makes me wish I had an airplane of my very own to whisk me away to Spain.
To keep up with Amy, be sure to follow her on Twitter and Instagram.