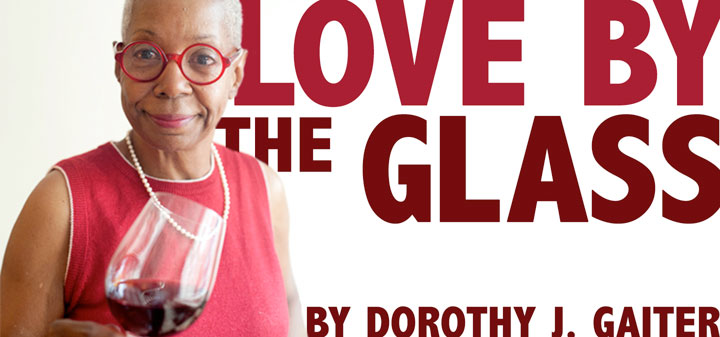 You've reached a certain milestone when one of your offspring invites you to her place for dinner. That happened to John and me recently, when our older daughter, Media, and her boyfriend, José, threw a dinner party with his mother, Carmen, preparing dishes from Cuba, where the family began. Joining us were José's older brother, Christian, their younger sister, Lauren, and her boyfriend, Deric. Zoë and Maria were in Madrid, Maria's hometown, where they ordered paella – we're talking the real deal here, in a real pan with handles, even—delivered! Now that's my kind of city.
For Media and José's dinner, we volunteered to bring the wine to go with the marvelous shrimp dish that Carmen, a linguistics professor and trained chef, was whipping up. We'd recently had a couple of impressive white Bordeaux, so when John looked at the website of Media and José's favorite wine store, Smith & Vine in Brooklyn, that's what he looked for to be delivered soon after we arrived. The 2014 Château Bellerives Dubois Blaye Côtes de Bordeaux looked good at $14 so he ordered several bottles. He had never heard of it and had no time to research it – which is why we got such an amazing surprise the next day. We also ordered Malbec, for those who preferred red.
When we arrived, José, a wizard at cocktails, greeted us with a pitcher of Oban single malt scotch, ginger ale and club soda, a warming and tasty welcome. Then he sat down to peeling shrimp so I washed my hands and joined him while Carmen, who had arrived earlier, worked on the tomato-based sauce with ancho chile peppers, pimientos, diced onions and other ingredients, including a fragrant, wide-leaf cilantro that she said is known as Cuban cilantro or Chinese cilantro. She also had a pot for jasmine rice and to her left were wedges of green plantains that she had just cut. It was amazing what this Johnson & Wales University culinary-program graduate was doing in their small but well-designed kitchen. (Other graduates, in addition to son Christian, include well-known chefs Emeril Lagasse, Michelle Bernstein, Tyler Florence and Chris Cosentino.)
While we sipped our cocktails, the white wine chilled in the refrigerator. Ordinarily, when wines are delivered, we look at them and record their details in notebooks. But we were having such a good time talking and helping in the kitchen that we didn't examine the labels beyond a quick glance to confirm the chateau and vintage. (We later couldn't remember when that had ever happened.) Carmen was teaching me how to make tostones, the twice-fried green plantains that John and I grew to love when we lived in Miami, but had never made. (She passed on a tip from her mother, José's abuela: To prevent your fingers from turning black from a chemical in the green banana peel, remove the peel under running cold water.) And John was talking to "the kids."
Côtes de Bordeaux Blaye is the appellation for Côtes de Bordeaux wines made in the Blaye district of Bordeaux, across the Gironde, on the Right Bank, from the Medoc. The Côtes de Bordeaux appellation was approved in 2009 to organize several côtes under one umbrella for better marketing, among other reasons. In addition to the Blaye geographical denomination, which contains a wide diversity of soils that produce white and red wines, there's Cadillac, Castillon and Francs. Remember that many of the best values are wines that are somewhat unusual. In this case, we don't think most people think white when they think Bordeaux, and we'd be surprised if Blaye was in the forefront of many wine shoppers' minds.
The wine we had was made by the ninth generation of the Dubois family of Château Les Bertrands in the northern part of the Reignac de Blaye. Their considerable landholdings contain gravel and clay soils, on slopes and flat lands with beneficial, sunny exposures.
With our cocktails enjoyed, John opened the first bottle of white wine, which Carmen used in her sauce instead of the cooking wine she'd brought. That first sip brought smiles all around, and so it went. White Bordeaux are traditionally made from Sauvignon Blanc and Sémillon, sometimes with a little Muscadelle. Sauvignon Gris is also allowed. Colombard and Ugni Blanc are also permitted in Côtes de Bordeaux Blaye whites.
Shai Ghermezian, an executive with Allied Importers, USA, Ltd., in Long Island City, N.Y., the wine's sole importer, wrote in an email that it was 100 percent Sauvignon Blanc, all stainless steel, with extended time on lees. Still, we thought we detected a little Sémillon that gave it some added complexity. In any case, it was off-the-charts gulpable, with mouth-watering floral aromas, zippy acidity and hints of grapefruit, tangerine and lychee. It was fabulous with Carmen's menu. Our get-together was a huge success.
On the subway ride back to Manhattan, John and I talked about how well everything had gone. The white wine had sung with the heady, perfectly executed, spicy shrimp dish. But we hadn't really looked at any of the bottles he'd poured. Once home, he messaged Media, who had been a perfect hostess, to take a picture of the front and back labels and to send them to us.
I interviewed John on the thinking that led to the wine's selection. As I wrote last year, the winemakers in Bordeaux are trying hard to change the perception in America that their wines and region are passé, inaccessible and difficult. Well, recently, the Vins de Bordeaux folks passed the task to Stephanie Teuwen's firm, which sent a case of reds and whites under $40 that were made by a group they called a "new generation of 30-something, movers and shakers." The case contained three dry whites, which as a group were more enjoyable than the reds, and reminded us of how much we liked white Bordeaux.
Of the three whites, two rang our bells: One was 2014 Château Recougne made by Marc Milhade, 35, who is in charge of his family's six châteaux. This $12 unoaked wine, 80 percent Sauvignon Blanc and 20 percent Sémillon and imported by Monsieur Touton Selection, was a stunner. "Rich, lychee, fleshy, white peaches. A wine that you'd think would come from age, a reduction to the essence of it," we wrote in our notes. "But it's not old. It's just rich. Great acidity. Gravel. A significant wine."
Our other favorite white in the case, 2014 Château Sainte-Marie, Vieilles Vignes, Entre-Deux-Mers, was $15 and made by Stéphane Dupuch, president of the Entre-Deux-Mers Syndicat Viticole, an organization that promotes the appellation. This wine, made from organically and biodynamically grown grapes, was 70 percent Sauvignon Blanc, 25 percent Sémillon, and 5 percent Muscadelle and is imported by Polaner Selections. "Crisp yet with an underlying lusciousness that's quite surprising. Great acidity, white fleshy fruit, lemon. Pebbles," we wrote in our notes. "A great wine-by-the-glass. Fresh and so much better made than many modern Chardonnays."
So with those extremely pleasant experiences in mind, John said, "I thought white Bordeaux would be a good idea for the dinner. I certainly didn't want to get a Chardonnay because it's really difficult to get a tasty Chardonnay under $20, and especially one that's good with food. If I could get white Bordeaux for the same price as a New Zealand Sauvignon Blanc, it would be something different and what we had had been delicious."
Smith & Vine's website had about 18 French whites under $20, he said. "I didn't know anything about the one I chose, but it was young and fresh and a real Bordeaux so I thought I couldn't miss. I didn't have to look it up and that was it."
Now, back in Manhattan, he looked it up and could only find it on Kosher sites. Hmmm, that's interesting, we thought. So we looked closely at the pictures of the labels Media had sent. And there it was: That amazing wine was certified Kosher for Passover and all year long. Ghermezian, of Allied Importers, wrote that Château Bellerives makes a small amount of Kosher wine and that Allied imported 700 cases of this one. We've said for years that Kosher wines deserve a place alongside fine wines of every kind. It was wonderful to have that point proved so deliciously.
I'm going to give John the final word. Hey, it's the least a wife can do from time to time: "You're always going to be most excited about a wine you discover on your own. It's rarely going to be something that you got simply because it got a high score. You'll know a wine is pleasing to your guests if they drink it. You can tell them all you want about it, you can pump it up all you want, but do people drink it? At Media and José's dinner party, we drank every single bottle!"
Please join us on Open That Bottle Night, Feb. 27, at A Café, 973 Columbus Avenue, in Manhattan. Tell Al, the manager, at 212-222-2033 that you're reserving for OTBN or email him at [email protected]. See you there!
Dorothy J. Gaiter conceived and wrote The Wall Street Journal's wine column, "Tastings," from 1998 to 2010 with her husband, John Brecher. She has been tasting and studying wine since 1973. She has had a distinguished career in journalism as a reporter, editor, columnist and editorial writer at The Miami Herald and The New York Times as well as at The Journal.