One's education can never be complete. Of course, it does end with the ceasing of your heartbeat, unless, that is, you believe in reincarnation. But no intelligent person should ever think they know all they need to know about anything.
Wine, goodness knows, is one of those things that the more you know about it, the more you appreciate that there's so much more to learn. That's one of the things that keeps it interesting, a lifelong passion. For starters, there's a new vintage every year and all of the previous uncorked vintages are still changing in the bottles. It's humbling.
Take Bordeaux, the most storied wine region in the world. The Bordelais have been making wine in that region of southwestern France since the 8th century. Napoleon had them classified in 1855; Thomas Jefferson was a big fan. Lately, though, the wines have been called boring, difficult to grasp with all those appellations. Some top-tier chateau owners have been called greedy. There have been scandals involving fakes and some recent poor vintages.
One thing the 9,000-plus winemakers and 13,000 growers in Bordeaux most likely can agree on is that they need to keep increasing their base of consumers and appeal to younger wine drinkers. The Bordeaux Wine Bureau, or CIVB (Conseil Interprofessionnel du Vin de Bordeaux), is the region's marketing arm and it has unleashed a blizzard of efforts to promote the wines. (Check out Bordeaux.com. Master of Wine Mary Gorman-McAdams heads the effort in the U.S. Grape Collective Twitter chatted with her in June.)
"When you are young, you've got less money. And a lot of people still believe that Bordeaux only produces very expensive wines. But it is not true," Stephan von Neipperg said when he was in Manhattan last year for a large Bordeaux tasting. He is a count of the Holy Roman Empire, according the Wine Spectator, and his family has been making wine in Germany for eight centuries. It now owns Château Canon-La Gaffelière and five other châteaux in and around St.-Émilion. "You can easily find a wide range of wines under $25 in less known appellations and which offer a very good value for money."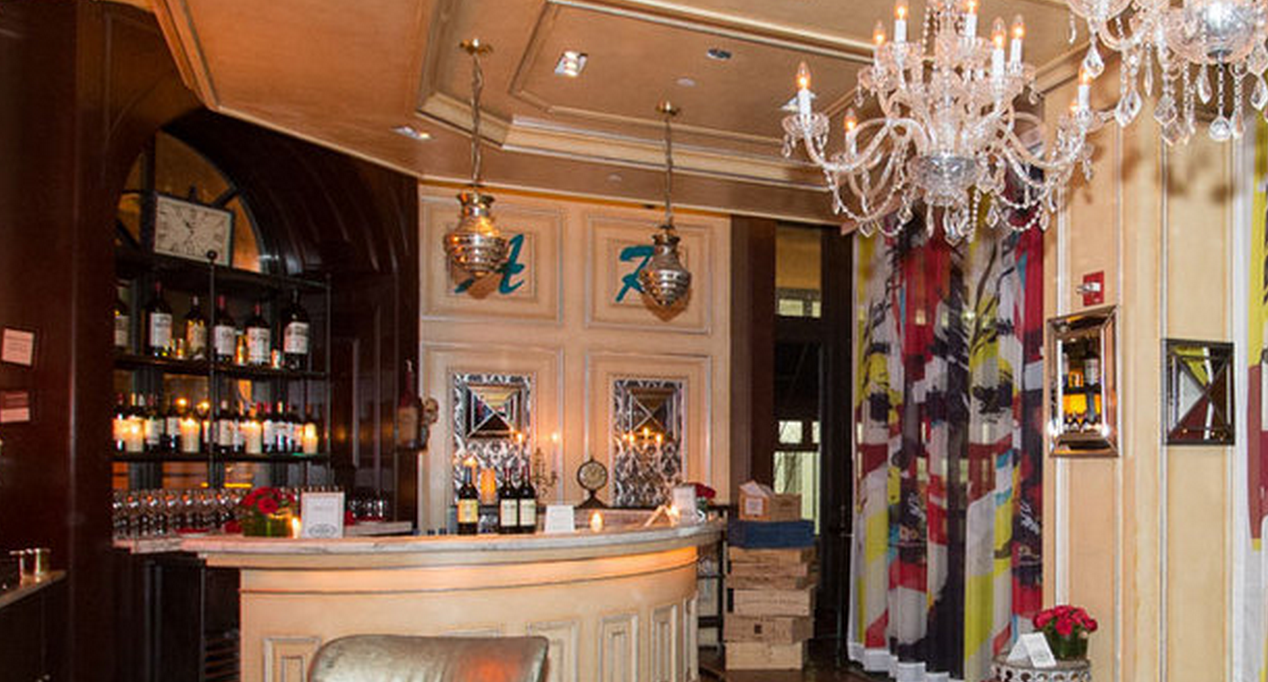 That's where the one-year-old Bar Bordeaux in Manhattan's Carlton Hotelat 92 Madison Avenue comes in. The city's first and only all-Bordeaux wine bar, it is owned by French restaurateur and Michelin-starred chef Laurent Manrique and his partners in Collective Hospitality, which owns and operates several restaurants; the CIVB came up with the idea. There's also a Bar Bordeaux in the city of Bordeaux, which last year was expected to serve its 500,000th glass of wine, and there are two Bar Bordeaux in Shanghai.
Several months ago, after dropping by the bar with John and Hunter George, an old friend from The Miami Herald who was in town, I came back to interview Remy Pedussel, the bar's enthusiastic young wine director. He chooses the more than 60 wines that are available, some by the glass, some by bottle (regular 750 ml.), and magnum.
"I've found good value, new petit-châteaux. We want to feature as many as possible. We want everyone to have a chance to be featured in my program, including second labels and small producers. There are a lot of unique wines," Pedussel told me.
Who are his clientele? "A lot who come here don't know about Bordeaux and some who know want to know more about it," Pedussel says. "We want to give our guests a place to learn about the wines, geography and culture if they are interested."
There are whites, reds, dessert wines and a sparkler, Jaillance, Crémant de Bordeaux. The Jaillance is $12 a glass, $48 a bottle. There's a bar menu of small plates of pâtés and cheeses and also caviar, foie gras, oysters, mussels and other dishes.
You won't find any First Growths on the list. At least "not yet," Pedussel says. "First Growths you can get anywhere, on many fine wine lists."
Instead, he says, "We want to make people understand that Bordeaux are sexy wines and to get young people's attention and change the image. We want to refocus people's attention on Bordeaux as young, easily accessible and enjoyable to drink in a good price range. Wines of incredible diversity."
Séverine Bonnie, marketing director of Château Malartic-Lagravière, Grand Cru Classé de Graves, Pessac Leognan, and wife of its owner and manager, Jean Jacques Bonnie, uses the "s" word, too. "We have to promote Bordeaux in a more sexy way!" she said after the same tasting where von Neipperg was pouring his wines.
She admits that too often people do focus on the super high-end wines and that needs to change. Still, she says of some of the high-end Bordeaux, "They are expensive, but not so much compared to Super Tuscans, some top Spanish wines or Napa cult wines." The suggested retail price of Château Malartic-Lagravière, one of a few Bordeaux properties classified for reds and whites, is $50.
She is very much involved in promoting the area. "I am an active member of Bordeaux Oxygene, an association of young producers who promote Bordeaux in more approachable terms, more relaxed, speaking to younger consumers with the same words they are used to," she said. "The idea is to show that you could open a bottle of Bordeaux to share it with friends with your pizza, in front of a rugby match, without being an expert, but just for pleasure."
Bar Bordeaux's wine list is arranged in a pretty rational way and there's a map to help people place the location of the wines. Wines by the glass start at $10; by the bottle, $36.
By the bottle reds are grouped like this: Right Bank, Pomerol, St.-Émilion & Fronsac; Côtes de Bordeaux, Bordeaux & Bordeaux Supérieur and Left Bank, Graves & Médoc. The whites grouped as Dry whites and Sweet whites.
There are also flights, by the threes, including one called The Saints: Saint-Émilion, Saint-Estèphe, Saint Julien for $25. And three whites in a flight for $20.
The small, eclectic space has been described by the bar's representatives as "vintage French meets Andy Warhol in lace garters." Now, while you're trying to get your head around that, or conversely, trying to chase that image from your brain, let me just say that there's plenty of gold and silver, and a fine chandelier. But the most striking features are two wall hangings called "Hot Lips of Brigitte Bardot." Right. In addition to being a classy bar, Bar Bordeaux is also a place where winemakers from Bordeaux may visit to pour their wines, and Pedussel said he hoped to add a formal educational component, to have classes and tastings there.
Winemakers also want people to believe that the region has shrugged off its reputation for being inhospitable to tourists. "Bordeaux is nowadays a great city, open to young people. That has dramatically changed since 10 years ago," Séverine Bonnie says. "People in Bordeaux have changed also. They are much more open to wine tourism, conscious that receiving their consumers in their beautiful châteaux is the best way to keep them fans for a long time."
I'll drink to that!
Dorothy J. Gaiter conceived and wrote The Wall Street Journal's wine column, "Tastings," from 1998 to 2010 with her husband, John Brecher. She has been tasting and studying wine since 1973. She has had a distinguished career in journalism as a reporter, editor, columnist and editorial writer at The Miami Herald and The New York Times as well as at The Journal.