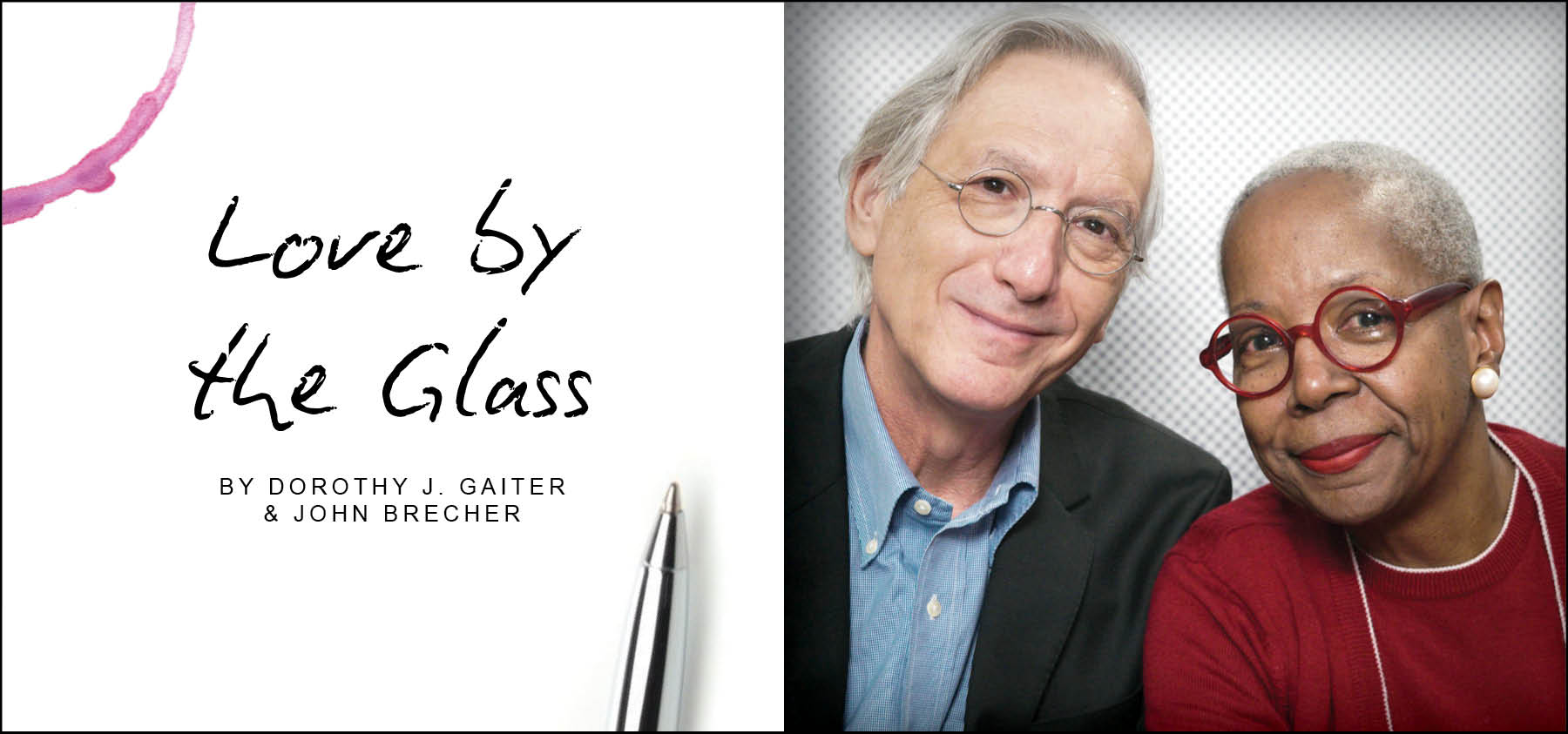 We had an interesting journey recently that took us back in time and to a future, we hope, when there are more ageable white wines on shelves.
We are often asked when a wine will be at its best, but that question is usually about red wines. There's an assumption that whites won't go the distance. In our case, we love white wines with some age. We came to that honestly: Throughout the 1980s, we bought and drank German Rieslings from the 1971, 1975 and 1976 vintages. They were not popular even back then, which meant we could afford them.
Over the years, some of our most remarkable experiences have been with older white wines, not just Riesling but others, such as well-cared-for Muscadet. In 1987, we visited a winery in Napa that was selling a decade-old Gewürztraminer from its library collection. We opened it right there at cellar temperature, shared it with the tasting room staff, and it was delicious.
Whites with some age can be hard to find. One of many reasons we enjoy Crabtree's Kittle House Restaurant & Inn in Chappaqua, N.Y., is the collection of carefully cellared older white wines at reasonable prices on its list. Those wines are often once-in-a-lifetime experiences, like the delicious Alain Coche-Bizouard Meursault "l'Ormeau" 1994 that we enjoyed about two years ago for $85.
"Over the last year I have been tasting and assessing the quality of a lot of our older white Burgundies and others and am happy to say that there are many jewels in the cellar for those who can truly appreciate the unique qualities of gently aged, beautifully crafted wines," owner John Crabtree wrote us when we inquired about the older whites he carried. His famous wine list is 155 pages long and has 5,000 selections for a total of 45,000 bottles.
All of this came to mind because of a small tasting the two of us had that we really didn't expect to take us on this journey. A while back, a representative of Domäne Wachau, the famed Austrian co-op, sent us some samples when we couldn't do a Zoom session. We have been fans of the winery for a very long time. Its wines are thoughtful, focused and often excellent values. The samples included Grüner Veltliner Smaragd Ried Achleiten 2019 ($46.00) and the 1999, fully 20 years older from the same vineyard but before regulations required that Ried, denoting a single vineyard, precede the vineyard's name. On a ripeness scale for white wines from the Wachau, Smaragd is the ripest and must have an alcohol level of at least 12.5 percent. They are known for being long-lived.
We kept them for a few weeks to try them side by side, waiting for the right moment. We were sure the young wine would be tasty. We had high hopes for the 1999, but we also thought it might be more interesting than good, a bottle we'd enjoy drinking because of its history but lacking intensity and life at this point.
We were so wrong. Here are our notes, how we talk about wine when we're alone and excited about the wines.
We started with the 1999: "Light straw color. Looks a little viscous, like it might be thick. Honeyed, candied citrus nose. Spice. Vibrant nose. Orange. Honey blossoms. Very fragrant. The nose prepares us for a good experience. The taste is rich. Apricots. Honeydew melon without the sweetness -- just the sensation of that kind of dense fruit. And great acidity. Long finish of toasted almonds. Would complement cream sauces. Some white pepper, like Gewürz."
2019: "Looks more youthful, a little lighter. But not a lot lighter. And it's funny that in the glass it feels colder although they are the same temperature. Brighter spices on the nose. Oh, heavens, if the other one had white pepper, this is almost exploding white pepper, especially on the finish. Nuts. Lime and lime peel. It's interesting that the first one didn't have lime or lemon that we immediately picked up -- it was more honeydew melon. This is more lime-lemon. Wholly different finish. Equally delicious but in a different way."
Then, over time, we wrote: "The older one is like wet stones with forest floor and some lemon. Real fullness. Different weight. Both are impeccable."
Even later: "There's a real through-line here. The 1999 now is Churchillian, stately. What presence! Like an embrace. Toasty. Cashews."
Yum.
Our little tasting was so exceptional that we reached out by email to Roman Horvath, a Master of Wine who has been winery director at Domäne Wachau since 2004. Heinz Frischengruber, who represents the fifth generation of his family making wine, is Domäne Wachau's oenologist and cellar master. We wanted to know about these wines, but, more broadly, we were interested in talking about older whites. Horvath's answers gave us new insight into the effect of global warming and changing tastes over the past couple of decades. Listen in:
How old are the oldest whites in the Domäne Wachau cellar and what are they?
Grüner Veltliner Auslese Kellerberg 1947.
What's the oldest white from the cellar you've had recently and how was it?
I recently had Grüner Veltliner Achleiten Kabinett 1962. When wines are that old it is also about bottle condition. The wine mentioned is very reliable and shows amazing structure. Dried fruit character, forest floor, dried sage and thyme, racy acidity and impressive length.
In general, talk to us about aging whites. People think about fine reds aging and sometimes are surprised to hear that some whites can also age well, and for a long time. What makes a white wine ageable?
There are several aspects that play an important role in the aging of wine. Not every white wine is suitable to age. My personal view is that high-quality white wines from the 1960s and 1970s (and partly 1980s) are still very stable. Then we had a period where too much technology influenced the wines and they became too much fruit-driven, with less stability. Today (or the last ten years) also white wines are again made more ageworthy, with a certain phenolic backbone and great structure.
What characteristics should a white wine have that might lead a consumer to think it might age well?
It is mainly about quality coming from the vineyard, that is to say long hanging time, an extended growing season, late picking (cool climate), flavor ripeness, good phenolic ripeness, careful vinification, long time on the lees and in the cellar. We can look at analytics as well, then firm acidity is important, high extract.
We loved tasting the 1999 and 2019 Grüners side-by-side. They were clearly siblings. It was almost as though the 1999 had been condensed to the core of its loveliness. Was there something specific about the 1999 that made it especially ageable?
I am very pleased that you liked our 1999 Grüner Veltliner. We are also very pleased with the development of this wine. 1999 is indeed a special year, probably among the top 5 vintages in the last 50 years. We expect 2021 to be among them as well. 1999 was not affected by climate change yet, so we had an overall cool season, finishing with a dry and sunny and cold autumn and picking season. There is a certain lightness in the wines but still enough concentration.
Would, say, the 1998 or 2000 also taste equally vibrant and still full of life today?
These two years are very different, 1998 a wet year and many wines with botrytis influence, so more dried fruit character. 2000 was the first really "warm" year, the start of what we see now in many years (warm growing season, earlier budbreak and flowering, etc.). Wines are a bit juicer, rounder and broader shouldered.
We asked Crabtree what type of diners order the older white wines on his list. "These are generally ordered by experienced sommeliers, writers, and collectors who are familiar with the interesting and special characteristics of great aged wine," he wrote us. "When a guest who is not a savvy drinker orders an old Chardonnay or white Burgundy, we will offer a caveat and explain that the wine they have ordered is probably not what they are used to drinking, and describe to them what the wine may taste and feel like on the palate.
"An inexperienced palate will many times consider the wine 'turned' because of the darker hue and the madeira/sherry like nuances of a wine that they are used to seeing as bright golden yellow with fresh flowery flavors," he added. "The only time that we would recommend an aged white wine to a novice guest would be if they asked us to recommend something 'different' or unusually interesting. That would open the opportunity to present them with a wine that they might not find anywhere else in the world, like the 1995 Domaine J.M. Boillot Puligny Montrachet, Premier Cru Les Referts that I recently opened.
"This wine should not have been as delicious as it was (ripe guava, burnt orange peel, golden honey, and a bright spine of acidity), but we are fortunate to have a cold cellar (we let the temperature dip below 50 degrees during the colder months, which seems to slow the aging process) and older wines stay fresher than one might expect. This wine sold for $115."
We also reached out to Tonya Pitts, the award-winning sommelier and wine director of One Market Restaurant in San Francisco. The oldest white wine on her current list, she wrote, is a Morey Blanc Meursault Genevrieres, Premier Cru 2001, from Domaine Pierre Morey, at $255.
We asked what type are the oldest white wines on her list?
"They are white Burgundy. Over the years, we had older bottles of DuMol Chardonnay, Stony Hill Vineyard Chardonnay from the mid 1990s and Williams Selyem Allen Vineyard Chardonnay Sonoma County 2000s, Eyrie Vineyards Old Vine Chardonnay Willamette Valley 2001 and Eyrie Pinot Gris Willamette Valley 1996."
Crabtree wrote, "The oldest white wine in the cellar is the 1978 Marques de Murrieta, Castillo Ygay, Gran Reserva Especial. It is on the list for $650. We also have a 1979 Château Laville Haut Brion at $525, and many older white Burgs and Chardonnays with age from $100 on up (1987 DRC Montrachet at $9,500). And some wonderful old white Rhônes (Châteauneuf-du-Pape from Beaucastel, and Hermitage from Chave) that are drinking beautifully."
After we initially heard back from Crabtree about his list, we asked him for more details. He went silent for a couple days then he wrote this, which made us smile: "So sorry, but when I started looking into the older white wines on our list I found myself going down the proverbial rabbit hole and I got carried away."
A well-made, well-cared for older white wine can carry you away, if you're open to the journey. Be open.
Dorothy J. Gaiter and John Brecher conceived and wrote The Wall Street Journal's wine column, "Tastings," from 1998 to 2010. Dorothy and John have been tasting and studying wine since 1973. In 2020, the University of California at Davis added their papers to the Warren Winiarski Wine Writers Collection in its library, which also includes the work of Hugh Johnson and Jancis Robinson. Dottie has had a distinguished career in journalism as a reporter, editor, columnist and editorial writer at The Miami Herald, The New York Times, and at The Journal. John was Page One Editor of The Journal, City Editor of The Miami Herald and a senior editor at Bloomberg News. They are well-known from their books and many television appearances, especially on Martha Stewart's show, and as the creators of the annual, international "Open That Bottle Night" celebration of wine and friendship. The first bottle they shared was André Cold Duck. They have two daughters.
Banner by Piers Parlett