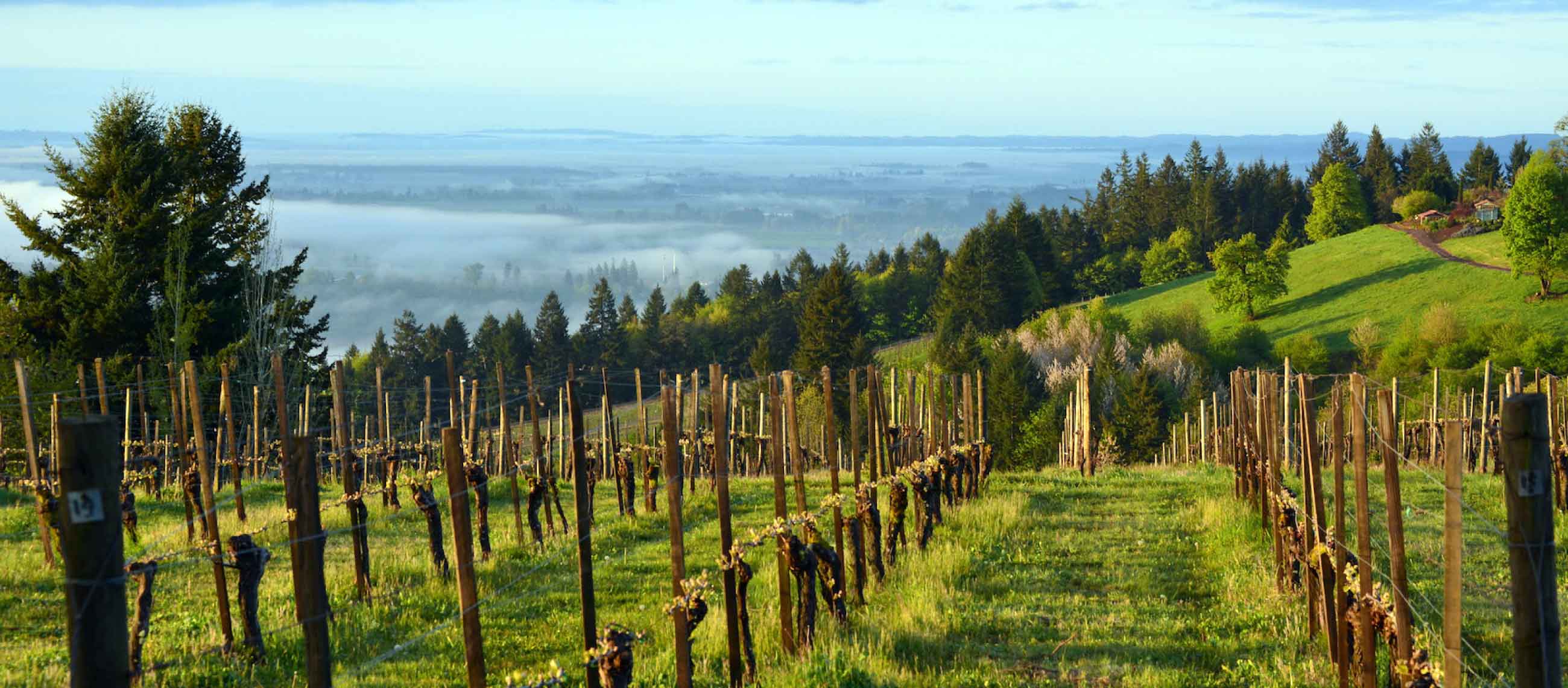 Founder, David Lett, began The Eyrie Vineyards on a hunch and a dream. Previously destined for a career in dentistry, David followed a different path after visiting a California winery while stationed in San Francisco for the Coast Guard. He was the first to plant Pinot noir and Pinot gris in the Willamette Valley, becoming a benchmark to rival some of the best Burgundy.
David and his Bride, Diana named the vineyard after spotting a Red-Tailed Hawk's nest at the top of the original vineyard (The Eyrie) planted in 1965. Now their son, Jason, has taken over the reins of an ever-evolving small estate in the Dundee Hills. His assistant winemaker and National Sales Manager, Amy McCandlish, gave me an inside scoop on some of their current affairs.
Brittney Abell: First question is, you are the pioneers of Pinot Noir in Willamette Valley, why did David choose Pinot Noir?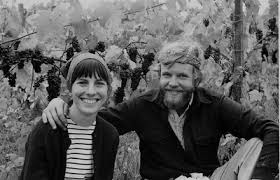 Amy McClandish:
David ended up falling in love with it when he was a student. Actually, it was just before UC Davis! When he was down in the Coast Guard in San Francisco he took a trip through the Napa Valley in early 1962. He had planned to go into dentistry, and was on his way to the admissions interview when he stopped in for a visit to Souverain Cellars. He met Lee Stewart and Garry Grosvenor at Souverain and became intimate with the early pioneers of the modern day American wine industry. He learned a great deal from them. It was there that he first got an inkling of, "perhaps I'll become a winemaker." He did make it to the dental school interview, but he called his parents after and told them of his interest in winemaking. They were supportive of him changing course, but really encouraged him to go to school to become an expert in the field.
David ended up enrolling in the Davis program. Grape Growing and Winemaking was what they called it at the time and his 'Aha!' moment with Pinot noir and Burgundy was there at school. He felt that Napa wasn't quite right for such a tempramental, thin-skinned grape, like Pinot noir, and believed there must be other regions on earth that could grow the varietal to the quality standard espoused in Burgundy. He focused his thesis on where one might be able to grow the grape well, focusing on cooler climates a bit closer to the coastline, with more drastic diurnal shifts between day and night temperatures. He looked at three regions and the Willamette Valley was one of them. He also looked at Northern Portugal, north of the Douro River near the Atlantic coast and at the South Island of New Zealand.
He spent most of 1964 in Europe, learning from growers and researching his hypothesis. He was especially interested in organic farming, which was not encouraged or taught by his Davis professors at the time. He was greatly influenced by Rachel Carson's Silent Spring and wanted to farm holistically. That fall he returned to California to gather cuttings from the Davis test nursery, packed 3000 of them to tow behind his old Volvo station wagon and drove them up to Oregon to put in the ground near Corvallis while he searched for the right vineyard property to buy.
Pinot noir was the focus, but David wanted to make sure he was planting other varieties, as well. Those early experiments included Pinot Meunier and Gamay – though this turned out to be another clone of Pinot noir – as red varieties, and Chardonnay, Pinot gris, Riesling, Muscat Ottonel, Gewurztraminer and Pinot blanc – though this turned out to have been Melon de Bourgogne, another nursery mistake! Outside of Pinot noir, David was most impressed with the expression of Pinot gris, and felt it was our region's top contender for grand cru white wine. So he grafted it over the top of other experiments he did not continue growing in the seventies and eighties. Today Pinot noir and Pinot gris make up about ⅔ of the plantings on Eyrie's 62 acres, so a significant portion of our annual production. We average about 9,000 cases a year in total.
It seems like there's a lot of people wearing multiple hats at Eyrie. You're both a national sales manager and an assistant winemaker, which came first? How do you juggle doing both?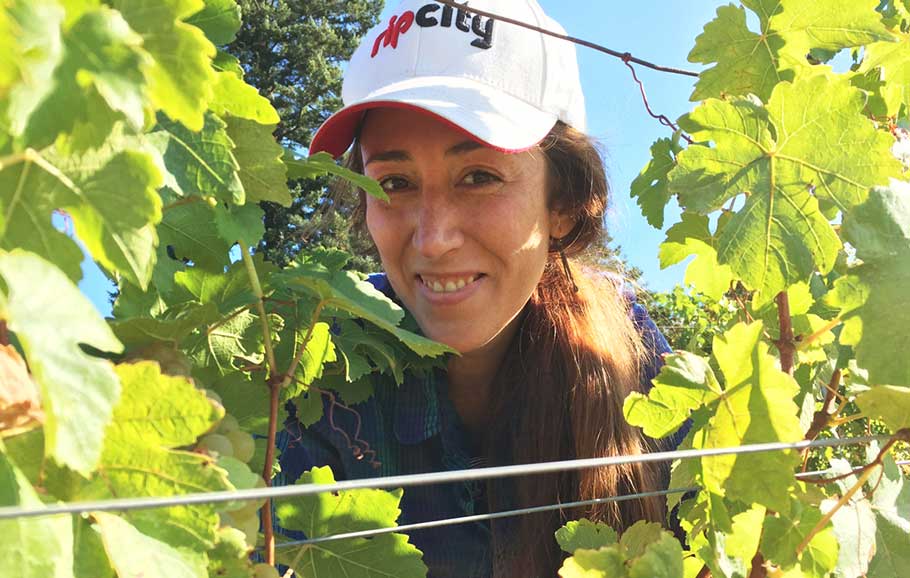 I started off almost 10 years ago working for Jason. He brought me on as a Harvest Intern and it was really like him throwing me a bone. He wanted me to sell his wine. He doesn't take interns, so I jumped at the chance because I really wanted to work with him and get my bearings on how he was making wines since I've long loved these wines. I was actually part of the wine club before I even got into the wine industry. It was the very first club that I joined with my dad right out of college, back in the days when Jason was just taking over for his dad, and Eyrie was pulling older wines from the cellar to sell without putting them through the Cellar Certification program like we do today. We ended up with all sorts of treasures from the eighties and nineties. An early 'Aha!' moment, for me really.
I worked for Jason in that capacity for a couple years. It was a fellow by the name of Mike Eldred, who held my position before me and retired in 2016 that I have to thank for grooming me for the job. As far as juggling goes, with small wineries, you really all have to do a lot of different things to make it all work. We have an incredibly talented small team, and nearly all of them have been with the winery for many years – most much longer than me.
Jason often says he's a glorified maintenance man. And he is, because we operate out of a really old building. It was built in the forties and that's not really old, but for McMinnville standards, it is. It has water pipes in the ceiling, so anytime it gets close to freezing, he has to completely shut the operation down, or else we could be dealing with a frozen pipe bursting! Over the years I have done more progressive travels for Eyrie. My job is evolving through, with the pandemic and a new baby, I haven't traveled in a couple of years now. Jason's actually about to make our very first trip since we closed in March of 2020. That will be in February for the Wine and Spirits Top 100 tasting. Two of our wines made that list, the 2017 Pinot Noir Sisters and the 2017 Pinot Noir Outcrop. Those are two of our five single vineyards – the other three are The Eyrie, Daphne, and Roland Green. Wine and Spirits also selected the winery to receive a Top 100 award, so Jason is NYC-bound soon!
Are the terroirs drastically different on the different single vineyard sites?
Yes, very different, though they're all within a mile of each other on the same hillside. The elevation shift goes from about 200 feet up to nearly 900 feet. And within that shift, you end up with multiple different soil types that principally fall under two. You've got the Jory volcanic series and then you have the Woodburn soils, the soils that were brought in with the Missoula Floods.
Those floods left sediments over the top of the Jory soils at the lower elevation vineyards over time, sort of spread there like butter on toast. As you go up in elevation, you can physically see that volcanic base pop through with a warm red color showing the iron richness of the volcanic base. Our hill is still shifting, and new soil, which is older soil but new to the surface, will pop through as tectonic movement happens and the rocks shift. The Sisters Vineyard starts just off the valley floor at about 230 feet. This is our warmest, most vigorous vineyard and as you head up the hill the sites gain more exposure to coastal winds, cooler temperatures and less sedimentary soil influence. The Eyrie and Outcrop vineyards were planted about 20 years apart and share similar Jory and Woodburn soils – you can see 6 soil subtypes as you head up from the South Block to the top of the Eyrie Vineyard where the Doug Fir that housed the Eyrie nest still stands today. Outcrop at one point was attached geologically to where Eyrie is today, but now there's a little ravine between the two sites.
One of the most apparent differences here is the vine age, though. Outcrop was planted starting in the early eighties on up through the year 2000. Eyrie was planted starting when David and Diana spent their honeymoon doing it, in 1966. They moved the vines from the nursery I spoke of earlier, near Corvallis. They continued planting Eyrie through 1974. Heading up above 500 feet, where the flood waters never touched, you'll find our final 2 vineyards. Roland Green and Daphne really show the volcanic influence of the soils in their taste profiles. These upper elevation soils become progressively thinner as you near the top of our hill, with very little topsoil at the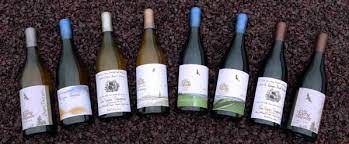 Daphne Vineyard where a sheet of bedrock lies close to the surface. It astounds me how these vines have performed so well for almost 50 years up there, on so little soil. Vines are incredibly intuitive though, and the roots somehow find their way to water below. We are completely dry farmed and this struggle to survive really adds a whole other depth of character to the wines.
Are those old vines thriving?
You know, that word would be a stretch! They are older now and waning in their production cycle, just naturally as they would. We have been confronting phylloxera as well, which is not an easy battle to win for these older vines.
There's something super cool about own-rooted older vines, though. They seem to tell a more layered and complex story as they age. Our Estate has been roughly the same size since 1991, and was planted on original vinifera roots before phylloxera was in our area. Today, we train baby shoots that come up from the soil that are actually living off of that 50 plus year old root system; these are new, very energetic, ready to produce vines that we can then train over to be a more productive, newly revived version of itself. Jason has been undertaking that over time at the Eyrie Vineyard to breathe fresh life back into some vines.
Very cool. I know you guys plant Pinot Noir in all of your vineyards, all five.
Mm-hmm, affirmative. All five.
I know you do Pinot Gris as well. I believe you're the first to do Pinot Gris?
David was actually the first to plant Pinot gris commercially outside of Europe! The Eyrie Vineyard is home to the new world's first planting.
You also do Pinot Meunier, right?
Yeah, we have since the beginning. We make it as a still red wine, though we have experimented with bubbles, as well.
That's very cool. Do you have any other varietals that you plant, besides?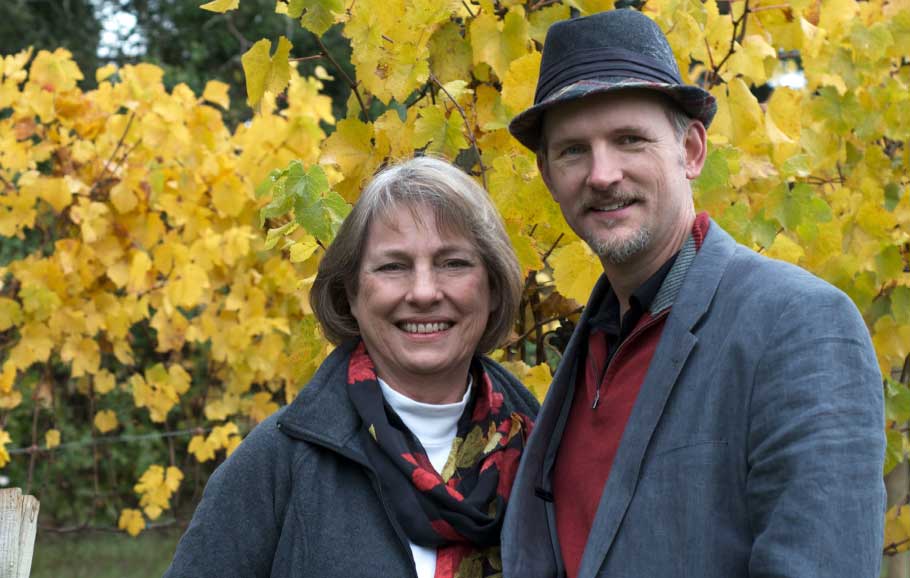 We have nine varieties we work with today. As the chief experimenter of our region's wine industry, David planted some really great experiments that informed what is planted around here today. He actually had more experiments than what we grow now, and Jason has also added to the mix. Today at Eyrie we grow Pinot noir, Pinot gris, Pinot blanc, Pinot Meunier, Chardonnay, Melon de Bourgogne, Chasselas Doré and Muscat Ottonel. Jason also planted Trousseau in 2012 on his first rootstock experiment at the Sisters Vineyard. Knowing that eventually he will need to replant our vineyards to phylloxera resistant rootstock, Jason has been planting test rootstocks at Sisters and moving cuttings of his Dad's original experiments at Eyrie over to rootstock to gain knowledge on how they perform together. We are looking at the warming trend we're experiencing and consciously choosing rootstocks that will allow our vines more hang time in the years to come. These experiments really give us insight on how these varieties might perform on the same rootstocks at higher elevations in 50 years.
Wow, I think that that's really interesting. I know you guys are already organic vineyards. Have you always been organic?
Yeah we always have farmed organically, but only went for the certification for the first time in 2013. When we acquired the 5-acre Outcrop Vineyard from our neighbors the Eason's, in 2012, we had to learn how to transition it from conventional farming. We had never purchased a planted vineyard before, so this was really the impetus of Jason having to dig into organics in a new way, figuring out what needed to happen to convert it over to the way that we farmed. During his research he realized we were already farming in compliance with organic viticulture, so he decided to apply for the other 4 vineyards, as well. We take it above and beyond organics, though.
We look to the forest around the vineyard as a super vital part of the overall health of the ecosystem, and have only planted half of the property. David also knew he wanted to really encourage deep root growth from the start, so we do not water our vines after they've been established, we dry farm the Estate. We do not till our soils between rows after planting in order to promote more complex microbial networking to form and thrive and give our plants more diverse and rich food to eat. We've always farmed this way, and Jason has continued to be an incredible steward of the land and a great educator for so many who want to farm regeneratively like Eyrie.
Has global warming affected the way you guys farm? Has it affected your final product in your wine?
Yeah, for sure. I've heard Jason say that people probably think he is trying to make a really wildly different style of wine than his father did. His dad was known for really restrained, very acid-driven, food-friendly, age worthy wines. Jason's known for that too, but he hasn't had the same cool vintage trends of his father's generation to work under. With warmer years, we end up with riper fruit and higher alcohol than what we used to see coming out of Oregon. So, when we do end up with a cooler, wet vintage year, like 2011, with significant rain around harvest time, well you know we all love those years around here. They bring different challenges, but can make really complex and nuanced, pretty wines. But yeah, ultimately we are seeing climate change and it's warming effect more and more in the vineyard.
Are you getting a ton of rainfall? Is that affecting your vines?
I mean, we've always gotten a ton of rain. Rain's really not a detriment to making quality fine wine at all. It's that period right at harvest or two weeks leading up to harvest, that makes it difficult with extremes in any direction. If you have really intense heat, that can push your grapes very quickly over. It's always nice when it's a bit more temperate at harvest, but it's not a quick-pick-and-it's-over moment, either. Harvest can span weeks, and we will have a mix of weather typically during September-October here. The goal is to aim for balance in the wines with our picking decisions. People seem to worry about rain with wine, they're like, 'oh my God, it rained, and the vintage is ruined' as if the hundred days prior to it meant nothing.
The rain itself is not the problem, it's getting in and out of the vineyard without getting the tractor stuck that's challenging! You can make really beautiful wines up here in wet years, and some would argue the best vintages are made in those years, from the hands of skilled winegrowers. But with what I was saying about the rootstock trials, this is really forward thinking for the way we are experiencing this warming trend. When David planted Daphne at nearly 900 feet in 1974, he was thinking that if it couldn't reach ripening up there, he could always make a Champagne method sparkling wine instead of a red table wine. Today, well there's no question whether we'll be able to ripen it, but it still is the last fruit we pick of the vintage, as it ripens slower at the higher elevations.
That's awesome. I feel like what you guys are doing, it's just a little bit more than just winemaking you're like learning how to…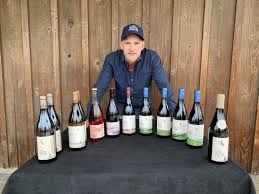 We're evolving with the weather. Jason is pretty amazing. And he knows those vines super intimately. He studied plant ecology in college and didn't think he wanted to come back to the family business. He worked in the vineyard throughout his teens, doing what he needed to do to get spending money, but left for college and the years after. He moved home with his wife Diane when they were thinking about starting their family in the late 90s. He actually didn't think he was going to go into the family business, but his dad needed some help in the vineyard in 1997, and Jason was between jobs so he came home and worked. That was his 'Aha!' moment! He thought, wow, I actually really like this work and wow, my degree is actually quite applicable here! He hadn't really considered that. He started his own private label, Black Cap, before taking over for his dad officially in 2005. Black Cap is sort of on the back burner these days. Every so often we release one to the wine club to keep the trademark active though. He named it after a heritage Oregon blackberry. It's a little tiny, very sweet native berry that you can't really find around here anymore.
Last question, What is your desert island wine?
I can have it at the perfect temperature? Okay, great well… I would say a Greek Island white. A very, just refreshing, acid driven white... Yeah, I don't know something fun like that. That's the first thing that comes to my mind.