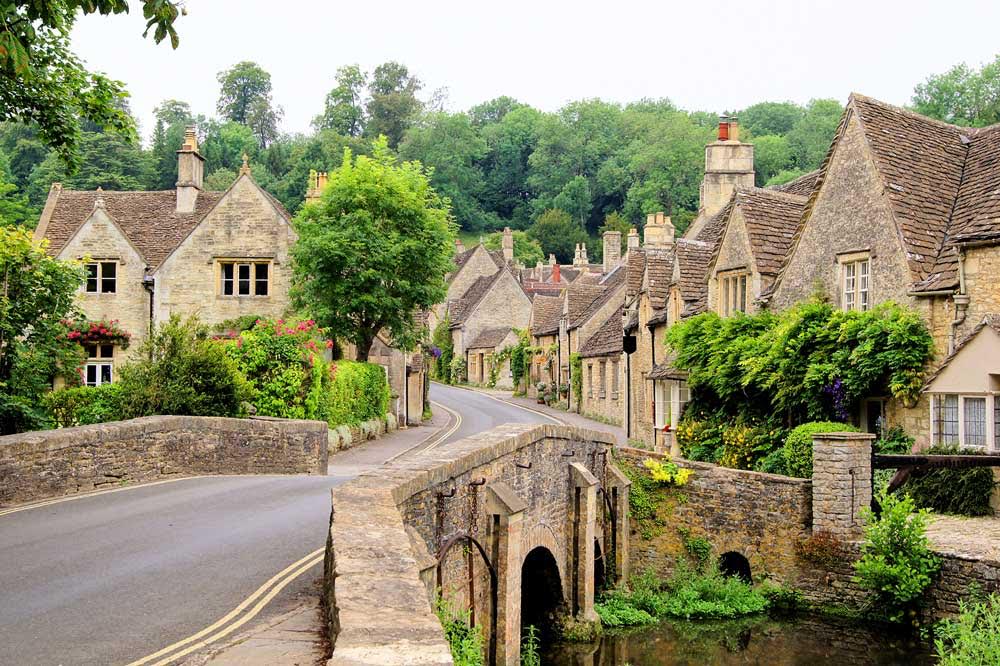 England: the old Empire, Elgar's Nimrod, rolling countryside, fish, chips, cup of tea, bad food, worse weather. History, The Queen, pomp and ceremony. What a place.
One thing that has escaped the lazy cultural stereotypes over the years though has been wine, largely because it was so dreadful that even seasoned vinous commentators couldn't be bothered to talk about it. In mitigation, my native turf's green and pleasant land has always suffered from being climatically challenged. Overcast conditions, a lack of sunshine, too much rain and generally not being warm enough have meant those berries have often struggled to establish ripeness and hence a proper flavour profile. In short, England was too far north to produce the good stuff.
Encouraging news though: English wine is now worthy of conversation. Furthermore, in a few cases it has the quality to be compared to its more illustrious counterparts from around the world. Thanks to humanity's ability to alter their surroundings, the facts point to a warming-up of the planet so all of a sudden, the English have got some skin in the winemaking game. Heck, even those cynical French have invested in our vineyards, with Tattinger - that famous Champagne house - most notably buying up land on the south coast. Something must be afoot.
So in the interests of science, during a recent family holiday to the homeland we decided to open a series of interesting and varied bottles, so we could judge the scene for ourselves. Before getting into the tasting notes, here's how the geography plays out, the below map showing the various "shires" from which the bottles came: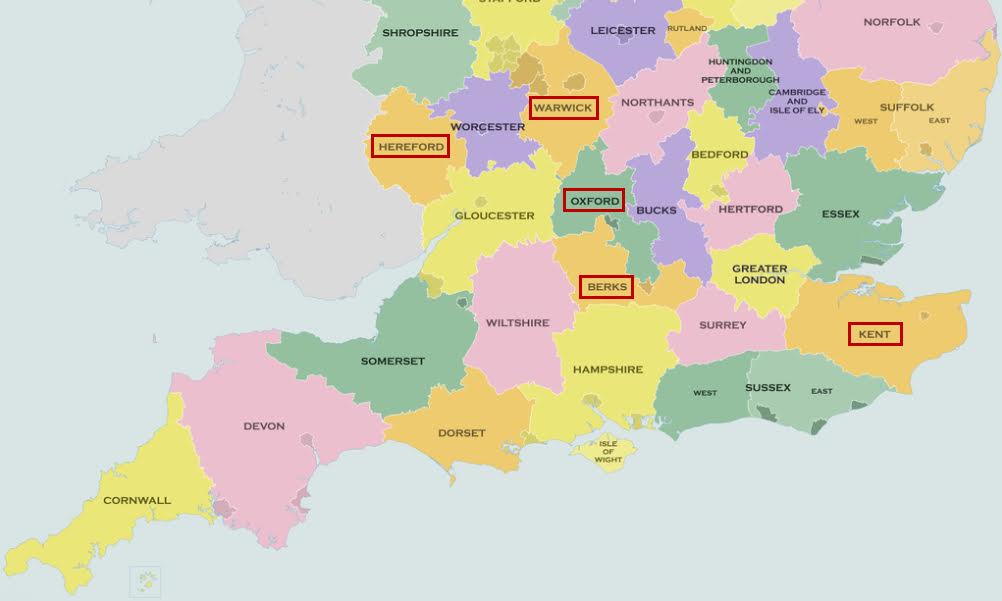 According to English Wine Producers, there are currently 133 winemakers in the country, growing in 502 vineyards with a total production of 5 million bottles per year. Around half of all fruit is Chardonnay and Pinot Noir, driving the dominance of sparkling wine (2/3 of total output). Third most-planted is Bacchus, the white grape, with just under 10%. From those 5 million bottles, here's what we thought of 10 of them: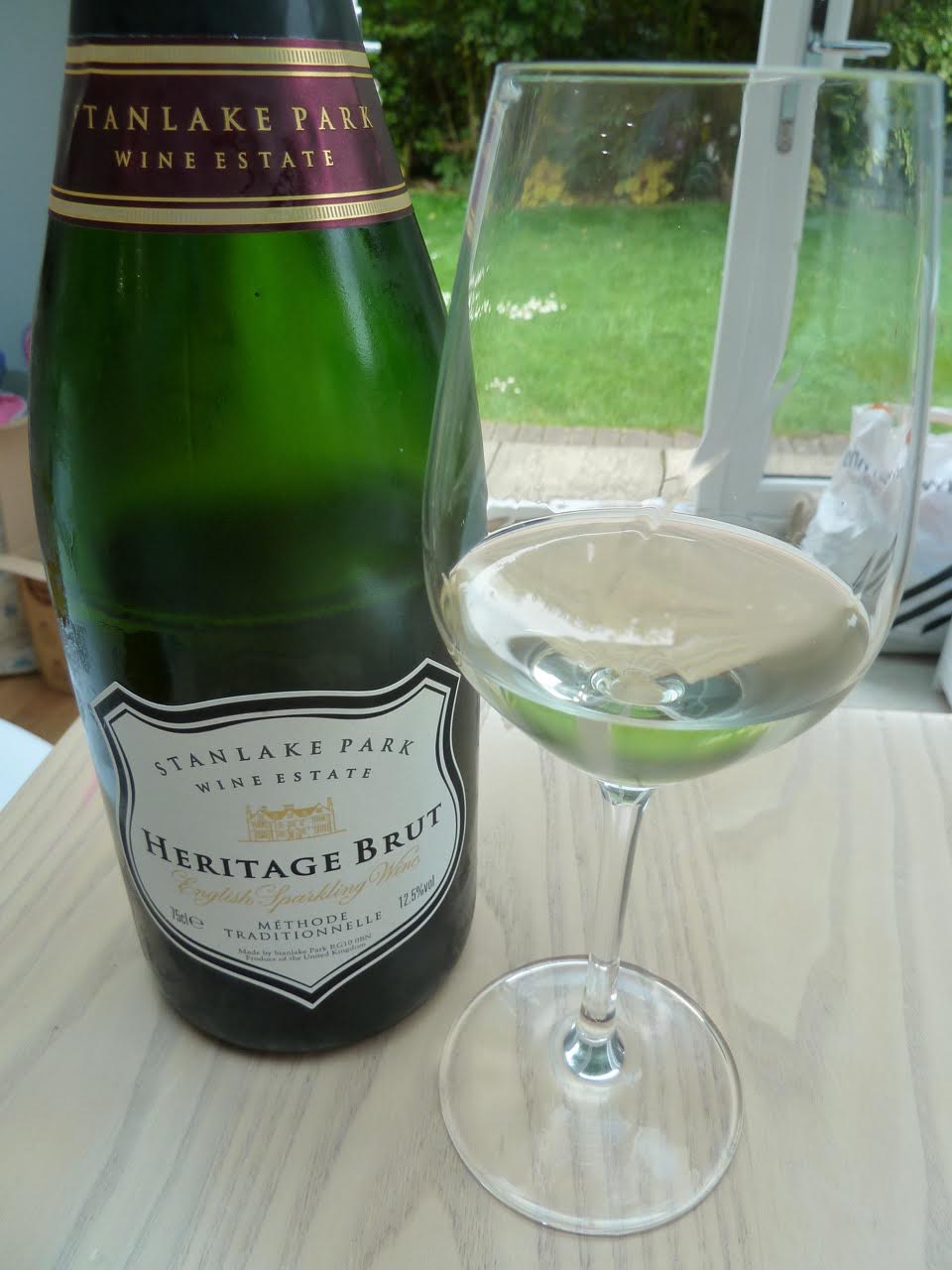 NV Stanlake Park Wine Estate Heritage Brut (Berkshire)
Made with the Methode Traditionnelle, but far from traditional grapes, instead using Seyval Blanc, Muller Thurgau, Richenstein and Pinot Meunier. Extremely pale, soft mousse. Very clean on the nose, apple and some citrus, although not particularly exciting (couldn't detect oak in any of the blend wines for example). Structurally good with clean/fresh acidity, nothing out of place although flavour fell away markedly on the finish. Thin but reasonably refreshing, Prosecco-like.
NV Stanlake Park Wine Estate Stanlake Brut (Berkshire)
Deeper in colour than the above. Pinot Noir ("mostly", according to their website) and Chardonnay used here, so reverting to French type, something you can detect on the nose immediately. Seems more serious, although struggling to be truly vibrant (ripeness of fruit still a challenge here). Autolytic character of biscuit and yeast a common thread, and again that refreshing acidity comes though. Short finish again but overall, reasonably good.
2013 English Wine Project Bacchus-Sauvignon Blanc (Warwickshire)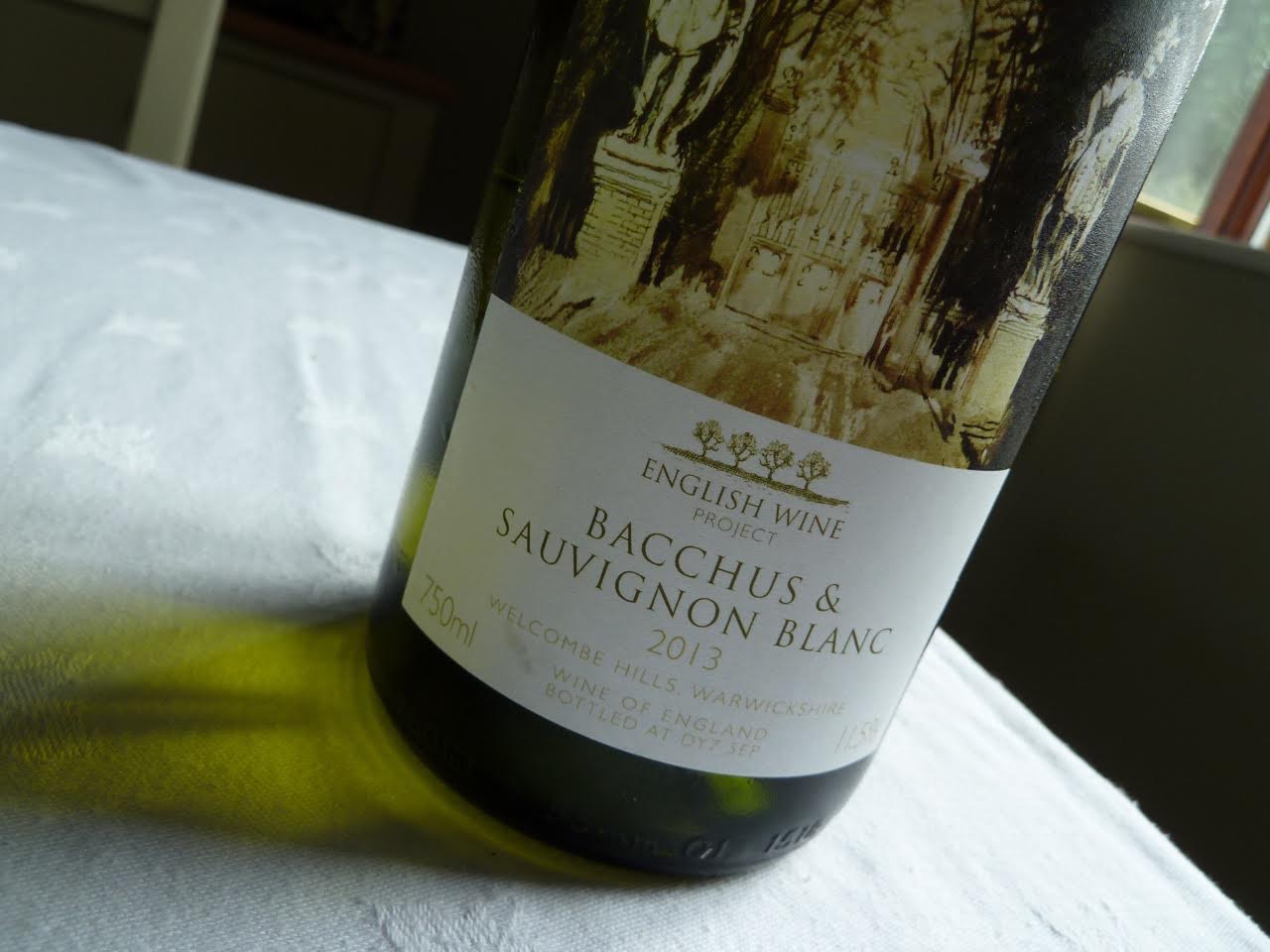 Featuring the Greek God of Wine and New Zealand's favourite grape - from a site in England's Midlands - and a super result. Seriously aromatic nose; elderflower, nettles, grass (an English meadow, perhaps?), but then those trademark Sav Blanc cues of gooseberry, citrus and green pepper. Flint makes an appearance too. Really surprising but well delivered. On the palate, the acidity is seriously bracing and mouthwatering, so despite the sub-12% alcohol it has a terrific mouthfeel. A notable limey-mineral finish occurred, of good length. The best of the whites, and love the label. A classy package.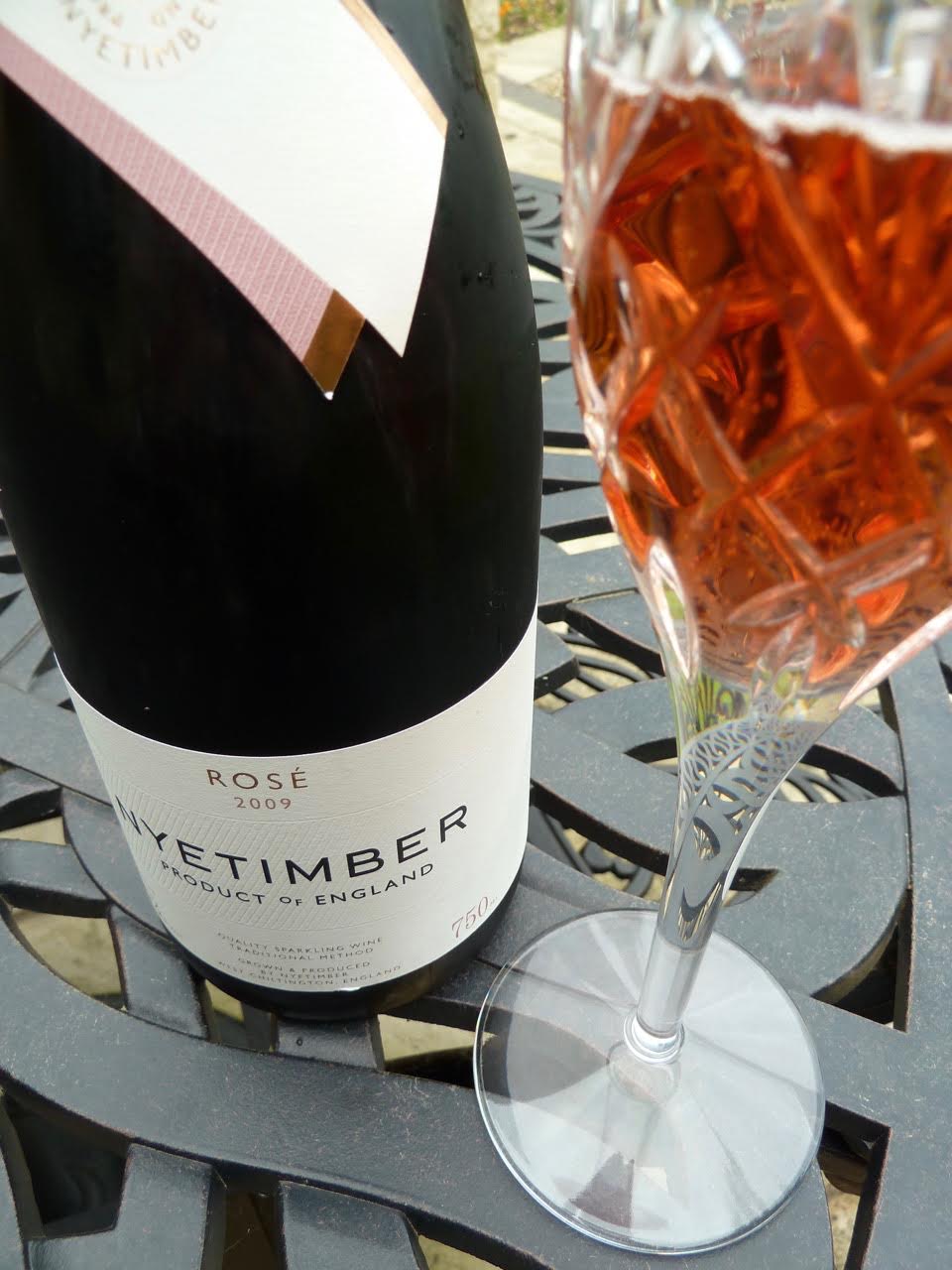 2009 Nyetimber Rosé (Kent)
These guys are the English fizz heavyweights, and the original pioneers. From humble beginnings in the late 80s, their estate now occupies nearly 10% of the country's total land under vine (we've seen their standard NV bubbles on a couple of lists in Hong Kong). Overall, this was very strong. Definitely led by the palate: fresh strawberries front and centre, with lovely balance to go with a fine mousse. The taste of Custard Creams, those ubiquitous British biscuits, really features. This is a proper Champagne mimic (although no Pinot Meunier present in this blend), confirmed with good acidity, a touch of residual sweetness and a long rich finish. Seems more than capable to last a few more years yet; given this, and seeing as though it shares my daughter's birth year, I put my money where my mouth is and bought a case.


2013 Brightwell Vineyard Bacchus (Oxfordshire)
Kicking the whites off, this grape has been among the most widely-planted in England for some time now, popular for its hardiness and ability to produce fruit-driven wine in the face of tough ripening conditions. Coming in at only 11.5% abv, this was a fine example: a nose with something about it, pure Granny Smith jumps out the glass and later, when the wine was a touch warmer, a definite mineral thread - very unusual for what we've tasted so far. Clean, crisp with refreshing acidity on the palate, this is a "proper" wine, and definitely comparable to something dry and fruity from, say, northern Italy. A good offering with bags of appeal.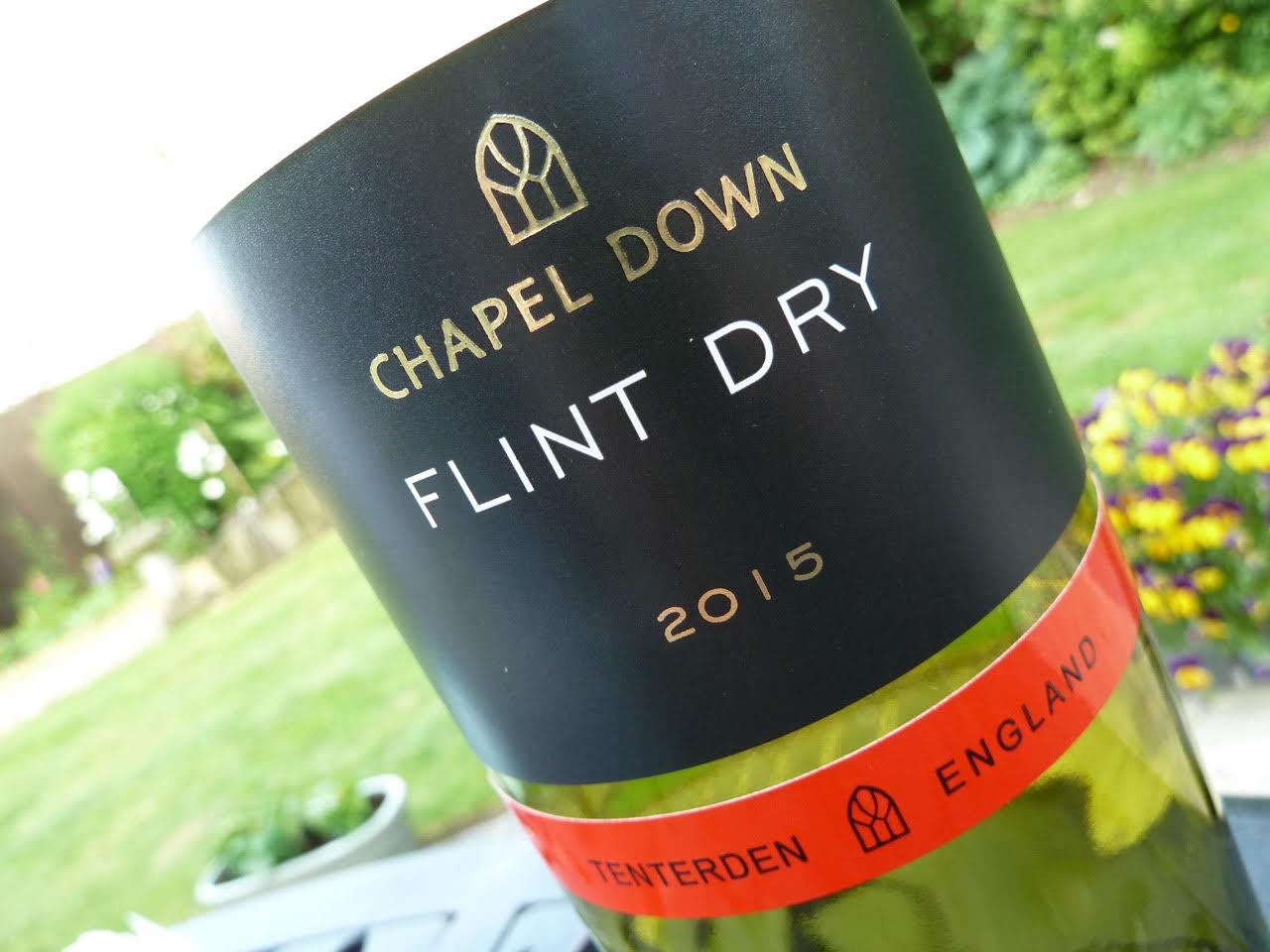 2015 Chapel Down Flint Dry (Kent)
A mash-up of a handful of varietals: Bacchus, Chardonnay, Huxelrebe, Reichensteiner and Schonburger. Not a blend of everyday grapes by any means. Pale lemon and attractive. Apple, pear and citrus there, and later, something I convinced myself as spearmint (strange, I admit; normally you'd only get minty cues in Cabernet-led red wine). Gets some malolactic fermentation during production so to taste, there is a slight creaminess there. High acid and refreshing, this was a really nice pour with excellent balance.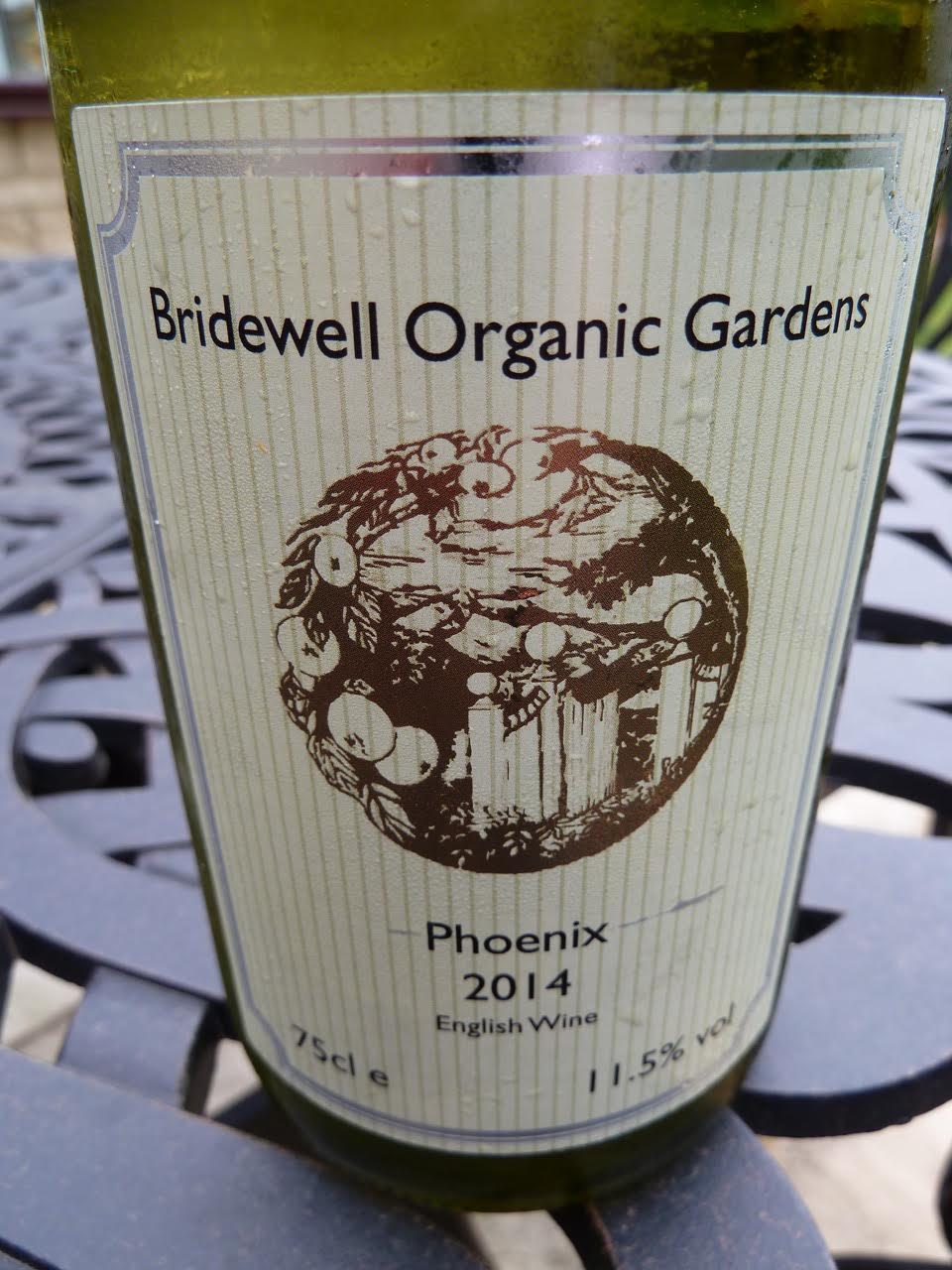 2014 Bridewell Organic Gardens Phoenix (Oxfordshire)
The Phoenix grape has German origins, and is the result of crossing Bacchus and Villard Blanc. Some grassiness and apple cues on the nose — not particularly appealing though. To taste, acidity fine but balance was all off via a demonstrable thinness. Not enjoyable. Definitely something missing here, a shame as the other Bacchus showings had all been very characterful in their own way.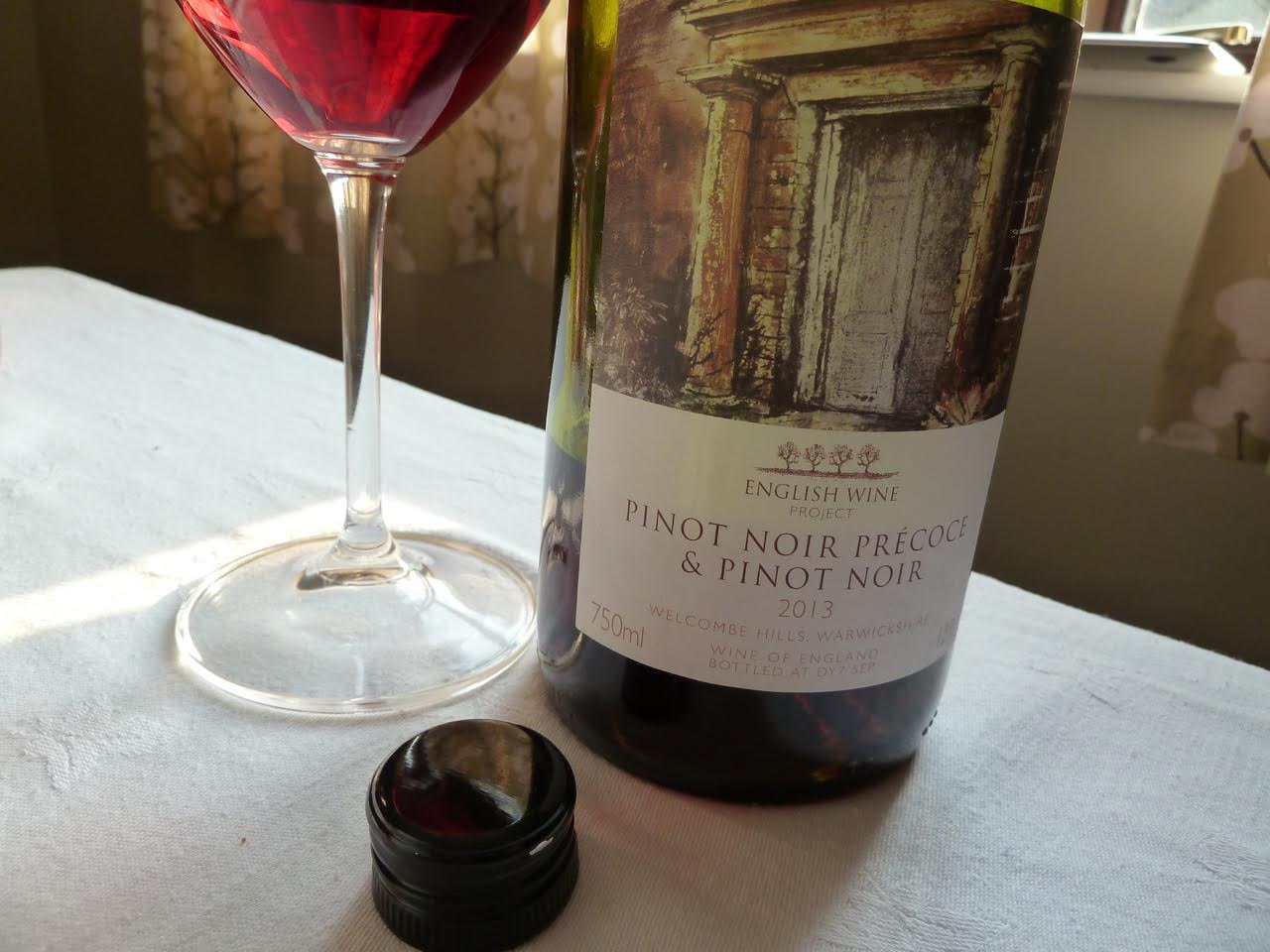 2013 English Wine Project Pinot Noir Précoce-Pinot Noir (Warwickshire)
Our first red of the trip contains the notoriously tough-to-grow Pinot Noir, as well as its mutant cousin Pinot Précoce, or Frühburgunder as the Germans call it. Nope, I'd never heard of it either. Almost like a dark rosé in appearance, it looks just like Beaujolais — and tastes a bit like it too. Raspberry and dried strawberries, with a notable green peppercorn smell, this was straightforward and simple. Medium bodied and pleasant to drink, although acidity a touch on the flabby side, this struck us as the sort of Summer red wine you'd stick in the fridge for half an hour before opening. Needs work, or perhaps less than 3 years in the bottle before drinking, but an okay effort.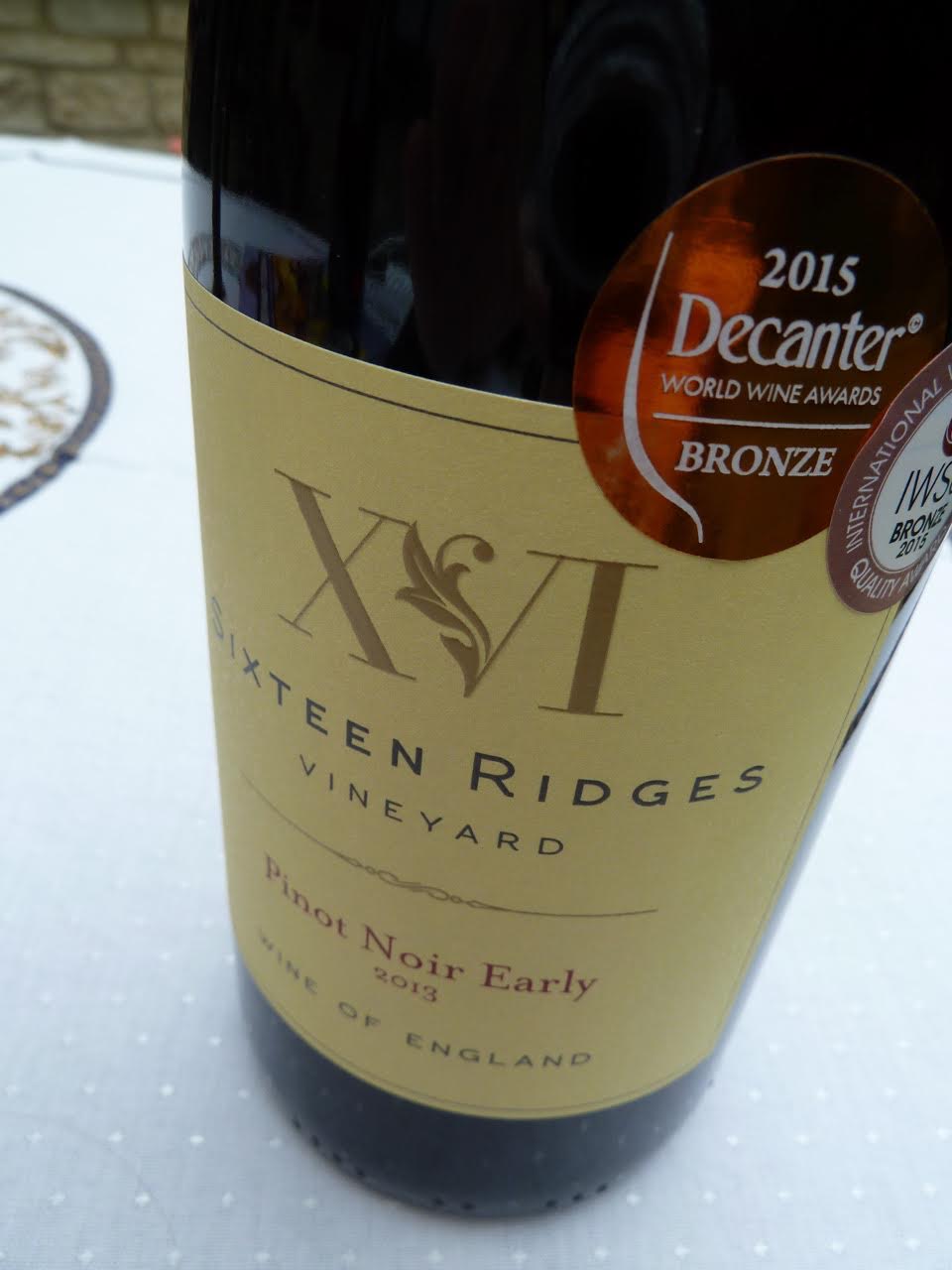 2013 Sixteen Ridges Vineyard Pinot Noir "Early Red" (Herefordshire)
This producer, like the English Wine Project, operates over 200km north of most of these other wines being tasted. You can tell from the ripeness of the fruit, not to mention overall balance: from a vineyard close to the Welsh border, this is a very earthy and rustic wine. Some floral stuff and cherry trying to get through, but mustiness and a raisiny character dominates. Seems slightly oxidised. Medium in body with a narrow finish, this wasn't to our liking unfortunately. Surprised to see this with a Decanter medal — must be missing something. Or perhaps our bottle wasn't at its best. Or perhaps the judges had an off day
2011 Chapel Down Wickham Estate Red (Kent)
Now we're talking; was worried all the reds would be average. Using fruit from much further south, as well as a bit of bottle age, this blend of 79% Rondo (popular in cool climate conditions) and 21% Pinot Noir immediately announces itself as a serious wine. Looks inky and syrupy in the glass - appealing. Bags going on with the nose: a real farmyard character (evocative of our time in the country..), violet, leather, blackberry, plum and eucalyptus are all there. Engaging and encouraging. On the palate, not quite as a good given a slight lack of balance (it could do with more alcohol to balance its fuller body and fruit), and does have a slightly overbearing jamminess.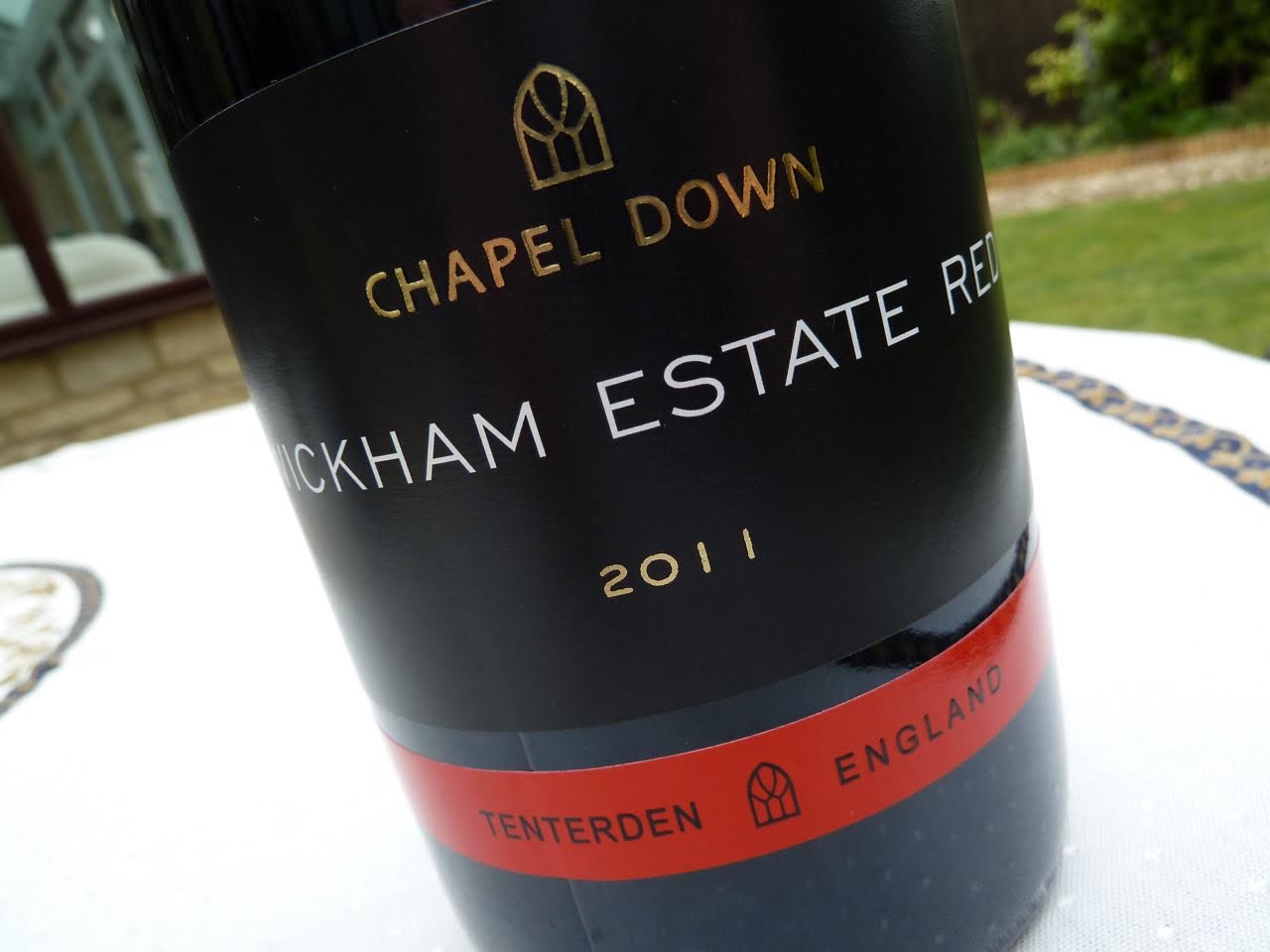 But this is concentrated and rich, with a cracking black fruit profile and excellent acidity, so without doubt it'll last for anything up to five more years, so long as that 11.5% abv holds out. A good wine, and a really solid finish to our little experiment.
So there you have it. Of the fizz, the Nyetimber was hugely enjoyable (and a genuine Champagne competitor), the English Wine Project Bacchus-SB technically excellent and appealing, and the Chapel Down red a good example of the use of a climate-appropriate varietal in combination with a more internationally-recognised one. But there were a number of decidedly average bottles.
Interesting that in the majority of large retailers I visited, English product was, to put it politely, thin on the ground, especially still wine. As a staffer at Majestic — one of the UK's largest outlets — summed it up, "the problem we have with English wine is that it just doesn't have the scalability. We have over 200 branches in the UK, meaning we need sufficient volume of high-quality wine to sell in every store from London to Edinburgh. Excluding the large sparkling makers, 99% of producers can't give that to us". This problem seemed to be confirmed even when searching through renowned English produce champions like Marks & Spencer, Sainsbury's and Waitrose.
English winemaker Emma Rice talks to Grape Collective about the rise of English sparkling wine
Price appears to be an issue, too. Both English Wine Project wines came in at £16.95/bottle [US$24], a level most consumers would find hard to stomach when compared to the floods of currently-fashionable Pinot Grigio and Prosecco from northern Italy, New Zealand Sauvignon Blanc and recognisable reds from Rioja and southern France.
There appears to be comfort with a £20-30 price point for sparkling wine, in large part due to the huge popularity of Champagne, but with still wines, as a friend who works for a major online retailer explained, "they're just too expensive for us to fit into our business model. Most consumers are still in that sub-£10 bracket so there's next-to-no margin". Using this approach, the Brightwell Bacchus, at only £9.95, could be considered a "better" wine than the EWP equivalent.
While sparkling wine gains traction via a handful of heavyweights, in the still wine market it appears clear that for the time being at least, the battleground for connecting these wines to the drinking population is via smaller, independent merchants whose businesses are built on niche and esoteric wines. 7 of the 10 bottles tasted were bought this way.
Outside the economics and scale barriers to growth, encouragingly the quality is definitely there. You just need to go out and find it. A number of producers are being critically acclaimed now (see recent Independent and Decanter articles), so in the future we might be talking about how wine should be added to the list of England's contributions to the world, as opposed to how bad its weather is.
—————
David is a Hong-Kong based writer. In addition to his contributions to Grape Collective, he collaborates with merchants and distributors in his city, as well as writes his own blog, The 23rd Parallel. He holds a WSET Advanced Level certificate. You can follow him on Facebook here.
For more on English wine read Grape Collective's feature on climate change and English sparkling wine as well as an interview with Emma Rice of Hattingley Valley in Hampshire.