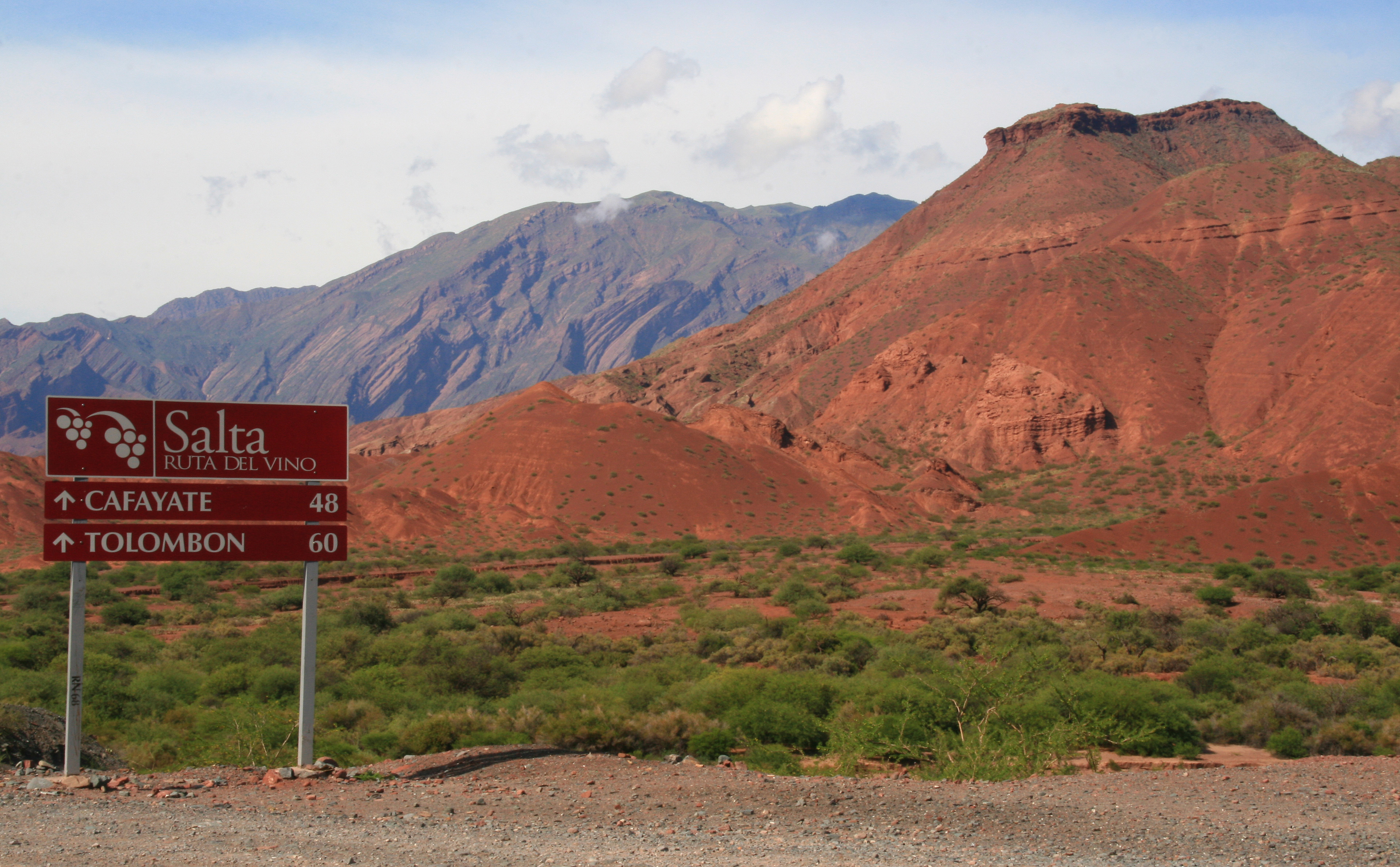 Argentina: A Terroir of Contrast
Everyone knows Argentina for its Malbec. Although the origin of the grape is southwest France, the Mendoza region of Argentina has effectively become Malbec's new home. About 65,000 acres of vineyards are planted across the region, which yield roughly 35% of total Argentine wine production. Malbec from Mendoza often translates to a wine that is fruit-forward, soft in texture, and high in alcohol. And yet Argentina offers so much more.
Salta
Travel 500 miles north of Mendoza to find some of the highest vineyards on Earth. Imagine the backdrop of a spaghetti western – canyons of deep red clay amid bone-dry heat – but with massive mountain ranges speckled with 7,900 acres of vineyards. On the edge of the Andes Mountains, bordered by Chile, Bolivia, and Paraguay, the Salta terrain reaches breathtaking altitudes of 10,000 feet above sea level. Cafayate, the region's prized appellation, is at 5,600 feet, which is about 2,000 feet above the vineyards of Valais, Switzerland, among the highest in Europe.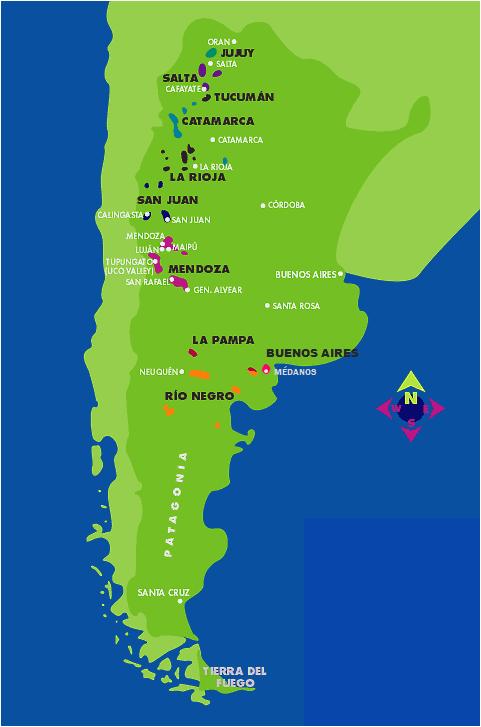 Interestingly, cold temperatures normally associated with such high altitudes are balanced by Salta's proximity to the equator. With latitudes as low as 24°S, the area is parallel to countries such as Madagascar and Australia. Summers in this subtropical highland climate reach a pleasantly warm 82.4°F during the day and a refreshing 59°F at night. By comparison, winter nights are 37.4°F on average, rarely snowing but marked by frost, while the day's sun raises temperatures to a 66.2 °F. In addition to temperate weather from December to March, just enough rain (28 inches) allows grapes to attain ripeness and acidity without becoming too alcoholic. These unique factors coalesce and amount to an undoubtedly excellent climate for distinct wine from Salta – nearly all of its viticulture (99%) is designated for fine wine production.
Torrontés is the star of the show, a white wine grape variety that consistently produces fresh and aromatic wines with apricot, white flower, and spice notes, in addition to moderate acidity and a smooth texture. There are several varietals that all go by the name Torrontés: Torrontés Sanjuanino, Torrontés Mendocino and Torrontés Riojano. The latter of the three is most common and is most recognized as having the best quality.
The origin of Torrontés is uncertain. What is certain is that Torrontés thrives in the Calchaqui Valley of Salta, specifically Cafayate, where soils are made up of sand and miniscule sediment over a clay base. These dry soils stress the vines, leading to less yields but more highly concentrated grapes. The result is a surprising depth of flavor whose exotic character is unique to Torrontés from Cafayate.
Cafayate also makes its mark on Malbec, Cabernet Sauvignon, and the less-known Tannat. Again, taking advantage of the climate, grapes tend to show overripe dark fruits, moderating alcohol levels with a richly-structured wine.
That being said, Salta's viticulture is still maturing, and only in the last ten years has the region seen substantial progress. But if producers continue to advance their winemaking techniques, then Salta could be internationally recognized as a premier wine region in the next few years. Until then, Salta remains the most famous Argentinean wine region outside Mendoza, with Cafayate being its prized possession.
Patagonia
At the other end of Argentina, there is Patagonia, which is known for its prehistoric dinosaurs, awe-inspiring glacial treks, and increasingly, its wine. This vast area is twice the size of California, but much of production is in the northern part of the region, where viticulture is possible. Two meltwater rivers (Neuquen and Limay) flow from the snowy caps of the Andes and converge to create a winegrowing oasis; green fertile banks hug the Rio Negro river which stretches another 310 miles to the Atlantic Ocean in the east. The region's isolation entails the environment is pristine and remarkably unpolluted. Despite being an obscure location for quality viticulture, the arid Patagonian landscape has demonstrated an exceptional ability to produce elegant wines.
Unlike Salta, Mendoza, and other Argentinian wine-producing regions, Patagonia is at a much lower altitude (200 feet to 500 feet above sea level). Classic desert conditions of warm days and cold nights extend the growing season and slow the ripening of grapes. In addition to long hours of sunshine (rather than just intense sunlight like in Salta), the relentless warming of intense winds confounds Patagonia's cool climate. 'La Zonda', a year-round dry wind that descends from the eastern Andean slopes, warms vineyards and aids budbreak. Vines stressed by the combination of high winds, constant sun, little rainfall, and alluvial soils tend to yield smaller and thicker grapes, leading to high concentrations of sugar and natural acidity.
Acidity is not an easy thing to come by in Argentina, and Patagonia has found it with little effort. The acids of bright reds and electrifying whites, brilliantly flavored and supported with firm tannins, are the type of wine personalities that you want to meet. Jancis Robinson describes Rio Negro's Pinot Noir, for example, as "not at all like any other Pinot Noir-based wine I can recall…The palate began [begins] with Pinot's trademark sweet fruit but this soon gave [gives] way to flirtatious lift and delicacy (not common in Argentine wine) with real refreshment value but not a hint of leanness." Jancis Robinson gave a 2013 Pinot Noir from Rio Negro a 17 out of 20, a "skyward score" for her. While Pinot Noir reigns above all other varietals here, Malbec, Merlot, Chardonnay, Sauvignon Blanc, and even Riesling have made their way to Patagonia and attractively showcase the climate.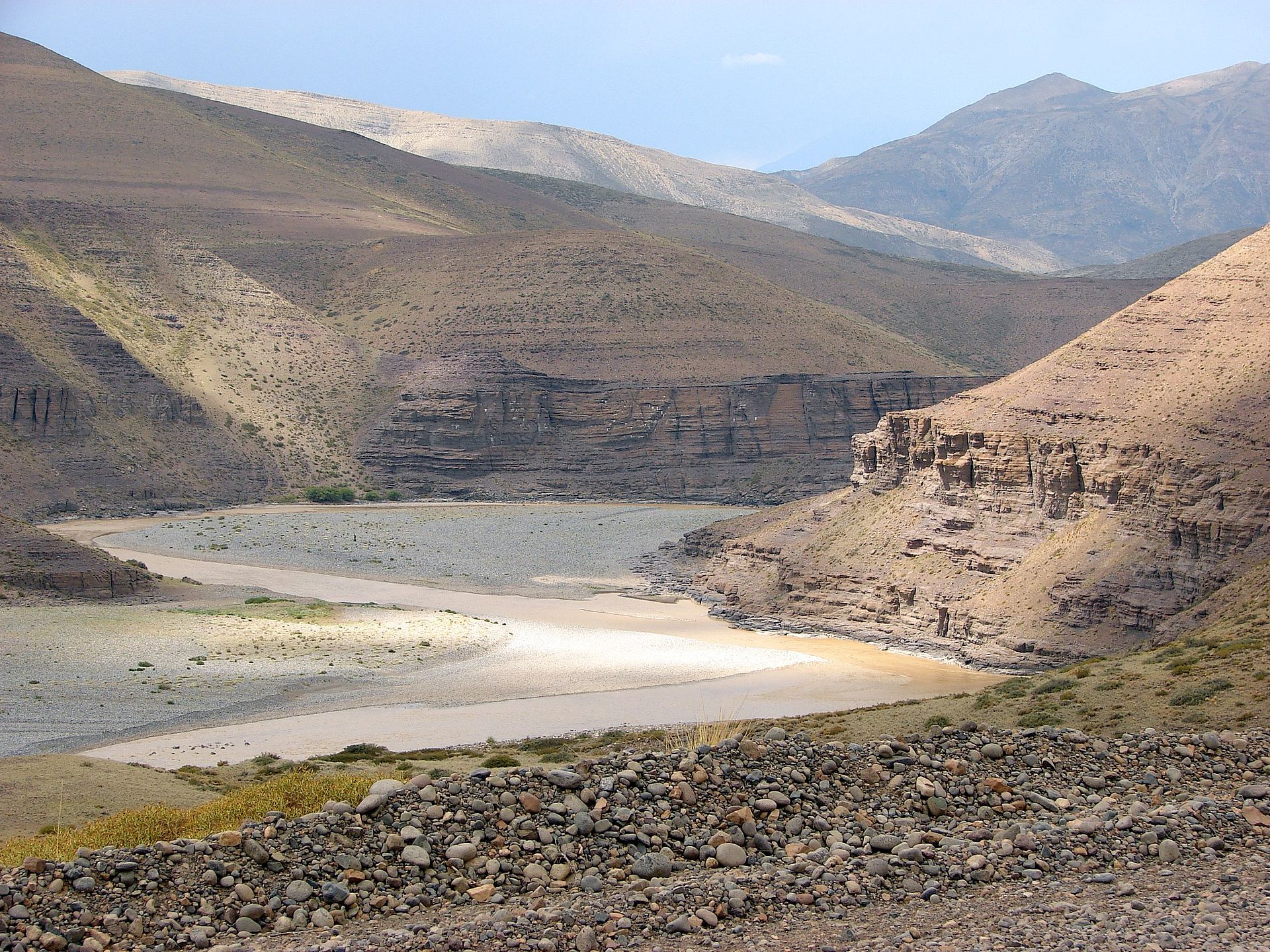 Indeed, Rio Negro is the best expression of the Patagonian wines. Again, the convergence of Andean meltwater rivers form the Rio Negro and the surrounding valley. The valley of Rio Negro is divided into three sections: Alto Valle (near the beginning of the river, in the west), Valle Medio (in between), and Valle Inferior (towards the end, by the ocean). Most quality production takes place in Alto Valle, a 75-mile-long, 5-mile-wide stretch along the river, approximately halfway between the Andes and the Atlantic Ocean. There are 258 vineyards in Rio Negro, compared to 84 vineyards of all other regions combined. Nearby, Nequen is a very young wine-producing region, with its wine only for commercial sale since the early 2000s. It nonetheless shows the same sort of promise as Rio Negro.
Rio Negro is leading the way for Patagonian wine prominence, but no one said it would be easy. During 2012, due to inflation and competitive markets, Patagonia's overall exports dropped 15% in value and 18% in volume. Even though Rio Negro has experienced a steady growth in the last decade, all together Patagonia only represents a mere 2% of wine production presently in Argentina. Clearly, Rio Negro must be patient with consumers to become more exploratory and discover Patagonian wine.
http://www.winesofargentina.org/argentina/regiones/patagonia/rionegro/
http://www.jancisrobinson.com/articles/chacra-barda-pinot-noir-2013-patagonia
http://www.huffingtonpost.com/jacada-travel/north-to-south-touring-ar_b_7060788.html