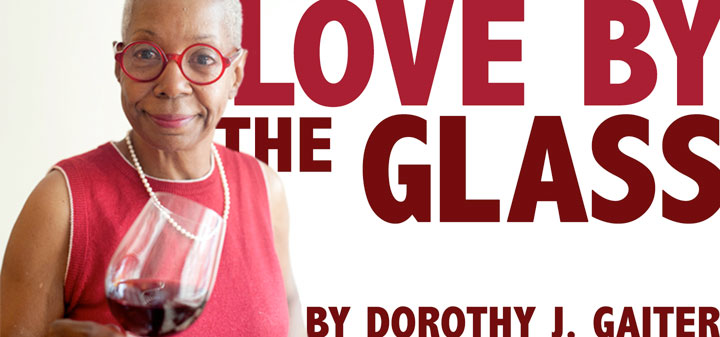 It's the start of the season for entertaining, and no matter the number of people you're hosting, you'll want wines that people will enjoy and that you can afford to pour liberally. Over the next several weeks I'll share with you some of the wines that work well for me, beginning now with Beaujolais, one of the wonders of the wine world.
It's a hard sell, like Riesling, which is ridiculous. Partly that's because of Beaujolais's seasonal kin, Beaujolais Nouveau, which is a favorite whipping boy of wine gatekeepers. I won't distance myself from Nouveau, which is a great celebration of the season. But it's a whole 'nother thing from what I'm writing about now. Today's subject is Beaujolais from 2015, some red, from the Gamay grape, and some white, rare Beaujolais Blanc, from Chardonnay. Beaujolais is often considered part of Burgundy, but it covers parts of the north of the Rhône, which administers it.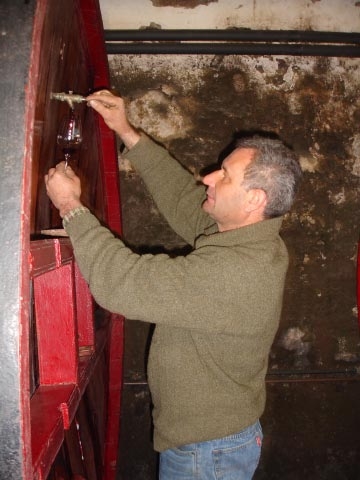 The 2015 Beaujolais is just appearing on shelves now, so we picked up quite a few for a tasting – and to celebrate fall. Some that we sampled tasted a lot like Burgundies but sported Rhône on their labels.
Some of the wines were quite fruity, minerally and spicy, as expected of grapes grown in granitic soil, and some possessed unexpected profundity. The best were fabulous with food, from salmon to brisket.
John picked up some basic Beaujolais, the biggest appellation that comprises all 96 winemaking villages, almost all in the flatter, southern Beaujolais region. Some were Beaujolais Villages from 39 communes, most of which can affix their names to the label. Wines from these granite or schist-rich areas usually represent an uptick in quality from basic Beaujolais. Some wines were from the 10 Beaujolais Crus, areas in the north so special that wines from them are labeled by their place names. The 10 crus, which are often more structured and age-worthy and have their own distinct character, are St-Amour, Juliénas, Chénas, Moulin-a-Vent, Fleurie, Chiroubles, Morgon, Régnié, Brouilly, and Côte de Brouilly.
Three of our top reds were Fleurie from the same winery, Clos de la Roilette, which is a long-time favorite. Alain Coudert (right), who took over the winery in 1991 from his father, Fernand, made them. Fernand purchased the estate in 1967 when it was dilapidated. The property, which boasts old vines growing in clay and manganese-rich soils, borders Fleurie and Moulin-à-Vent, a cru famous for producing longer-lived, denser Beaujolais. When the Fleurie appellation was created in the 1920s and the property lost its Moulin-à-Vent appellation and was reclassified as a Fleurie, the previous owner was so livid that he refused to use Fleurie on his label. Instead, he put a picture of his favorite race horse, Roilette, on it, and the name Clos de la Roilette and vowed not to sell his wine in France. His heirs then neglected much of the land.
It's interesting that we liked the entry-level, drink-now wine, Cuvée Christal, best, $19.99. It's grown in sandy and granitic soils. "Classic raspberry-strawberry nose but loaded with minerals and spices, pepper. Delicious," we wrote in our notes. Of the "regular" bottling of the Clos de la Roilette's Fleurie, $20.99, we wrote, "Great color, blue edges, crisp, vibrant and alive, lovely berry nose but with some oomph, structure. Pure fruit and steel." Now, usually when we see the word "tardive," we think late-harvest. Coudert uses Cuvée Tardive, $26.99, to indicate that the grapes are from 80-year-old vines and that this wine can be drunk late, in other words it can age for at least a decade. While we found it tasty and especially food-worthy, it could have used more time in the bottle. "Flatter, without the popping fruit, more complex, ageable," we wrote. "A serious wine for the distance."
The fourth red that we swooned over was new to us, Château du Basty Beaujolais Lantignié, $11.96, grown in granitic soil. Lantignié, I learned, is a small village next to Beaujeu, a commune in the Rhône department in eastern France that gave its name to Beaujolais. "This one really nails it," we wrote. "It's simply good, in the best way. Earthy, true, honest fruit. Minerals and chalk. Outstanding."
Most of the reds were made by the traditional Beaujolais method of whole cluster semi-carbonic maceration, where the weight of the grapes causes the ones on the bottom to release their juice, which then comes in contact with yeast on the skins, causing fermentation to begin. With this fermentation comes carbon dioxide which, rising, infuses the higher grapes, triggering each grape to experience intracellular fermentation and explode. This process results in the telltale aromas of bananas, pears, apricots. After contact with skins for a few days, the free-run juice is poured off and the remaining grapes are then pressed followed by a blending of the two types of juice and continued fermentation.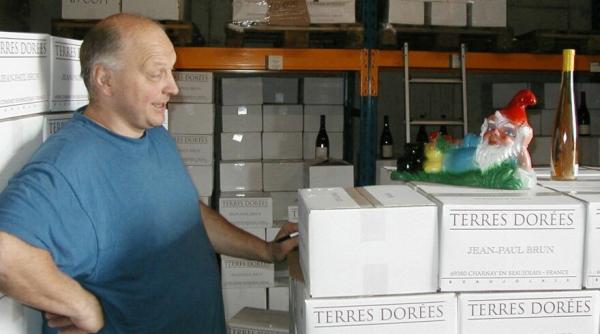 (Photo: Jean Paul Brun)
Around one percent of the Beaujolais region's production is white wine and because some producers can, they label their wines using the better-regarded Mâcon Blanc or Bourgogne Blanc designations. One white that we liked was Terres Dorees Beaujolais Blanc, $16.99, by the famous Jean-Paul Brun in Charnay, a village in the southern Beaujolais. The largest letters on the label say Chardonnay, to be perfectly clear. This 100% Chardonnay was made in stainless steel and concrete to retain its fruit. And what fruit it has! "Lemon soufflé nose. Crisp, rich and bright. Lovelier with time and warmth. Limestone underpinning," we wrote in our notes. Brun, another longtime favorite, has been making wine since 1977, doing things his way, like de-stemming the grapes for his reds instead of working with whole-clusters. He planted Chardonnay in 1983.
The Château de Lacarelle Beaujolais-Villages white, $11.96, blew us away. The Durieu de Lacarelle family bought this estate in 1750 and founded a business in Paris through which to sell its wines. Smart folks. Today, 10 trusted families help Lacarelle descendants maintain this large property. It is farmed sustainably, with 150 sheep providing fertilizer. Louis Durieu de Lacarelle presided over the business from 1969 until his death in 2013, when he was 88. "Seashells and lemon on nose. Nice weight, viscosity, great acidity," we wrote. "True Chardonnay flavors. Easy, yet with substance. Nicely unctuous."
When you entertain, remember that what your guests care about most is being with you. You don't want to fret and run around taking care of "stuff." Buy enough of these wines and sit back and enjoy your company. These wines have your back.
Dorothy J. Gaiter conceived and wrote The Wall Street Journal's wine column, "Tastings," from 1998 to 2010 with her husband, John Brecher. She has been tasting and studying wine since 1973. She has had a distinguished career in journalism as a reporter, editor, columnist and editorial writer at The Miami Herald and The New York Times as well as at The Journal.
As of publication Château du Basty Beaujolais Lantignié, $12.96 is only available at Astor Wine.
As of publication Château de Lacarelle Beaujolais-Villages white is available for $11.96 at Astor Wine.