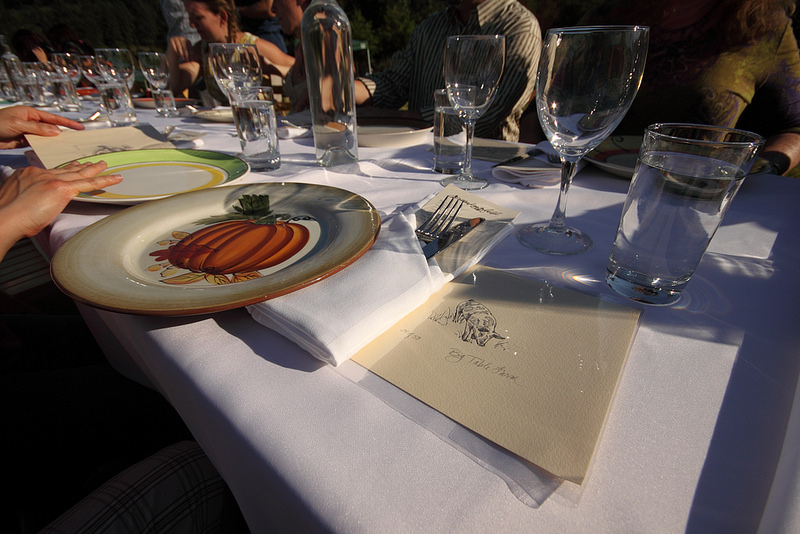 I was first introduced to Big Table Farm by Katherine Cole. The story of husband-and-wife Brian Marcy and Clare Carver and their move from California to start a winery and farm in Oregon is one worth revisiting. I felt it was serendipitous to arrive at a recent industry tasting and spy a 2012 Pinot Gris from Oregon's Big Table Farm among the offerings. And while I've had numerous solid examples of Oregon Pinot Gris, I was caught off-guard when I poured out the contents from a brown bottle into a glass to find it had a distinct orange/pink hue. Big Table Farm's Pinot Gris gets is color from the grape skins spending extra time in contact with the juice. It's a wine, though refreshing when it has a good (but not arctic) chill on it, with a surprising amount of tannin. I bet if I tasted it while blindfolded or out of a black glass that obscured the color, I could see guessing it was a red wine. Very cool!
I got the chance to speak with Brian about why he chose to make his wine in this manner. He told me that though he and Clare don't find themselves drinking a lot of Oregon Pinot Gris, by giving it extra skin contact he could produce a wine with "...tannin and texture that might be a better foil for food."

And, speaking of food, I asked Clare what best pairs with the Pinot Gris. She said that the "salinity of seafood", particularly Pacific oysters or crab, makes for a perfect match. And as far as what grows on Big Table Farm, Clare would like it with a corn bisque or a chicken satay.

Here's a short, charming video about the Big Table Farm. Including discussion of "competitve plowing".
Discover Big Table Farm's Chardonnay and Pinot Noir below.

Jameson Fink has a decade of wine industry and blogging experience. Saveur Magazine nominated his site, jamesonfink.com, for a 2013 Best Food Blog Award in the Wine/Beer Category. He is a tireless advocate for year-round rosé consumption and enjoys a glass of Champagne alongside a bowl of popcorn.