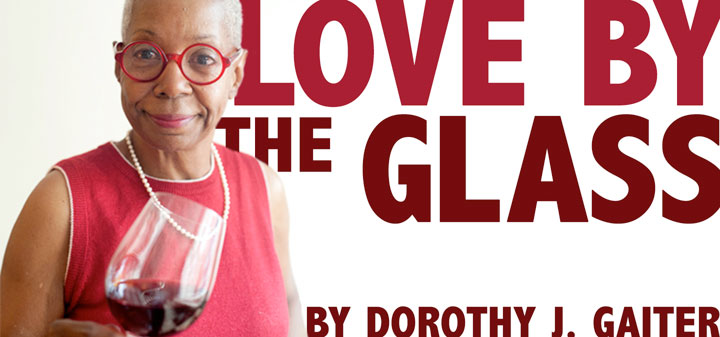 Gavin Chanin grew up in the Studio City section of Los Angeles but he lives, so to speak, at the intersection of Hollywood and Vine.
Consider his audition: Bill Price, the former private equity master and part owner of Kistler and other prestigious wineries, tasted Chanin's Pinot Noir at an event in San Francisco in 2011 and sent him Pinot grapes from his famous Durell Vineyard in Sonoma. Essentially Price said to Chanin, "Let's see what you can do with these, Kid!"
"I only knew Durell by reputation, which is well-earned, but I had never worked with Sonoma grapes until then, so it was pretty exciting," Chanin told me recently. The grapes for Chanin Wine Company's current offering of four Pinot Noirs come from organic or sustainably farmed parcels in Santa Barbara County, where cool evening temperatures, marine-rich soils, and long growing seasons reign.
Chanin did so well with Price's grapes that in 2012 the two men became partners in Lutum Wines, a 2,500-case winery in Lompoc that specializes in terroir-driven, single-vineyard Pinot Noir and Chardonnay from some of the most historic vineyards in Santa Barbara County and highly respected ones in the Sonoma Coast. Lutum, which released its first wine in 2013, is Latin for soil, earth. Price and Chanin are so simpatico that they refer to themselves as The Bards, as in, I guess, they're making bottled poetry. We did a tasting of a small sample of the wines and found these truly impressive: 2012 and 2013 Lutum Sanford & Benedict Chardonnay, 2012 Chanin Bien Nacido Chardonnay and 2013 Lutum Durell Vineyard Pinot Noir. More on them later.
I used the word "kid." Chanin, 29, says he's the youngest winemaker in Santa Barbara, and yet this is his 14th harvest. No slacker here! In 2007, when he was 21 and between his sophomore and junior years at UCLA, from which he graduated Phi Beta Kappa with a degree in art, he founded Chanin Wine Company. Those are his bold paintings on its labels. When he was 25, he made Forbes magazine's "30 under 30 list," along with Facebook's Mark Zuckerberg and Lady Gaga. Chanin's wines from Lutum and Chanin have won acclaim from Food & Wine, Wine Enthusiast and Decanter magazines as well as from Jancis Robinson. His 2011 Chanin Los Alamos Vineyard Santa Barbara County Pinot Noir made the San Francisco Chronicle's top 100 wines of 2013. Three 2013 Chanin wines made Wine & Spirits' Year's Best Pinot Noir issue in April.
"Years ago a wine magazine wrote a big piece on young winemakers and they were all in their early-to-mid 30s and I was 23 at the time selling my first vintage thinking, huh, I need to get out and show more people my wine so they call me next time," he told me.
"If anything, young age works against me," he continued, "because people often interpret being young as being inexperienced, so I try to talk more about my experience with 14 harvests than age."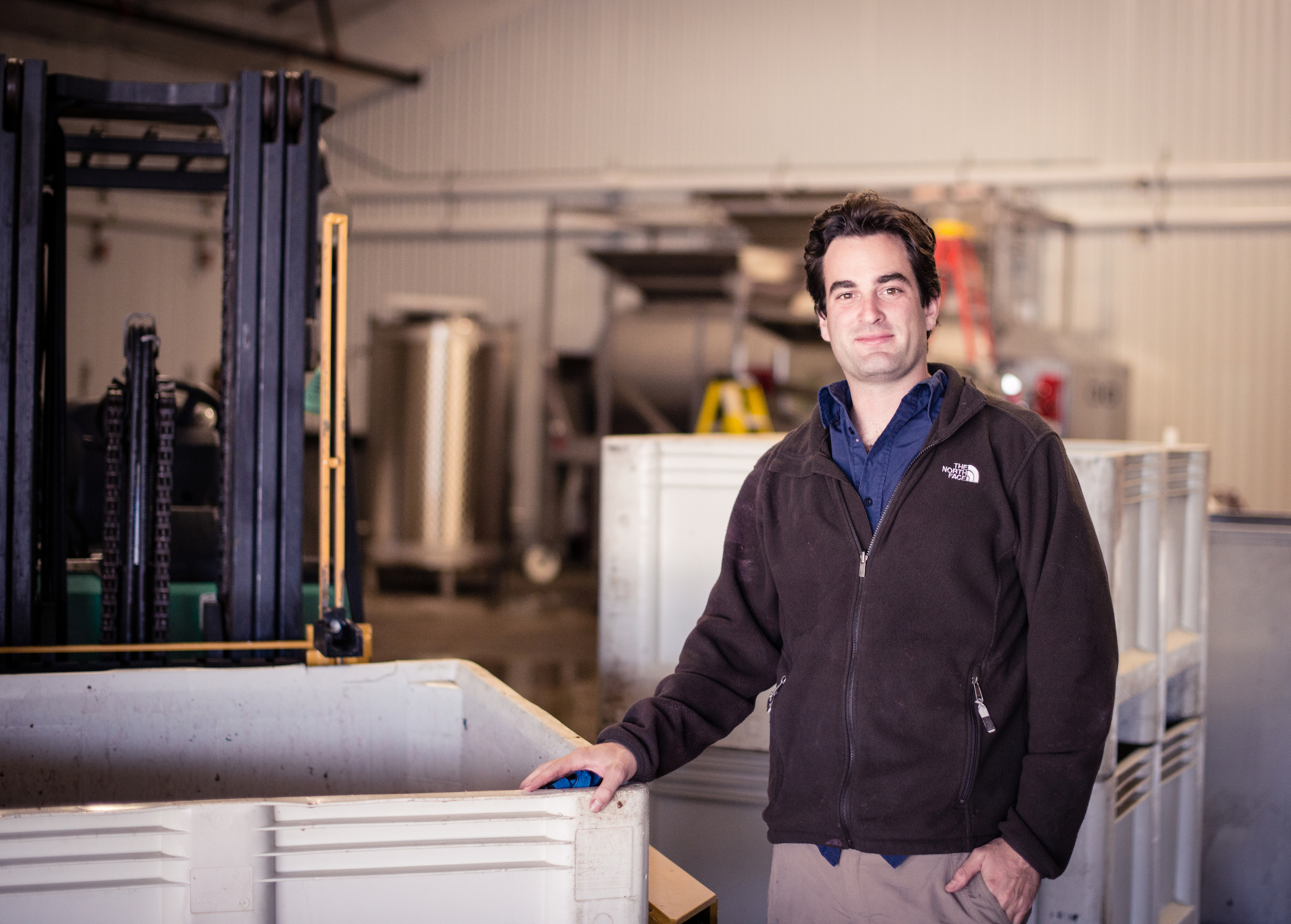 And that experience is impressive, not just because of the number of years, but also because of where he worked, who his teachers were. Jim Clendenen of Au Bon Climat is an old family friend. Clendenen and Bob Lindquist of Qupé winey, both Central Coast pioneers, worked with Chanin's dad, Anthony, at Zaca Mesa winery, a pioneer in the Santa Ynez Valley, in the late 1970s. Gavin told me his dad drove trucks at Zaca Mesa. John Tilson, a founder of The Underground Wine Letter, recalled in one of his 2012 online dispatches that "Tony" Chanin and Clendenen came to tastings he put together "in the early days" so that they could "learn more about wine." While Clendenen and Lindquist went on to start their wineries in a shared facility in 1982 in the Santa Maria Valley in Santa Barbara County, Anthony Chanin left to work in his family's philanthropic, investments and real estate businesses.
After graduating from high school, the younger Chanin, who has two brothers, said he thought about going to Alaska to catch salmon, an idea, he says, "Mom was not excited about." So Catherine Chanin suggested that her son talk to Clendenen, instead, about summer employment. Chanin was 18 and by the time his summer internship was over with Clendenen and Lindquist, he knew what he wanted to do with his life.
Chanin took every fall quarter off during his years at UCLA to work harvests with Clendenen and Lindquist. He also worked harvests at Hamilton Russell Vineyards in South Africa and two wineries in New Zealand, and visited wineries in Burgundy and Italy. He made up for lost time at school by taking summer courses.
Chanin says he practically lived with Clendenen for years, learning all he could about a lot of things. "At Au Bon Climat, the youngest person had to do the dishes and by my sixth harvest, I was still doing the dishes," he said. He also learned to cook from Clendenen, who is legendary for his culinary skills and feeding his staff delicious meals, family-style.
In 2009, upon graduation, Chanin joined Clendenen and Lindquist full-time as an assistant winemaker, where in his off-duty time, he continued to make his own wine at their shared facility. "I was lucky to meet some of the best farmers in the area during my internships," he told UCLA magazine last year. "This allowed me to get my foot in the door and source some of the most sought after fruit."
The wines from Lutum and Chanin bear the same footprint, as you might expect. When they're spot on, they're elegant, balanced and precise, made by an intelligent and confident hand. When they miss, they miss by a hair, a whisper; they're either a tad too oaky or austere but still worthy of long discussion, a high compliment.
The Bards like old vines that Chanin says produce rich fruit with "less color but more texture, structure and minerality" and the high-acid profile that comes from early picking. Chanin and Price are both soil geeks, intent on expressing each vineyard's particular nuances.
"If you want to make wines that show place and terroir, they can't be too sweet," Chanin said.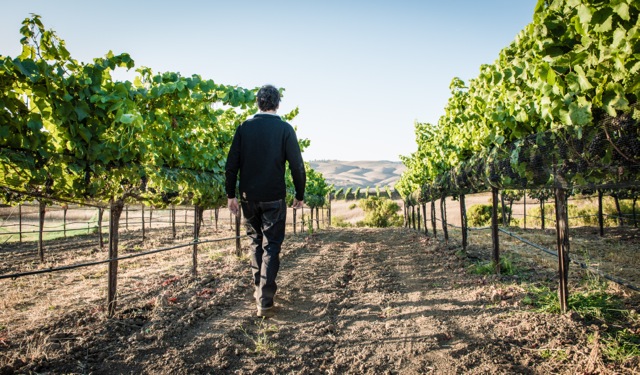 We wrote of all the wines: "These are the result of deliberate, sensitive winemaking. They didn't decide in a lab what these would taste like -- they decided when they chose the blocks of vines and when the grapes were picked. We don't taste that often enough in California wines." Of the 2013 Lutum Sanford & Benedict, we wrote, "A real triumph with great acidity, ripe fruit and judicious oak." Of the 2012 Chanin Bien Nacido, "Awesome, with a little whiff of Burgundy funk. Great oak/fruit balance. Classy. With more air and warmth, it keeps its acidity intact." Of the 2012 Lutum Sanford & Benedict: "From the nose alone, before tasting, this smells expensive and worth the price. Long, toasty finish. A rich Chardonnay. A success, but would have been better with more fruit, less oak." The 2013 Lutum Durell Vineyards Pinot Noir was "rich, with some attractive Pinot bitterness, rose petals, raspberries and violets. An elegant California Pinot. Not Burgundy, but proudly California."
Chanin says Price "has a sixth sense for good vineyards," and he certainly has put his money on some of the best. Price owns Classic Wines, Price Family Vineyards, and Three Sticks winery (he's William Price III, thus the three sticks). He also owns and manages Gap's Crown Vineyard and has ownership interest in other wineries including Buccella, a cult Cabernet maker. Price is chairman of Kosta Browne Winery.
I asked Chanin if he'd considered making something other than Chardonnay and Pinot Noir. "I enjoy just making Pinot Noir and Chardonnay," he said, explaining that those grape types are especially well-suited to express the "subtle differences" in geography, geology and climate. "I like doing two things at a high level," he added.
Chanin also told me that after a brief hiatus, he's getting back to painting. He told his alumni magazine that painting and winemaking are complementary endeavors. "You need a sense of touch and instinct in both painting and winemaking. They both have the potential to transform something unremarkable into something amazing — raw pigment into a painting, grapes into wine."
He's exceptionally talented at both.
Dorothy J. Gaiter conceived and wrote The Wall Street Journal's wine column, "Tastings," from 1998 to 2010 with her husband, John Brecher. She has been tasting and studying wine since 1973. She has had a distinguished career in journalism as a reporter, editor, columnist, and editorial writer at The Miami Herald and The New York Times, as well as at The Journal.