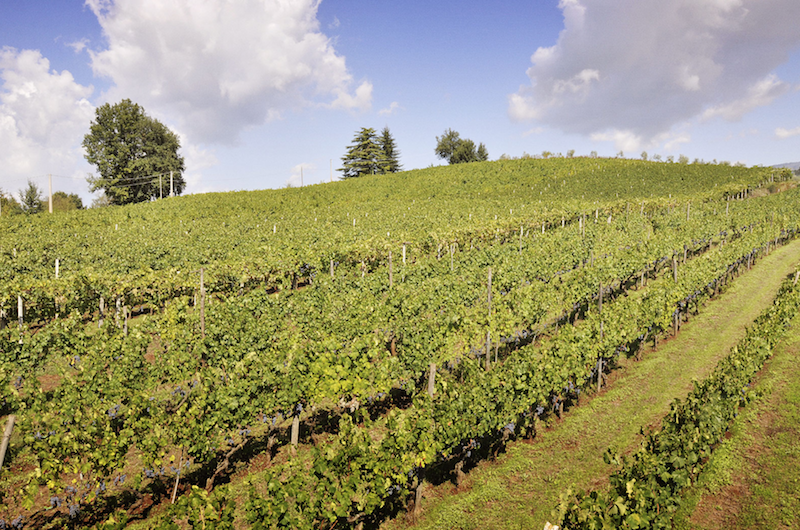 Damanio and Letizia Ciolli are wine growers in southern Lazio, in an ancient town 35 miles east of Rome called Olevano Romano, and wake up everyday in the vineyard of their dream -- but only after a lot of hard work.
In 2001, they inherited their family's inconspicuous bulk wine that was being joyfully consumed by the locals. As fate would have it, that same year a destructive hail storm was the turning point.
The assault ruined their family's vineyard, leaving it practically abandoned, and calling Damiano and Letizia into action. The couple worked tirelessly to revive and retrain their vineyards, applying lessons learned from their experiences home and elsewhere in Europe. Damiano and Letizia traveled throughout Europe, discovering new wines, meeting their favorite winemakers, and training at the university in Bordeaux. Their newfound wine revelations was grounded in four generations of family tradition, revitalizing the native Cesanese grape of southern Lazio.
Nowadays, Damiano and Letizia have gotten to a point to where they call their wine their own. But again, only after a lot of hard work. From retraining an antiquated vine training system to spurred cordon and modern Guyot, incorporating bottling into their operations, establishing two distinct cuvees, adopting winemaking techniques drawn from a deeper understanding of the variety, promoting grape varietal diversity--all from natural methods.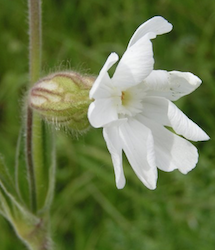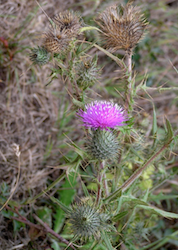 These cute country Romans went so far as to name their two cuvees after local flowers, Silene and Cirisium (pictured left), found in the vineyards.

Even further, Damiano and Letizia are leaders in bringing their star grape -- Cesanese -- to the forefront with skill and authenticity. They tend to both varieties of Cesanese: some Cesanese Comune but mostly Cesanese di Affile, the more noble of the pair. The two varieties are distinct in terms of grape size and foliage, which impacts ripening and the resulting taste in the glass. Comune tends to be richer in fruit and color, whereas di Affile can be subtly lush, elegantly aromatic, and alive with pleasant phenols.
Damiano and Letizia's Cesanese grapes are harvested by hand, alongside friends, family, and community members. The make a party out of harvest and #CesaneRule! is the name of it. After another successful harvest, the region's wine is commemorated by picnic-ing in the vineyard.
Il Silene is made from 100% Cesanese di Affile, fermented and then aged in stainless steel tanks for one year. Cirisium is also made from 100% Cesanese di Affile, but with longer maceration times and then aged in French oak barrels for 18 months. The former is bright and filled with romantic rusticity, while the later is deep and more powerful.
Grape Collective talked to Letizia Ciolli, co-owner of Cantina Damanio Ciolli.
Letizia, please tell me how you got into the wine business.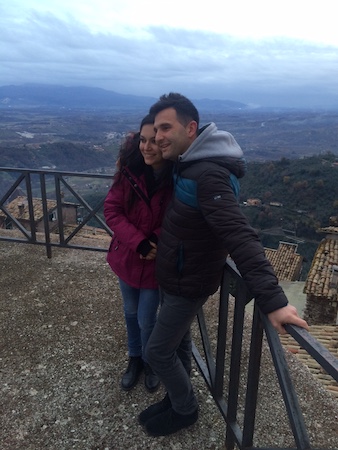 Letizia Ciolli: Well, I grew up into the vineyard. Me and Damiano, we grew up into winemaking families. We come from a town which is called Olevano, and Olevano means olives and wine, because we do produce olive oil and Cesanese wine. Our grandfathers, our fathers, they used to work in the vineyard. That's how we approached the vineyard from that perspective.
When you were younger, you traveled to Italy and France. How did that change your perspective on winemaking?

It changed it a lot, because we grew up in an environment in which everybody grew Cesanese, so we didn't know too much about other wines. When I went to France, I actually studied winemaking in Bordeaux. The first thing that they taught me was about the grapes. Then, after returning back to Olevano with Damiano, we started to test different wines from Burgundy. Maybe, mostly Burgundy because it influenced our perspective. As you can see, we opted for this kind of bottle, the Burgundy style bottle, because we love Burgundy wine.
Please tell me about the delicious Cesanese grape.

First of all, there are two different kind of Cesanese, Cesanese Comune and Cesanese di Affile. Both of them are just two different biotypes of the same variety. Mostly, the difference is in terms of ampelography -- so in terms of leaf, how the leaves and the grapes look. And Cesanese is a very spicy variety. When you test the grapes, you can feel the peppercorn, black peppercorn. You can feel chives, also. It's very spicy. I always say that Cesanese is the kind of variety that once you taste it you never forget. Cesanese has very small clusters and very compact clusters. The skin is quite thick, and it's full of wax. What else? Usually, Cesanese is very tangy, so you need to be very careful when you vinify it to avoid too much astringency.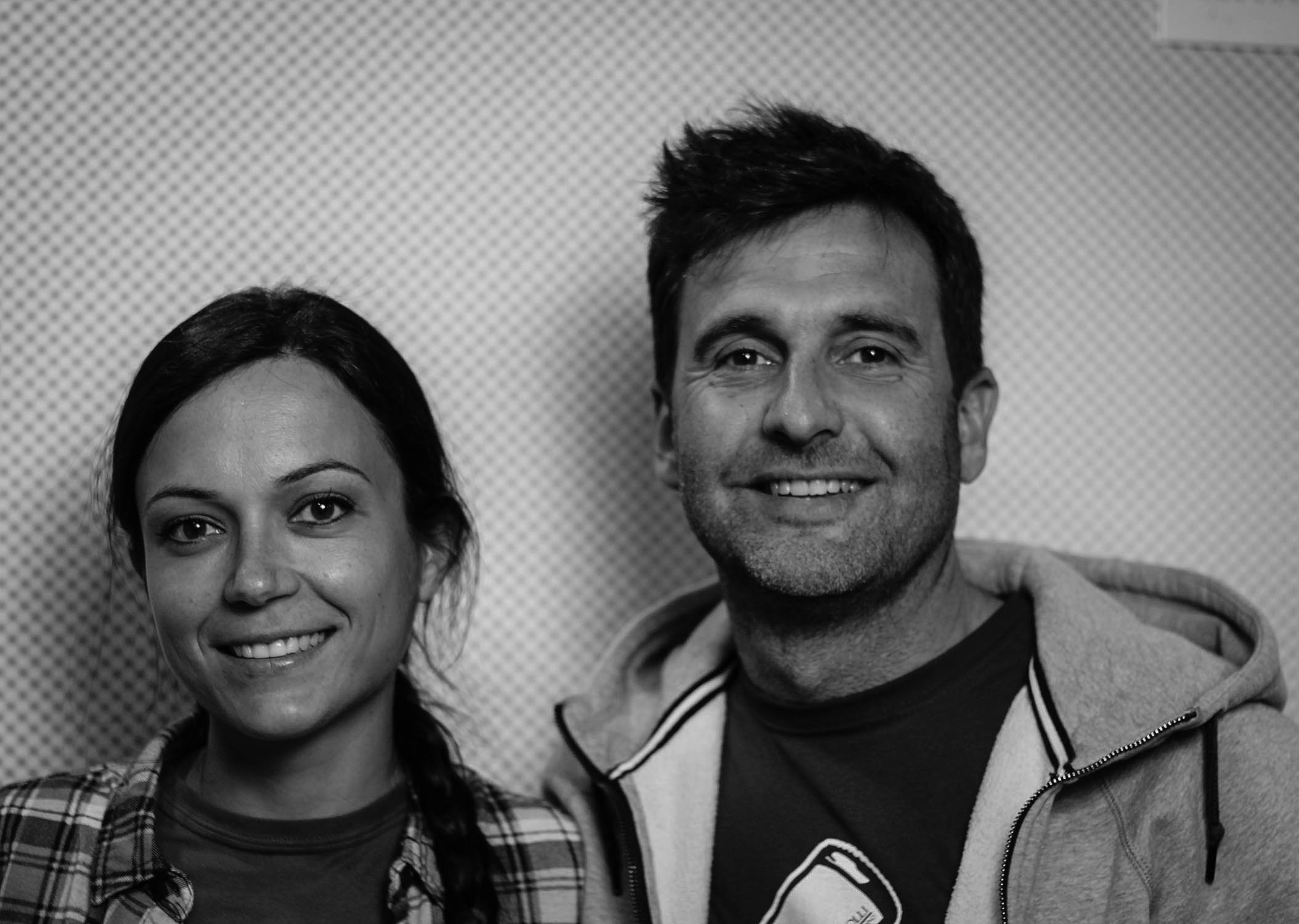 The color, it's not so deep. Sometimes, depending on the vintage, it can look different, and it can even look like a Rose'. Sometimes, people say, "Come on, this is not the red!" But if you vinify Cesanese without blending with other varieties, the color is not full of anthocyanins, so it's not full of polyphenols, so that's why the color is ... it's like a pinot noir color.
Tangy and spicy -- sounds great! How does your terroir of southern Lazio add to Cesanese's character?

In fact, we are in the southeast of Rome. If I have to describe our position, we are in the middle of the hillside, with southeastern exposure. The sea is nearby, so light gusts of wind provide a kind of freshness and dry air. This prevents different kinds of diseases.
The other thing that is important is that we are very close to a volcano. That's why our soils are deep red, and it is the soil that gives minerality to our wine, and a little bit of freshness. The volcano is Castel Gandolfo, which nowadays has a lake in the crater. During the volcano's last eruption, the lava actually arrived to our DOC, which is also named after the volcano, Olevano Romano DOC. Right before arriving to Rome, there is another DOC. And compared to the other DOC, we have a totally different composition of soil because the impact of the volcano explosion and lava flow was unique to our area. We have very deep soil and the soil is very important, because, as I said before, it gives the minerality to our wine.
How does your soil translate to the bottle? Tell me about your viticulture techniques.
Damiano and I started in 2001, but wine has been in our family for four generations. When we decided to produce wine, we had to understand which way was better in terms of viticulture, to work with wines. I'm speaking about, for example, the vine training system. The regional training system was a kind of training system that involved a lot of manual work, and it was called alberello. Alberello is a kind of little bush with something to sustain the shocks. We needed to change that, that kind of pruning and harvesting process. And we did.
In terms of organic winemaking, we are not certified, but we always follow the tradition, because our grandfather also practiced organic traditions. In that way, we were lucky. We are proud, too, because it means that the vineyard is alive.
What is your philosophy of winemaking?
Our philosophy behind the production of our wine is to have, first of all, a wine which is very fresh and very easy to drink. That's why, for example, as compared to other producers, we do shorter maceration times. The other thing that we do, for example, we don't do leaf removing, because we don't want to have too much bitterness in our wines, and, also, we don't want to have over-ripening from too much sun exposure. Since we started to bottle our wine in 2001, everything was a great experiment for us.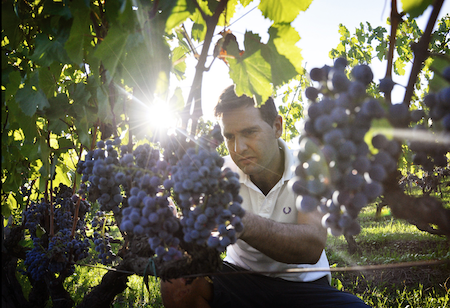 In the beginning, we started using stainless steel tanks. Now, we have changed it a little bit. We decided to also use concrete for the aging of the wine. Why? Because we needed to understand which was the better way to achieve the greatest goal that we wanted. First of all, as I say, we wanted for the wine to be easy to drink, but why? Because our philosophy is to buy a bottle and to drink it. Second thing is that we wanted to express the true genuine characters of Cesanese, the spicy, tangy potential of our wine. Sometimes, other people used to vinify the wine with a long maceration and in that way, you will never achieve the freshness in the wine..
The other thing is that we use concrete for aging, because Cesanese is a variety that is very particular in terms of oxygen reduction. So we realized that, at some point during the aging, it needs a little bit more oxygen that you can never achieve with stainless steel. That's why, we tried concrete for the first time and we decided to stick with concrete for aging.
Concrete ideas. How has your winemaking changed over the years?
As compared to our grandparents, everything has changed, because they used to produce Cesanese just to sell it as jug wine in the city, in Rome. When we started in 2001, we decide to bottle our wine. Everything happened because there was a huge frost, so we lost most of the production, like more than 50% of the production. When we came back from doing harvest, we were like, "How is it possible that the grapes taste so good?" Because, usually, there was much more yield, so we were like, "Maybe we should change something." That's when we started to taste the wine from France, and this is to say that we have changed a lot from 2001 until now, and everything is a challenge. It's a big challenge, because we don't know the final potential of our wines, but we are excited to find out.
Challenging, but exciting.
Read more from Marco Salerno on Grape Collective.