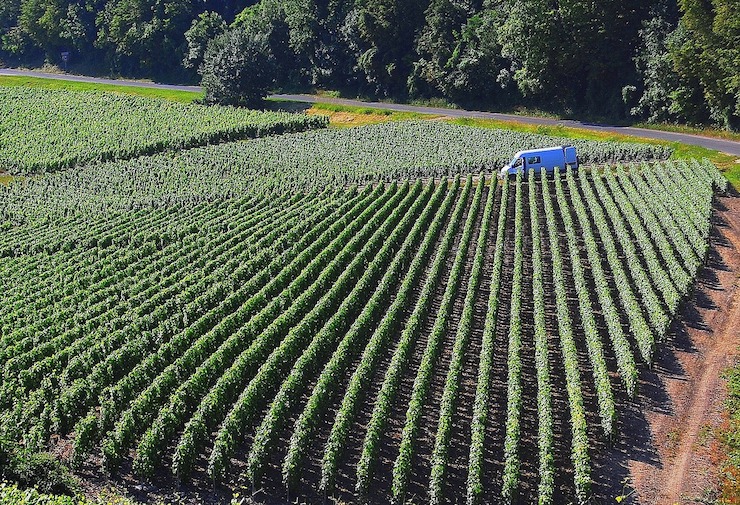 Cheverny, a wine sub-region located in Touraine, Loire Valley, mainly produces dry whites, light reds and rose. It received AOC status in 1993 and has 24 communes in the Loir-et-Cher department spread over 532 hectares.
The principal varieties of Cheverny Blanc are Sauvignon Blanc and Sauvignon Gris, however Chardonnay, Chenin Blanc and Orbois are the accessory varieties used in the blend. Cheverney Blanc somehow does not carry the distinctive minerality and racy acidity typical of Sancerre or Pouilly-Fume, but it is certianly a crowd pleaser for those who enjoy a more subtle flavor profile.
Pinot Noir and Gamay are the main grapes used to produce light and fresh Cheverny Rouge. Cabernet Franc and Cot (Malbec) are used in smaller proportions to complement the blend. Rose is generally made with 60-84% Pinot Noir and 16-40% Gamay. Cabernet Franc and Cot are the accessory varieties to balance the end product.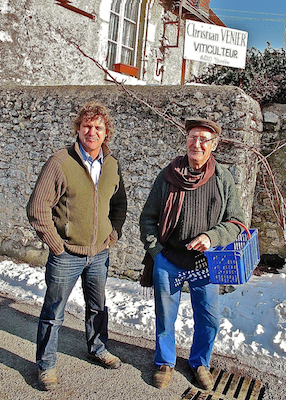 Domaine Christian Venier, a three generation winemaking family, is located in Madon, on the plateau of Cheverny in the eastern section of Touraine. After Christian Venier took over the domaine from his father in 1998, he purchased 14 hectares of vines from a waning farmer where the domaine is situated now and they started to practice biodynamic farming. Within years they have become an iconic vine grower as well as a revered winemaker in the area. As an inspiration to the younger generation of winemakers in Cheverny, Christian said himself that he believes hard and honest vineyard and cellar work are essential to creating healthy natural wine. He just lets the juice shine by itself and intervenes in the cellar as little as possible.
Both red and white grape varieties are planted in Domaine Christian Venier: Cabernet Franc, Gamay, Menu Pineau, Pineau d'Aunis, Pinot Noir, Chenin Blanc, Sauvignon Blanc and Chardonnay. Soils in the vineyards consist of silica, clay, gravel and stone. The grapes reflect these different soil components and variations in terroir. Christian Venier harvests all the grapes manually followed by whole-cluster fermentation with natural yeast. No further additions and subtractions happen in the cellar. Christian Venier uses resin-fiberglass, stainless steel, cement and oak, all in large format to age his wine in order to create the end product with more structure and minerality but still maintain the natural feel of the wine. Christian Venier considers himself more like a peasant than a winemaker and believes all his efforts should be focused on the vines rather than in the cellar.
Several of Venier's wines can be found in the US market:
2015 Christian Venier Cheverny Rouge, "Le Clos de Carteries" - This is a delightful and juicy Cheverny. It is a blend with 70% Gamay and 30% Pinot Noir, undergoing three week whole-cluster maceration to gain greenness and eathiness as well as some layers of red berries and red cherry flavor. Medium body with medium tannin; mostly red berries with some dark berries on the nose and palate. Bright with good acidity. This wine cries for a cheese plate or even a plate of charcuterie. Of course, it is also drinkable on its own.
2015 Christian Venier, Cheverny Rouge, "Les Hauts de Madon" - This Cheverny Rouge is using the grapes from "Les Hauts de Madon," the higher vineyard in the domaine. It's a 80% Pinot Noir with 20 % Gamay. Using natural yeast and fermenting the grape whole-cluster in a cement and resin tank. Grapes undergo carbonic maceration and the juice are bottled unfiltered without any sulfite added.
2015 Christian Venier, Cheverny Rouge, "La Pierre aux Chiens" - This is a 100% Pinot Noir. All the grapes are hand picked manually and selectively and undergo whole-cluster fermentation with natural yeast. Carbonic maceration happens in a combination of steel and resin tanks. Bottled without sulfites. It has red berries with red citrus on the nose and palate. Medium body with silky tannins and racy acidity with a stony finish. A great wine that shows its terroir at its best.
Distributor: Savio Soares Selections