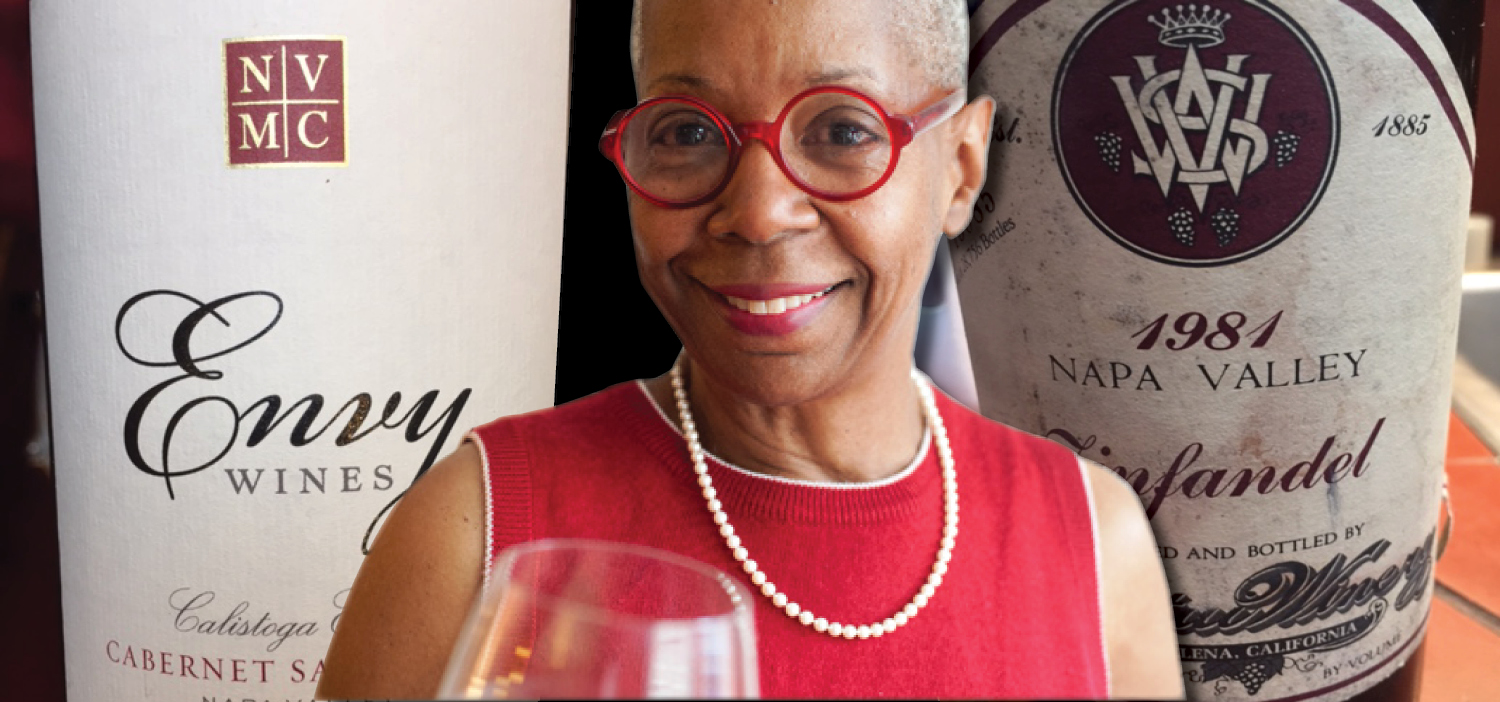 The other day John and I were looking through shelves and shelves of our oldest and most precious wines, looking for something to enjoy on Open That Bottle Night this Saturday, Feb. 25, when we came upon a wine that most certainly we should have opened long ago, a 1981 V. Sattui Winery Napa Valley Zinfandel. The bottle sports a neck label that reads, "Centennial Wine, Vitorrio Sattui, 1885-1985." Our notes indicate that it was a gift from Ellen Livingston, then a colleague at The Miami Herald, where she covered education. She had visited that family-owned, puppy-friendly mélange of a place in St. Helena in September, 1985, and brought it all the way back for us.
The Zinfandel had begun to drip. Horrors! Ordinarily before OTBN, I'd call the winery that made the bottle we were going to open to get more of its history and to ask the current winemaker perhaps to venture how our selection might fare on Saturday night. However, with this bottle, I didn't want to risk the rebuke. And Ellen? How could we have…? I know. This is exactly why we invented Open That Bottle Night in 1999, a year after we began our stint as wine writers at The Wall Street Journal.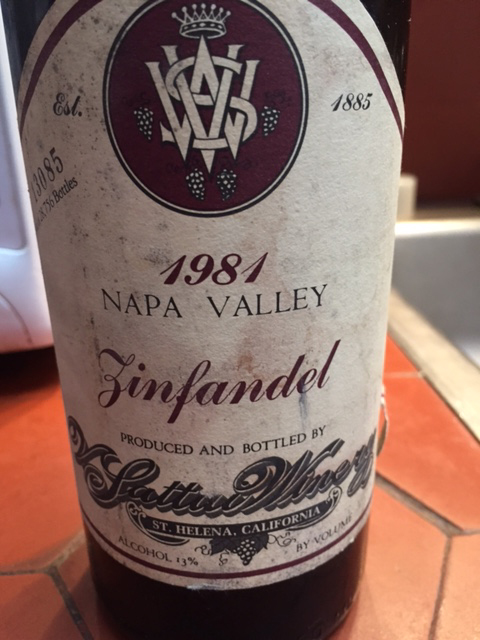 Whether you have a case or hundreds of cases of wine, there's often one bottle, maybe several, that are so precious you hold on to them for a special occasion. And you know what? That special occasion never seems to come. Readers have told us about 50th wedding anniversaries, births, graduations and weddings celebrated and still the bottles have gone unopened. Sometimes the wines were gifts of people who have passed away.
So John and I decided to select a date, the last Saturday in February, to open those bottles with the idea that if we collectively, worldwide, commit to doing it, we'll actually have the courage to do it. Now, although we designated the last Saturday in February as the official Open That Bottle Night, you really should be popping these bottles as frequently as you can. After all, you're not celebrating the liquid, but the memories, the people and circumstances surrounding those bottles. The wine doesn't have to be your most special. It could be a wine you've always wanted to try, or one with some other significance for you. Plan a special meal around the bottle and share it with people you care about.
Over the past few years, we've had public celebrations, the last two at a little BYOB place on the Upper West Side, A Café, which unfortunately closed a few months ago. There are other BYOB places that might welcome an OTBN celebration, but I've been too busy lately to scout another so this year, John and I will celebrate alone at our country cabin.
Over the years, OTBN has been used as a fundraiser for charities. Restaurants and wineries have also gotten into it, featuring special menus and parties. The great restaurant, Windows on the World, even waived corkage one year. In 2014, John and I celebrated OTBN at iCi Urban Bistro in Washington D.C.'s Sofitel Lafayette Square, where members of the D.C. chapter of the Commanderie de Bordeaux, including Madame Le Maitre, Bette A. Alberts, the first female head of a chapter in the U.S., opened great wines.
Australia is once again promoting OTBN big-time. The Drinks Association, formerly Liquor Merchants Association of Australia, has ideas for those in the hospitality industry, wineries, retailers, and wine lovers (drinkscentral.com.au). Vinified Wine Services, an organization of sommeliers in Australia, is hosting a three-course OTBN dinner at a restaurant called Noir, in Richmond, a section of Victoria, Australia. Even a company called Chinet, which makes wine glasses, has tips (mychinet.com/whats-new/celebrate-open-bottle-night).
Back to our bottle. We first went to V. Sattui Winery, a combination winery, deli, gift shop and picnic spot in 1976, the year it opened in St. Helena. We were visiting California Wine Country for the first time and it was such a welcoming, friendly place. It has won many awards, but we wouldn't say its wines are Napa's very best. Still, then as now, you're invited to enjoy the wine and food you purchase there in its sprawling picnic area and we had a delicious lunch. Since that first visit, V. Sattui has become a huge business. V. Sattui's wines—it makes 60 different ones—are only available for purchase at the winery, by phone, or online from its website, vsattui.com. Its "Long-term Aging & Drinkability Chart" doesn't list any Zinfandels made before 2005. It notes, "Older & All other V. Sattui wines not listed…Drink now."
Here's a brief history of the winery: In 1885, Vittorio Sattui and his wife, Katerina, immigrants from a town near Genoa, Italy, had started a winery in San Francisco called St. Helena Wine Cellars, named for the town from which he bought his grapes. They did so well that they were able to purchase another winery in San Francisco in 1899 and this one they named V. Sattui Wine Company. Prohibition shut them down and when it was repealed Vittorio decided to retire. Generations later, Vittorio's great-grandson, Dario, revived the family business in 1976 in St. Helena.
This April marks the 10th anniversary of Castello di Amorosa, Dario Sattui's 121,000-square foot winery and castle built near Calistoga in the style of Italian medieval architecture. In addition to vineyards, the property features 107 rooms on eight levels, a moat, drawbridge and a torture chamber among other authentic features.
Despite the dripping bottle, I'm still hoping this wine remains wine. As we've often said, even if you think the wine is "over," don't rush to the sink to pour it out. Sometimes these old gems can surprise you and pull themselves together for a few glorious moments. You don't want to act too hastily and miss them. We kept this bottle in our best temperature-controlled wine cabinet, but I don't remember when I last saw it. Our bad. In any case, as we always advise: Enjoy the wine for what it is, not what it might someday be or might once have been.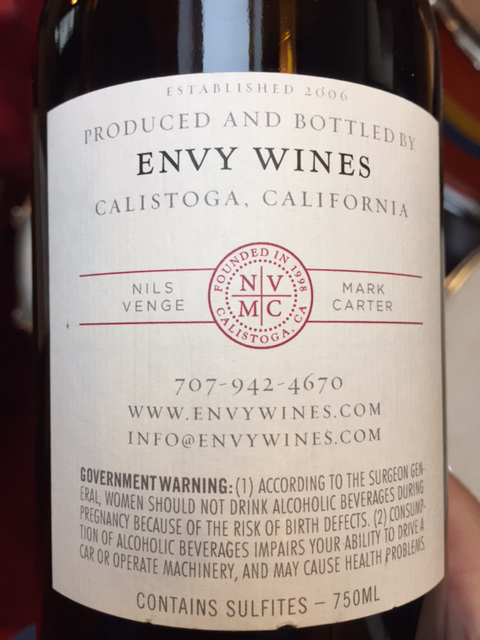 And always have a back-up. We selected our 2013 Envy Wines Estate Cabernet Sauvignon, purchased last year on our most recent visit to Napa. It just seemed nicely circular: Our first Napa visit and our most recent. Envy is co-owned by Mark Carter, a hotelier and restaurateur, and famed winemaker Nils Venge, whose 1985 Reserve Cabernet Sauvignon made at Groth Winery was the first American wine to earn a perfect score from Robert Parker. That was in 1988. Envy, we were told in the tasting room in Calistoga, stands for Nils Venge (and it could be interpreted as Napa Valley). Both men's initials are on the label, NV and MC.
Driving around Napa, we stopped at wineries we'd never heard of and there was something familiar about Envy. Once inside, we realized that we'd known it when it was Calistoga Cellars. The two men founded Envy Wines in 2006. Carter Cellars wines are also made there and the winery property also serves as a custom-crush facility. Venge owns Saddleback Cellars in Oakville (and we remember our first Saddleback, by the way, at the Horseradish Grill in Atlanta).
The couple behind the counter at Envy were so sweet we could have talked to them all day. John and I shared a tasting, which we always do, and found the wines beautifully structured and elegant. We had planned to keep this Cabernet Sauvignon ($54) for years. With luck, we won't have to open it Saturday.
Please enjoy your wines and your loved ones this OTBN and let us know, below, what wines you selected and how your evening went.
Santé.
Dorothy J. Gaiter conceived and wrote The Wall Street Journal's wine column, "Tastings," from 1998 to 2010 with her husband, John Brecher. She has been tasting and studying wine since 1973. She has had a distinguished career in journalism as a reporter, editor, columnist and editorial writer at The Miami Herald and The New York Times as well as at The Journal.
Read more columns by Dorothy J. Gaiter on Grape Collective.