Something on the label of the 2016 Thomas Goss Riesling from Adelaide Hills, South Australia, caught our eye.
"Contains Milk."
John and I have been inveterate label readers for 44 years. We read every word of them, even in restaurants, and especially when we've ordered a wine by the glass that we haven't seen before. We've often found that the more information, the better the wine. Sometimes, the opposite is true. We coined the term "critter wine" to call out the proliferation, beginning about two decades ago, of shaggy dog (or whatever) stories on labels, unspooled to induce people to buy way-too-often wines we called "beastly and fowl."
Wine labels have held such great interest to us that in
2002, we went to Washington to visit the U.S. Treasury Department's Bureau of Alcohol, Tobacco and Firearms (BATF), now known as the Tax and Trade Bureau (TTB). That's where, among other things, people decide what may and may not be on a wine label.
Our "Tastings" column in The Wall Street Journal about that trip mentioned an expensive Pinot Noir we purchased on our first visit to Long Island's North Fork when we dropped in on Hargrave Vineyards, which is now Castello di Borghese Vineyards.
"The label on the wine was lovely -- golden, with a Picasso-esque drawing of a nude. Oddly, though, there was a black bar across her chest," we wrote. "The man behind the counter explained that because the BATF had a regulation prohibiting nudity on wine labels, Alex Hargrave, without even submitting it for approval, had added the black strip." Louisa Hargrave, who with Alex sold their winery in 1999 told us back in 2002, "It was censorship. Just how ridiculous was that?"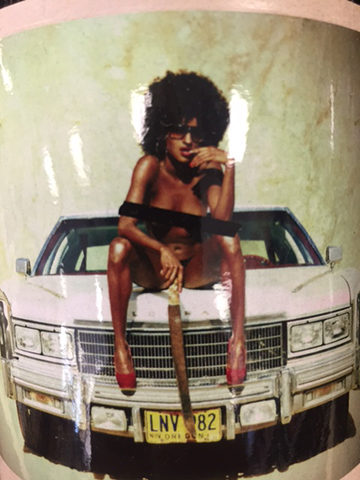 How ridiculous indeed given the near-pornography on Orin Swift's Machete Red Blend (right). More high-brow is the offering from Jolie-Laide.
Now, we understand that many substances can be used in the production of wine and that especially, but not exclusively, the proponents of natural wine and organic wine eschew most of that stuff. However, more and more winemakers who don't fall into either the natural or official certified organic camps are hewing to less-manipulated ways of making wine and they're labeling, voluntarily, exactly what they've used to make the wine you're drinking. Milk, eggs, fish and their derivatives, like casein, the protein in milk, are sometimes used in the fining process to clarify the wines, and to remove stuff some deem undesirable. Other animal-based products are sometimes used to address issues like mouthfeel. However, in our 44 years of drinking wine together, we've never seen those two words, "Contains Milk," on a label.
We Googled it and found regulations in Australia that appeared to make its listing mandatory. If that's so, why hadn't we seen it before? Wine Trees, a California-based company that the label says imported the wine, had sent me the Goss to review. Digging in the 2006 U.S. National Registry, I found two things, a proposed rule and an interim rule. "Under the proposed regulations, producers, bottlers, and importers of wines, distilled spirits, and malt beverages must declare the presence of milk, eggs, fish, Crustacean shellfish, tree nuts, wheat, peanuts, and soybeans, as well as ingredients that contain protein derived from these foods, on a product label unless an exemption applies to the product in question. DATES: Comments must be received on or before September 25, 2006."
And this: "Under the interim rule, producers, bottlers, and importers may declare the presence of major food allergens in their products, but are not required to do so." In 2010, the feds reported that since 2006, the TTB had received only 109 applications to voluntarily list things like milk and eggs on alcoholic beverage labels, with milk being requested mostly for distilled products and egg whites and fish for wine.
So as things stand, the only allergen that is mandatory on wine labels of domestic wines and those imported into the U.S., is still sulfites. But this is a moving target here and in the EU and other countries, where some insist on labeling if the allergen is present in the finished product or present in levels that exceed certain limits.
We wondered what others thought about the "Contains Milk" label so we posted the label on Facebook. Charles Passy, a former colleague at The Journal, wrote that his son is "deathly allergic to milk... this is quite scary indeed."
Lisa Friedman, public relations manager at Santa Margherita Wines USA, wrote, "It's an overwhelmingly common inquiry these days--all of my company's wines are 'Vegan friendly' in that only vegetable derived agents are used in fining, filtering etc. No animal products or bi-products."
She added, "Consumers are definitely more interested in what exactly is in their food and yes their wine. I haven't seen a label like this either; glad to see it exists."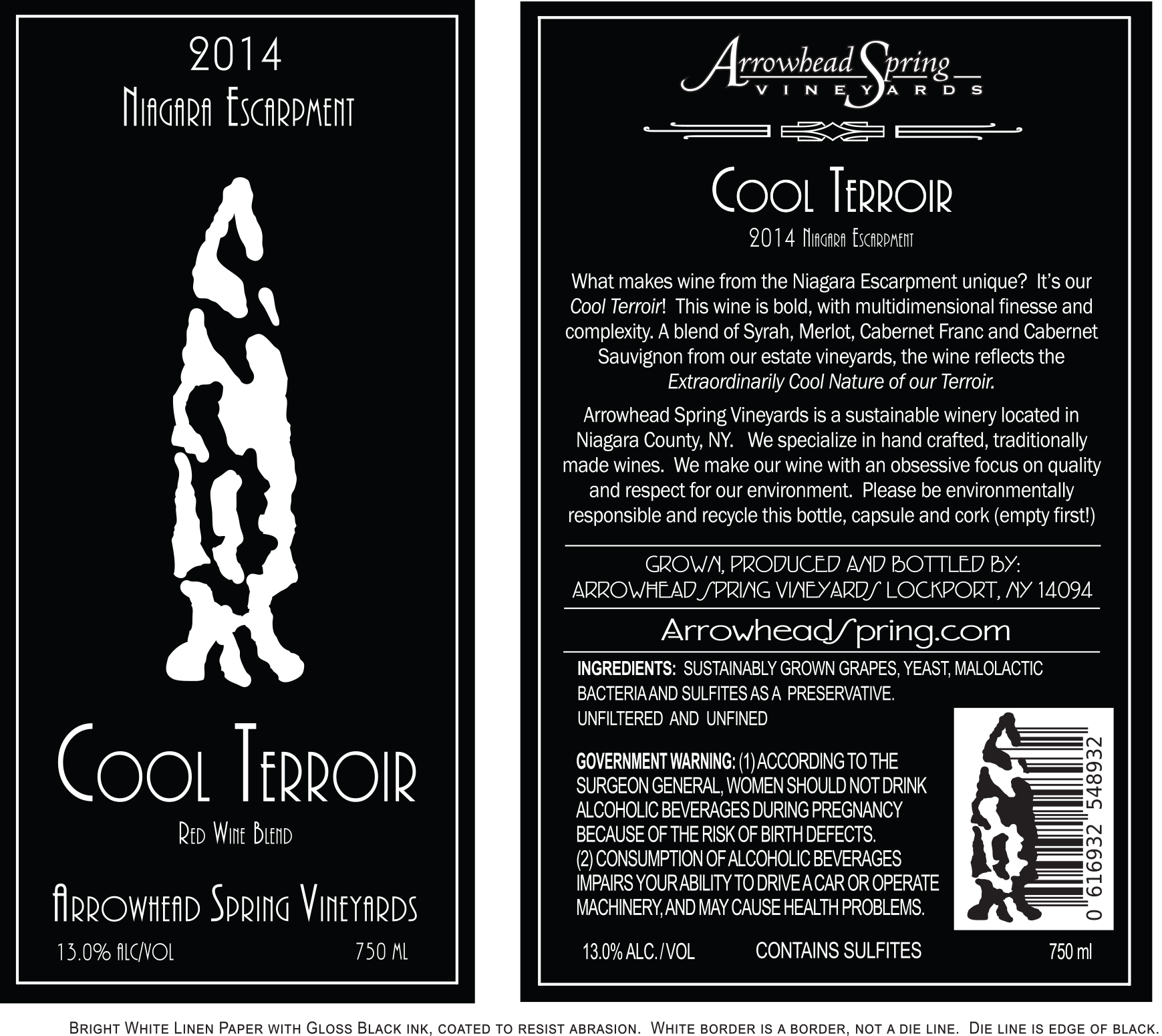 Duncan Ross, who with his wife, Robin, owns Arrowhead Spring Vineyard in the Niagara Escarpment in Lockport, N.Y., wrote, "U.S. regulators do allow the listing of ingredients on the label. While voluntary, it gives consumers a more complete picture of what is in their wine. Only a handful of wineries in the U.S. list ingredients (including ours in Niagara)."
I sent an email to Lauren Denecke, marketing coordinator of Wine Trees, the importer, to ask whether she could ask the winemaker about it. The declaration "Contains Milk" appeared on the pleasant Goss Riesling and Goss Chardonnay, but not the reds. I also called the Australian Trade Commission Wine Bureau in Manhattan, where a young man first told me to call the Australian Embassy in Washington, where another young man told me that in his 13 years there, he had never fielded a call about wine and was sure no one there could help me. He transferred me to another gentleman's voicemail but no one ever got back to me from the embassy. A second call to the wine bureau in Manhattan yielded a phone number in Washington that no longer works. Emails to Thomas Goss winery bounced back.
A phone call to Denecke got Denecke, who said she had received my email and was hoping to have some answers by the time we talked. She sent me links to the Australian regulations I'd found and said she'd keep trying to contact the winemaker and to get more information.
I left two messages for the TTB's media contact and on a third call to that agency was informed that he was away from the office and that it wasn't a good idea to leave him "five" messages.
I heard back from Duncan Ross, the New York winemaker, a couple of days ago. "I lost the battle with the TTB on being 'GMO Free' because they consider grapes to be genetically modified through selective breeding over the past couple of thousand years," he wrote me in an email. "I may bring that back again as it has been a couple of years….
"There has been talk of changing labeling for vegan and allergies, but I think the winning argument [of those who use these agents] is always 'the fining agents drop out of the wine and are not present in significant quantities,'" Duncan continued. "Some people want to know what is used to make the product because they are making choices on the process (fish bladder and ox blood fining are examples that come to mind)."
Michael Lykens at Skurnik, which distributes the wine, involved several officemates in the hunt for an answer. "This is fun," he told me.
John suggested I call Jodie Leishman, the manager of Mister Wright Fine Wines & Spirits, one of our longtime favorite shops in Manhattan. Leishman is Australian and her shop stocks a lot of Australian wine. When I told her we'd had a Thomas Goss wine with "Contains Milk" on the label, she said, "I can't believe it! The next, obvious question from consumers is, 'When does it expire? When it is going to go bad?' I've been working in retail for a long time I know that's the next question. I'm shocked that it's on there." In April, she visited her folks in Australia and did not notice that type of labeling over there, though she admits not really reading the labels closely.
So what gives?
Denecke, intrepid, shed some light onto the mystery pretty late into Friday, June 30.
"Most wineries have to print separate labels for the export market due to varying compliance requirements. When we want to sell wine in Canada, we typically print new back labels that contain the proper French translations needed for that market. According to the Wine Australia compliance guide, the regulations on adding 'contains milk' or 'contains eggs' went into effect in 2002. I imagine you're not seeing other labels in the U.S. from Australia with the allergen declaration because those statements were likely removed to make room for other U.S. compliance information. For Thomas Goss Riesling, it seems that the Australian requirement was simply left on the export label."
And she eventually got this comment from the Thomas Goss winemaking team on July 3:
"Basically we use milk (skimmed milk) or milk derived proteins (casein and potassium caseinate) to reduce some of the naturally occurring phenolic compounds in the grape juice/wine. These phenolic compounds can be associated with bitterness so removing these with milk products gives a cleaner brighter tasting wine. The milk proteins bind with the phenolic compounds and then get filtered out during the clarification process.
"The milk or milk protein remaining in the wine is almost negligible because it gets filtered out, however the Australian and New Zealand Food Standards Code requires that we have it declared on the label as it is considered an allergen. Other countries that we also export wine to also have similar regulations regarding allergens labeling and require the allergens such as milk and egg to be listed on the back label; these include Canada, United Kingdom and the European Union."
So the "Contains Milk" declaration on the wine Denecke had sent me?
"It is not required and therefore will likely not appear" on the wine's labels in U.S. stores, she wrote on July 4th. "Just a small piece of Australian compliance left over on the label for you!"
Dorothy J. Gaiter conceived and wrote The Wall Street Journal's wine column, "Tastings," from 1998 to 2010 with her husband, John Brecher. She has been tasting and studying wine since 1973. She has had a distinguished career in journalism as a reporter, editor, columnist and editorial writer at The Miami Herald and The New York Times as well as at The Journal. Dottie and John are well-known from their many television appearances, especially on Martha Stewart's show, and as the creators of the annual "Open That Bottle Night" celebration of wine and friendship. The first bottle they shared was André Cold Duck.
Read more of Dorothy J. Gaiter on Grape Collective.
(Homepage banner art by Piers Parlett)